Modern paintings on canvas tips, Contemporary home furniture style, Property interior design decor
Modern paintings on canvas
26 July 2023
Modern interior paintings are characterized by their originality and variety of styles. They are no longer limited to classical pictorial motifs, but include abstractions, geometric shapes, minimalism and a mix of different artistic techniques. Large format canvas paintings are also popular and become the centerpiece of an interior. Many online stores offer art paintings created using new materials and technologies, such as digital painting or collages. These modern paintings add elegance, style and personality to home interiors, reflecting current trends and tastes.
Popular painting subjects for living room interior
Canvas paintings are a great way to add coziness and character to your living room. You variety of art paintings representing different subjects offer endless possibilities for creating a unique and stylish interior.
One of the most popular subjects for living room paintings are natural motifs. Gorgeous landscapes, flowers in the field, forest paths or seascapes – they can bring freshness and tranquility to your living room. Such paintings will become a bright accent on the wall and create an atmosphere of harmony and natural beauty.
Picture with nature in the interior of the living room. Articul s08443
For connoisseurs of art and history, reproductions of famous paintings by great artists can be a great choice. Paintings by Vincent Van Gogh, Leonardo da Vinci, Claude Monet and other masters will bring a touch of classic elegance and cultural heritage to your interior.
Reproduction painting Persistence of memory, Salvador Dali. Articul s16070
If you prefer modern art historical approaches, abstract art paintings will be an ideal option. Abstraction allows you to play with colors, shapes, and textures to create unique and impressive works of art that will be an interesting element in your interior.
Abstract painting in the living room interior. Art s03196
In addition, you can find a canvas painting that reflects your personal interests and passions. It can be a picture of your favorite city or trip, a family photo or an abstract artwork that is close to your heart.
Thus, the choice of subject matter of paintings for living room is huge and it is a great opportunity to express your personality and style through art.
Popular painting subjects for bedroom interior
The bedroom interior is a special space where every detail should create an atmosphere of coziness and relaxation. And here paintings on canvas are a great way to give the room a unique character and bring a touch of art into the environment.
On the bedroom wall you can choose different subjects that will match your preferences and the character of the room. Painting on the canvas can represent abstract compositions, landscapes of nature, flowers, sea views or romantic scenes – the choice is huge. You can also order a painting on canvas with a personalized subject that will have a special meaning and significance for you.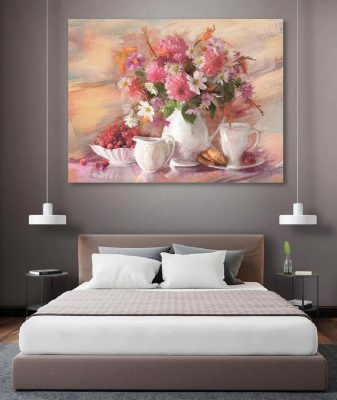 Picture with painted flowers in the interior of the bedroom. Art s29240
When you choose a painting for your bedroom interior, consider the overall color scheme of the room and your personal aesthetic. Gentle pastel shades can create an atmosphere of calm and relaxation, while bright and vibrant colors will add energy and cheerfulness to your bedroom.
Painting on canvas will become not only a decoration of your interior, but also a reflection of your individuality. By choosing the right subject and style, you will be able to create a harmonious and pleasant space in which it will be pleasant to spend time and enjoy the beauty of art every day.
Popular subjects of paintings for kitchen decoration
Paintings have always been a popular way to decorate kitchen interiors. There are many options of images on canvas for kitchen decorating, from classic paintings to modern reproductions.
One popular subject for a kitchen painting is images of fresh fruits and vegetables. Bright and juicy pictures with oranges, apples, grapes or cucumbers can give the kitchen a special charm and create an atmosphere of freshness and natural beauty.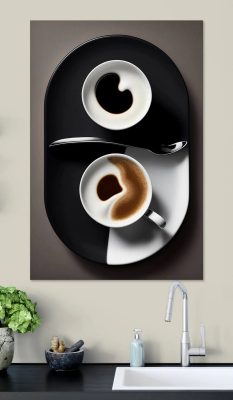 Picture with coffee in the interior of the kitchen. Art s32169
Another option is paintings depicting culinary scenes or kitchen utensils such as spice kits, glass jars of oil and spices, kitchen towels and pots of herbs. Such canvas paintings will emphasize the theme of the kitchen and give it a cozy and homely look. Don't be afraid to experiment with different motifs and styles to create a unique atmosphere in your kitchen.
Painting for hallway
Painting on canvas for the hallway is a great solution for adding atmosphere and coziness to your home. Here perfectly fit reproductions of famous works of art or paintings in loft style.
Often in the hallway are chosen abstract compositions that add a touch of modernity and mystery to the interior. Such paintings on canvas are perfect for minimalist and modern hallways, creating an impressive accent on the wall.
Another popular option is landscapes. They give the hallway a fresh and light look, bringing the atmosphere of nature into your home. Choose landscape art paintings depicting calming landscapes, sea views or picturesque mountain scenery to create a harmonious mood in your hallway.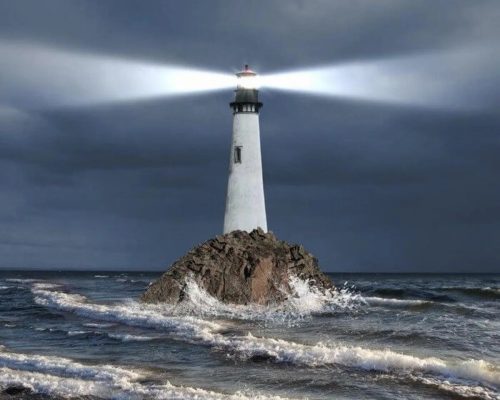 The image of the lighthouse is one of the most popular plots in the corridor. Art s08187
Also popular subjects for the hallway are abstract geometric compositions, flowers and plants, as well as paintings depicting urban architecture. It is important to choose a picture on canvas, which will harmoniously complement the overall style of your interior and emphasize your individuality.
Popular subjects of children's paintings on canvas
Paintings on canvas are a great way to decorate a child's room and create an atmosphere of magic and joy. You can often find a variety of art paintings for children in picture stores, as well as order unique works specifically for your little one.
Among the popular subjects for children's paintings on canvas are:
Fairy tale characters: Princesses, princes, fairies, dragons and unicorns are all children's favorite characters. Paintings depicting them will create an atmosphere of magic and fantasy in your kid's room.
Animals: Kittens, puppies, lions, elephants and other animals – children adore them, and they will always be an actual subject for paintings on the canvas.
Nature and Travel: Pictures depicting natural landscapes, sea adventures or space travels will allow your child to dream and immerse themselves in amazing worlds.
Fairy tales and literary heroes: Famous characters from fairy tales and books always attract children. These can be pictures with Herman from "Cat in Boots" or Alice from "Alice in Wonderland".
Abstract and bright compositions: For older children, abstract art paintings are suitable, which develop imagination and color perception.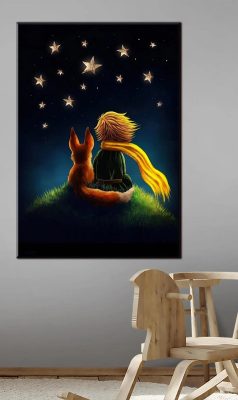 Painting in the children's room The Little Prince. Art. s15087
When choosing a children's painting on canvas, pay attention to the quality of materials and colors to ensure durability and safety for your child's health. If you do not find a suitable picture in the store, you can always order from the artist to work at your request. Also popular are reproductions of famous children's artists, which allow you to create an atmosphere of art and classics in the children's room.
As you can see, the choice of paintings is huge and every room can be decorated with a suitable plot, it is important only to comply with the style, so that on the one hand to arrange bright accents, and on the other hand competently fit the canvas in the existing interior.
All materials are provided and owned by the company Art-holst
Comments on this guide to Modern paintings on canvas article are welcome.
Living Rooms
Living Room Posts
Creating a comfortable and cozy living room tips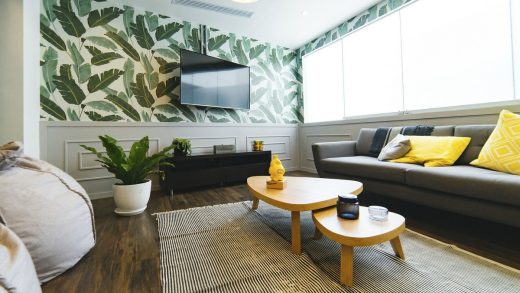 Interior designer living room trends
Trendy Living Room Design Ideas
Top 10 innovative living room decorating ideas
Furniture
Furniture Posts
Popular types of wood for furniture
Bauhaus inspired architecture and furniture
Property
Residential Architecture
Comments / photos for the Modern paintings on canvas advice page welcome