Material World, Persona in Architecture, Architectural Article, Design Dialogue
Material World : Architectural Dialogue
Built Environment Discussion by Nigel Henbury
6 Nov 2012
Material World
Another inter-continental selection of projects this week with a common theme of 'material' playing a key role in each.
The Chinzombo Bush Camp in Zambia, Africa by Silvio Rech and Lesley Carstens for an established eco-tourism client uses modernist and contemporary structures as skeletons for the 'organs' of enclosure, party and utility using raw recycled local materials. The architects make reference to their continuing evolution of understanding the properties and crafting of these materials with a high branding return from their diligence.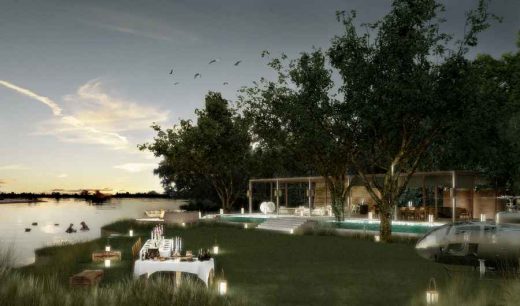 image from architects
The spirit of the project evolves in its remoteness, with necessarily 'understated' access infrastructure (although wi-fi is in the spec) and commercially it is a non-compromising 'once in a lifetime experience' as it is difficult to see how such an extremely timeless location could – or would – ever need to- reinvent itself.
To sign off this particular project, the other facet of 'material' is well and truly catered for by the 'room' rates!
Modernism is alive and well, doing what it does best and staying true to the primary values– ostentatious, brash, hopeful, homogeneous in combining structural and sculptural aesthete with craft and quality in the detail. Add smart to the attributes and this is why the movement is once again catching the attention of clients, empowering architects and wowing the media.
Classic Car House in Auckland, New Zealand by Daniel Marshall Architects is uncompromisingly 'contemporary' in its form, space and material 'palette'. It's a celebration of natural materials hewn and refined by mechanical process. The building filters wide views to the nearby waterfront effectively acting as a living wall of changing colours framed by dark glazing bars – a counterpoint to the cool white interiors. However an equal attribute to the coastal location is apparently the 'love' given by the building to a car collection, embracing a forecourt in warm timber and coveting a strikingly pristine red Mercedes Benz 300SL.



E Andrews / E Shackles
Meanwhile, somewhere in North London Lens House exists an 'expo-extension' to a nineteenth century townhouse by Alison Brooks Architects. Arguably organic in its spatial and structural response to a relatively complex location, the choice of materials specified to overcome these parameters at first sight completely dominate the form and language of the extension.
It's unquestionably uncomfortable to the eye as an external composition, daring yet eventually conservative. The viewer has to search diligently for any generating geometry in the three dimensional form which might bestow an appreciation of harmonious sculptural quality to the extension itself, let alone with the existing house. The executed project conveys an underlying discomfort in the modular articulation of the chosen cladding. Form follows material?



photo from Alison Brooks Architects
These projects allude to modern approaches to form and space and continued efforts to refine processes to procure and deliver the best attributes of natural materials, and search for ever smarter composites.
The realisation of the Dagenham Park Church of England School, England with Allford Hall Monaghan Morris as design architects is based on tried and trusted concepts to further develop the synthesis between design and construction and modular construction techniques – it is fair to say that modular building in the UK has had a patchy history and design/build too often errs towards 'crony' supply chain economics – but this project has more substance.



Tim Soar / AHMM
Architects, contractor(s), specialist suppliers, engineers all invest their time in the synthesis of utility, substructure, superstructure, material specification, procurement, workmanship, value, manufacture and installation to produce details and finishes of longevity to adorn a hierarchy of spaces and a produce a building comfortable with its own existence which in turn should provide the potential for an inspirational learning environment.
To close, images of the Bhartiya City in the environs of Bangalore, India (multiple consultancies) further evoke memories of modernism, – an international style housing a matrix of economic, scientific and social functions potentially symbolic of a new way of life.



image from architect
The developers brand it as 'The City of Joy'.
Let us all wish them well.
Nigel Henbury


Nigel Henbury
Nigel Henbury is a Diploma Graduate of Portsmouth School of Architecture, England, golf course architect and Licentiate Member of the Landscape Institute, UK
Architecture articles by Nigel Henbury
Organic Architecture – Sep 2012
Architectural Growth – May 2012
Skyscraper Building Design – Jan 2012
Cultural and Contextual Identity – Aug 2011
Landscape Architecture
Architecture Articles – Selection
Resisting Boredom : article by Joyce Hwang. Jan 2011
Sizing Identities : article by Sergio López-Piñeiro. Jan 2011
Design Narrative : article by Lee Miles – Sep 2010
Comments / photos for the Material World – Architecture Article page welcome