Organic Building, Persona in Architecture, Architectural Article, Design Dialogue
Organic Architecture
Built Environment Discussion by Nigel Henbury
18 Sep 2012
Organic Architecture Identity
THERE IS A LIGHT THAT NEVER GOES OUT
Shortlists for two RIBA awards – recognising small works and emerging practices achieving high tariff returns from challenging briefs and budgets – feature this week.
There is a purity in the definition of architecture as a fusion of aspirational endeavour, the architect trusted with access to a client' s personal values and budget – simultaneously risking professional values of design flair and fitness for purpose – to create a legacy of habitation.
Quite rightly, these categories should be recognised for encouraging and disseminating successful outcomes in a high risk / reward sector of the profession.
It's a win-win situation. The profession of architecture is seen to be maintaining an empathy with the public who wish to better themselves and conversely those individuals can trust the profession to realise their idylls.
Stephen Lawrence Prize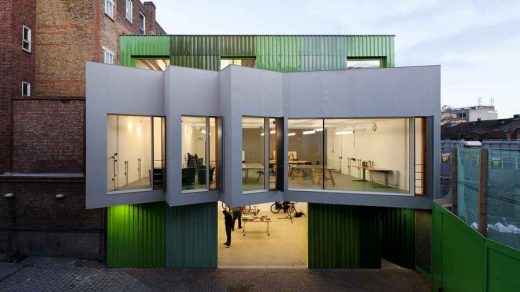 photo from RIBA
RIBA Manser Medal



image : Chris Wright
For those practices that have made the shortlist, their investment in the scoping, creative and building process to achieve statements of form, space, order, craft and detail for each project has been recognised.
The readers will of course make up their own minds as to the quality of the shortlist, but modernity wins the day with the dynamics of context moulding each. Fresh practice gives clean lines and volumes, a relationship that can be argued to be organic.
This 'persona' of architecture has endured and we live in a time where organic modernity can coexist with more venerable buildings of considerable heritage. It is important that we look after both – the vast middle ground where societal dynamics change quickly and unpredictably remain problematic and challenging. Returning to the theme of 'fresh', the recently opened Gardens by the Bay in Singapore looks to be a fantastic prospect for the city. There could be many positives here – as upper-scale of collective will to invest in a project of regional and existential identity, delivered by the expertise, dedication and expertise of a multi – national group of designers and consultants, buying in to a city high on vision and desire to develop culturally.
Singapore Gardens by the Bay Conservatories
Grant Associates / Wilkinson Eyre Architects



picture : Craig Sheppard
Cynics may refer to the preceding deforestation and verified species' extinction in Singapore as a more damning indictment of indifference to the plant and animal life of the country. Until nature or a positive, balanced management of it proves otherwise, what is lost is lost and is our loss.
Do Gardens by the Bay become a theme park, laboratory, tourist attraction, open air classroom, botanic expo? Whatever the driving forces behind the brief, underpinning its creation is the synthesis of multi disciplinary engineering, architecture and landscape architecture and 'the client' should be commended for creating the stage to allow this synthesis to flourish. The interrelationship and inter-dependency of each and every endeavour expressed in a collective freedom, inspired by the plant structures they house or coexist with.
Of particular interest is the work of the 'cool season' UK-based landscape architecture practice on the team, no doubt revelling in the prolific diversity and creative possibilities of 'warm season' botany. This has been a chance for landscape architecture particularly to contribute and deliver conceptually as an equal 'tier 1' partner, energised by the waterfront location and a cultural shift informing creative expression.
Nigel Henbury


Nigel Henbury
Nigel Henbury is a Diploma Graduate of Portsmouth School of Architecture, England, golf course architect and Licentiate Member of the Landscape Institute, UK
Architecture articles by Nigel Henbury
Architectural Growth – 22 May 2012
Skyscraper Building Design – 24 Jan 2012
Cultural and Contextual Identity – 30 Aug 2011
Landscape Architecture
Architecture Articles – Selection
Resisting Boredom : article by Joyce Hwang. Jan 2011
Sizing Identities : article by Sergio López-Piñeiro. Jan 2011
Sustainable Buildings – Building Issues : article by Adrian Welch
Comments / photos for the Organic Buildings – Architecture Article page welcome