Interior Architecture, Interiorist, Frazer Hay, Architectural Design
Architectural Inheritance : Views of an Interiorist
Architecture Discussion – article by Frazer Hay
1 Nov 2011
Interiorist Views: Architectural Inheritance
Drents Museum, Assen, The Netherlands
Design: Erick van Egeraat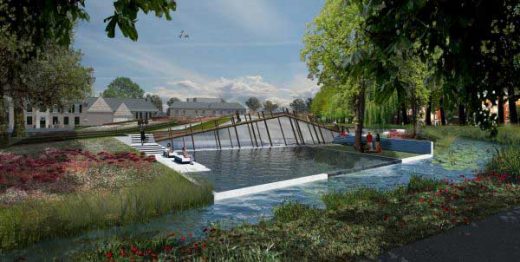 image from architects
Due to open this month, the Drents Museum in Assen [NL] could be an architectural gem. The design proposal is brave and contemporary, especially in the architect's treatment of the old Coach-house, an original building with cultural significance the architects have removed, replaced and restored the building. The twist being that, the building wasn't returned to its original foundation but floats one meter above it on a plinth of illuminated glass. The Coach-house has been assertively re-used, and is now the entrance to the museum's new wing.
The re-use of culturally significant buildings is an incredibly important part of modern architecture
and the way in which we engage with our architectural inheritance. The manner in which Erick van Egeraat Architects have tackled this part of their project is exciting, refreshingly considered and encouraging. The old and new architectural characteristics are easily read and the Coach-house's re-use breathes new life into the structure whilst retaining and developing its historic and educational values.
My only worry is that the project might become externally predisposed and that the design intent hasn't been equally thought through in the interior spaces. The interior spaces and other architectural links should be understood just as clearly. The images indicate an interior which could potentially be less sensitive and considered in their ability to connect and communicate the site's historic and cultural narrative. The building's interior looks rich in light and form but could struggle to connect with the past and provide a sense of place.
In Summary then; The Coach-house intervention is exciting on many levels, although taking a building from its original foundations and not allowing it back completely, separating it from its birthplace by one meter of transparent material feels slightly insensitive. I am confident that the building will become a very accomplished architectural point of reference, in much the same way the library in Delft has become but worry that it could have an interior that will feel disconnected, and could just as easily be designed for anywhere in the Netherlands with a similar context.
Line and Space, Arizona, USA : Tucson Architects



photograph : Bill Timmerman
Line and Space is an incredibly exciting architectural firm from the USA which create architecture and urban design that feel very European in nature whilst staying true to their North American heritage (Frank Lloyd Wright resonates throughout their work), a captivating combination of Gerrit Rietveld, Peter Zumthor and Herman Hertzberger. The Red Rock Canyon Visitor Centre, near Las Vegas whispers of the work from Aldo van Eyck and Team 10.
The University of Arizona Poetry Centre with its transitional spaces and confident manipulation of light and materials reflect the early work of Herman Hertzberger and Jo Coenen architects from the Netherlands. This is certainly a practice that we should familiarise ourselves with as they are one to watch in the future, the City of Phoenix Cesar Chavez Regional Library is beautifully positioned and elegant. I have only one niggling worry and that is the way in which the interior is dealt with, the spaces seems less elegant and thought through, which is a skill the architects of Team 10 and Peter Zumthor are masters of, I hope in the future Line and Space masters of that side things too.
Tel Aviv Museum of Art : Herta and Paul Amir Building, Israel
Preston Scott Cohen



photo © Amit Geron Courtesy Tel Aviv Museum of Art
There is certainly, in my opinion, too little written about architecture from Israel. Israel has a great culture of architecture and creative expression which is especially evident in Tel Aviv. The city is home to many good examples of architecture from its 'White City' projects (a UNESCO World Heritage site), the Bauhaus Architecture of Yael Zisling to Synagogue designs such as the Great Tel Aviv Synagogue by architect Arye Elhanani.
The Museum of Art is the next generation of iconic architecture in my opinion, with its brave use of form, material and mass. The architects have created an impressive building brooding, twisting and engaging under the Middle Eastern sun. After my experiences living and working in Israel, I can safely say the building reflects the countries, environment, culture and attitude to art and architecture, a building that is confident and determined, practical and considered but exciting and creative.
The build is impressive and I can imagine the effect it has on the senses when bathed in searing sunlight during the day – you can feel the sun being reflected in part and for the majority absorbed and banked until the evening, the angled surfaces deflecting the sun's rays and providing shade at unexpected moments. In the evening the building slowly breathing out its embodied solar energy as it slowly relaxes, whilst the interior space takes centre stage and it irradiates an alternative, artificial light from within.
The interior space, circulation and material are, by far, the building's best quality. The interior fabric of internal views and dynamic form reflect the exteriors geometry and creates a project which has a design intent woven throughout the project, creating a building and a space which I can't wait to experience for myself.
N+ Ningbo : Masterplan, China
PLP Architecture



image : Vyonyx
The N+ Ningbo Development, design by PLP Architects, has to be seen as a reflection of China's growing cultural confidence and its determination to engage with western design, architecture and fashion on a variety of different levels other than that of product manufacture and distribution. The City of Ningbo, Part of the famous 'Silk Road' for thousands of years, has a rich history of trade and clothing manufacture. PLP Architects then seems the natural partnership for a city with big plans and aspirations.
The collaboration will undoubtedly deliver a combination of architectural might and design opportunity. PLP appears to have the knowledge and creativity to help develop and facilitate the cities intentions using their modern and dynamic approach to large scale projects and site development. The Heron Plaza for example, is an excellent combination of urban sensitivity and modern architectural expression. The architects obviously pride themselves in their use of light and material whilst creating a more prosaic but just as important fit for purpose environment for the user and staff alike. The Bio Medical Research Centre, in London shows they aren't afraid to mix style and structural form.
I do worry that, like other areas of rapid commercial and finical growth such as Dubai and the 'Baltic Tiger' countries of Estonia, Latvia and Lithuania, the rush for recognition throw architecture and design might provide an environment of 'surface only' development and could stagnate the natural process of city and cultural evolution built on the social and architectural roots already laid.
The above text about the last project is so trite I am embarrassed – I tried to be positive and encouraging but really I can only feel sad and depressed that yet again a city is looking to a corporate bore of a practice to design a soulless environment that doesn't reflect the country's true culture and history but facilitates the world's obsession with consumerism and the allusion of happiness through product and media. Why don't they employ a local small architect's practice with something to say on a more fundamental level – why don't they at least insist on PLP combining with three or four local practices. If China is as they portray themselves (a global super power) then why don't they act like it and stop their mimicking behaviour and give us something refreshingly new and unique – impress us and educate us (the rest of the world) like you did in the past. I want to evolve not dissolve architecturally.
Interior Architect Studio : Big Stone Collective
Frazer Macdonald Hay
Frazer Macdonald Hay
Author of this Interiorist Views article


picture from Frazer Hay
Frazer Macdonald Hay is a Specialist in Architectural re-use and Intervention, Interior Architecture and Architectural conservation. Frazer is the owner of Big Stone Collective and a part time lecturer at Edinburgh University and College or Art. A former fireman and African expedition leader, Frazer was relatively late to the profession but has since become a leading figure in his field and is now the Educational Chairman of SBID [society for British Interior Design], the Educational consultant for ECIA [European council for interior architecture] and a member of the Scottish Parliament committee for Architecture and the built environment. Frazer has work internationally and nationally on iconic buildings such as the new Scottish parliament building and Stirling's tollbooth Arts centre. Frazer also runs workshops in design and architecture in Belgium, Holland and Norway.
"The Big Stone collective is a multi-disciplinary response to architectural, spatial, conservation and creative problem solving, the collective is divided into three main strands, research, education and consultancy. The collective has a wealth of experience and knowledge, we pride ourselves in delivering innovative thought and processes to develop and deliver creative design solutions for our clients" Frazer Macdonald Hay
Frazer Macdonald Hay
Director Big Stone Collective ltd & Educational Panel Chairman SBID www.sbid.org
Another article by Frazer Hay on e-architect:
West Bank Wall



image from architects
Frazer Hay, Edinburgh
Thinking Inside the Box – information from Frazer Hay
Interiorist Views article from Frazer Macdonald Hay
Location: East Linton, Scotland, UK
Architectural Articles
Architectural Articles on e-architect : Selection
Cultural and Contextual Identity : article by Nigel Henbury
Planetization Architecture : article by Mphethi Morojele
Resisting Boredom : article by Joyce Hwang
Frazer Hay is an e-architect Editorial Board member.
Comments / photos for the Views of an Interiorist – Article page welcome