Interior Architecture, Scotland, Image, Forum, Design, Debate, Discussion
Scottish Interior Architecture Design
Exhibition for Designers & Architects in Scotland
20 Feb 2007
Thinking Inside the Box
The exhibition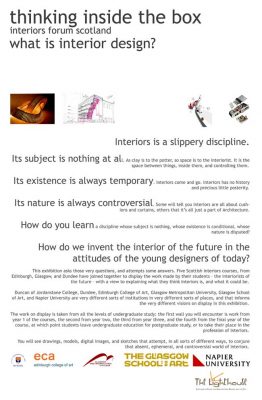 Information + image from Frazer Hay: Interior Architecture, Napier University 20.02.07
Interiors Forum Scotland
There is a huge gap between how Interior Designers see themselves and how the public see them. The public imagine the Interior Designer as the arranger of cushions of curtains, and specifier of furniture and products, such as ornamental metal letters, while Interior Designers imagine themselves as the creators of environments, using light, material, and space to set a mood or frame an event.
The long and short of it is, no-one agrees what Interior Design is, what it should be in the future, and how we get there.
The Interiors Forum Scotland is a new body that is run jointly between five of the Interiors degree courses in Scotland in order to address these issues: to speculate on the Interiors of the future.
IFS will be mounting an exhibition at the Lighthouse in Glasgow, opening on 24th February that is quite simply entitled: 'What is Interior design?'
The show opens with a short slideshow of new students, who are just starting out on their education in Interior design, answering that very question, and it ends with the graduates who are now practicing Interiors answering it as well. The answers range from: 'a profession not to tell your footie mates about!' to 'exhibitions, installation, to 'Interior design encompasses everything from initial client briefings, concept brainstorming, detailing and liaising with the contractors.'
Framed by the many different answers to the question: What is Interior Design?' a series of wall boxes will inhabit the Young Designers Gallery at the Lighthouse, enclosing an interior within an interior. This installation will guide visitors through the different stages of the education of the Interior designer, showing how the five different courses introduce the subject to newcomers, how they ground students in basic skills, and the final projects with which they equip their students to leave college and enter the world of the profession.
This installation of wall boxes will allow visitors to follow students through an individual course, or to compare the same level across different courses. Work on display takes the form of design projects ranging from rooms students have found in medieval paintings, a sound installation on the East Lothian Coast, bars, exhibitions, offices and hotels, that all display novel and unexpected approaches to the potential of Interior Design.
Statement from each of the colleges:
Interior Architecture, Napier University
Interior Architecture is the art of re-using existing buildings. This involves the reading of the structural 'DNA' -in other words the existing order of a building- and the proposal of appropriate interventions or spatial manipulations to allow it live a new life. Students develop architectural interior design work to a high degree of technical resolution using virtual and physical models. This exhibition will be composed primarily of the former.
Projects on display include Graham Dunn's conversion of the Old Student union in Potterow, Edinburgh into a restaurant/bar, and Francesca Apollinari's retail building within the shell of the Old Post Office Building, Prince's Street, Edinburgh.
Edinburgh College of Art
At Edinburgh College of Art, students learn that interior design is the art of designing rooms, of using space, light and tectures to generate places with a strong sense of atmposphere. Students regularly work with physical models, and the show on display at the lighthouse will be a series of modelled rooms, recessed into the wall, that range from the construction of medieval painted interiors (Matilda Kirkwood) to a a design for a new bar for Heriot Watt students in central edinburgh (Chris Aiken). The course culminates in Lynne Semple's challenging insertion of a gigantic pink screen into a Buchanan Street office building, converting it into a new Glasgow headquarters of the Royal Institituion of Architects in Scotland.
Glasgow School of Art
It is comparatively simple to deal with the physical expectations and limitations of the human body. It is more difficult, and ultimately more significant, to satisfy the aesthetic expectations of those who use interior spaces. This does not necessarily require extravagant gestures. Colour will transform a space as effectively as flamboyant spatial remodeling.
At Glasgow School of Art we do not presume to teach students to be creative. They bring instinctive creativity to the course and we help them express it through cultivation of appropriate intellectual and practical skills in preparation for the demands of an increasingly specialized and competitive professional world in which creative vision must be complemented by practical capability and precisely tuned and balanced skills are the only reliable means of survival. Comparatively small year groups are cohesive, dynamic communities that allow students to see themselves as individuals and staff to form a clear perception of individual abilities and aspirations.
Duncan of Jordanstone
Interior and Environmental design goes beyond traditional expectations if Interior Design, in that it, quite literally explodes the notion of the Interior, bridging between landscape, architecture, the insides of buildings, and fine art installation. The work on display in this exhibition celebrates this diversity, showing, through digital projections and images how students learn about design by making things, as well as theorizing them.
The symposium
At the same time that the exhibition opens, IFS will be holding a symposium of Interior design educators, in order address the same problem of 'What is Interior Design?'. This is the first time that such a conference has been held in the UK.
A new body, Interiors Forum Scotland, exists in order to promote such speculation about the future (and therefore the past and the present) of Interiors in Scotland and beyond. Interiors Forum Scotland is a body run jointly between five of the six Interiors programmes at University level in Scotland at:
The symposium will consist of keynote addresses by three leading thinkers in the world of Interior design. Shashi Caan of the Shahi Caan Collective in New York City will be addressing the theme of: Interior Design: Confusion or Consensus? Graeme Brooker and Sally Stone of Manchester Metropolitan University will be addressing issues of the relationship between practice and theory in Interior Design.
These keynote addresses will frame a series of submissions by theorists and practitioners from all over the world, who will be offering submissions under the headlines:
What is Interior Design?
How do we Teach Interior Design?
Why do we do Interior design?
What is the History of Interior Design?
Please find below a list of speakers and the titles of their submissions.
How do we teach Interior Design?
Ro Spankie, Oxford Brookes, r.spankie(at)brookes.ac.uk,
Drawing and Making: digital and analogue: space/object, examples of good practice
Julia Dwyer, University of Brighton, Julia.dwyer(at)virgin.net; j.m.dwyer(at)brighton.ac.uk
Art and Design
Jose Bernardi, Arizona State University, jose.bernardi(at)asu.edu
Teaching Interior Design Studio based on a collaborative process, social embeddedness and sustainable design
What is Interior Design?
C. Thomas Mitchell and Stephen M. Rudner (streetview group, inc.), Indiana University, tmdesign(at)indiana.edu, rudetao(at)comcast.net
Interior Design; Identity Crisis, rebranding the profession
Tara Roscoe, studios architecture, NYC, troscoe(at)studiosarch.com
Immaterial Culture: the interior environment repositioned
Lois Weinthal, Parsons The New School for Design, NYC weinthal(at)mail.utexas.edu
Towards a New Interior
Patrick Hannay, Cardiff School of Art and Design UWIC, phannay(at)uwic.ac.uk
A regulated irregularity
Teresa Hoskyns, University of Brighton, UK
Not Cushions and Curtains
Suzie Attiwill, School of Architecture + Design, RMIT University, Melbourne, Australia,
What's in a Canon?
Professor Lynn Chalmers and Assistant Professor Susan Close, University of Manitoba, Canada
But is it Interior Design?
Why do we do Interior Design?
Andrew Stone, Middlesex University a.stone(at)mdx.ac.uk
The Interior, Why do we underestimate what we do?
Nilgün Olgentürk, Halime Demirkan Bilkent University, Ankara, Turkey
Teaching Universal Design
Gennaro Postiglione, Eleanora Lupo, Politechnico di Milano, gennaro.postiglione(at)polimi.it, eleanora.lupo(at)polimi.it
Interiors as space rewriting: the centrality of gesture
Gini Lee, Louis Laybourne Smith School of Architecture and Design, University of South Australia, Australia
Curatorial Thinking: the performance space and the interior
Mark Burry, RMIT University, Australia and Mark Taylor, Victoria University Wellington, New Zealand
Hertzian Space: Surface and Substrate
Saltuk Özemir
?stanbul Technical University, Turkey
The Mask Outside the Machine
Lorraine Farrelly, University of Portsmouth School of Architecture
Translation and representation of Interior Space
When? Histories and Herstories of Interior Design
Luis Diaz, University of Brighton
Towards a participatory History
Charles Rice, University of technology, Sydney charles.rice(at)uts.edu.au
For a Concept of the Domestic Interior: theoretical and historical challenges
Terry Meade, University of Brighton
The enclave and the Interior
John Brown, University of Calgary, john.brown(at)housebrand,ca
The Tailored Home
Professor Jon Daniel Davey and Assistant Professor Michael Brazley
Southern Illinois University
The Other Sister
Saltuk Özemir, Istanbul Technical University, Turkey
The Mask Outside the Machine
Information on keynote speakers:
Graeme Brooker. Programme Leader BA&MA Interior Design
Manchester Metropolitan University.
E: g.j.brooker(at)mmu.ac.uk
TEL: 0161 247 1014.
Graeme Brooker is Programme Leader in BA (Hons) Interior Design at Manchester Metropolitan University and the Director of the MA Spatial Design in MIRIAD (Manchester Institute of Research and Innovation in Art & Design). His research interests are focused upon the cultural, social and philosophical effects of remodeling existing buildings and interior spaces. Teaching interests include studio projects at both undergraduate and postgraduate levels, remodeling building processes and principles, and the history and philosophies of 20th century Interior Design.
After receiving an MA from Manchester Metropolitan University (with distinction) in 1995, Graeme worked in Cardiff (UWIC) for seven years teaching interior architecture. He has lectured in various institutions in the UK and abroad, recently lecturing and teaching in places as far afield as the U.S (N.J.I.T), and Taiwan (International Conference of co-operation).
He is co-author of Re-readings: Interior Architecture and the Design Principles of Remodelling Existing Buildings (RIBA Enterprises 2004) and has recently presented or published papers in Philadelphia (EAAE), Barcelona (GRACMON), Shanghai (D2B) and Venice (IMCL).
He is currently preparing an exhibition on Rereadings to be shown in Manchester in 2007, and is planning two new books, one a reader for Interior Design and the other a book about the design of the modern room.
Shashi Caan: Biography
scaan(at)sccollective.com
www.sccollective.com
Shashi Caan is a talented and creative designer with an international reputation.
Prolific and equally facile with architecture, interior, textile and product design, she is convinced in the power of design to aid and improve the human condition and has cultivated a keen awareness of the forces shaping our habitable future.
Her unique sensitivity to human centered design and solution search is further amplified by the fact that she is highly educated (with masters in Architecture, master of Industrial Design and a BFA (hons) in Interior Design) and develops her thought and design process through a balance of research, analysis and creative exploration.
She bridges cultures and disciplines and seeks to integrate progressive design capability with science and traditional knowledge pools toward a better whole. She is the founder of her innovatively structured design business (The Collective founded in 2001) prior to which, she was Design Director and Associate Partner with Skidmore Owings and Merrill in NYC. In the last five years, she has simultaneously chaired the prestigious Interior Design Department at Parsons the New School of Design.
She is passionate about habitable design and generously contributes her time, talent and expertise by actively working to cultivate vision and excellence in the design of the built world. Along with designing projects for multi-disciplinary and prestigious clients, Shashi and The Collective regularly conduct design research in collaboration with scientists, psychologists, technologists and business experts. Shashi makes it her business to be informed about major and global influences shaping our future and the resultant physical manifestation in our environments, communities and cities. She believes that, today, the creative designer is a fundamental partner in shaping a world which effectively and optimally address population growth, urban expansion and an optimal quality of life which will help to create a better tomorrow.
Because of her singular voice and strength in bringing depth to an otherwise predominantly aesthetic and style focused profession, she was recognized with the honor of being named Interiors National Designer of Year in 2004 in the US and Educator of Year by the International Facilities Management Association of NY in 2006. She sits on numerous advisory and industry regulatory boards and is a highly published, sought after and stimulating speaker. She is also the recipient of numerous awards and accolades for design innovation and excellence.
Glasgow Events
Location: Scotland
Architecture in Scotland
Scottish Architecture Designs – chronological list
Upper Parkbrae House, Oyne, Aberdeenshire, Northeast Scotland
Design: Brown & Brown Architects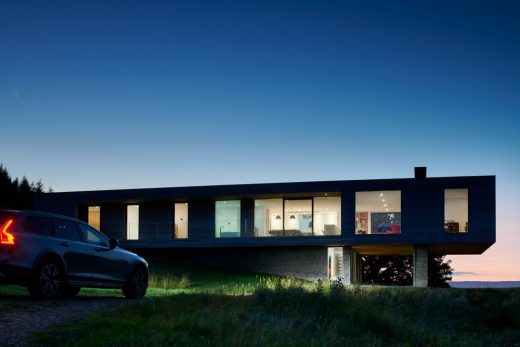 photograph © Nigel Rigden
Upper Parkbrae House, Aberdeenshire
Comments / photos for the Interior Architecture – Scottish Interiors page welcome
Thinking Inside the Box symposium: www.interiorsforumscotland.com