How to implement self-check-in with a lockbox guide, workplace design advice
How to Implement Self-Check-In With a Lockbox
13 April 2022
Self-check-in options for visitors have grown more popular in recent years. Using an Airbnb lockbox solves a frequent issue that hosts encounter when they cannot give over their keys to guests in person. Guests may retrieve their rental keys later using a safe lockbox. The convenience of self-check-in reduces the need for face-to-face interaction and frees up the visitor for other activities.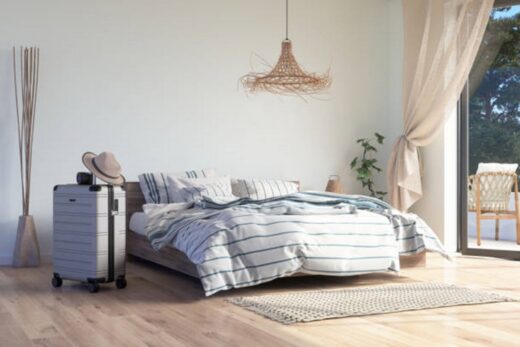 A lockbox is a great way to keep your Airbnb property keys safe and ensure a seamless guest check-in experience.
Keys to your rental property may be stored in a lockbox, a tiny storage device. It's quite sturdy and needs a password to access.
Using an Airbnb lockbox:
Keys may be stored in a lockbox, which can also be used to control the lock on your Airbnb door. A variety of lockbox systems are available, each with a particular kind of lock.
Lockboxes with a push-button mechanism—a push-button lockbox is considered one of the simplest to use. Punch in the precise sequence of digits, and it opens right away.
Spinning dial lockboxes – these lockboxes, which look like locker room padlocks, include a revolving dial for access. The dial allows users to enter a series of digits one at a time.
Lockboxes for the wheels To unlock the Airbnb lockbox, the user must scroll through a series of digits from 0 to 9. Locks may be unlocked by a combination of digits selected by the user by scrolling on each wheel (usually a four-digit code).
Using an electronic or smart lockbox, a door may be secured and opened by simply entering the right code or sharing access with another device over Bluetooth or Wi-Fi. Each time a visitor checks out, the passcode may be changed.
An Airbnb Lockbox has what advantages?
Convenience for both hosts and visitors
You don't have to be there to greet visitors when you have a lockbox. As a result, you will no longer have to organize your calendar around the arrival of visitors at certain times.
Lockboxes may also save money for hosts who can't be there since they commonly employ a manager to take care of things for them. You no longer have to pay someone to give over your keys with a lockbox.
A lockbox allows guests to check-in at a convenient time and gives them greater control over the process. They may check in at a more leisurely pace without the presence of a host. In addition to being exhausted, guests who have traveled a long distance may not want to engage in conversation with the hotel's staff.
Security
In addition, this approach is a more secure manner for you to pass over the rental keys to your visitors. Contactless check-ins are encouraged by Airbnb lockboxes, making visitors feel more secure while checking in. There's no need for a meet and greet or a physical exchange, which helps prevent the transmission of COVID-19. Self-check-in
Critical security measures of the key
Having your rental keys in a lockbox rather than concealing them is a better option. The construction of most safety boxes may deter break-in attempts and lockpicking. Lockboxes are more secure than hiding your keys behind a rock or a pot plant.
Where Do I Go to Purchase a Lockbox?
Airbnb lockboxes may be purchased from a variety of vendors, including:
Amazon.com
Grainger.com
Ebay.com
The Home Depot
You may also visit a local hardware shop to check out their selection of lockboxes and ask for a suggestion before making a final decision.
Is There a Place for My Lockbox in My Home?
Walls and doors are the most common areas where a lockbox may be mounted. Installing a lockbox on a door is more convenient, but the drawback is that it's more obvious, making it a more obvious target for pickpockets.
Installing your lockbox to a wall requires more time and may need additional equipment. As a result, you'll have a wider range of alternatives for where to put it.
When it comes time to set up your lockbox, you need to take precautions to ensure a smooth process. The position of your box should be out of sight yet easy to locate for your visitors. A good compromise between "well-hidden" and "easy-to-find" should be your goal.
Guests may grow annoyed (particularly at night) and leave a poor review if you place it in a difficult-to-find position. Make sure your visitors know exactly where to look for the lockbox before arriving.
It is best to avoid putting your lockbox in a place that can be seen from the road since this may be dangerous. Make an effort to situate it on one side or the other of your home. It's less likely that someone will attempt to get into the lockbox if your street has a lot of traffic and people. However, it's best to keep it out of sight of passersby.
Lockboxes may be installed in the following locations:
To keep it hidden from view but still accessible to visitors, you may place the box along one side of your home.
Airbnb lockboxes may be safely stored in several places, including the garden. You may mount it on a fence or a wall in your backyard. Trees and other outdoor facilities, such as pools and fire pits, may be used as visible markers if you have them nearby.
Lockboxes are often hidden underprops, such as behind a fake boulder or within a fake hosepipe, by rental owners. When it comes to hiding your lockbox, you may also conceal it in the garden. Make sure your visitors have easy access to the directions you've provided.
Identify an area of the building that is easily accessible yet hidden from view. Your lockbox should not be placed directly in front of a busy road or an access gate.
If you're renting out a house, you may need to get permission from the landlord before installing an Airbnb lockbox on the wall or door.
Conclusion
When visitors arrive at your vacation property, they may feel more secure using a lockbox. In this day and age, many visitors prefer the convenience of self-check-in. Providing self-check-in is another way to enhance the visitor experience. Guests won't have to worry about whether or not someone will be there to greet them when they arrive. Be sure to add specific instructions in your welcome letter so guests will know where they can find the key.
Manage all of your Airbnb, Booking.com, Vrbo/HomeAway, and other rental listings in one place on Lodgable's integrated channel manager.
Comments on this guide to How to implement self-check-in with a lockbox article are welcome.
Windows & Blinds
Windows Posts
Benefits of wooden natural blinds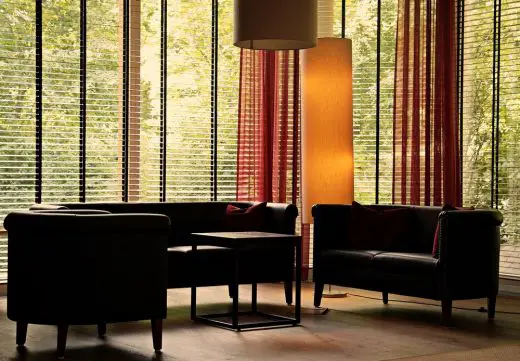 6 of the Hottest Window Blind Trends
How to choose best casement windows for your house
Where should you check out sash windows
Building Posts
Residential Architecture
Comments / photos for the How to implement self-check-in with a lockbox advice page welcome