How to design a perfect bath space, House bathroom decorationg tips, Property renovation design advice
How to Design a Perfect Bath Space – Excellent Tips
14 March 2022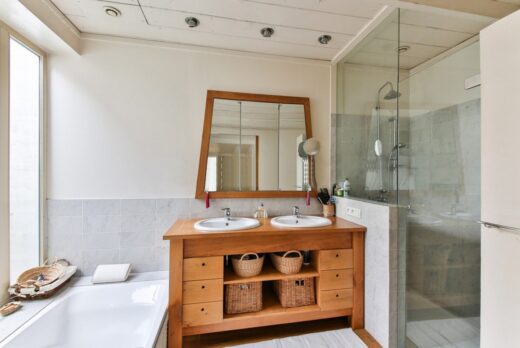 Source: Pixabay
Bathrooms are one of those areas in the home where you can have fun and be creative. They are more than a functional part of your property. The bathroom is where you unwind and relax with a long hot shower after work or a bubble bath at the weekend. So, why not make your bathroom a little more unique by adding some elements that reflect your personality and home style?
Designing a perfect bathroom can be a challenging task, but you will find out how to create a unique and elegant space with the tips below. The beauty of every bathroom is in its details, which makes the difference. It could be sleek bathroom faucets or stylish vanity mirrors, design comes in various ways.
8 Tips to Design a Bath Space
The bathroom is where you cool off after a long day. It's essential to make sure it's a space that provides everything you need, and that also looks great. Here are some tips to help
you design a perfect bathroom space.
1.    Choose a Style for Your Bathroom
If you want to create your dream bathroom, you should start thinking about the style you want to have. You must be sure that the style is per the rest of the house. So if you already have a theme for your home, it would be easy to choose a tone for the bathroom. It can be classic or modern, or industrial.
The only important factor is that you are at ease in your bathroom. If you want to have a modern styled bathroom, you can choose from different types of designs such as:
Contemporary
Traditional
Country-style bathrooms
If you prefer a more simple bathroom design, you can opt for rustic or western-style designs.When you are planning to design a perfect bath space, then you need to take into consideration the bathroom faucets too.
2.    Choose High-Quality Materials
There are several ways to save money on your bathroom remodel, including doing it yourself. If you plan on moving plumbing fixtures, such as toilets, bathroom faucets, or sinks, you should hire a professional plumber. Bad installations can result in leaks and heighten the risk of mold or mildew growth in the walls.
In the bathroom, moisture can damage lesser quality materials over time. High-quality materials are worth investing in as they will last longer and look better. For example, if you use low-quality tiles, they might crack over time due to water exposure and temperature changes.
3.    Choose the Right Faucet
If you're looking for bathroom sink faucets, several considerations include style, finish, functionality, and installation. Upgrade the look of your bathroom by choosing a large faucet that is more suitable for your modern sink size. The installation is also easy with the help of a step-by-step installation guide provided by the manufacturer.
Choosing the right faucet type ties the design of the room all together. Bathroom faucets come in different styles, such as traditional, transitional, and contemporary styles.
There are many different bathroom faucets, with the most popular ones being wall mount sink faucets or sink-mounted faucets. Wall-mounted faucets are great for modern bathrooms since they look charming. They also need professional installation, which adds up to the cost of remodeling your entire bathroom.
Sink-mounted faucets are great for more traditional bathrooms since they need less work to install and cost less money.
4.    Put New Lighting Fixtures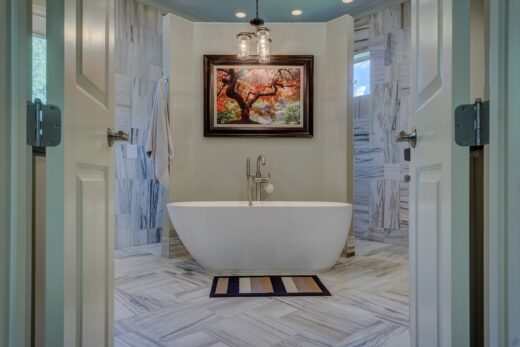 Source: Pixabay
If your bathroom has a window, you may be able to get away with ambient lighting. This is lighting that is not fitted with shades, which allows light to flow through a room. If not, then you'll want to consider adding new lighting fixtures or replacing existing ones.
Consider installing recessed lighting. Recessed lighting is often more expensive than other lighting fixtures. But it is also more efficient and works well in bathrooms and other small spaces. It's also less likely to cast annoying shadows on your shower curtain when standing in front of the mirror.
Gold lights could match well with black bathroom faucets. It gives a luxury kind of style, yet it is quite affordable.
5.    Install a New Vanity Mirror
You'll find vanity mirrors in about every bathroom, but if yours isn't one size fits all, then it's time to upgrade. There are several excellent options available at local department stores and online retailers. Take the time to find one that works for your space, whether wall-mounted or free-standing.
Bathroom faucets at the mirror can either be wall mounted or free standing. It depends on your taste.
6.    Replace Hardware
Hardware is an easy way to add personality to your bathroom, especially when you don't have time or money for a full-on remodel. From towel bars to shower curtains, swap out old fixtures with new ones that fit your style. Pulls and knobs come in various styles, so pick what works best with your decor. Gold adds glamor and industrial black is cool and contemporary.
Outdated and old hardware can make even the most beautiful bathroom look dated and worn down. If your bathroom is looking worse for wear, consider replacing your hardware as a budget-friendly way to give it a facelift. Some areas where new hardware can make a big difference include the shower rod and curtain, faucet knobs, towel racks, and cabinet pulls and knobs.
7.    Add Storage Space
If you have limited space in your bathroom, consider how you can maximize the room's storage potential. There are many ways to do this. Consider adding recessed shelving above the toilet or between wall studs in an unused corner of the room. You could also add floating shelves over the toilet or vanity or install an open vanity without doors.
Storage is always welcome in the bathroom, but there's more to it than installing some shelves. You'll want to store items like towels and toilet paper out of sight, so they don't get in the way. Other things like medicine and cosmetics should be kept in closed cabinets where they are not visible.
8.    Add Wall Decor
Decorating the walls with artistic paintings is one of the best solutions for your bathroom. These wall decor ideas help you add a refreshing look to your space. The artworks are designed by talented artists specializing in creating unique paintings for your home.
Paintings are available in different sizes, so you can choose the right one that suits your requirements and space. These artworks bring a contemporary look to your room and improve your bathroom's ambience.
Conclusion
Designing your bathroom is the perfect opportunity to add style and personality along with functionality. From showers to bathtubs, lighting to mirrors, and bathroom faucets to fixtures, it can be an overwhelming process. However, with the tips above you'll have a place that's warm, welcoming, and perfect for soaking away any stresses from the day. Each individual has different tastes, budgets, and lifestyles, so it does come down to your preferences in the end.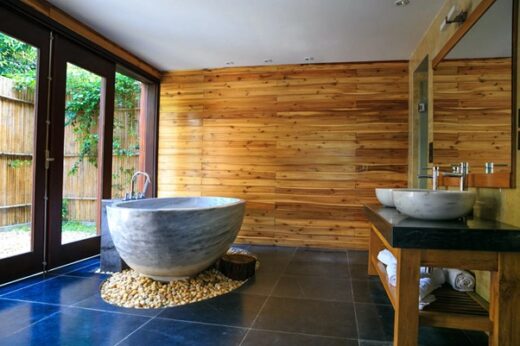 Comments on this guide to how to design a perfect bath space article are welcome.
Bathrooms Articles
Bathrooms Posts
The best flooring options for wet spaces
Bathroom end of tenancy cleaning
Top ways to upgrade and update your bathroom
Building Articles
Residential Architecture – selection:
Comments / photos for the How to design a perfect bath space page welcome