Top ways to upgrade and update your bathroom tips, UK home freestanding bath guide, Online property style advice
Top ways to upgrade and update your bathroom tips
3 Dec 2021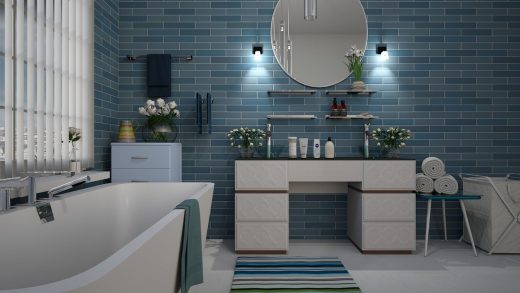 The Top Ways You Can Upgrade and Update Your Bathroom Without Stress or Hassle
If you have been itching to upgrade your bathroom but don't have the time (or funds) to focus on a major refurbishment, there's no need to fret just yet. You don't have to go through the difficulties and expense of a renovation to make your bathroom a more pleasant space. You can still have a more modern, sleeker, and more stylish bathroom without the stress or hassle associated with an extensive remodel – and here are the top ways Keyrenter Austin Management teamsuggests that you can upgrade and update your bathroom today.
Top ways to upgrade and update your bathroom guide
Change the hardware
According to experts, one clear sign that you have an outdated and old bathroom is hardware in knob shapes. If your taps look discoloured or are too ornate, this would be the perfect opportunity to replace them. The same goes for the showerhead, the knobs on the vanity or drawers, and so on. It's a simple yet effective way of modernising your bathroom, too. Replace the old knobs and other hardware with something more straightforward, featuring clean and simple lines.
Invest in a new bath
If you have the budget for it, why not go for something big but still less stressful than a major refurbishment? Of course, we're talking about investing in a new bath, which could be especially useful if your current bath is already the worse for wear. Investing in a new bath is even more necessary if your old bath is in ghastly vintage colours like red, pale green, blue, or pink. If you want to give your bathroom that modern vibe, opt for a freestanding bath. Freestanding baths are quite the rage with bathroom remodels or new-builds, and they can be simpler to install than a built-in bath.
Take advantage of a new bathroom toilet
Here's another aspect that could very well save you more money in the long-term, too: a new bathroom toilet. In the past, toilets came with a standard design. But today's toilet designs are sleeker and more elegant, and they are not as low as older models. Older toilets also waste more water compared to new ones, and having a new one can help you decrease your water bill in no time.
Choose lighter, neutral shades
Next time you walk into a modern and contemporary bathroom, take time to check out the colours used for the space. More often than not, you will notice neutral shades and colours like beige or grey. But this doesn't mean you should stick to those neutral shades – you can still add a pop of colour with bright decorative vases, artwork, and even bright-coloured towels or linen.
But for the key elements, like the walls, neutrals and naturals work best because they can help give the bathroom a fresher and cleaner look. But, of course, your chosen colours have to work well with your other elements, and instead of competing with them, it should highlight them as well.
Go for better lighting
When it comes to lighting, a dim bathroom will undoubtedly look older and dingier than a bright one, but try not to go for too bright, either. The key is to balance your lighting fixtures and give yourself the option to dim the lights or brighten them when necessary. Dual sconces are excellent, as are spotlights or downlights, and even under-cabinet lighting can make a world of difference.
Image attributed to Pixabay.com
Comments on this guide to top ways to upgrade and update your bathroom article are welcome.
Building Articles
Residential Architecture
Comments / photos for the Top ways to upgrade and update your bathroom advice page welcome