Most popular bathroom designs in 2021 tips, Home bath decor guide, Online property style advice
Most Popular Bathroom Designs
29 Dec 2021
A Glimpse of 2021's Popular Bathroom Designs and What to Expect the Following Year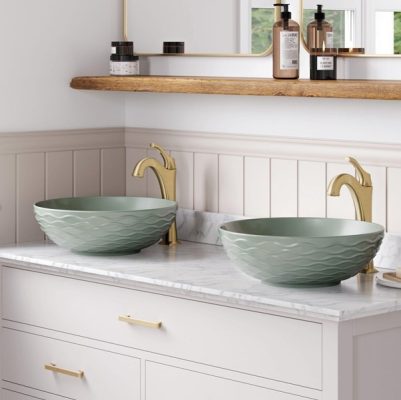 Most popular bathroom designs in 2021 guide
Did you renovate your bathroom in 2021? No remodeling decision can ever be straightforward. After all, every corner of the house consists of multiple design elements, each contributing to its purpose and aesthetics.
When you know what others are doing with them and how, you can implement those hesitation-free. You can tell yourself that your choices are relevant and meaningful. From selecting storage systems to finishes and layouts, everything hints at the common perception about what might work and what might not. Whether you pursue this or not, Keyrenter Premier Management team suggests that you can explore things that got widespread support from people this year and things that will most likely be a part of the 2022 bathrooms for an idea.
Takeaways from the 2021 bathroom design trends
The common reasons behind most bathroom renovation projects were the functionality and style issues. Designers focus on finishes and accessories to revive the look in many places. Homeowners went for this to get rid of the outdated space and end the storage struggle. They added oversized vanity for storage and a low-curb shower to create a sense of spaciousness. They used a combination of natural light, overhead lighting fixtures, and sconces for lighting.
About 25% of homeowners wanted to upgrade their bathrooms to make them friendly for aging members. Since aging brings mobility challenges, designers suggested spacious curbless threshold designs suitable for even someone who uses a wheelchair. The absence of steps or thresholds also created more space to integrate seating and support features, such as benches, grab bars, etc.
As for materials and finishes, the white theme has been the dominating factor. Whether it included countertops, vanities, shower walls, or others, everything looked white. The reason for this can be the color's ability to create a sense of cleanliness, airiness, and so on. If you like a spa vibe, you can again trust this shade. Some bathrooms also welcomed gray walls and wood vanities to introduce a different tone. However, blue vanities seem to be going strong as about 8% of people opted for them in 2021 compared to 5% the previous year.
A significant number of bathroom remodeling projects focus on size. Almost 77% of homeowners didn't make any footprint changes to avoid high cost and complexity. They preferred to work within the existing square footage. Many bathrooms were either smaller than 100 square feet or around 100 to 199 square feet. At the same time, 42% of people went for layout changes, which mainly included shower relocation, modification of the old walls, etc.
Other than these, one strongly emerging trend has been the addition of freestanding soaking tubs made of acrylic material. Another sight that captured everyone's attention again was the alcove tubs, standard in shower-tub format.
The expectations from the 2022-bathroom designs
Patterns and shapes
You get multiple options in basic tiles nowadays. But the technological intervention has made these choices richer with colors and graphics. In 2022, you can expect many exciting configurations that are not so traditional-looking.
Some old tile designs will also be back, but there will be newer options. Forget about the usual subway or large format wall tiles. The choices will be extensive, with shapes like diamond, hexagon, chevron, arabesque, etc. Imagine them in different colors and textures too. These tiles can mark their presence almost everywhere for a bold style, from floors to shower walls to ceilings and backsplashes.
No matter what tile you choose for the sink area, consider installing stunning vessel faucets to create the perfect atmosphere there.
Wood accents
With the slow departure of greys from the bathroom décor, warm tones and accents have become the priority. It is more relevant for wooden flavors. Since wood can match a color easily, such as green, blue, white, and darker options, there will be a soft corner for it. The industrial and vintage themes can benefit from it the most. You can rely on this component if you want to give your bathroom a classical and traditional twist while retaining its modern core.
Compact storage
Storage systems play an integral role in the renovation, no matter what. The 2022 bathrooms will focus on compact storage areas with cabinets and shelves. All these will have simple formats to vibe with modern minimalist habits. This setup has to do with ease of use of spaces and intelligent organization. Compact storage units can create a relaxing and cozy feel in the bathroom. So, you can also expect hidden cabinets and wall shelves to be there.
Showers
In 2021, freestanding tubs were the highlight. Although they can continue to enjoy more attention, there is a prediction that showers might replace them as the focal point. Oversized showers, designer shower tiles, and skylights can come together to give new and fresh energy to the outdated bathrooms.
Mirrors
Mirror has always been an integral part of the bathroom. Modern times can see them in their better and improved asymmetrical avatar. Some believe that geometric shapes will take over this space. With this, they can also embrace the touch of advanced technologies to offer an excellent bathroom experience.
Imagine them with anti-fog, smart touch, and other such functions. Frames can have different shapes to exhibit creativity. Besides that, there can be acceptance for mirrors with lighting. You don't need to feel surprised because you cannot groom yourself without proper light arrangements in this space. Make sure you choose backlit mirrors for more focus and ease of use. Front-lit mirrors can distract your attention.
Wallpaper
It seems like nothing can beat the charm and versatility of wallpapers. That's why you can also hope to see them in the new decors. However, there can be an inclination for floral designs more.
What happened this year and what will likely occur the following year can be interesting to note, particularly if you have been planning to redo your bathroom. You can compare the trends to pick the best from both of them. If you find it overwhelming, you can discuss your choices with an experienced contractor to sort out the matter in your favor.
Comments on this guide to Most Popular Bathroom Designs in 2021 article are welcome.
Building Articles
Residential Architecture
Bathrooms
Home Bathrooms Posts
Bathroom improvements ultimate guide
Designing the perfect bathroom
Bathroom remodeling important factors
Comments / photos for the Most Popular Bathroom Designs in 2021 advice page welcome