Guide to Home Adaptations for Independent Living, House Renewal Advice, Design Help
Home Adaptations for Independent Living
10 Dec 2020
As we age, moving around our homes can become more of an issue due to various health and mobility challenges. There is an ageing population and a lack of suitable housing, such as bungalows, for elderly residents in this country, but most people wish to stay living independently in their own home as they get older.
Many elderly people living alone rely on family members or carers to assist them at home, or they end up living on one floor to avoid struggling on the stairs. One solution to help people stay living independently in their own home is to make adaptations to an existing property to future proof it as the occupants age.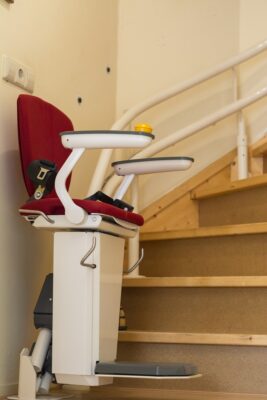 Get a Stairlift Fitted
For someone who is unsteady on their feet, there is a high risk of an injury from a fall on the stairs. However, there is no need for an elderly person to struggle on the stairs or worry about getting stuck halfway up or down. Installing a stairlift is an affordable adaptation that can make the stairs safe and make both floors of a home accessible.
The staircase layout, such as whether it has bends or turns, is the main factor that determines the price you will pay. There is more work required to install curved models, so these cost more than simple straight ones.
Both types can be installed within a few hours by professional stairlift companies. They are fitted on a track that attaches to the stair treads, without affecting the adjacent wall and are designed to be very easy and comfortable to use. A stairlift can make a huge difference to someone that can no longer manage the stairs and can enable them to live independently at home.
Alter the Bathroom
Another area of the home where there is a risk of an accident or injury is the bathroom, so it is a good idea to make some adaptations here to improve safety and comfort. There are a few changes that can help to reduce the chance of someone getting stuck in the bath or slipping in the shower.
Depending on the space available and layout of a bathroom, a conventional bath tub or shower cubicle can be swapped for a walk-in bath or a shower with a seat, along with grab rails. These adaptations can help a resident be able to wash independently without requiring assistance.
To make life easier for someone with arthritis, traditional taps can be replaced by lever or sensor-operated taps. Another important consideration in a bathroom is putting in non-slip flooring, for example slip-resistant tiles or non-slip vinyl.
Keep Access Clear and Wide
When a person has difficulty walking and needs to use a walking stick or frame to move around the home, keeping access clear and providing adequate space is essential. Any objects, fixtures or fittings that could be bumped into or cause a trip hazard should be removed. This includes all kinds of things such as rugs, door mats, furniture or built-in cupboards.
If doorways are narrow, getting a builder to widen them to improve accessibility around the home is a relatively straightforward adaptation to help someone live independently at home.
Maximise Lighting
Poor lighting is another thing that can increase the risk of a fall or injury, as it makes it harder for a resident to see where they are going and could cause them to bump into something or trip. Updating lighting is a relatively straightforward adaptation to make.
Light switches should be within easy reach and light fittings and bulbs should emit optimal light without causing areas of shade.
As well as maximising lighting inside the home, it is important to consider external lighting outside the property, around entrances and pathways. This can make access to the home safer, particularly when it is dark, and reduce the risk of a trip or fall. Motion sensor lighting that illuminates an area when movement is detected is a good option here.
Improve Exterior Access
One thing that should not be overlooked when adapting a home is the exterior access. As with the inside walkways, exterior pathways need to be level and free from trip hazards. Ideally, they also need to be wide enough to be accessed by a someone using a walking frame or wheelchair. If there are any small steps, ramps can be fitted to make access easier.
Making adaptations to future proof existing properties can help promote independent living opportunities and make it easier to people to stay in their own homes as they get older, and architects are designing new homes that are being built with the needs of an ageing population in mind.
Comments on this guide to Home Adaptations for Independent Living article are welcome.
Architectural Design
Architectural Posts
Importance Of Architectural Drawings In The Design Process
Architecture Portfolio Of Successful Architects Tips And Tricks
Why home owners prefer working with stair experts
Buildings
Contemporary Architecture Articles
Comments / photos for the Home Adaptations for Independent Living Advice page welcome