Hiring a builder for your project guide, London building company advice, UK home build tips
5 Important Qualities to Consider When Hiring a Builder for Your Project
28 December 2022
Are you planning to hire a builder for your next construction project? Whether you're looking to build a new home, expand an existing one, or do some renovations, it's crucial to ensure that you hire the right builder for the job. The wrong builder can lead to costly mistakes and missed deadlines. To ensure that you find the best builder for the job, consider critical qualities that your builder needs to possess to help you achieve your goals without hassle. Here are qualities you should consider when hiring a builder for your construction project.
1.   Adaptive to Latest Technology and Trends
One of the essential qualities that an excellent builder should possess is the ability to keep up with the latest technology. As the construction industry continues to advance and evolve, a builder needs to be able to adjust their methods and techniques to the new technologies available. An excellent builder like the London building company will be able to take the latest technological advances and use them creatively to provide innovative solutions. With the introduction of 3D modeling and augmented reality, a builder who is up to date with modern technology can help save you time, money, and effort on a project.
The adaptive nature should also extend beyond acquiring building tools and materials to understanding how construction trends change. That way, they can incorporate more sustainable building practices into their work. Awareness of new codes, regulations, and technological advances makes a builder more qualified and able to complete projects efficiently and safely. A builder who has not adapted to the latest technological advancements could cost you time and money due to outdated practices.
2.   Attention to Detail and High Creativity
Another essential quality of an excellent builder is their attention to detail. Even the slightest mistake can lead to costly delays, so it's crucial to find someone who pays close attention to their work and is willing to go the extra mile to ensure accuracy. That can also be evident in their willingness to listen carefully and follow instructions, ensuring that the final product is what you envisioned.
A builder who is creative and attentive to detail will be able to execute excellent finishes. That means your project will look great, have beautiful features, and endure rough daily usage conditions. In addition, they'll be able to make modifications and aesthetic improvements without sacrificing structural integrity.
3.   Respects the Environment
A quality builder will have a strong understanding of environmental responsibilities. They will understand the impact of construction on the environment, including other people in the neighborhood, and take steps to minimize the adverse effects of their work. They should take the necessary precautions to ensure their projects are sustainable and eco-friendly.
A builder that contributes towards a greener world will also consider the sources of materials they use in the construction process and select products that have a lower impact on the environment. Such a builder will implement measures to minimize dust, noise, and waste throughout the project. Ask any potential builder about their knowledge and awareness of environmentally friendly building practices and ensure they are up-to-date with current green building standards.
4.   Ability to Execute High-Quality Building Projects
When hiring a builder, it is essential to ensure they can execute high-quality building projects. That means the builder needs to be knowledgeable and experienced in their field. They should be able to achieve high standards take on any project, whether;
New buildings
Extension projects
Small-scale repairs
Large-scale renovations
The builder should also be able to work with various materials and use different tools for each job. It is essential to ask for references from previous clients and check their portfolios before deciding. Furthermore, excellent builders adhere to building codes and regulations. That will give you peace that your project meets all safety standards and complies with local laws. Finally, your chosen builder should be willing to collaborate to fully understand your vision and expectations, create a design and build a plan accordingly.
5.   Expertise and Well Equipped
When hiring a builder, it is essential to find someone who is an expert in their field and has the right equipment to handle the job. You should look for someone with a proven track record of success and who is highly skilled in the specific type of construction project you are undertaking. They should also have all the necessary tools and materials required to complete the job to the highest standard.
Additionally, they should be experienced in different building techniques, such as bricklaying or timber framing, depending on your project's requirements. Furthermore, they should be well-equipped when it comes to safety standards. That means having the appropriate safety equipment (e.g., hard hats) and adhering to proper health and safety regulations on-site.
Conclusion
Finding the right builder to work on your home or business project is crucial to achieving your desired results. Whether you want to do a home extension, renovate a bathroom or build a new office building, it's vital to hire a qualified professional with the necessary experience and skills and well-equipped with the latest tools and technology to ensure your project runs smoothly and efficiently. The quality of your project and your level of satisfaction are as good as your builder's qualifications, so when searching for someone to help you bring your dream into reality, make sure you look for a builder who can birth your vision into reality.
Comments on this guide to Hiring a builder for your project article are welcome.
Home Insulation
Building Wall Insulation Posts
Things to check while selecting commercial insulation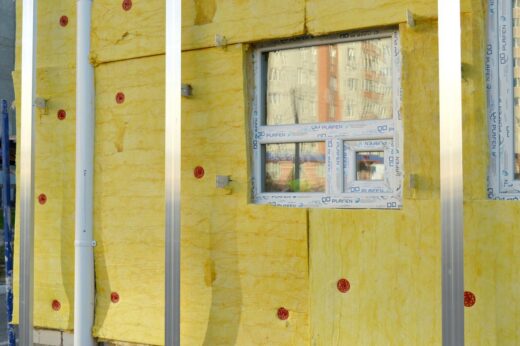 Benefits of External Wall Insulation
Cold-proof your home for winter
Reduce home heating costs with spray foam insulation
Building
Residential Architecture Articles
Comments / photos for the Hiring a builder for your project advice page welcome