Reduce home heating costs with spray foam insulation, Residence save money on energy bills tips, Property upgrade help
How to Reduce Heating Costs in your Home with Spray Foam Insulation?
14 January 2022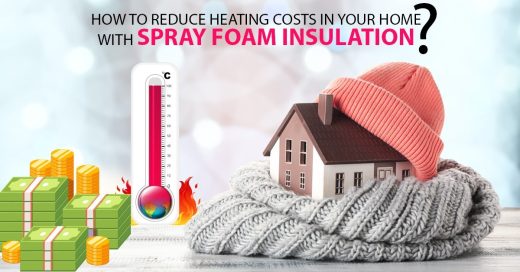 When constructing your dream home, you need to take several important decisions. You are to select the flooring, siding, paint colors, etc. Insulation type to install is another vital aspect to consider ensuring having an energy efficient and comfortable home.
It will be essential to reduce or eliminate significantly energy loss by providing high-performance thermal envelope. Industry experts recommend installing spray foam insulation instead of traditional building insulation like fiberglass. It helps reduce energy costs and utility bills. Also the interior of your home remains warm during freezing weather and cool when hot outside. But the question is Does spray foam insulation uk cost save money!
Reduce home heating costs – Spray Foam Insulation
It is considered to be a 2-part liquid insulation material to air seal and insulate wherever it gets applied. These two liquids are found to travel to a spray gun through the heated hose where they get mixed to develop foam. Within seconds, the foam expands, thereby filling up the cavity space.
Types
There exists two spray foam insulation types in the market to select from, namely, open cell & closed cells. R-value is what measures its effectiveness. It refers to the capacity of the insulation towards resisting heat flow. R-value being higher means greater is its insulating power. Industrial, commercial and residential buildings can be installed and protected with spray foam insulation. But what about spray foam insulation cost? Discussing with the industry professionals will allow you to know the exact cost involved based on your specific requirements.
Energy-Saving Benefits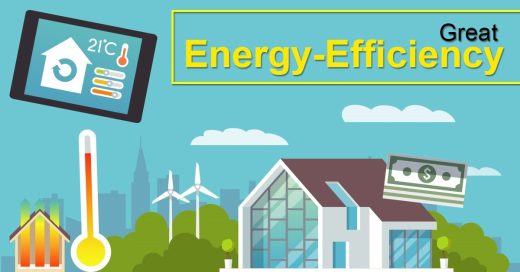 Energy saver: It covers effectively all nooks & crannies of your home. Being extremely energy efficient, it offers a wonderful air barrier. Spray foam can save energy by preventing cold /heat from penetrating the thermal envelope.
Powerful insulator: It is proven to work much better when compared to traditional insulation due to its expansive nature. If correctly applied, it seals tightly even tiny area while providing higher R-value/inch when compared to fiberglass.
Moisture barrier: Cracks and holes present in crawl spaces and wall is likely to allow ingress much more than air. These areas may provide access to moisture and water through the exposed holes and cracks if not properly sealed. Water cannot penetrate spray foam insulation material. This effectively means that this insulation type not just seals thoroughly the holes, but also protects your home interior from leaks and airborne moisture. Doing some research on the web will allow you to know How much money can you save by spray insulation.
Eliminates air infiltration: High energy bills result mainly from air leaks. Air infiltration as per the DOE is accounted for about 30+ percent of the home's cooling/heating cost. Other problems might also arise like dust, noise, moisture, along with entry of rodents, insects and pollutants. With spray foam insulation, it is possible to seal all cracks and holes thoroughly. Thus, a powerful and non-penetrating airtight seal is created that does not allow air or moisture infiltration.
Reasons why Spray Foam Insulation is Gaining Popularity
Spray foam is a great option for buildings when they want to insulate important areas. Several factors are responsible for the increasing popularity of spray foam insulation and people should know about them properly – https://www.comparequotesguru.co.uk/spray-foam-insulation-cost-the-ultimate-guide/. One of the main reasons why buildings choose spray foam for insulation is energy efficiency. Not only that, the recent government regulations to reduce greenhouse emissions made buildings pick spray foam insulation. Moreover, emerging trends in the insulation process attract large customers in the markets.
What type of Spray Insulation is the Best?
Insulation firms offer open-cell foam pray insulation and closed-cell foam spray techniques for customers based on their choices. A building owner should know the types of spray foam insulation available for a building in detail before investing money. Open-cell foam spray has a lesser resistance value when compared to closed-cell foam spray.
Furthermore, it provides less support for walls that is vulnerable to vapor and air. On the other hand, open-cell foam spray is the right choice for reducing noise levels in a building. Closed-cell foam spray offers more benefits to buildings than open-cell foam spray. However, building owners shouldn't ignore the cons of spray foam when they want to insulate their loft and other areas.
What are The Pros and Cons of Spray Foam Insulation?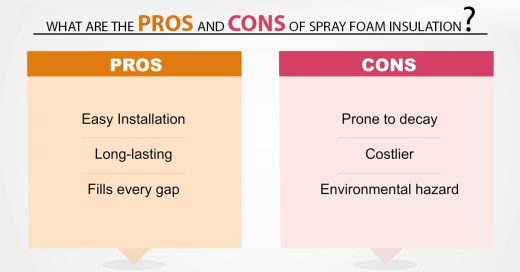 Spray foam insulation acts as a barrier against allergens and other airborne contaminants that will help achieve better results. Closed-cell spray seals all gaps even in awkward areas which gives ways to reduce moisture levels and other problems significantly. Insulating a building with spray foam provides methods to improve the air quality that will help live a trouble-free life. The main disadvantage of spray foam is that it is expensive than other options. Apart from that, certain chemicals in foam spray will lead to health risks.
Things to Consider in Spray Insulation
A building owner should keep certain things in mind while choosing foam spray insulation that will help meet exact requirements. It is wise to list a breakdown of the pros & cons of spray foam insulation before hiring services from a contractor. Some other factors to consider include the R-value, air-sealing properties, purpose, costs, spaces, etc.
Those who want to insulate their property should work with a reputed contractor to learn more about the practices and other things efficiently. A contractor will evaluate the conditions of a property with more attention before the insulation process and guide customers to plan works with high efficiency.
Hence, knowing How much does insulation save on energy bills and installing it at the home does help reduce cooling/heat costs.
Comments for the guide to Reduce home heating costs with spray foam insulation page are welcome
Construction Articles
Construction Posts
Benefits of External Wall Insulation
Make Your Construction Fleet More Efficient
Kai Tak, Polzeath, Cornwall, England, UK
Design: Cassell Tarring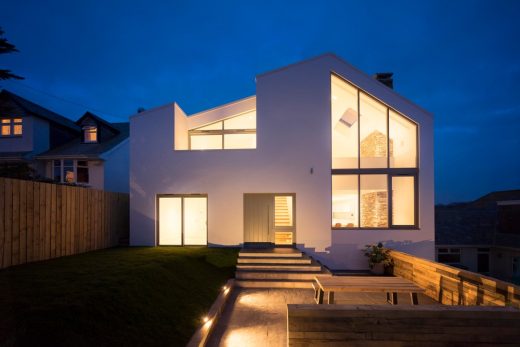 photo : Daniel Fisher
Kai Tak House
5 reasons to use steel in residential construction
5 Most Common uses for Aggregates in Construction
Comments / photos for the Reduce home heating costs with spray foam insulation advice page welcome