Buying an Outdoor Rug? Here's a guide on how to choose one, Online flooring advice, home floor
Buying an Outdoor Rug? Here's a guide on how to choose one
24 June 2023
When it comes to creating a stylish and inviting outdoor space, an outdoor rug can work wonders. It adds warmth, defines areas, and provides a comfortable surface for bare feet. However, selecting the right outdoor rug requires careful consideration.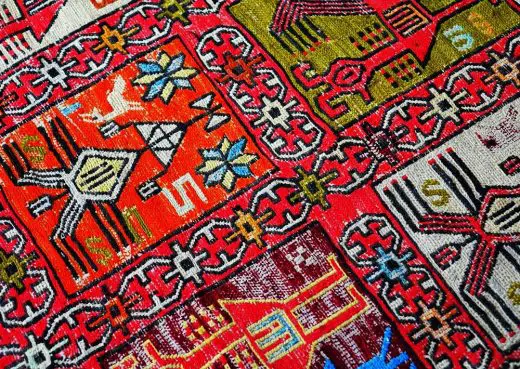 With a myriad of options available in terms of materials, sizes, designs, and durability, it's important to choose one that can withstand the elements while still reflecting your personal style.
In this guide, we'll provide you with essential tips to help you choose the perfect outdoor rug that will elevate your outdoor living experience.
Determine Your Outdoor Space's Purpose:
Consider how you plan to use your outdoor space. Will it be a cozy lounge area or a vibrant dining spot? Identifying the purpose will help you determine the appropriate rug size, shape, and material.
For lounging areas, larger rugs that can accommodate furniture are ideal, while round rugs work well for defining a specific seating or conversation area.
Select Durable and Weather-Resistant Materials:
Outdoor rugs need to withstand exposure to sunlight, rain, and foot traffic. Choose materials specifically designed for outdoor use, such as polypropylene, nylon, or polyester. These materials are fade-resistant, moisture-resistant, and easy to clean. Natural fibers like jute or sisal can also be used in covered outdoor spaces but may require more maintenance.
Consider Rug Thickness and Pile:
Choose a rug with a low pile or flatweave construction for outdoor use. Low pile rugs are easier to clean, dry quickly, and are less likely to trap dirt. Additionally, a thinner rug is less susceptible to mold and mildew growth in damp environments. It also helps prevent tripping hazards, especially in high-traffic areas.
Evaluate UV Resistance:
Sun exposure can cause colors to fade over time. Look for outdoor rugs with UV-resistant properties to ensure long-lasting vibrancy. UV-resistant rugs are specifically treated to withstand the sun's rays and retain their colors for an extended period.
Assess Maintenance and Cleaning:
Outdoor rugs inevitably encounter dirt, spills, and stains. Ensure the rug you choose is easy to clean. Look for rugs that are mold and mildew resistant and can be hosed down or spot cleaned. Additionally, consider rugs with quick-drying properties to prevent moisture buildup.
Determine the Rug's Grip and Stability:
To prevent the rug from slipping or bunching up, especially in windy areas, consider using a rug pad designed for outdoor use. Rug pads not only provide additional grip but also allow for better air circulation, which helps prevent mold and mildew growth underneath the rug.
Reflect Your Style and Outdoor Aesthetic:
Outdoor rugs come in a variety of patterns, colors, and designs. Choose one that complements your outdoor decor and reflects your personal style. Whether you prefer bold and vibrant patterns or subtle and earthy tones, your outdoor rug can add a touch of personality and tie the whole space together.
Test the Rug's Comfort:
Before making a final decision, walk on the rug barefoot to test its comfort. While durability and functionality are crucial, you want to ensure the rug feels pleasant underfoot. Consider choosing a rug with a soft texture or adding outdoor cushions or pillows for extra comfort.
Selecting the perfect outdoor rug involves thoughtful consideration of its main purpose, durability, weather resistance, maintenance, and style.
Whether you're creating a cozy lounge area, a vibrant dining space, or a serene patio retreat, the right outdoor rug can transform your outdoor oasis into a true extension of your home
Comments on this Buying an Outdoor Rug? Here's a guide on how to choose one article are welcome.
Rugs
Rugs Posts
How To Decorate Your Home With Rugs
Rugs in interior design: ways to uplift a room
4 most effective ways to clean rugs at home
Building Articles
Residential Architecture
Comments / photos for the Buying an Outdoor Rug? Here's a guide on how to choose one page welcome