Buying rugs guide, Decorative carpet tips, Online property flooring advice, New Zealand home floor
Buying rugs guide – flooring advice
3 Sep 2021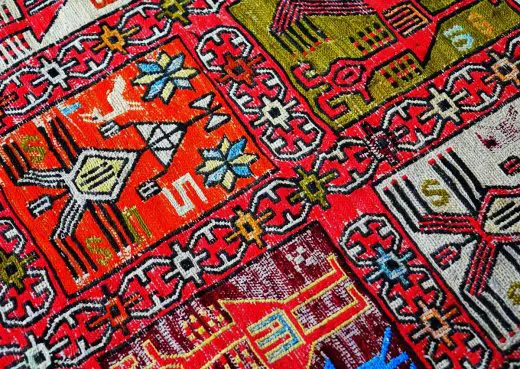 Buying rugs guide – floor material advice
Rugs: What to consider when choosing the best ones
For those seeking a touch of luxurious refinement, Persian rugs offer unparalleled craftsmanship and exquisite designs that elevate any interior.
Rugs from sourcemondial.co.nz are a decorative element for any room in the house. They provide warmth, comfort to the tread, isolate from the cold and absorb noise. They also help protect the floor in busy areas and allow different spaces to be visually delimited. By searching online, you will find a wide variety in style, colors, sizes, materials and patterns so that you can choose the one that best suit your home; even out of it in your outer space. But the location and material of the Modern Rugs are the two most decisive factors.
Location: where will the carpet be?
It is important to know where you will locate the carpet per room since this defines the type of material, for example; its shape in the case of a corridor and its style for the decoration of the space. So the first thing is to know if the carpet will be outside or inside (all outdoor carpets can decorate inside the house but not vice versa).
If the carpet is located in an outdoor space, it is important to determine if it is an open area but covered or without protection from the sun and rain, so that the carpet is fully exposed to the elements. This determines the material of the part. Polypropylene rugs can be left out in the open, but not vinyl or natural fiber rugs such as jute, which, although suitable, must be covered under a roof. If it is a question of choosing a carpet for the interior, its location in one room or another of the house will also be linked to the material.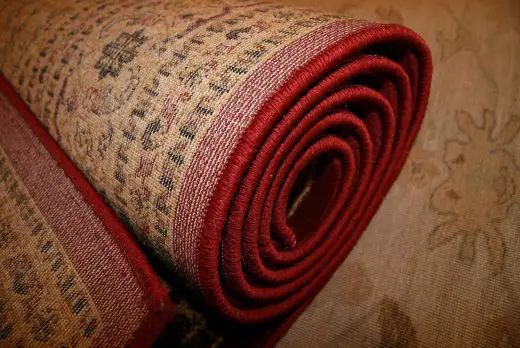 Buying rugs guide – materials choice
The rugs can be made of natural fibers (cotton, wool, jute … that do not accumulate static electricity) or of synthetic fibers (polypropylene, PVC, microfiber …). The difference can be seen in the touch and, above all, in the resistance and maintenance of each one. Today, you can choose custom rugs by composition.
Natural fibers
– Jute
It is a natural fiber that can be used both indoors and outdoors, but only in spaces where they are under roof. It has high resistance to wear and tear and its touch is soft.
– Bamboo
Bamboo rugs are made of a natural material that is warm, comfortable and resistant to twisting once dry. It is indicated for interior spaces.
– Wool
Another natural fiber indicated for high or moderate traffic rooms. Wool rugs do not accumulate static electricity, they have insulating properties and the ability to absorb moisture. They are also antibacterial and antiallergic.
– Cotton
Cotton rugs are made with this type of natural fiber, they are comfortable. It is recommended in areas with moderate passage both indoors and outdoors but under cover. Cotton is resistant to high temperatures. It is insulating. It does not accumulate static electricity and has a high moisture absorption power.
– Sisal
Sisal is a very durable and wear-resistant natural fiber. It does not accumulate static electricity.
– Viscose
It is a natural fiber from wood or cotton fibers that is treated with other materials to form cellulose xanthate. It is silky and smooth, not suitable for humid places.
Synthetic fibers
– Polypropylene
Synthetic fiber indicated for outdoor use (porches and terraces). Wear and crush resistant. Its colors are unalterable and resistant to UV rays so it can be exposed. It is antiallergic (does not accumulate dust or dirt) and can be cleaned with water, directly with a hose. In addition to outdoors, it can be decorated with a polypropylene rug indoors where there are allergy sufferers, pets or for those seeking comfort without renouncing the decorative power of a rug.
– PVC
Synthetic fiber used to make vinyl or teplon rugs. They are used indoors (for the same reason as previously described in polypropylene) and covered outdoors (because it discolors with direct contact with the sun). It is very resistant to wear and tear and crushing. It does not accumulate aesthetic electricity and is antiallergic (or hypoallergenic) and antibacterial.
Are you now ready to buy rugs?
Comments on this guide to buying rugs: what to consider when choosing article are welcome.
Rugs
Rugs Posts
How To Decorate Your Home With Rugs
Rugs in interior design: ways to uplift a room
4 most effective ways to clean rugs at home
Building Articles
Residential Architecture
Comments / photos for the Buying rugs guide: what to consider when choosing advice page welcome