Does rug size matter guide, Decorative carpet tips, Online property flooring advice
Does Rug Size Matter for Each Room
15 June 2022
First, measure the length and width of your room, then add about 3 to 6 inches to each measurement (depending upon the style and rug size) for a 6'x9' rug. Smaller rugs can also be used in rooms, as long as the color, pattern and size of the room will allow for the smaller rug You should also keep in mind that too much of a rug in a room can make it appear smaller. All rug sizes are approximate and should be used as a guide to help determine the size rug to order. Unless the rug is a flat weave, the rug will have a pile to it, which will make it thicker than the given size.
İsmail Kuden (CEO, KudenRugs.com)
Does Rug Size Matter: How To Choose the Right Size for Each Room
If you're looking for the perfect rug to complete a bedroom, living room, kitchen, or hallway, you probably know how daunting it is to choose a piece in a store or online. It can be difficult to get a sense of how big rugs should be and where they should be placed, especially if you lack interior design experience. The colors and patterns you choose for your rug are as unique as you, and you want them to be properly appreciated—not hidden away or dominating a space.
Interior design is all about balance, and an oversized or undersized rug can diminish your other design choices. For those of us who live in apartments or have limited space, it's even more important to find a rug that fits the shape of a room and its furniture. What about bathrooms, kitchens, patios, or other uniquely shaped spaces? Read on for rug recommendations to suit every single room in your house.
Bedroom and Small Living Room Rugs
Perhaps you're envisioning a large rug for your bedroom to help liven up your space, or a plush shag to help you relax. According to Apartment Therapy, if you choose a larger rug for your bedroom, you can place it so that it stretches one-third of the length of your bed, extending out at the base and reaching a size of about 6 feet by 9 feet or 7 feet x 10 feet.
If your room is big enough, you might even choose a rug that extends the full length of the bed and rests underneath nightstands or other furniture. If you have a smaller bedroom, you can still choose rugs that provide ample comfort; perhaps two smaller rugs on both sides of a bed. Large rugs that are big but not too big could be the perfect addition to any bedroom, dining room, living room, or playroom.
Extra-Large Living and Dining Room Rugs
While living room rugs can be more versatile depending on the layout of the furniture in the space, extra-large rugs in a bold, bright color or ornate pattern are often used in bigger living rooms. They are almost carpet-like and perfectly accentuate hardwood floors.
If you have hardwood floors, do you want to show them off, or would you prefer that your rug be the centerpiece of the room? This is definitely something to consider. For an extra-large rug that spans the width and length of a room, resting underneath coffee tables, chairs, and couches, consider a rug that is 7 feet by 10 feet or bigger. Extra-large rugs should sit about 1.5 feet away from the wall.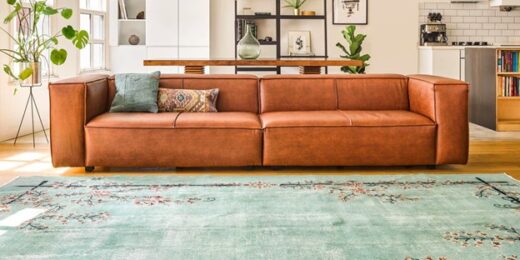 Bedroom, Office, and Mudroom Rugs
Alternatively, if you have a smaller living room, you could consider a medium-size rug that is about 5 feet by 8 feet to 6 feet by 9 feet. In a living room, a rug of this size would look great underneath a coffee table. In a bedroom, it could be placed next to a smaller bed or underneath a nightstand, underneath an office chair, or near the front of a mudroom. For an even more unique look, you can layer a medium-size patterned rug over a slightly larger, neutral rug.
Hallway Rugs
Because hallways are so long and awkwardly shaped, it can be difficult to find a rug that perfectly fills the space. Luckily, runner rugs exist just for this purpose. Runner rugs are longer than they are wide, typically ranging from 2 to 3 feet wide and 6 to 14 feet long. While runner rugs are ideal for hallways, they can also add a pop of color to a kitchen or a larger bedroom. They're best for transitional areas and can even make your hallways and walkways seem more spacious.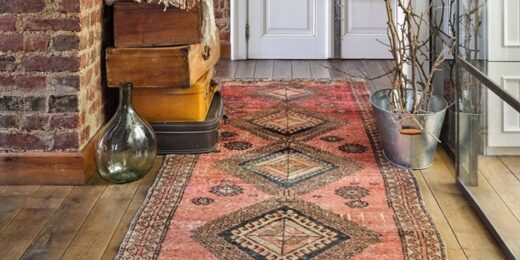 Kitchen, Bathroom, and Foyer Rugs
Small rugs, anywhere from 3 feet by 4 feet to 5 feet by 8 feet, are best for kitchens and bathrooms. These rugs can make the smallest spaces in our home feel cozy and complete. They can also function as area rugs in bedrooms and look great in offices and foyers. If you want to make your entryways and tucked-away corners look more inviting, then a small rug will do the trick.
Outdoor Rugs
Outdoor patios and balconies vary widely in size so a number of rugs could suit your outdoor space. If you have a small balcony or veranda, you might consider a small or medium-size rug to fit underneath a coffee table—or even to sit on, if you prefer. For a bigger location, you could make use of a similar technique or choose a rug in the 5 feet by 8 feet to 10 feet by 14 feet range to span the length of a patio space.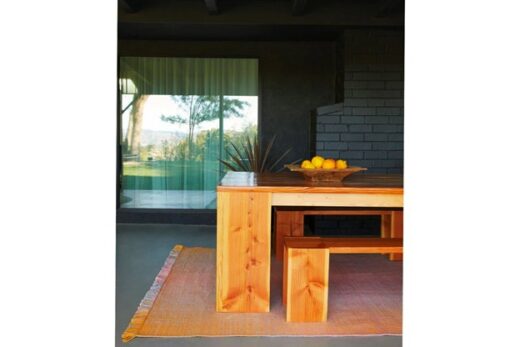 There is a rug design and material for every single space in your home, so as long as you take careful measurements and choose the right size to best accentuate your room's furniture and theme, your home will look like your favorite Pinterest board in no time.
Comments on this guide to Does rug size matter: how to choose right size for each room article are welcome.
Rugs
Rugs Posts
How To Decorate Your Home With Rugs
Rugs in interior design: ways to uplift a room
4 most effective ways to clean rugs at home
Building Articles
Residential Architecture
Comments / photos for the Does rug size matter: how to choose right size advice page welcome