Different types of dining table materials guide, Furniture design tips, Online home style advice
Guide Into The Different Types Of Dining Table Materials
30 Aug 2021
When purchasing a dining table, the material is one of the many things you have to consider. As you know, dining tables come in many materials, including solid hardwood, lightwoods, glass, metal, marble, etc. When choosing the material, you have to balance the style and ease of care and consider your budget. If you are looking into different dining table materials and unsure which one is the best, these checkpoints can be your guide.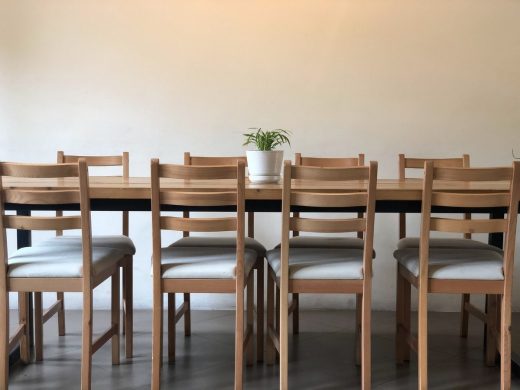 Wood
Solid hardwood is preferable for dining tables due to its simplicity, versatility, and ease of care and maintenance. Your dining table is in it for the long haul, and you want to consider a material that will last for more years to come. Consider buying a solid wood dining table or at least wood legs if you want something that will last longer.
You can add a different finish for the top if you want. You can find dining tables made of wood such as solid oak, walnut, teak, pine, rosewood, satinwood, and other indigenous or imported woods. Ultimately solid wood makes the most durable dining tables.
Wood Pros
Wood is versatile, making it easy to create stylish and functional dining table designs, for instance, an extendable dining table that slides in and out to create extra sitting space or maximize the available dining space.
It is durable.
Easy to repair.
Easy to maintain.
Wood Cons
Expensive than other materials for dining tables.
It expands or contracts depending on humidity or heat, which can impact its lifespan.
Glass
A glass dining table provides a sleek and stylish look if you want a modern look for your dining area. You can choose between frosted, clear, or tinted glass. Most of the glass dining tables use wood as the stand, making them more sturdy. If your dining area is light deprived, a clear glass dining table can bring light and fill the space with luminosity.
Glass Pros
It is an economical material to use as a tabletop.
With proper maintenance, the toughened glass table is long-lasting.
Elegant and sleek.
Glass Cons
A glass dining table can break easily, especially when moving.
Reveals stains, finger marks quickly; therefore, you need to clean it often.
Can crack due to heat.
Stone
Stone tabletops range from marble to composite, cement, quartz and bring out a sophisticated feel in your dining area. But it may require tegular resealing and high maintenance.
Stone Pros
Elegant and stylish.
Sturdy and durable.
Stone Cons
Stones like marble are expensive.
Prone to chips and cracks, which are hard to restore.
More porous with a tendency to absorb moisture and stains.
Laminate
Laminate materials are used as the top decorative layer for a dining table made of materials like plywood. Laminate dining tables are cheap but low on durability and longevity.
Laminate Pros
Resists staining.
Less maintenance.
Laminate Cons
Low quality hence not durable.
Metal
Metal is a sturdy material used for dining table bases. It comes in various materials, including stainless steel, brass, zinc, plain, lacquered, or painted finishes.
Metal Pros
Less expensive than wood.
Metal Cons
Damaged painted metals are complicated to repair.
Needs special cleaning tools.
Different types of dining table materials Conclusion
When choosing the material of your dining table, you can use this guide to balance durability, ease of maintenance, style, and your budget.
Comments on this guide to different types of dining table materials guidearticle are welcome.
Dining Tables
Dining Table Furniture Posts
Best dining table for your house
Modern dining room designs to choose in 2022
What is The Ideal Mahogany Finish
Building Articles
Residential Architecture
Comments / photos for the Different types of dining table materials advice page welcome