Guide to creative ways to enhance an outside patio, outdoor living space oasis advice, Home landscape
Creative Ways to Enhance An Outside Patio
25 Dec 2020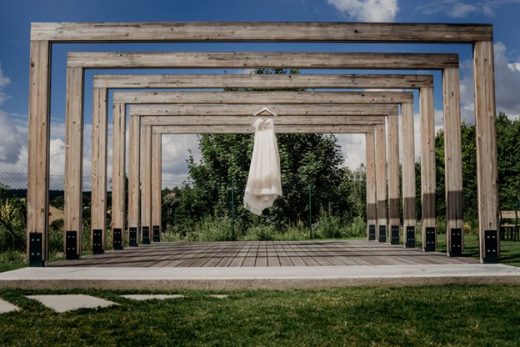 Whether you have a small patio or a large one, there are always creative ways to turn your outdoor living space into an inviting oasis. Your patio can be the space where you gather your loved ones and spend some quality time or it can simply be a relaxing space where you chill and unwind. Making your patio a welcoming space takes a little more than just setting up a few chairs and a small table. Here are creative ways you can transform your outside patio into an artistic and beautiful haven.
Install Lights
Light is an important element that can completely transform the layout of any outdoor space. By installing light fixtures around your outdoor patio, you can elevate the space and make it look more cozy and warm. The design and color of the light fixtures you choose will play a huge role in how the patio will look depending on your personal taste. If you add warm or cool string lights, it can make the patio look comfy and boho-themed, especially if the furniture you have is simplistic and laid back. Whereas if you add bigger light fixtures or sconces, it can add a more lavish touch to the patio and give off the vibe of elegance and luxury.
Fix Blinds
People use their outdoor patios to enjoy the beauty of the great outdoors and get some fresh air. However, you can get the best of both worlds by fixing outdoor patio blinds that can transform your patio into an indoor living space whenever you need to. This can come in handy on days when the weather is not suitable for outdoor hangouts or when you simply want that extra space for yourself to tune out the world.
The blinds will also add an element of beauty to your patio and can shield your outdoor space from direct sunlight and wind on days where you want to sit outside but enjoy the shade. When you choose your blinds, make sure they are made out of durable material that will pass the test of time and can tolerate extreme weather conditions without falling apart.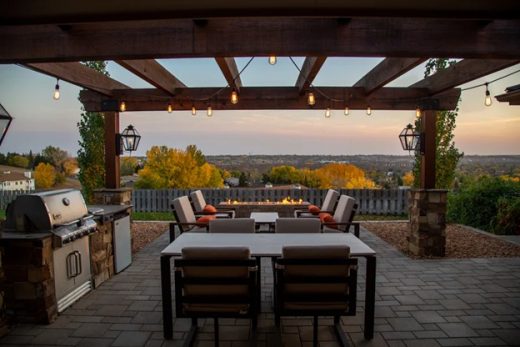 Add a Dining Table
Your outdoor patio is a great place to gather all your loved ones and enjoy a meal under the sun. You can get a little creative and add a simple dining table with elegant chairs where you can serve delicious meals and host dinner parties whenever you feel like it. You can even elevate the dining experience on your patio by installing a pergola over the space where you plan to place your dining table to make it cozier and inviting. Make sure you cover your dining table and shield your patio on days when the weather conditions become extreme so that the furniture does not get damaged.
Build a Bar
Creating an inviting patio can be done easily by building a bar where you can serve drinks for your friends and loved ones on special occasions. The bar can also come in handy when you are looking to have some alone time outdoors and enjoy some peace. Building a bar is a very simple yet creative idea that can help you enhance your patio and make it more unique. You can even build the bar yourself without having to hire contractors for the job; all you will have to do is get sturdy tools and do some research to get inspiration for the bar design and you will be good to go.
Incorporate a Fire Pit
Nothing makes an outside patio cozier than a fire pit. Just imagine curling up with your partner and snuggling by the fire with a cup of hot cocoa. Consider investing in a portable fireplace that you can move around the patio wherever you plan to sit and relax. You can also build a ground fire pit feature and create a seating area around it for hangouts on chilly nights. A fire pit will not cost you that much but it is a creative way to elevate the layout of your patio and make it that much more unique.
Having an outside patio on your property is a blessing. It can be a place where you relax on your own or host parties with your loved ones. When it comes to enhancing your patio's layout, try to get as creative as possible with designs, and add quirky elements that will make your outdoor space more inviting and special. Make sure you shop around for products before investing in anything so that you can get the best available deals.
Comments on this guide to Creative ways to enhance an outside patio article are welcome.
Patio Articles
Patio Posts
10 Outdoor Patio Curtain Ideas to Dress Up Your Porch
Make your patio into inviting gathering place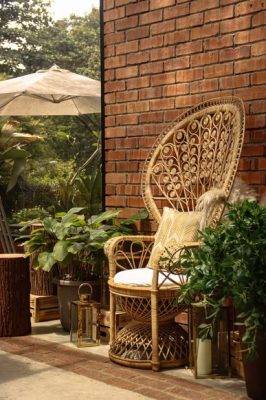 6 Home Decorations You Need To Have On Your Patio
Why choose natural paving stones for patio
13 tips to help you decide on patio furniture
Creative Ways to Decorate your Patio
Building an Outdoor Room or Porch/Patio
Building Articles
Contemporary Architecture
Comments / photos for the Creative ways to enhance an outside patio advice page welcome