Architecture Scale, Current Building Design, Architectural Details, Architects Approach
Architectural Scale : Current Approaches to Building
Architecture Discussion – article by Dr. Peter Magyar
20 Nov 2012
Architecture Scale
Some deliberations about size
SCALES
After several decades, far too many to admit, I still remember, as my professor in the University lovingly drawn up window-details, one after the other, till in a fifty minutes lecture he "wallpapered" the blackboard across the width of the lecture hall! All from his head, without any crutch! Today nobody does that, but looks up the product in a bonbonier catalog (and mostly selects the cheapest).
Contrasting to that, in the last months, I heard not once bragging with the phrase "it is visible from the satellites". One of such project would be Zaha Hadid's National Stadium in Tokyo, Japan. Not that I hate her work, because she won The Peak Competition in Hong Kong with beautifully drawn/painted boards of a not-so-beautiful building (and my cross and cross Feng Shui project did not).
Kasumigaoka National Stadium – New National Stadium, Tokyo, Japan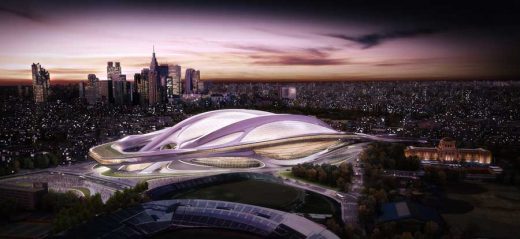 image © Courtesy of Zaha Hadid Architects
No! I even have her app, ZHA, on my iPhone. (I am just a bit disappointed, that her recent victory of November 15th is not yet there among the news. Maybe the seven zeros after the 162 dollars is not so significant to her firm?) Anyway, if the satellite sees it, it can think of an electric eel, or two, from that distance.
And people in the stadium would have all the excitement of being under a multistory highway exchange, with elegant curves, lost in Infinity. I am always intrigued by the fact, that I seldom see my graduate students lost in the ample books on ZHA's work, while they often study Lewerentz and Asplund. Or even the centuries old Japanese joints! Can this be explained by natural convergence to human scale, tangible, tactile preferences inherent in all of us?
Vedeggio-Cassarate Gallery, Lugano, Ticino, Switzerland
Architect: CZA_Lugano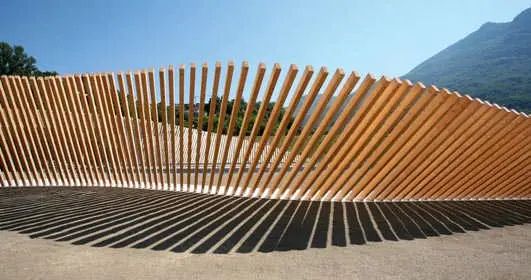 photo : Cino Zucchi
The next subject of my – so far not-so-gracious – rumblings is the Cino Zucchi Architetti office's work, the Vedeggio-Cassarate Project, in Lugano, Switzerland. What a multiplied and appropriately tilted single wooden pole, squared and finely plained, in the best traditions of Swiss watch making, can do to an open space!
Ms. Lomholt called it a poetic project, rightly so! It is a Space-Poem, with all the rhymes, rhythms and opportunities for many types of free interpretations! And of course, like by Swiss watches, one would never see, but remains always curious about, how are they put together so perfectly!
Rijksmuseum Building, Amsterdam, The Netherlands – 0pening news
Cruz y Ortiz arquitectos



picture of existing building
As to somebody, who lived a long year in the Netherlands, is always heartwarming, to encounter her beauty revealed in Architecture and Art! The new space-acquisitions and covered courtyards couldn't have been made more elegantly and humbly! But who looks at the architecture, when and where the walls are inhabited by enchanting paintings! Cruz y Ortiz Arquitectos, however, are grand competitors in this rivalry, are present (in)visibly everywhere in this Art-Superpower site!
JDT Primary School, North Kerala, India
Design: Collaborative Architecture



image from architect
Finally, about plans (of which I had not so long ago philosophized on e-architect), surfaces and envelopes. The JDT Primary School in Kerala, India, by "Collaborative Architecture", gives a good terrain for a short thought-running! From young colleagues, who earlier worked at I. M. Pei's office, learned, as they quoted the venerated Sage, saying, that a building has to have only one major idea, all others should serve that one.
Maybe this building, with all its sophisticated surface tricks and seemingly layered structure, could warn us, that the lesser ideas are also important. Looking at the almost simplistic plans and site plan, can't help to recall the multi-layered artistry of a plan from a Le Corbusier, Aalto or a James Stirling!
But, as it was mentioned at the beginning, I belong to the old school, literally and metaphorically as well, so please forgive my transgressions! I certainly enjoyed this walk-through of latest architectural achievements, and congratulate to the authors!
Dr. Peter Magyar
The guest editor of this article on e-architect -originally issued in our former newsletter – is Dr. Peter Magyar. His books include "Thought Palaces", 1999 Architectura & Natura Press, and "ThinkInk", 2010, Kendall Hunt.


Dr. Peter Magyar
Architectural Articles by Dr. Peter Magyar
Architecture Masters : article by Dr. Peter Magyar. 2 Oct 2012
Architect Engineer Artist : article by Dr. Peter Magyar. 20 Mar 2012
Architectural Aura : article by Dr. Peter Magyar. 24 May 2011
Invention in Architecture : article by Dr. Peter Magyar. 7 Dec 2010
National Medal of Honor Museum, Arlington
Architecture: Rafael Viñoly Architects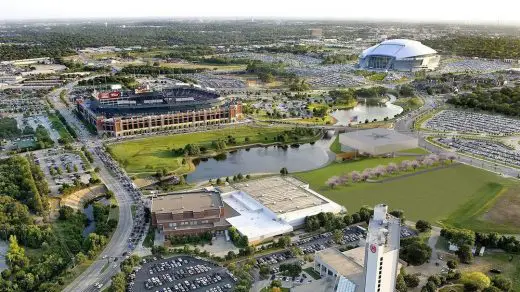 image courtesy of architects
National Medal of Honor Museum
Comments / photos for the Architecture Scale – Current Approaches to Building Article page welcome