Architecture Educational Background, Building Design, Architectural Education
Architect Engineer Artist: The Holy Redeemer Church Building
Architecture Discussion by Dr. Peter Magyar
Mar 20, 2012
Architect Engineer, Architect Artist
Depends on who (or what) is under the veil….
This would be the appropriate answer in the joke about the insecure bridegroom's last-minute question at the altar, addressed to one of the attending guests: would you marry her?
This not very tasteful situation came to my mind, when this week's material reached me, the buildings, which will be subjected to my little monologue. But first, let me state, that I am quite familiar, and aware of the circumstances, within which architects, anywhere in the world, are creating and working today, and let me pay my greatest respect to those, who were able to carry through their ideas to the point of realization.
Also, in advance, may I reveal my generic biases, my educational background, constrains of which I am unable, and maybe unwilling to be liberated from. I wish to talk a bit about the Hungarian architectural education, of which I was the receiver and later the dispenser, first in my home turf, and in the last few decades, elsewhere.
It was, and still is, a hybrid of thorough technological preparation of the German system, merged with the French predilection towards art, taught to students selected from a large pool, tested by a week-long entrance exam, revealing and admitting simultaneously talented individuals in both areas. Just to finish this line of thought, our degrees testify, that we are "architect-engineers", while the association we belong to, if our work warrants it, is the "Alliance of Architect-Artists", if translated the titles verbatim.
Groupe scolaire Lucie Aubrac, Paris, France
Dietmar Feichtinger Architectes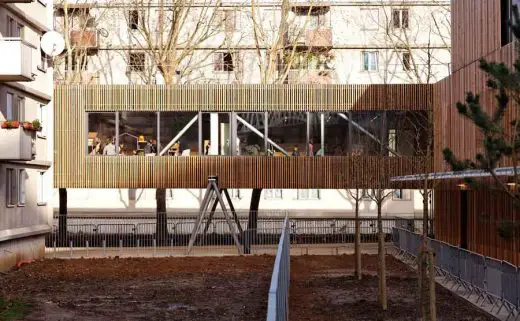 photograph : DFA_David Boureau
Kings Cross Station Concourse, London
John McAslan + Partners



photograph : Hufton + Crow
After this somewhat verbose introduction, let me convey my admiration and well wishes to Dietmar Feichtinger Architectes, and the SANAA and GEZA firms, congratulating them to their abilities, to the realization of their architectural and cultural intents precisely and completely, well above the generally achievable, craft-deprived construction industry products! And let me raise my hat for the able followers of Luigi Nervi, the engineer-artists of the King's Cross project, John McAslan + Partners.
Menis Arquitectos
Prize for Innovation in Concrete



photo © Simona Rota
One project, shown this week, however, pleased not only my mind, like the ones mentioned above, but touched my heart as well! The Holy Redeemer Church, in La Laguna, Tenerife, Spain, by Architect Fernando Menis.
Trying to understand my completely different and stronger appeal of this work, compared to the earlier mentioned ones, I have defined the reasons.
It deals with architecture's archetypal elements: space, light and material. With its earth-derived material, it won the prestigious prize for innovation in concrete from the Ambuja Knowledge Center. With the deprivation of light, and using it to convey the minimalised but intensified symbolic content (in itself a great achievement in contemporary church design), the building communicates its reason of existence without any noise! In the same time, helps one to communicate with one's inner self, thus, with the Higher Being! Clay model, hand drawing, contextual fit, seem to be still valid tools, to create great architecture!
Dr. Peter Magyar
The guest editor of this issue of e-architect is Dr. Peter Magyar, RIBA., an International educator, architect and author. He has been head and director of three Architectural Departments, or School, at the Penn State, Florida Atlantic and Kansas State Universities respectively, since 1989.


Dr. Peter Magyar
Architecture Articles by Dr. Peter Magyar – Selection
Episodes by Water: Riverside Concept



pictures from architect
Urban Innuendoes – Peter Magyar Book
Architectural Articles
Architecture Narrative : article by Trevor Tucker
Design Narrative : article by Lee Miles
Planetization Architecture : article by Mphethi Morojele
Comments / photos for the 'Depends on who (or what) is under the veil….' Architecture Article page welcome