Archinoma Modular System news, Steel design pictures, Steel tubes bolted into Shelest joint project
Archinoma Modular System Design
Archinoma Modular System Product by Alix Shelest: Information + Images
19 Jan 2011
Archinoma by Alix Shelest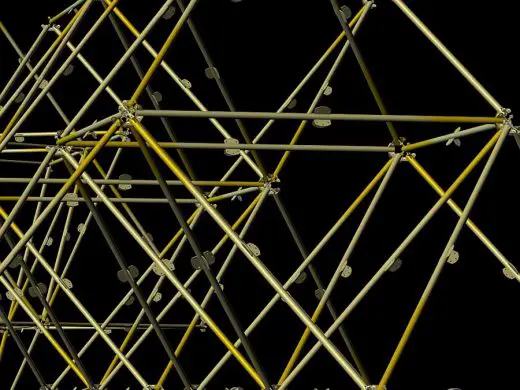 Archinoma Modular System
Archinoma is a modular system to create transformable architectural objects of various size, shape and look.
The core of Archinoma buildings consists of steel tubes bolted into Shelest joint.
Thanks to Alix Shelest' fresh idea it became possible to connect 14 beams in one point (thus forming fully fractal "Sierpinski pyramid" structures), using only hand-guided tools.
Resulting regular tetrahedron the skeleton supports floors, walls and tent membranes elements.
This core geometry provides quite useful qualities:
1. You can make a house of any size, put it at any side or hang upon any pivot – it will always be ultrastrong.
2. Archinoma buildings are nature friendly, as they might be installed without any foundation footing.
3. To build an Archinoma object you don't need some special knowledge in mechanics or architecture – you just need hand-guided tools, Archinoma kit and fantasy switched on.
Y-BIO chill-out colony
Y-BIO habitation was an experimental modular camping to test Archinoma system in action and see the way to make it better.
We chose the windy Crimea seaside to try it out.
The purpose was:
• Cute low impact camping for chillout by the sea
• Ultrastrong construction stable on sand without foundation footing
• Only widespread materials to apply
• Limited time for manufacture and installation
Process
All the elements of Y-BIO camping were produced at the local workshops using materials found within a radius of 100 km. Manufacture of elements and fully Y-BIO assemblage took 1 (one) month.
Architectural Product by Alix Shelest
Result
Y-BIO swinging house appeared. It was surrounded with small modules designed for private recreation. The central module was hanged up off the ground by means of 3 chains fixedly attached to 3 vertex of supporting tetrahedrons.
Y-BIO chill-out colony worked for one month as a beach party café, relaxation house, herbal bar, spa and massage.
Finally
Y-BIO constructions proved all expectations as for its engineering qualities. About 15 people swinged gladly at Y-BIO hanging pyramid. Tetrahedral shape provided objects with extra stability under wind flaws, sea storms and guest fun.
This testing in real-world conditions resulted in Archinoma system engineering optimization and improvement. Some featuring projects were generated, which realization will hopefully follow.
Y-CARRIER and Y-DART aerial campings
Ready for embodiment Archinoma projects.
Y-CARRIER and Y-DART are supposed to be something like aerial campings for recreations in the open air.
Y-CARRIER stays on one vertex and sways lightly in the breeze to help you feel when wind changes.
Equilibrium at one vertex is reached thought the instrumentality of a special foundation underground.
Y-DART demonstrates fractal growing ad infinitum. The number of rooms might be any, depending on how many guests you are waiting for.
Both constructions are rigged up with commodious hammocks, guest verandas and private places for hide-and-sleep.
In addition, all Archinoma houses are intended to change their shape on you whip. There are two ways for it:
1. Reconfigure the bearing skeleton using hand-guided tools.
2. Vary the appearance and function by interchanging the walls triangular panels of different types and materials, or replacing them with stretched skin tents.
Location: Crimea
Architectural Design
Kanera Sink designer : GRAFT
Architectural Products
Building Products – chronological list
Selection of Architectural Products featured on e-architect
LEGO Architecture



image © 2009 The LEGO Group
Libeskind Villa : Daniel Libeskind



image © proportion GmbH 2009
Genesy lamp for Artemide : Zaha Hadid Architects



image from architects
Ambar Light Fitting : Rogers Stirk Harbour + Partners



image © Reggiani
Comments / photos for the Archinoma Modular System page welcome