Communication Architecture, Conversational Building, Projects News, Design Property Image
Architectural Communication : Conversation
Architectural Discussion by Trevor Tucker
10 May 2011
Architectural Communication
Maybe its that just a couple weeks ago we celebrated Easter, or maybe its just that Spring is bursting into life here in Canada, with our Magnolia Tree in full bloom, our garlic sprouting up, and tulips and daffodils everywhere, but it really is a time of vitality, and hope, and worship even.


Trevor Tucker
This week's concert halls, flowing gardens, a "global centre of religious harmony", and meditative spaces fit with the season. Yes, there are the usual, and not unimportant, refurbishment of airports and museums—the Augustinermuseum in Freiberg has some particularly striking elements (I love to read how architects merge the new with unique and foundational elements of the past structure).
Augustinermuseum, Freiburg, Germany
Prof. Christoph Mäckler Architekten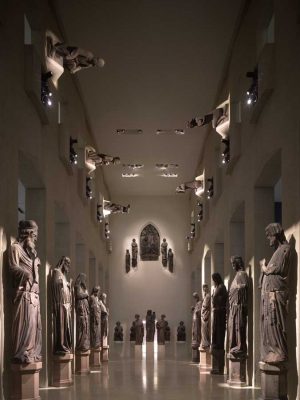 image © Christian Richters
And the Tempelhof in Berlin with its 400-hectare park, one of the largest in Europe, also is full of character. But the key projects this week, at least my favourite ones, ask questions about who we are and want to be in the future. Yet again, we see that beauty arises out of a mergence of many elements. People in conversation with each other, with their past and with their future, all expressed in space and materials.
Tempelhof Competition, Berlin – winners
GROSS. MAX. with Sutherland Hussey



picture from architect
This week's sampling is truly international, as well. While those in the West—at least in my part of the West—continue to build big boxes, this week the unique approaches to architecture come from China, Mexico, Ethiopia and Albania.
Xi'an International Horticultural Expo, China
Plasma Studio



photograph from architect
Read up on the Xi'an International Horticultural Expo, the next in a series of big its-our-turn-now events in China. This ecological fair, while hoping to host upwards of 12 million visitors, seeks to highlight novel ways of how to deal with such issues as devastated ecological spaces and rapid urbanization. The Flowing Gardens, the Creativity Pavilion, among other novel exhibits, also highlight China's optimism for the future.
China Comic and Animation Museum, China
MVRDV



render © MVRDV
Then there's the Chinese Comic and Animation Museum. Read this if you want a breath of fresh air. A series of eight balloon-shaped buildings, full of colour on a series of islands in 13 hectare park. There are a series of novel environmental touches here too, but the colour, texture, and playful shape are the focus. Why oh why, I'm left to wonder, is the architecture down my street looking more and more communist, like the cold cookie-cutter boxes we'd expect out of the China and Russia of the 70s and 80s, while China's architecture continues to wow us with its invitation to whimsy?
Ethiopian Airlines HQ, Addis Ababa
Söhne und Partner Architekten



render from architect
Then there's the Ethiopian Airlines HQ in Addis Ababa. For starters, look at that light and the colour! Smell the coffee and feel the African sun. This is, thankfully, devoid of blue or green walls of glass. There's texture and warmth and a fresh palette to this building. It isn't a mirror to its surroundings; it's a part of them.
It is shaped by human hands not computers. And, like China, it shows optimism. Frankly, too, I just like the write-up: "The sun shading for the grand lobby is done by symbolizing trees, made out of timber. The office blocks are located around it. This is the place where people meet for business, chat, eat, relax, and walk." Do our self-important mammoth-masterplan-1000-stories-of-glass-and-steel architects even talk that way?
Cultural Centre Albania
BIG



picture from architect
On to the refurbishment of Tirana, Albania. Here is a complex plan with an assortment of perspectives, all related to public and religious spaces. Overall, you get a real sense of motion, of each building interacting with the next, and of moving between them. The architect says his buildings will make the city a global capital of religious harmony (perhaps a slightly bloated claim).
Ruta del Peregrino Designs, Mexico
Design: various architects



image : Iwan Baan
If you have any interest in religious spaces whatsoever, then, read that article in conjunction with the piece on the Ruta Del Peregrino Lookout Point, in Mexico. "Ruta Peregrino", explains the write-up, "is a path that goes from Ameca to Talpa de Allende, in the State of Jalisco near Guadalajara, Mexico. During holy week, about 2 million people walk along this pilgrimage path.
The municipalities involved wanted to give the pilgrims some permanent service areas and have invited an international team of architects and designers to design the various parts of this project like Shelters and Lookout Points. part of a pilgrimage." The contrasts between the two excerpts—Albania and this one—are numerous and help to highlight the individual elements. The former is within the city confines; it combines a large number of buildings and restrictions, and seems more like a mix-it-up public religious space, whereas the Lookout Point in Mexico is clearly one of simplicity, solitude, and contemplation.
Sputnik Development Sochi, Russia
McAdam Architects with Ginzburg Architects



picture from architect
Speaking of contrasts… while other projects celebrate creativity, contemplation, worship and public interaction, consider, as an exercise, reading on the Sputnik Development in Sochi, Russia, a resort town on the Black sea. You might find its priorities and its "slinky aesthetic" enlightening.
In my favourite projects this week, then, there is conversation. In the Ethiopian Airlines HQ there is a conversation with the land, with the buildings jutting into the landscape and the landscape running through the building. In Albania, people mix and mingle, and god-willing, have many of their own ideas challenged and learn more about how others worship. It's all like a walking conversation.
Trevor Tucker
Editor and sessional professor of English literature at the University of Ottawa
ttucker(at)rogers.com
Comments on this Communication Architecture article are welcome.
Architecture Articles
Architectural Context : article by Melissa Beasley. 15 Mar 2011
Sustainable Design : article by Trevor Tucker. 15 Sep 2009
Sustainable Building Design : article by Trevor Tucker. 18 Aug 2009
Architectural Narrative : article by Trevor Tucker. 2 Mar 2010
Nature Architecture : article by Trevor Tucker. 15 Sep 2009
Sustainable Buildings – Building Issues : article by Adrian Welch
Comments / photos for the Architecture Communication Article page welcome