Tempelhof Competition design image, Berlin Airport building contest, Flughafen project news
Tempelhof Competition Berlin
Airport Development Berlin, Germany: Architecture – German Design Contest
23 Mar 2016
Tempelhof Airport Tower Design Competition
Berlin's senate has launched a competition for a £4.3m overhaul of Tempelhof Airport's former air traffic control tower.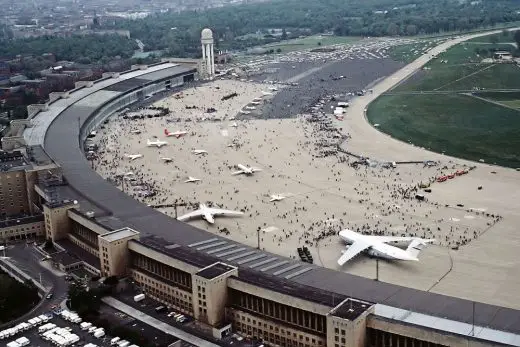 photo by TSGT Jose Lopez Jr., US Air Force – DoD photo, ID DF-ST-85-10904, Public Domain, http://commons.wikimedia.org/w/index.php?curid=1244022
Tempelhof Airport Tower Competition
Planned to complete in 2017 – the 2,200 sqm project will allow public access to the structure which offers views over the decommissioned city centre airport, reports the Architect's Journal..
Constructed in 1927 and expanded during the 1930s, the iconic eagle-shaped airport was shut down in 2008 and transformed into a 400-hectare public park.
The former airport has been used as an emergency refugee camp since September last year.
Sutherland Hussey Harris (SHH) and landscape architect Gross Max won an architecture competition to masterplan its overhaul five years ago.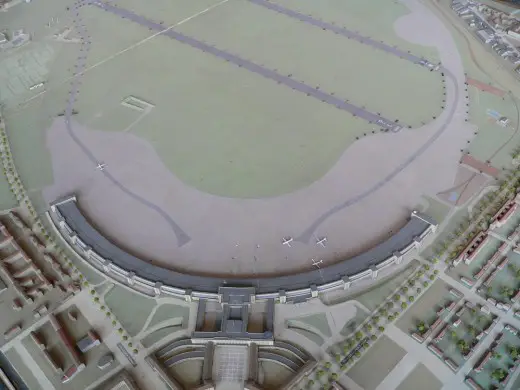 photo by JuergenG assumed (based on copyright claims). – No machine-readable source provided. Own work assumed (based on copyright claims)., CC BY-SA 3.0, http://commons.wikimedia.org/w/index.php?curid=466671
Contact details:
Sigrid Kayser
Senate Department for Urban Development and Environment
Division II
Department of Architecture, Urban Design, competitions
Berlin 12101
GERMANY
Email: [email protected]
6 May 2011
Tempelhof Competition Winners
Tempelhof Airport – Winning Competition
Two of Scotland's leading design firms have won an international competition to transform Berlin's famous Tempelhof Airport.
GROSS. MAX. with Sutherland Hussey Architects have been awarded the commission to design a new park and associated buildings on the site of the recently closed airport.
At over 400 hectares, the site will be one of the largest city parks in Europe and is undoubtedly one of the most significant commissions to date for the Edinburgh based practices. Synonymous with Berlin before, during and after World War II the airport is still a key part of the city fabric. The existing 1.2 km long, semi circular terminal building was part of Albert Speer's master plan for the 1930's restructuring of the city and will be preserved as part of the over all masterplan.
The project, expected to cost around 61.5 million Euros, will be completed in 2017 with the opening of an International Garden Festival.
Tempelhof Competition Winners – Practices
GROSS. MAX
GROSS. MAX, founded in 1995 by partners Bridget Baines and Eelco Hooftman, has been widely regarded as one of the few U.K based exponents of a new contemporary European landscape architecture. The practice has a strong international outlook both in terms of nationalities and the locations of its commissions. Nigel Sampey joined GROSS. MAX. as partner in 2001 after working for West 8 in the Netherlands.
The practice has won numerous competitions and awards for public space and has an international portfolio of exiting and challenging projects.
In 1996 they won the international competition for two parks at Potsdamer Platz in Berlin and was soon followed by a winning entry for the landscape masterplan for Hannover Expo 2000. Since completing Whiteinch Square as part of Glasgow "99 City of Architecture and Design and the first prize in the RIBA competition for Hackney Town Hall Square the practice has been recognised for its contextual approach with a contemporary idiom towards urban space.
Recently they added several competition winning designs for public squares in London, such as St John's Square, Lyric Square and Brixton Central Square. Abroad the practice has won numerous competitions with Zaha Hadid Architects including a design for the 200 ha site of the BMW plant in Leipzig, the external landscape of a new High Speed Railway Station in the outskirts of Naples and a masterplan for former docklands along the River Nervion in Bilbao. Recently completed projects include New Bullring in Birmingham, Glasgow's Rottenrow Gardens and Potters Fields Park and the Royal Festival Hall in London.
GROSS. MAX.'s strong affinity with art has resulted in a range of collaborations with artists, winning three Royal Society of the Arts "Art for Architecture" Awards. In 2006 they were presented with a European Landscape Award for their individual design concepts and major part in shaping the style of landscape architecture in the early 21st century. Last year they were awarded the UK Public Realm Architect of the Year Award.
Bridget Baines and Eelco Hooftman are both visiting professor at GSD, Harvard. Their work has been published in a wide range of international magazines and book publications.
Sutherland Hussey Architects
Sutherland Hussey Architects is an award-winning architectural practice established in Edinburgh in 1997.
Charlie Sutherland and Charlie Hussey studied together at the Mackintosh School of Architecture from 1985 – 87, both going on to work for the late Sir James Stirling on a number of internationally acclaimed buildings. After studying at the Mack, Colin Harris joined SHA in 1999 and is now the third director of the practice.
The office has a diverse portfolio – ranging from large urban planning proposals and public buildings, to small one-off commissions for private clients. Sutherland Hussey provides a full range of architectural and associated design consultancy services.
Over the last ten years they have established themselves at the forefront of British Architecture and currently enjoy commissions throughout the UK, Europe and Asia. In 2007 with Beijing's Pan_Solution they won the international competition to design the 70,000 m2 City Museum for Chengdu in Sichuan, China. Since then they have won several commissions with the recent Chengdu Eastern New Town Masterplan for 1 million people being a significant stepping stone for the practice. At home with long-time clients Edinburgh Sculpture Workshop, they scooped the 2010 £3m Arts Prize for Edinburgh to create a new sculpture centre of excellence.
Many of the projects completed to date have been presented with awards. The Pierhead project in Tiree was awarded the RSA gold medal, was short-listed for the Stirling prize in 2003 and the Mies van der Rohe Prize in 2004. The Barnhouse in Highgate also won the RSA Gold Medal and was awarded the Architects' Journal First Building Award. The Lyhner Dairy in Cornwall was awarded the 2003 Civic Trust special award for Rural Architecture as well as winning a RIBA award.
All three directors teach architecture at the Mackintosh School of Architecture and are regular visiting critics at several schools throughout the UK. The practice has also developed a strong working relationship with Beijing's prestigious Tsinghua University, collaborating on several high-profile projects.
Tempelhof Competition images / information received 060511
Tempelhof Competition
Airlift into the Future: Tempelhof as a communual space and alternative Powerplant
In May, the Berlin Senate announced three equal prizes for the international urban ideas competition for the Columbia Quartier and the former airfield Tempelhof, Berlin.
Chora Architecture & Urbanism, in partnership with Buro Happold and Gross Max was one of the three winners.

An exhibition of the winningideas opens on 25th June at 19:00 by Regula Lüscher Senatsbaudirektorin and is open to the public from 26 June to 10th July 2009, daily 12:00 to 19:00
Gewerbehof Orco-GSG, Gneisenaustraße 66-67, 10961 Berlin – Kreuzberg
Transport: U 7 – Südstern "More than a century ago the Tempelhof field was a scene of flying history and world politics. In parallel, the open space is also the subject of large scale planning and urban visions. Tempelhof was the future in mind. Today, Berlin once again has this opportunity to show the 'City of the Future.'"
Regula Lüscher Senatsbaudirektorin
"The historic site of the former Tempelhof Airport can demonstrate the future of our cities. A future of low energy structures, green energy producing systems and smart networks. Supporting a high quality of life for local residents and creating a symbol of hope and renewal for the city.
At the core of our proposal is a participatory instrument enabling inhabitants and other stakeholders to creatively negotiate a processed-based development. The process is illustrated with three dynamic phases including practical design steps that create access to the whole site, the development of several new city quarters within the context of an international building exhibition (IBA) and new types of experimental landscape where technologies and nature merge.
The result is radical: an economic, social, cultural and political context to turn the whole area into an alternative powerplant. Tempelhof becomes a communal space which connects people, supplies renewable energy for the adjacent districts and implements the goal of the German government to lower Co2 emissions, in short an Energy Incubator.
The winning proposals, will form the basis of the masterplan being created this year by the new development agency of Tempelhof."
Raoul Bunschoten, Chora's founding director
Tempelhof Berlin Competition – Design Team
Chora: architecture and urbanism
Buro Happold: sustainable technology and infrastructure
Gross Max: landscape architecture
Location: Tempelhof, Berlin, Germany
12 Aug 2023
Tempelhof Airport Viewing Platform
Architects: :mlzd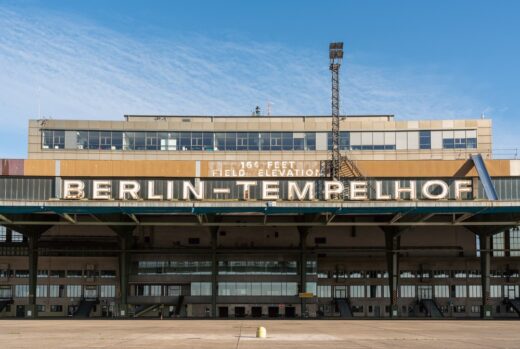 photo © Kristian Alveo
Tempelhof Airport Viewing Platform
Berlin Architecture
Berlin Architecture Walking Tours
Jewish Museum Berlin



photo © Adrian Welch
Comments / photos for the Tempelhof Competition Berlin Architecture page welcome