Venetian and pleated integral blinds comparison guide, Home interior design, Property style advice
Comparison of Venetian and Pleated Integral Blinds
18 February 2022
When it comes to integral blinds there is the option of two types to choose from: Venetian or Pleated integral blinds. While both styles of integral blinds are sealed with specialist glazing, the two styles boast different benefits depending on your functionality requirements and design preferences.  This article will explore the similarities and differences that you can expect from both styles of integral blinds.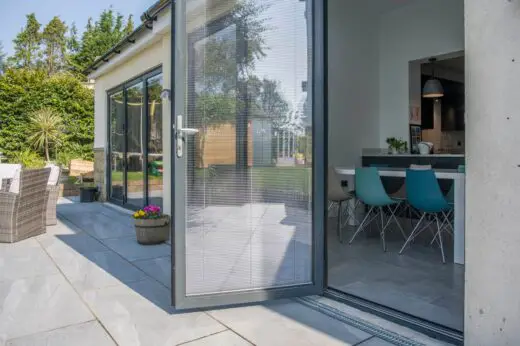 Venetian Blinds
Venetian blinds are horizontal slats that offer privacy and full control over the amount of light entering the room. By adjusting the blinds, you can change the incoming light intensity and privacy offered through the window. This style of integral blind also allows you to alter the direction of light to match your preference at any given time. For example, you want the blinds pointing downwards for less light intensity from indirect sunlight but less privacy from below or pointing upwards for increased light incoming and increased privacy from the outside.
Venetian integral blinds are sealed within glass which ensures they are protected from dirt and dust which can often occur on regular venetian blinds. This prevents the need to regularly clean the blinds as the sealed glass will stop any dust particles reaching the blinds and lying on the slats. The integral venetian blind design also prevents damage to the blinds removing any maintenance that would often be required for traditional venetian blinds.
The privacy customisation of integral venetian blinds makes them perfect for apartments, offices, and homes with upper floors as views from below can be blocked while still allowing light to come through the window. The sleek modern style of integral venetian blinds also makes them ideal for these window types.
Most integral blind suppliers will provide a choice of five control schemes for your venetian blinds. The variety of options means there will always be a choice that suits your preference.
Pleated Blinds
Pleated integral blinds are perfect for style conscious homeowners. The pleated style of blind is shutter-like in nature with the choice of completely closed, open wide or somewhere in between. Pleated integral blinds will often be made with fabric material of soft light colours giving a smooth, homely look and adding to the softness of your room. The different colour options make them a good way to introduce colour into your room.
While closed, the material and colour of pleated integral blinds allows a soft diffusion of light through keeping the intensity and heat low in the summer months while also allowing the little light through in the winter season. This makes them ideal for conservatories which could become too warm in the summer. The pleated blinds can also be opened fully when you choose to allow all the light to come in and let you see out of the window fully. You also have the choice of opening partly to customise the amount of light and visibility you desire.
As integral blinds are fully enclosed between panes of glass, there is no cleaning required as no dust or dirt can reach the blinds which can often be a problem with traditional non enclosed pleated blinds. The integral pleated blinds are also robust against condensation making them ideal for bathrooms where privacy is a key requirement.
Integral pleated blinds can be situated at the top or bottom of the window. This customisation option will help you to allow light into certain rooms where privacy on the bottom or top of the window is a concern.
Conclusion
As you can see, both pleated and venetian styles of integral blinds have many benefits to meet your window needs. No matter what your room situation you fill find one of these style choices will meet your needs and the integral blind is the perfect setup for any home or building.
https://www.morleyglass.co.uk/pleated-blinds/
Comments on this Venetian and pleated integral blinds comparison article are welcome.
Windows & Blinds
Windows Posts
Benefits of wooden natural blinds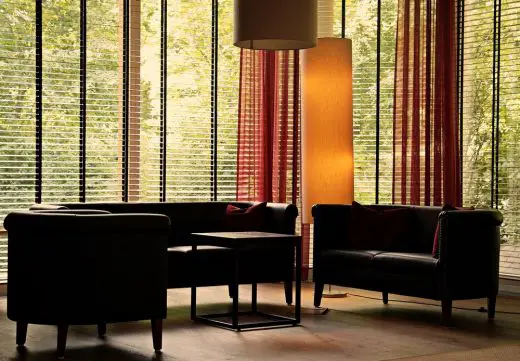 6 of the Hottest Window Blind Trends
How to choose best casement windows for your house
Where should you check out sash windows
Building Posts
Residential Architecture
Comments / photos for the Venetian and pleated integral blinds comparison page welcome