Casa RM, Laguna del Sol Property, Argentina Residence Design, New Home Pictures
Casa RM : New Buenos Aires Property
New Residential Development in Argentina design by Andrés Remy Arquitectos
post updated 19 June 2021 ; 1 Feb 2010
RM House in Laguna del Sol
Location: "Laguna del Sol", in the outskirts of Buenos Aires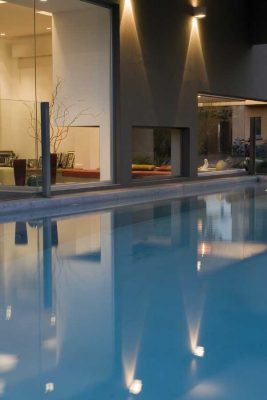 The RM house is in a 760m² lot.
Residence in Laguna del Sol
English text (scroll down for Spanish):
Designed for a young couple and its two kids, with an active social life, Andrés Remy came out with a house with flexible, cozy spaces maintaining clean lines. The client's premise was to use up to 300m² of the lot, allowing the green area to embrace the house. This creates a fluent connection with the outside without giving up privacy.
The lower floor contains the public area, which is divided throughout different levels as well as changing flooring materials like cherry wood and polished cement.
An indoor green area in double height lets light fill the interior, and articulates the circulation at the same time.
A sculpture stair leads to the playroom in a middle level.
In the upper floor, the green area splits the functions in two. For one side is the main bedroom, for the other side the kids bedrooms.
A modern and functional house, with the poetical strength to affect the life of its inhabitants by means of small details that make the difference.
Text in Spanish:
Casa RM, Laguna del Sol
Casa Laguna del Sol
Casa RM
Diseñada para una joven familia, esta casa de geometría pura y tabiques encastrados posee interiores sueltos, amables y flexibles, ambientados para realzar su arquitectura simple.
Mientras estaba en Nueva York, trabajando en el prestigioso estudio de Rafael Viñoly, al arquitecto Andrés Remy le encargaron ejecutar la casa de una joven familia en las afueras de Buenos Aires.
No lo dudó, y después de estudiar cuidadosamente las características del terreno y las necesidades de sus clientes un abogado, su mujer psicóloga y dos niños pequeños elaboró un proyecto de líneas limpias, apariencia racional y definición muy geométrica, que pudiera responder de manera contemporánea, pero con un espíritu lírico y guiños de osadía, a las exigencias de esta familia que ama pasar gran parte del tiempo en casa y que disfruta de una vida social bastante activa.
En esta moderna y cómoda vivienda, con espacios de reunión muy acogedores, Andrés Remy plasmó su sello, dando cuenta de un aguzado sentido estético y funcional.
Situada en el barrio Laguna del Sol, a sólo 25 minutos del centro de Buenos Aires, la obra se emplazó en un sitio de 760 m2. La idea de los propietarios era que los juegos volumétricos no ocuparan más de 300 m2, de modo que aparecieran rodeados de jardines y conectados con el paisaje sin entorpecer la privacidad al interior. La vivienda tiene fuerte presencia en el entorno, ya que todas las construcciones vecinas son de corte muy tradicional. Simplemente destaca por contraste.
Pensando en la vida cotidiana de la familia, Andres Remy determinó la creación de una casa de dos pisos con un espacio intermedio para ser usado como sala de televisión.
En la planta baja distribuyó el área social, integrada pero parcelada mediante desniveles y pisos de distinta materialidad: cemento afinado en las zonas de esparcimiento y madera de cerezo en las circulaciones, material que aporta gran calidez, ya que en los ambientes domina el blanco.
En el interior un espacio verde cubierto y en doble altura permite el ingreso de luz natural, organiza los ambientes públicos y con calas y falsos papiros se convierte en un pulmón natural que alegra y articula los ambientes. El living, vidriado, comparte una de sus caras con la piscina, y posee un hogar con fondo de blindex templado, material térmico que permite, visualmente, poner el fuego sobre el agua.
La piscina, no sólo cuenta con un gran banco bajo el agua para relax e hidromasajes, sino que además tiene un tramo bajo techo ideal para disfrutar de la sombra los días en extremo calurosos y se prolonga hacia un deck hasta fundirse con el jardín. Allí se desarrolla parte de las actividades sociales de la familia.
Una escultórica escalera conduce al nivel intermedio donde se puso el home theater, y luego al segundo piso, donde llegan las copas de las cañas del jardín interior.
La vegetación marca la separación de dos áreas: por un lado está el dormitorio en suite de los padres, y por el otro los de los niños. Todas las habitaciones miran hacia el oriente, lo que les permite ser cálidas en invierno y frescas en verano.
La fachada, de líneas rectas, es más bien ciega y la entrada principal se sitúa en una de las caras laterales, posicionando al visitante en una situación de incertidumbre hasta que accede al hall, desde donde se puede apreciar la complejidad espacial de la casa, abriéndose en sus distintos lugares, luminosa y rica en impresiones diversas.
Una casa ultramoderna y funcional, que sin embargo tiene ese valor poético capaz de incidir en la vida de sus habitantes mediante pequeños detalles de diseño que marcan la diferencia. En ella se aprecia un equilibrio y madurez que resulta notable en un arquitecto de 30 años, quien manifestó todo su talento creador en ésta, su opera prima.
Photographs: Alejandro Peral / Juan Raña
Casa RM Argentina images / information from Andrés Remy Arquitectos
Location: Buenos Aires, Argentina
Architecture in Argentina
South American Architectural Projects
Argentina Architecture Designs – chronological list
Buenos Aires Architectural Tours
Argentine Buildings – Selection
Argentina Building Designs
Argentina Architecture Designs – architectural selection below:
New City Hall Buenos Aires, Parque Patricios
Design: Foster + Partners, architects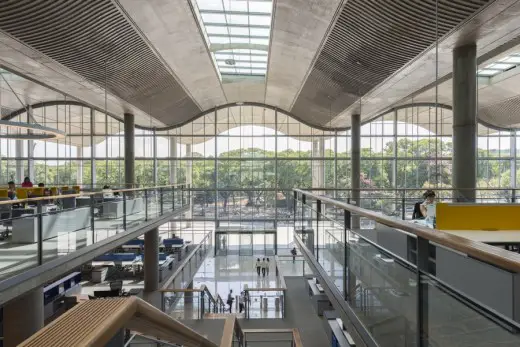 image from architects
New City Hall in Buenos Aires
FYF Residence, Rosario
PATTERNS
FYF Residence
KILLKA – Espacio Salentein, Los Árboles, Tunuyán, Mendoza
Bórmida & Yanzón Architects
KILLKA Mendoza
O. Fournier Winery, La Consulta, San Carlos, Mendoza
Bórmida & Yanzón Architects
O. Fournier Winery Mendoza
Comments / photos for the Casa RM Argentine Architecture page welcome