SWA Landscape Architects, California architecture studio news, Los Angeles public realm design photos
SWA Group Landscape Architecture
Landscape Architecture, Planning and Urban Design: Architectural Designers News
post updated August 29, 2023
SWA Group News
SWA Landscape Architects – Design News
April 20, 2023
Master Plan for Irvine Great Park Project, 8000 Great Park Blvd, Irvine, southern Orange County, CA 92618, USA
Design: SWA Group with Kellenberg Studio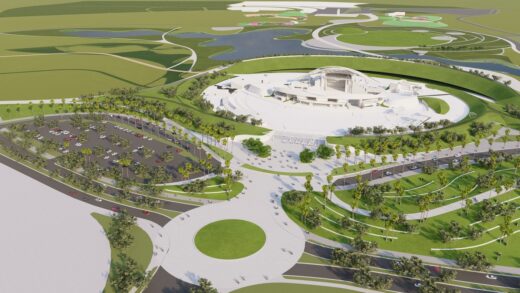 image courtesy of architects practice
Irvine Great Park master plan
Irvine Great Park's framework implements near- and long-term uses, with major design elements now being executed. The new SWA and Kellenberg Studio framework, adopted in late 2022, provides overall planning principles, design direction, and addresses the community's wishes: "putting the park back into the park."
Dec 19, 2022
Los Angeles-San Pedro Waterfront Connectivity Plan, L.A., Southern California, USA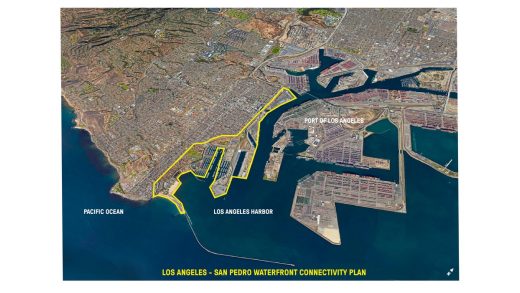 image courtesy of SWA Group
Los Angeles-San Pedro Waterfront Connectivity Plan
The internationally renowned, Los Angeles-based landscape architecture firm will provide a conceptual framework plan to guide future public realm improvements and private development sites, forming a network of well-connected, pedestrian-oriented multi-use spaces.
Mar 2, 2022
Evelyn Avenue Workplace, City of Mountain View, CA
Architects: WRNS Studio ; Landscape Design: SWA Group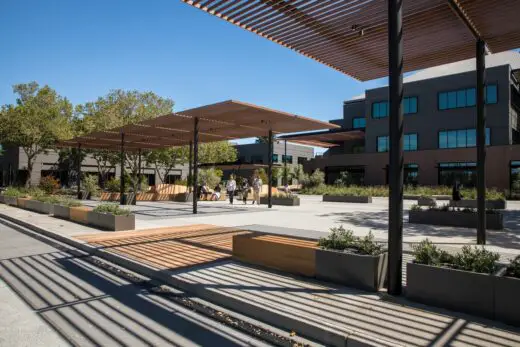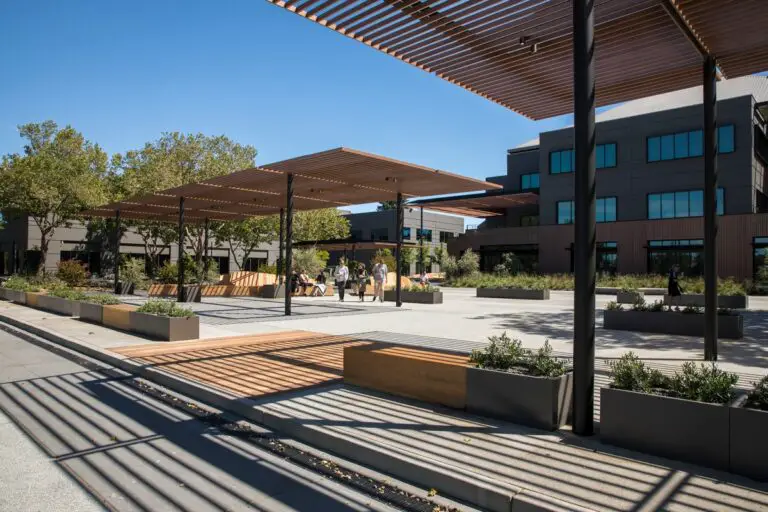 image courtesy of SWA Group
Evelyn Avenue Workplace, Mountain View
Located on a seventeen-acre campus one mile from the City of Mountain View's downtown core and one mile from public transit, Evelyn Avenue Workplace needed not only a facelift, but a systemic re-think of its campus plan that addressed both existing structures and the need for new buildings to support growth.
Nov 21, 2021
Bayfront Redevelopment Open Space Master Plan, Jersey City, NJ, USA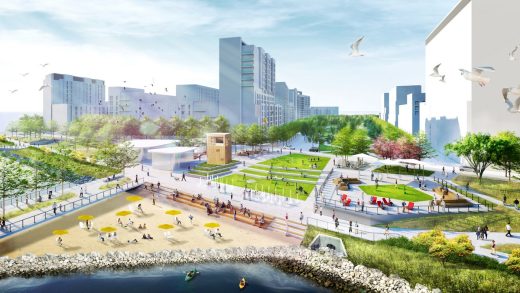 rendering courtesy SWA Group
Bayfront Redevelopment Master Plan in Jersey City
Occupying a formerly contaminated 100-acre site on the Hackensack River, the Bayfront Redevelopment Area Open Space Master Plan designed by SWA Group represents a paradigm shift towards more sustainable, resilient, and equitable development along the Hackensack.
November 15, 2021
Expo 2020 Dubai Landscape Architecture and Urban Design, Dubai, UAE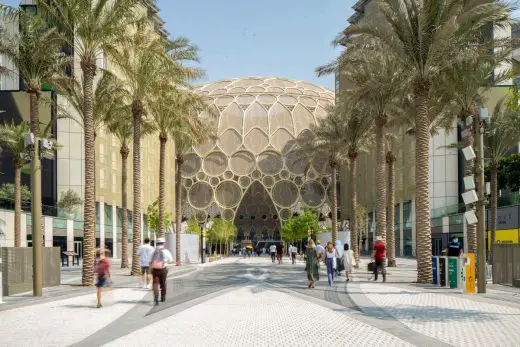 photo : Jason O'Rear
Expo 2020 Dubai Landscape Architecture and Urban Design
Expo 2020 Dubai is the world in one place – a global experience dedicated to bringing together people, communities and nations to build bridges, inspire action and deliver real-life solutions to real-life challenges. In a spirit of optimism, Expo 2020 has gathered more than 200 participants for a visually striking and emotionally inspiring 182 days.
SWA Group Recognized With Eleven ASLA 2021 Design Awards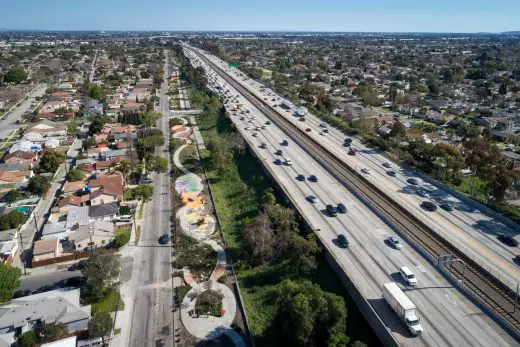 photo : Jonnu Singleton/SWA
SWA Group Recognized With Eleven ASLA 2021 Design Awards
Eleven award-winning projects from SWA Group show how landscape and the creation of a thoughtful "common ground" can contribute to urban resilience and vitality. Two of SWA's projects – the design of Ricardo Lara Park in Lynwood, California and a master plan for Atlanta's Freedom Park – were singled out with high honors by the American Society of Landscape Architects (ASLA) national jury.
22 Sep 2021
Nelson Mandela Park Master Plan, South Maashaven, Rotterdam, the Netherlands
Design: SWA/Balsley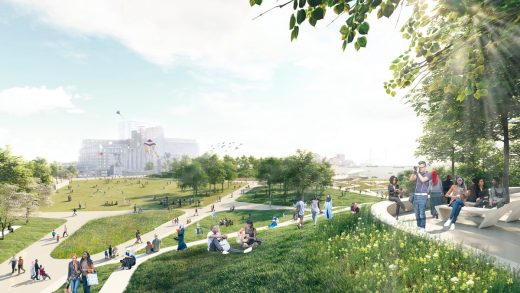 rendering courtesy SWA/Balsley
Nelson Mandela Park Master Plan in South Maashaven
SWA/Balsley's Nelson Mandela Park Master Plan in Rotterdam, Netherlands, was named a winner of 2021 Design Awards from the American Society of Landscape Architects, New York City Chapter. The annual program recognizes excellence in the practice of landscape architecture and the winning entries are selected based on quality of design and execution, innovation, and impact on community and the profession.
Oct 1, 2019
SWA Group Chosen to Create Landscape Master Plan for Walmart Home Office
Los Angeles, CA—SWA Group (SWA) has been chosen to develop the overall landscape architectural design of the Walmart New Home Office Campus headquarters in Bentonville, AR. Part of the design team, which also includes Gensler, Walter P Moore and Arup, SWA Group will lead the open space design with an eye towards connecting people with the natural environment.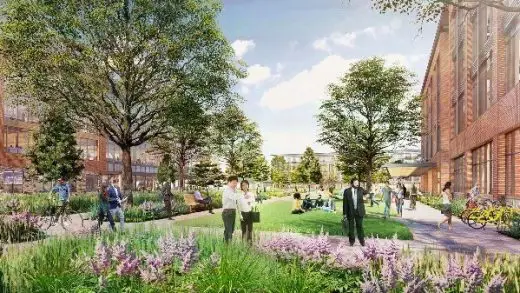 Rendering courtesy of SWA Group
Inspired by "Big Nature," the landscape plan aligns with the natural ecologies and beauty of the region, expressing Walmart's hometown heritage and company values. The plan will also preserve many mature trees and native species and provide the public with unprecedented connectivity to the Razorback Greenway.
"The new campus is rooted in the beauty of the Northwest Arkansas landscape, interwoven with forward-thinking resilience strategies," says Gerdo Aquino, CEO of SWA. "The variety of outdoor spaces address the day-to-day needs of the employees and visitors while nurturing a connection with nature that people increasingly seek in their daily lives and in the workplace. Stormwater strategies become the basis of landscape design and give form and function to the various greenways and gathering spaces."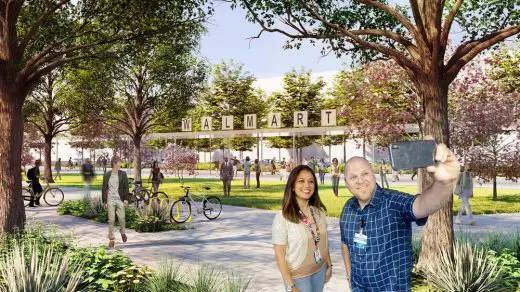 Rendering courtesy of SWA Group
SWA's design approach reflects the client's desire for the campus to feel integrated with the surrounding community and to stay true to its roots. The "Big Nature" plan encourages interaction between Walmart associates, the Bentonville community, and the physical environment to reinforce holistic well-being and to reflect the complex mosaic of habitats found throughout the region and the distinctive culture that has been an integral part of the company's history.
The approximately 300-acre campus consists of four office neighborhoods with distinct characteristics – from woodland to wetland – and is centered around "quads" of varying size, shape, and program in addition to smaller open spaces and courtyards related to individual buildings. Large open spaces associated with lakes and natural habitat areas anchor the campus at the northwest and south. Outdoor spaces support workplace flexibility, while a cohesive network of streets, walkways, and bikeways connect the campus both internally and with the surrounding community of Bentonville.
Walmart's sustainability values are integral to the landscape design not only through the selection of low-irrigation native and adaptive plantings but also through the use of salvaged and locally sourced materials and comprehensive storm management. A focus on non-vehicular transportation to and around campus embraces innovative mobility strategies, enhancing pedestrian experience and improving bike circulation.
The resulting work environment promises to become an inclusive and seamless part of the urban/rural fabric of Bentonville, attracting future associates and visitors with its connections to the region's unique local ecologies and the company's standing in the world marketplace.
Aug 16, 2019
SWA Group releases 'Field Guide to Life in Urban Plazas', a study of human behavior in NYC urban sites
International landscape architecture and urban design firm SWA Group recently released, Field Guide to Life in Urban Plazas: A Study in New York City, a comprehensive survey that studies human behavior in ten recently completed urban sites.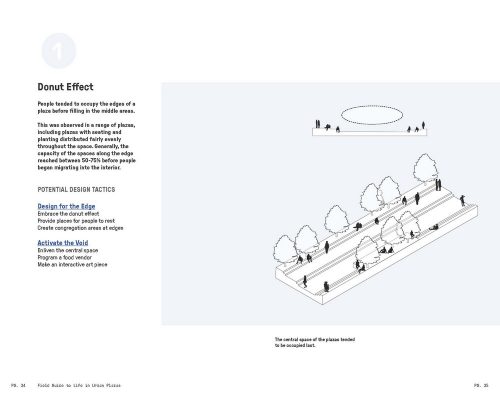 images courtesy of architects
Led by SWA's Innovation XL lab, the field guide is broken down into twenty-five patterns of pedestrian movement in Manhattan plazas such as alleys, transit plazas, private campus areas, and tactical urbanist interventions constructed or renovated in the last 15 years. Detailed diagrams illustrate data findings of social patterns and their impact on the usability of each space, from areas of gathering, to resting spots and walkways.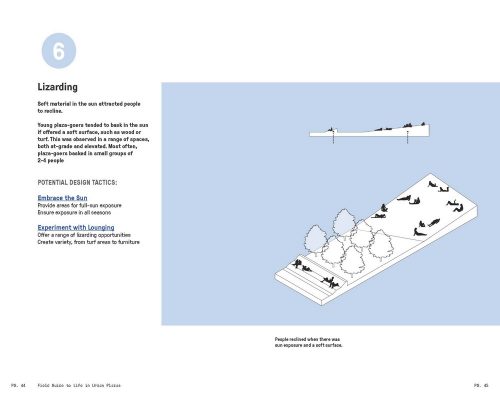 Field Guide to Life in Urban Plazas comes 40 years after American urbanist William H. Whyte's infamous "Street Life Project" (publ. 1980), a pioneering study of pedestrian behavior and city dynamic.
Whyte was the first to look at the ways in which city dwellers occupied public spaces, and informed high-traffic urban planning for years to come. A refresh of Whyte's study, Field Guide identifies new patterns of social life in cities by providing glimpses into how public space is used today.
SWA's behavioral observations were extracted from site measurements and hand tabulations to understand context, physical elements, programming, and activity. Also, new analytical tools such as a machine-learning algorithms were used to develop heat maps of the areas layered on top of video footage.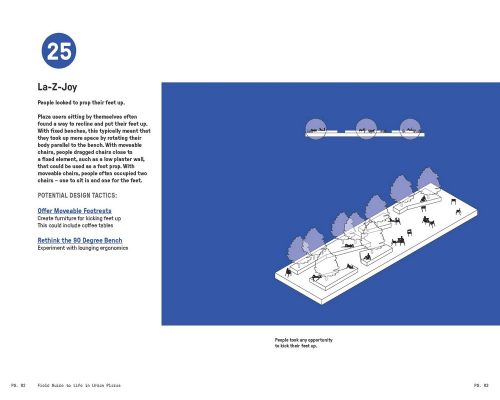 Field Guide PDF
Jul 23, 2016
Landscape Architecture Firm SWA Group to Plan Toronto's Last Large Undeveloped Site
Laguna Beach, CA: July 22, 2016 – SWA Group's Laguna Beach studio has been selected to plan the last large, undeveloped site in Toronto, Ontario, Canada. Owners Woodbine Entertainment Group, along with development consultant Live Work Learn Play, have commissioned a transformation of the 683-acre site into a vibrant, urban mixed-use neighborhood with the extant Woodbine Racetrack at its center. Currently the land is bordered by a highway, two major roads, and a light rail line.
In addition to re-conceptualizing the horse-racing venue for an optimal urban experience, SWA designers and planners will draft guidelines for a vision that welcomes in the surrounding neighborhoods, which include a burgeoning immigrant population, and entertainment and recreation alternatives. Proposed walking and biking trails, as well as retail and restaurant offerings, will complement an extensive amount of housing, drawing daytime visitors from the city as well as overnight guests from farther afield.
There's also a goal to expand an onsite agriculture experiment that grows feed for the resident thoroughbred race horses. Integrated into the master plan will be the existing stable and grandstand as well as a new casino. The nearby Pearson International Airport, together with an upcoming north-south light rail line,will make reaching the site very convenient.
SWA's overall vision, guidelines for land use, public space design, future infrastructure and transit investment concepts and development planning will unfold over the next six months, with the site overhaul to take place within the next decade. SWA's team includes BCV Architects and Nelson\Nygaard Consulting Associates. Interviews are available with SWA landscape architects and planners.
27 May 2016
San Jacinto Plaza in El Paso
Landscape Architecture Firm SWA Incorporates Beauty, Ecology and Programming to Remake El Paso's 100-year-old Historic Park
Los Angeles, CA: May 26, 2016 – SWA's redesign of San Jacinto Plaza, a historic gathering place in El Paso's downtown business district provides a state-of-the-art urban open space, while protecting and celebrating the history and culture of the site. The project was the result of an intensive community process involving input from a wide range of constituents. Active programming, environmental and economic sustainability, and great design have become the de facto criteria for catalyzing renewed interest and investment in the types of urban open spaces exemplified by the updated plaza.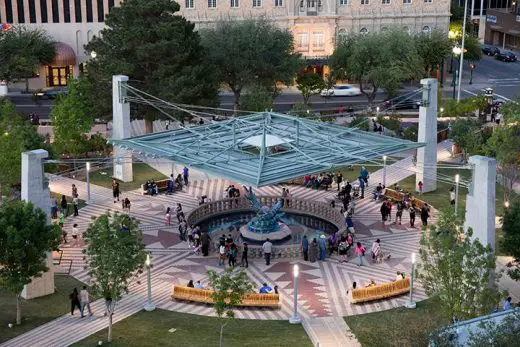 photo : Jonnu Singleton/SWA
"The centuries-old Arcadian park of axial paths, lawns, benches, and trees is under extreme pressure to adapt to a rapidly changing context of urban densification, cultural diversity, and community programming," says Gerdo Aquino, CEO of SWA landscape architects and urban planners. Together with Ying-Yu Hung, Aquino led the redesign. "El Paso, Texas, is one such place whose 100-year-old, storied park has taken center stage in the evolving narrative of the city."
Programming for the park was a main priority, as was the community's desire to retain some of its historic identity. In response, SWA integrated the existing formal axial paths with informal paths and bridges that take park users to various destinations, including gaming areas for ping-pong, chess, and washoes (a local favorite similar to horseshoes but with water), a children's splash pad, and a café with colorful seating arrangements. At the park's center, the designers restored Los Lagortos, a beloved sculpture by Luis Jimenez that pays tribute to the live alligators that inhabited the plaza over 45 years ago. Together with Lake Flato Architects, they created a metal structure to help protect the sculpture from the sun and also to provide a shaded area for activities.
26 Jan 2016
Jeddah Tower in Saudi Arabia Skyscraper
Location: Kingdom City, Jeddah, Saudi Arabia – KSA
Date built: 2013-19
Architect: Adrian Smith + Gordon Gill Architecture with SWA, landscape architecture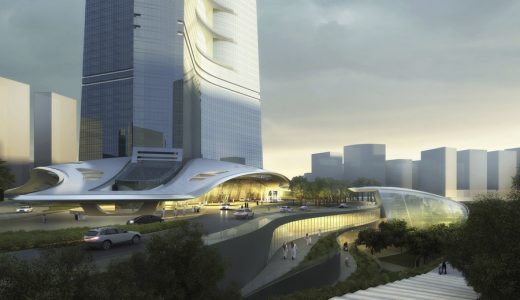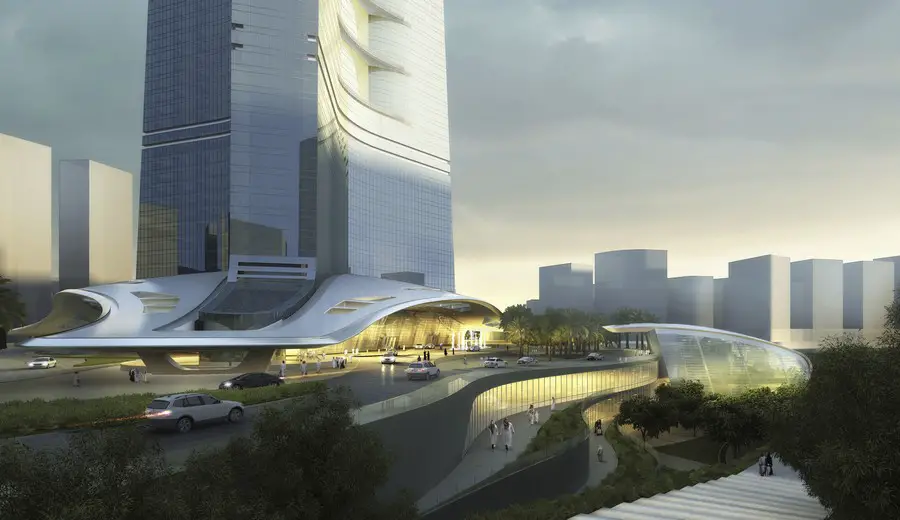 image from architect
1,000+ meters
2019 completion
Kingdom Tower to be the world's tallest building
Planned height: 1,008m / 3,307 ft
Floors: 167
Jeddah Tower in Saudi Arabia Skyscraper Landscape Architecture
17 Feb 2016
Fuzhou Vanke City & Chongqing Dongyuan 1891, China
Design: SWA Group – Landscape Architecture, Planning and Urban Design
Fuzhou Vanke City and Chongqing Dongyuan 1891 are two residential projects in China by international landscape architecture firm SWA.
Fuzhou Vanke City: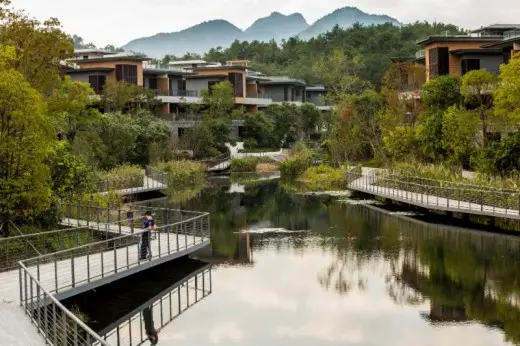 photo : David Lloyd
Fuzhou Vanke City: The Yongtai project, located inside the Red Cliff Scenic Area, borders the Dazhang River and consists of a 45-hectare watershed area surrounded by 12 small hills. The overall project plan calls for housing clusters that follow the natural site topography and incorporates a central lake that is preserved and leveraged as a public space, unifying the entire site. It features a boutique hotel, a shopping street, clubhouses, residential high-rises, townhouses, and detached homes.
SWA Group landscape design project
More projects by SWA Landscape Architects online soon
Location: Los Angeles, CA, USA – and various locations around the world
Architectural Practice Information
About SWA
Established in 1957, SWA is an award-winning international landscape architecture, planning, and urban design firm with studios in North America, Asia, and the Middle East. Since its inception, SWA has worked in over 60 countries, and its design-driven projects have garnered more than 800 awards. For more information, please visit: www.swagroup.com
Video:
About Us by SWA from SWA Group on Vimeo.
"SWA is a design leader in landscape architecture, planning, and urban design. Professionally focused and employee-owned, our foremost passion is to create exceptional places for our clients.
We have a deep appreciation for nature and natural systems and a strong commitment to design that synthesizes aesthetics and sustainability.
We work on large multi-functional sites and small, intimate spaces. We're one of the few firms capable of creating high-profile projects at both scales."
Los Angeles Architecture
LA Architectural Projects + Key New Property Designs, alphabetical:
Los Angeles Architecture Links – chronological list
Los Angeles Architecture Walking Tours
Los Angeles Architecture Designs
Ara Residence, Atherton, California, USA
Design: Swatt | Miers Architects ; Landscape Architect: SWA Group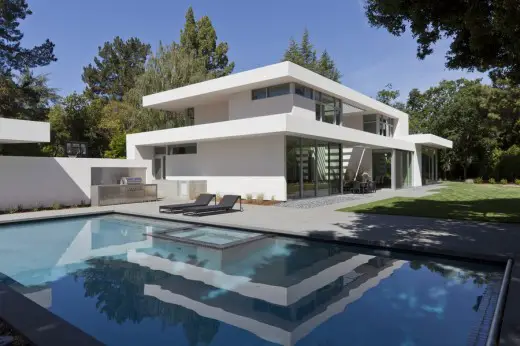 photograph : Russell Abraham Photography
California house with landscape design by SWA Group
Additions / photos for the SWA Landscape Architects page welcome