New Aspen Art Museum Building Architect, Colorado Architecture Design Images, American Exhibitions
New Aspen Art Museum
Architecture in Colorado, USA design by Shigeru Ban Architects
Jan 11, 2014
Building at the corner of Spring Street and Hyman Avenue
Design: Shigeru Ban Architects
Aspen Art Museum Announces Inaugural Exhibitions For Shigeru Ban-designed New Building, Opening Summer 2014
Lead Exhibition Will Be an Unprecedented Exploration of Work by Yves Klein and David Hammons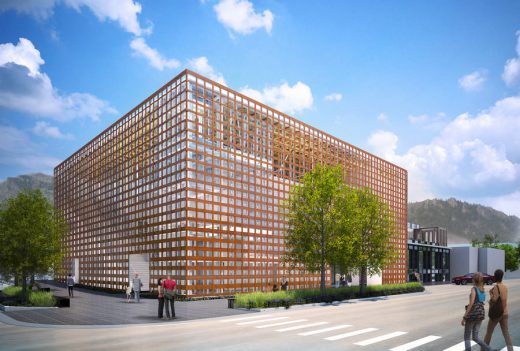 rendering courtesy Shigeru Ban Architects
New Aspen Art Museum Building Design
Additional Exhibitions to Focus on Shigeru Ban's Humanitarian Housing Projects and Work by Tomma Abts, Rosemarie Trockel, Jim Hodges, and Cai Guo-Qiang
The Aspen Art Museum (AAM) will open the doors of its new, 33,000 square-foot Shigeru Ban-designed building on Saturday, August 9, 2014, with a free, 24-hour celebration. The new AAM is located at 637 East Hyman Avenue in downtown Aspen. It opens during the AAM's 35th year of presenting internationally important contemporary art, with a dynamic slate of exhibitions in six gallery spaces throughout the four-level building. The 24-hour public grand opening on August 9 follows the Museum's 10th annual ArtCrush summer benefit on August 1, and a members' opening on August 2.
The new AAM's inaugural exhibitions will be led by Yves Klein and David Hammons [Galleries 2 & 3— Street/Ground Floor Level], an unprecedented coupling of two of the most significant artists of our time. Shigeru Ban: Humanitarian Architecture [Gallery 1—Second Level] will present four full-scale examples of Ban's groundbreakingdesigns for humanitarian relief, allowing the viewer to walk around as well as enter these structures. Tomma Abts [Galleries 4 & 5—Lower Level] will explore the artist's drawing practice, and include new works created specifically for this exhibition. Rosemarie Trockel [Gallery 6—Lower Level] will offer a focused look at the artist's groundbreaking and multifaceted engagement with the medium of ceramics. Jim Hodges [Street-level Plaza—Exterior of AAM] presents a new outdoor installation called With Liberty and Justice For All in the plaza outside the Museum. And Cai Guo-Qiang [Roof Deck Sculpture Garden] is developing a new project for the AAM's sculpture garden.
Aspen Art Museum Nancy and Bob Magoon CEO and Director Heidi Zuckerman Jacobson: "I am thrilled, as we proceed toward the scheduled summer 2014 grand opening of our new Aspen Art Museum facility, to announce our inaugural AAM exhibitions. In this penultimate moment of preparation for our most important institutional endeavor, I am proud and humbled to look ahead to every promise our new facility holds in providing these and other expanded future opportunities for mission-vital contemporary arts programming for our community."
Aspen Art Museum Board of Trustees Co-President John Phelan comments: "Since 2005, the Aspen Art Museum has made it one of its institutional priorities to construct an architecturally significant venue in the Aspen core for presenting contemporary art—a building that would further the AAM's trajectory of programming the most innovative, intriguing, and important art of our time. As we stand on the cusp of accomplishing this endeavor, Co-President Paul Schorr and I are proud to serve on the AAM Board and to acknowledge the commitment of our fellow Board of Trustees and National Council members, staff, artists, and the many within our community who have contributed to providing this opportunity. We thank them for their support of the AAM and the arts in Aspen."
Aspen Art Museum New Building Committee Chair Paul Pariser adds, "As a member of the AAM Board of Trustees and National Council, and Chair of the New Building Committee, I am extremely excited as we move steadily forward in writing this chapter in the museum's history. I look forward to the debut of these first memorable and historic exhibitions within what I know will be one of Aspen's most vitally important cultural landmarks."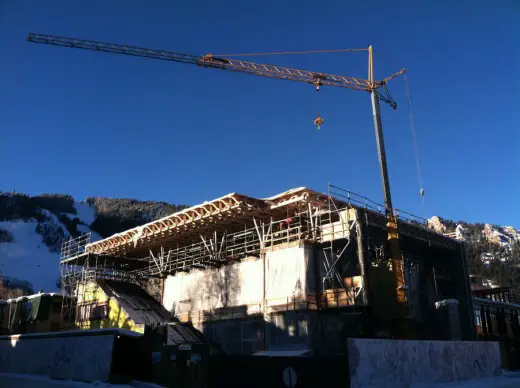 photo courtesy New Aspen Art Museum
About the New Aspen Art Museum
Located on the corner of South Spring Street and East Hyman Avenue in Aspen's downtown core a few blocks from Aspen's main skiing/snowboarding mountain, Ajax Mountain, the new AAM is Shigeru Ban's first U.S. museum. Of its design, Ban states:
"Designing the Aspen Art Museum presented a very exciting opportunity to create a harmony between architecture and Aspen's surrounding beauty while also responding to the need for the dialogue between artwork, audience, and the space itself."
Ban's vision for the new AAM is based on transparency and open view planes—inviting those outside to engage with the building's interior, and providing those within the opportunity to see their exterior surroundings as part of a uniquely Aspen Art Museum experience. The new Museum features 12,500 square feet of flexible exhibition space in six primary gallery spaces spread over the museum's four levels—more than tripling the amount of exhibition space in the museum's current facility. The galleries have a ceiling height of fourteen feet, most infused with natural light.
Visitors will enter the new AAM through a main public entry on the north side of the building along East Hyman Avenue, which allows access to the main reception area, as well as the new AAM's two ground floor galleries. From there, visitors may choose their path through museum spaces—ascending to upper levels either via Ban's "moving room" glass elevator in the northeast corner of the new facility, or the grand staircase on the east side of the facility perpendicular to South Spring Street. The grand staircase—an interstitial three-level passageway situated between the building's woven composite exterior grid and interior structure—is intersected by a glass wall dividing the stairway into a ten-foot-wide exterior space, and a six-foot-wide interior space. The unique passage allows for the natural blending of outdoor and indoor spaces and will feature mobile pedestals where art will be exhibited.
After climbing the grand staircase to the roof deck sculpture garden, visitors will enjoy unparalleled, sweeping vistas of Aspen's internationally recognized environment. This will be the only unobstructed public rooftop view anywhere in town of the iconic Ajax Mountain. The roof deck will also be an activated exhibition and event space, with a café and bar and outdoor screening space. Shigeru Ban envisioned that visitors would navigate the new AAM the way a mountain is navigated when skiing or snowboarding— by proceeding to the very top of the building and descending from floor to floor. Other features of the museum's architecture include: "walkable" skylights that will assist in illuminating the single main gallery on the second level; two galleries, an education space, bookstore/museum shop and on-site artist apartment on the ground floor; and, on the new AAM's lower level, three galleries, art storage, and art preparation spaces.
About The AAM Building Project
The meteoric growth of the AAM in recent years has meant a 115% increase in operating budget, a 110% increase in annual visitorship, and a 1,140% increase in the number of students served through the AAM's ambitious educational outreach programming. A longstanding strategic goal for the AAM—the expansion of its facility and relocation to the downtown Aspen core—became a necessity. In 2007, the AAM appointed an Architect Selection Committee, which included ASC chair Frances Dittmer, then acting Secretary of AAM's Board of Trustees; 2007 serving AAM Board of Trustees President Nancy Magoon and AAM Board members Larry Marx and Gayle Stoffel; and AAM National Council members Stefan T. Edlis and Diane Halle. After an international search, it was the committee's unanimous decision to select celebrated architect Shigeru Ban (Shigeru Ban Architects) for the project.
In August 2010, the AAM moved forward with the acquisition of property at the corner of South Spring Street and East Hyman Avenue. A groundbreaking event was held on the new site on "Aspen's Day" 8/16/11, and construction began in October 2012, with international construction team Turner Construction in the leading role and a goal of completion established for summer 2014.
Construction of the new AAM facility is 100% privately funded. The AAM continues fundraising as part of an overall Capital and Endowment Campaign with a goal of $65 million, including the $45 million building project budget as well as $20 million for the Museum's endowment. To date, $58 million has been raised, including the $20 million for the Museum's endowment, and $38 million toward the building project.
AAM Building Project Overview
The new facility will be located at the corner of South Spring Street and Hyman Avenue in downtown Aspen.
In 1979 the Aspen Art Museum opened its doors at the ren­o­vated Holy Cross Power Plant on the banks of the Roaring Fork River. For 33 years that facil­ity has served the mis­sion of the orga­ni­za­tion well, fos­ter­ing a pro­gram of art, dia­logue, and cre­ativ­ity that has grown into a major cul­tural insti­tu­tion serv­ing Aspen, the Roaring Fork Valley, the region, and the world.
The mete­oric growth of the museum in recent years has seen a 200% increase in bud­get, num­ber of stu­dents served, and annual vis­i­tors. A long-standing strate­gic goal for the AAM—the expan­sion of its facil­ity and relo­ca­tion to the down­town Aspen core—has become a neces­si­tated real­ity to meet the ongo­ing demand for ser­vices to the community.
With the unanimous support of the AAM Board of Trustees, the ini­tial fundrais­ing suc­cess, the iden­ti­fi­ca­tion of Shigeru Ban as design architect, and the August 2011 acqui­si­tion of prop­erty at the cor­ner of Spring Street and Hyman Avenue in Aspen, the AAM com­menced construction in fall 2012 of a build­ing appro­pri­ate for the pro­duc­tion, pre­sen­ta­tion, and expe­ri­ence of art. The New Aspen Art Museum is 100% privately funded, and under the lead­er­ship of the AAM New Building Committee, will be com­pleted within bud­get and on time for the summer of 2014.
New Aspen Art Museum Project
Gallery Space: 12,500 sqft
Access: Free Admission
Roof: Only Public Rooftop View of Aspen Mountain
Facility: Free Films, Lectures, Performances
Programme: art galleries + new black box theater space
Total area: 30,000 sqft of art and culture
New Aspen Art Museum – Building Information
Project Team:
Shigeru Ban Architects (SBA)
SBA com­prises 55 members working in three offices (New York, Paris, and Tokyo) and has com­pleted sev­eral museum projects abroad, notably the Centre Pompidou-Metz (2010). The New Aspen Art Museum will be the renowned firm's first per­ma­nent US museum to be con­structed. Click here to read more about New AAM archi­tect Shigeru Ban.
Cottle Carr Yaw Architects (CCY)
The AAM's local architect of record, Basalt, Colorado–based firm CCY has been rec­og­nized with over 100 design awards, includ­ing the AIA's Architectural Firm of the Year for the Western Mountain Region, and has been fea­tured in over 50 pub­li­ca­tions, includ­ing Architectural Digest, Architectural Record, Robb Report, Western Interiors and Design, Town & Country, Urban Land, and USA Today.
Turner Construction Company
An inter­na­tional leader in build­ing ser­vices, Turner Construction Company's broad port­fo­lio includes sig­nif­i­cant expe­ri­ence in museum and cul­tural projects. A select list of its recent projects includes the Art Institute of Chicago's Modern Wing and Nicholas Bridgeway; the future home of the Whitney Museum of American Art in New York's Meatpacking District; and 2002–6 ren­o­va­tion and expan­sion of The Museum of Modern Art.
Summit Construction Company
A full-service con­struc­tion man­age­ment firm based in Basalt, Colorado, Summit Construction Company is rooted in the core prin­ci­ple of pro­vid­ing excep­tional cus­tomer ser­vice. Summit begins each job with metic­u­lous orga­ni­za­tion and the for­mu­la­tion of a com­pre­hen­sive plan, and prides itself on effec­tive com­mu­ni­ca­tion of the project and its goals to both the con­struc­tion team and the com­mu­nity at large. Summit's recent projects include the Westin Hotel in Snowmass Village.
New AAM Project Manager Michael O'Connor
Michael O'Connor brings over 25 years of con­struc­tion and devel­op­ment expe­ri­ence to the build­ing project team. In addi­tion to his work with the AAM, he has been act­ing as a devel­op­ment and con­struc­tion con­sul­tant to the Aspen School District and the Town of Snowmass Village, Colorado. Based in Basalt, Colorado, he has also worked with the Aspen Skiing Company as an owner rep­re­sen­ta­tive on sev­eral con­struc­tion and plan­ning projects and has part­nered on the con­sult­ing ven­ture Resort Opportunities and Investments, LLC.
New Aspen Art Museum Building images / information from Axis Mundi
Shigeru Ban Architects
Location: Aspen Art Museum, Colorado, USA
Colorado Architecture
Colorado Architecture



photo : Wooseop Hwang
American Houses



picture from architects
The Clyfford Still Museum Denver
Brad Cloepfil + Allied Works Architecture



photograph : Jeremy Bittermann
History Colorado Center
Tryba Architects



picture from Weitzman
Colorado Buildings
Northern Colorado House, Jackson County
Turnbull Griffin Haesloop



photo : Wooseop Hwang
Denver Warehouse Building
Stephen Dynia Architects



image from architects
Solaris Residences Vail
Barnes Coy Architects



image from architects
American Architecture



photo : Iwan Baan
Comments / photos for the New Aspen Art Museum Building – Colorado Architecture design by Shigeru Ban Architects page welcome
Website: aspenartmuseum.org/newbuilding