NFTism Art Basel Miami Beach by Zaha Hadid Architects, ZHA Design Exhibitions, Architecture Show Images
NFTism Art Basel Miami Beach by Zaha Hadid Architects
3 + 2 December 2021
LED wall presenting an interactive gallery space located in the metaverse
Opening this week and presented at Art Basel Miami Beach, 'NFTism' is a virtual gallery exploring architecture and social interaction in the metaverse.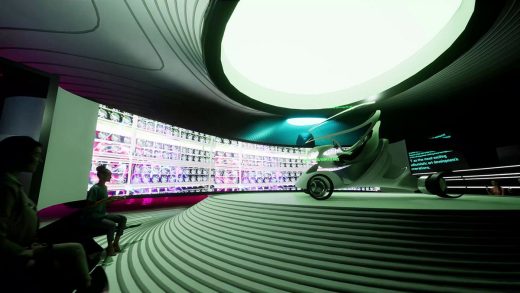 image : Zaha Hadid Architects
'NFTism' at Art Basel Miami Beach
2-4 December 2021
Cyberspaces are virtual environments that enable human-to-human communication via computer networks. Current photo-real, 3D and massively multiplayer online (MMO) video-game creation technologies, combined with high-speed network and cloud technologies, allow cyberspaces to be 3-dimensional, interaction-rich, socially and sensorially engaging, as well as accessible through a variety of devices using desktop browsers, mobile apps and smart TVs.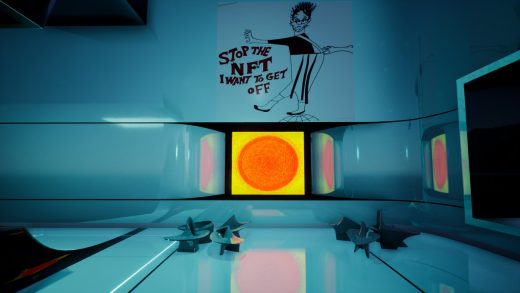 image : Journee
Cyberspaces are part of integral spatial-web technologies underpinning the metaverse – an online environment coupling spatial and interaction experiences of cyberspaces with supporting social, community forming and economic infrastructure. The metaverse supports new forms of cultural production and associated experience such as digital art and virtual art museums.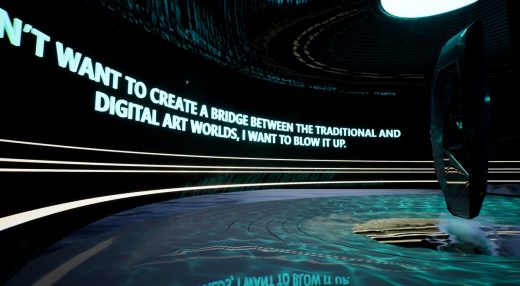 image : Journee
Galerie Nagel Draxler collaborated with media artist Kenny Schachter to curate their initial exhibition dedicated to artists working with blockchain technologies and NFTs: 'Breadcrumbs: Art in the Age of NFTism'. Their subsequent 'Crypto-Kiosk' collaboration piloted the concept at Art Basel 2021. Now at Art Basel Miami Beach, the concept is taken a step further with an LED wall presenting an interactive gallery space located in the metaverse.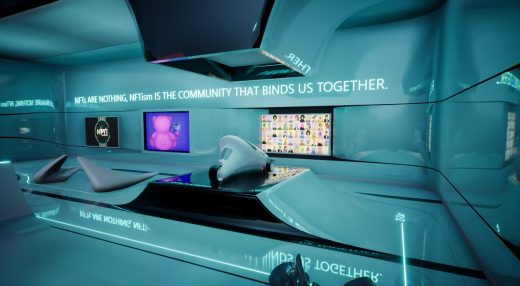 image : Journee
With spatial designs by Zaha Hadid Architects (ZHA) that focus on user-experience, social interaction and dramaturgical composition, this virtual architecture is powered by performance aligned, field-tested parametric design technologies. Coupling ZHA's designs with MMO and interaction technological services bring novel, use-enhancing experiences to a broad online audience. The virtual gallery features, among other items, designs previously commissioned by Kenny Schachter, namely the 'Z-boat', the 'Z-Car One', a sculptural bench-table 'Belu' and a stool 'Orchis'. These designs are collaborations between Zaha Hadid Architects and Zaha Hadid Design.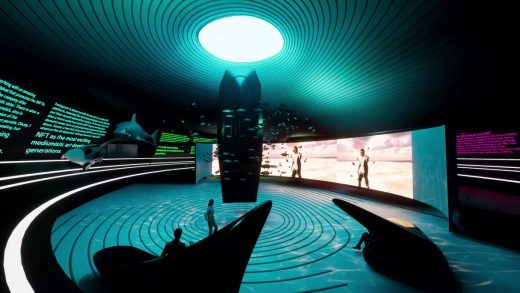 image : Zaha Hadid Architects
Incorporating their technologies within the virtual spaces designed by ZHA, JOURNEE has developed a Software as a Service (SaaS) built on proprietary, performance optimized MMO technology integrated with audio-video interaction capabilities along with network and cloud-hosting services.
Curation by Kenny Schachter
Invitation and hosting by Galerie Nagel Draxler
Designed by Zaha Hadid Architects, powered by JOURNEE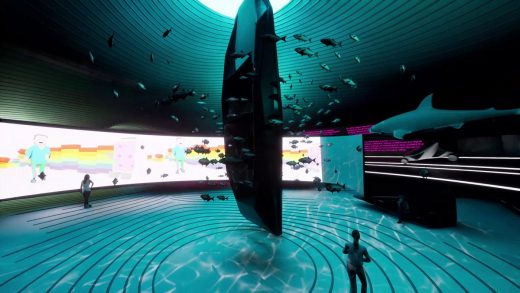 image : Zaha Hadid Architects
Galerie Nagel Draxler was founded in Cologne in 1990 and operates in Cologne, Berlin, Munich and Meseberg. We are proud to be a gallery that has a history, a present and a future. An emphasis lies on an established artist generation, that has been showing with us since the beginning and whose work has been strongly influential for following generations. Our mid-career artists take part in defining the artistic discourses of our times. Finally, with a young generation, we meet the challenges of tomorrow. We see it as a privilege, to be able to give younger artists a context rooted in recent art history.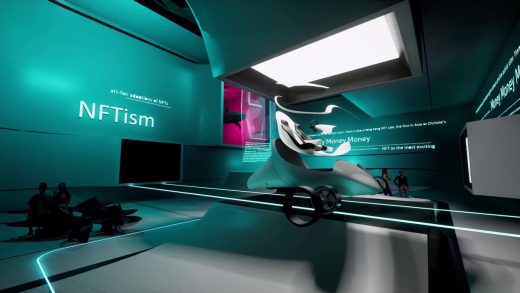 image : Zaha Hadid Architects
Kenny Schachter has been curating contemporary art exhibits in museums and galleries, as well as teaching art history and economics for nearly 30 years. He has a regular column on Artnet.com in addition to writing for various international publications. A retrospective of his art was presented at Joel Mesler's Rental Gallery in New York and he curated an exhibit at Simon Lee Gallery in London in 2018. More recently, Schachter had solo exhibitions at Kantor Gallery, Los Angeles and Blum & Poe in Tokyo.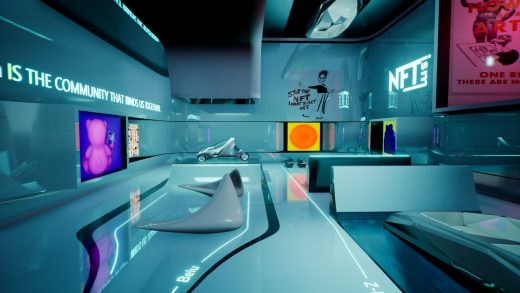 image : Journee
Zaha Hadid Architects (ZHA) is a global architecture brand founded by the late Zaha Hadid. ZHA has a global portfolio of high-profile buildings, including museums, opera houses, corporate headquarters, railway stations, airports, residences, hotels and mixed-use complexes. ZHA principal Patrik Schumacher is currently focussing his research on the possibilities of cyberspace and the metaverse.
JOURNEE is a leading technology company specialised in connecting brands with their audiences in the metaverse by providing the world's most advanced metaverse technology platform. Using the cutting-edge platform, a team of 40 experts designs and builds stunning, customised virtual experiences tailored to fulfil client goals. JOURNEE has delivered resoundingly successful campaigns and events for numerous enterprise-level companies and leading brands across industries around the world.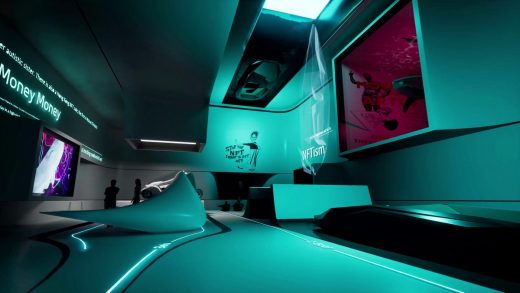 image : Zaha Hadid Architects
Project Team:
Design
Zaha Hadid Architects (ZHA): Cesar Fragachan, Vishu Bhooshan, Henry David Louth, Shajay Bhooshan, Patrik Schumacher
Documentation
Zaha Hadid Architects (ZHA): Cesar Fragachan, Vishu Bhooshan, Shajay Bhooshan
JOURNEE: Christian Mio Loclair, Carlos Serrano, Faye Brown, Kevin Wang, Marlene A. Schenk
Metaverse Application & Web Service
JOURNEE: Christian Mio Loclair, Carlos Serrano, Faye Brown, Kevin Wang, Marlene A. Schenk
NFTism Art Basel Miami Beach by ZHA images / information from Zaha Hadid Architects
Zaha Hadid Architects Exhibitions
ZHA Close Up – Work & Research Exhibition, MAM Shanghai, China
ZHA Close Up – Work & Research Exhibition
Defined by a timeline of Zaha Hadid Architects (ZHA) formative works in China, 'ZHA Close Up' at MAM Shanghai explores the pioneering research and interconnecting relationships that unite their projects around the globe, detailing the technological innovations that are transforming how the studio imagines, designs and constructs built environments.
Constructing Agency: AADRL exhibition at Zaha Hadid Gallery, London, UK
In method and practice, the Architectural Association Design Research Lab (AADRL) challenges the orthodoxies of convention in how we discuss, design, fabricate and live within architecture and urbanism today.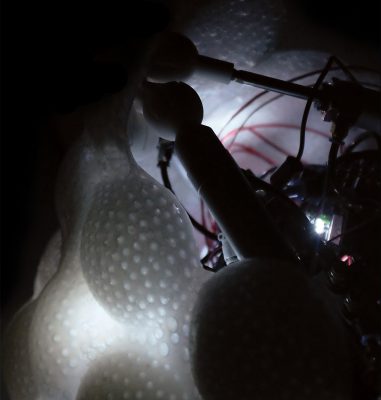 photograph courtesy of Studio Spyropoulos, AADRL
Resource for Zaha Hadid Architects – selection:
Zaha Hadid : main page – Current Work
Zaha Hadid Architecture – Older Work from 2008-09
Zaha Hadid Buildings – Older Work up to 2007
Zaha Hadid Architects – All Projects + Practice Information
Zaha Hadid Architecture Designs
ZHA Architectural Designs – selection:
Zaha Hadid Presents Prototype Liquid Glacial Table, David Gill St James's, London, UK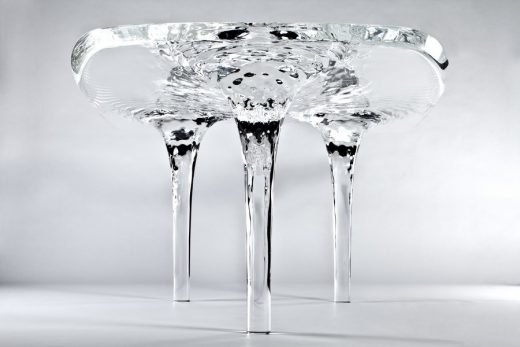 photo : Jacopo Spilimbergo
Liquid Glacial Table
Zaha Hadid – World Architecture Exhibition, Danish Architecture Centre, Copenhagen, Denmark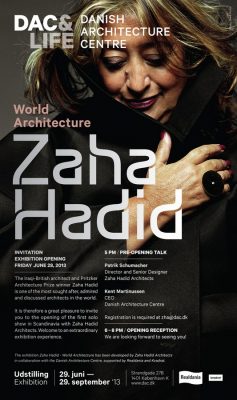 image from DAC
Zaha Hadid – World Architecture Exhibition
Location: Miami, FL, USA
Architectural Design
Contemporary Architectural Designs – selection:
London Architects Practices
Zaha Hadid design : Milan Furniture Fair
Comments / photos for the NFTism Art Basel Miami Beach by ZHA page welcome