IDOM Group Architects Spain, Madrid Office, Spanish Design Studio, Architectural Projects News
IDOM Group Architecture
post updated 11 February 2023
IDOM News
11 Feb 2023
SAICA RDI Building, Zaragoza, Aragon, north east Spain
Design: IDOM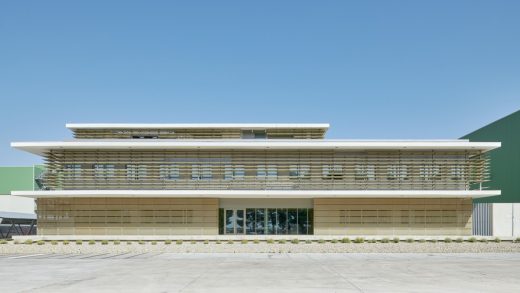 photo : Iñaki Bergera
SAICA RDI Building Zaragoza
IDOM Group News in 2022
14 Sep 2022
French Architectural News, Tarbes, Hautes-Pyrénées, Occitanie, southwestern France
Architectes: IDOM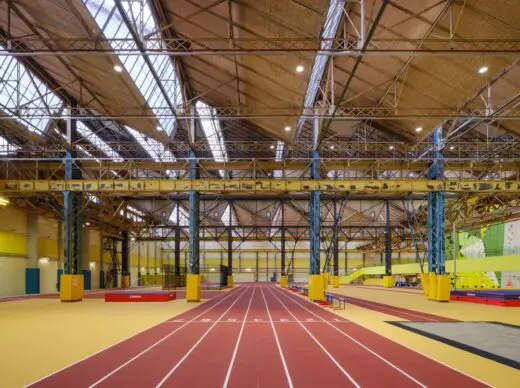 photo : Pedro Pegenaute
Sports Centre Tarbes
This French architecture project is the result of an ideas competition for the transformation of an old military industry building from the early 20th century into a large sports center. The new building, oriented north-south, measures 125 m long by 85 m wide, organized into a 20 m high central building and two 13 m high side buildings.
9 Aug 2022
HARIVENASA – Oat Factory, Arakil, Navarra, Spain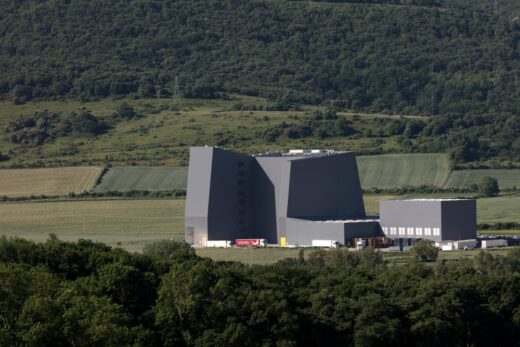 photo : Aitor Ortiz
HARIVENASA – Oat Factory, Arakil, Navarra
The Arakil valley offers an environment of high natural value. It is made up of green meadows and humid forests surrounded by imposing mountains. Integrating the HARIVENASA – Oat Factory, a large cereal processing factory into the site posed an additional challenge to the already complex design task.
13 Jan 2022
Beronia Winery, Ollauri, La Rioja, Northeast Spain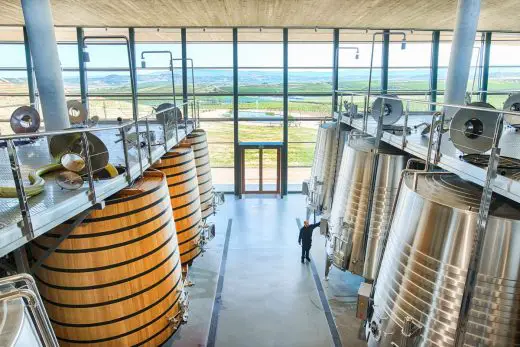 photograph : Gunnar Knechtel
Beronia Winery Ollauri Building
The vineyard is the protagonist. The winery is underground, integrated into the landscape that passes over it. The project began with a thoughtful approach to the location in its historical, geographical, geological, topographic and symbolic dimensions, anchoring itself to the terrain seeking a unitary operation in all its dimensions.
More IDOM Group News on e-architect soon
IDOM Group News 2021
14 Jul 2021
Bizkaia Tower, Calle / Gran Vía 1, Bilbao, Basque Country, Northeast Spain
Design: IDOM Group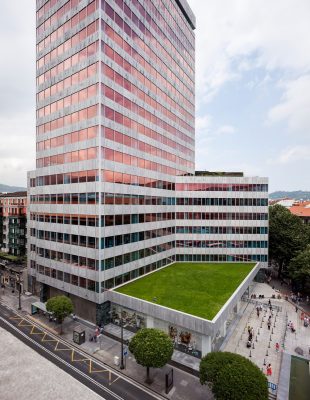 photo : Aitor Ortiz
Bizkaia Tower Bilbao Building
The Bizkaia tower is a building whose construction ended in 1969 and was originally used to house the headquarters of the Bilbao Vizcaya bank. It has an area of 30,400m2 divided into three basements and 22 floors above ground (the last two for installations), in all a height of close to 90m.
6 July 2021
National Public Health Emergency Operations Center & Laboratory, Republic of the Gambia, West Africa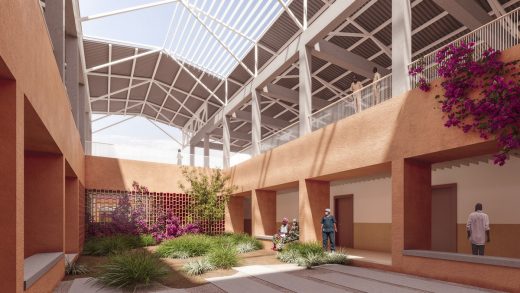 image courtesy of architects practice
Emergency Treatment Centre Farato, Gambia Building
The Government of Gambia has developed a National Plan for Preparedness and Response to COVID19. The COVID-19 Plan focuses on scaling up and strengthening all aspects of preparedness and response, including coordination, surveillance, case management, communication, and social, psychosocial mobilization, as well as logistics and safety.
19 May 2021
Senegal Technology Park Building, Diamniadio, near Dakar, Senegal, West Africa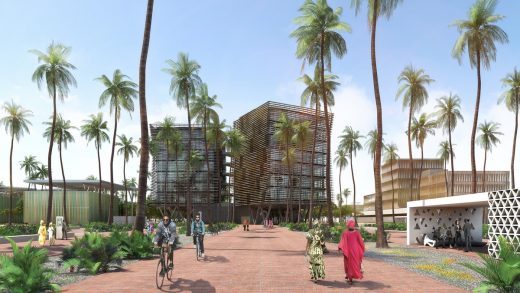 image courtesy of architects practice
Senegal Technology Park Building
Within the framework of the Senegal Emergent Plan (Plan Sénégal Émergent-PSE), the Ministry of Communications of Senegal has adopted a policy to stimulate the development of the ICT (Information and Communication Technologies) sector. The national ICT strategy aims to promote the creation of an attractive space for investment, as well as access to ICTs for the society in general.
More IDOM Group Building News online here at e-architect soon
IDOM Group News 2012 – 2020
21 July 2020
Vitoria City Council Offices Building, province of Araba/Álava, Basque Country, northern Spain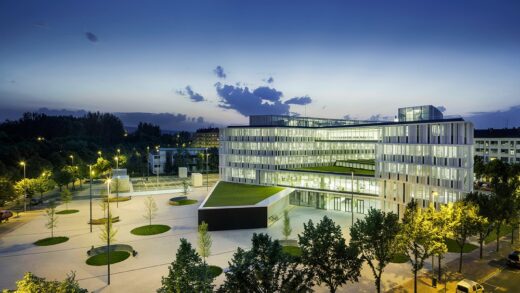 image from architects practice
Vitoria-Gasteiz City Council Offices
The Architecture Community, organizer of the prestigious World Design Awards, recently announced the winning projects for 2020. Among them, were four of works by IDOM: the San Mamés Stadium received first prize in the Sports & Recreation Built category, the Lima Convention Center in the Cultural Built category, the Bambey University in Institutional Building Built and the VitoriaGasteiz City Hall in the Public Building Built category.
14 July 2020
University of Bambey Building, Diourbel, Senegal, West Africa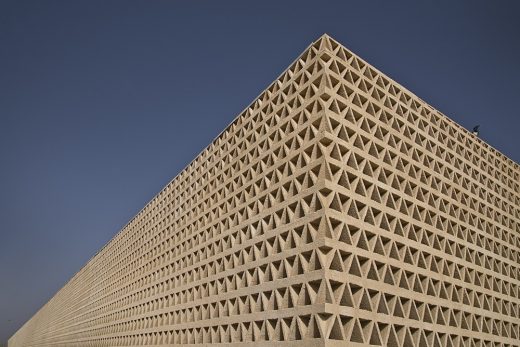 image from architects practice
University of Bambey Building
In Senegal, shade and water are everything. This lecture-room block project, a close relative of another in Gaston Berger, San Luis, which was commissioned by the Ministry of Education and the World Bank, is set in the city of Bambey, located 120 km west of Dakar. With a population of 20,000, Bambey stands out for its peanut and cattle farming, its scarce urban infrastructures and the surrounding harsh life conditions.
17 Apr 2020
REE Campus
Architects: IDOM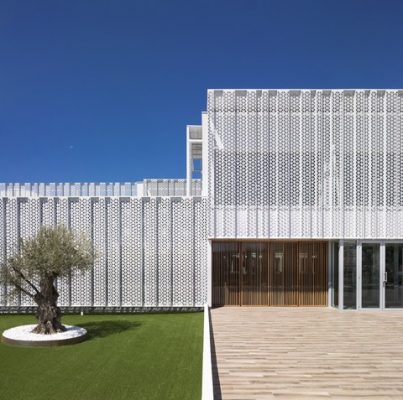 photo : Aitor Ortiz
REE Campus
Red Eléctrica de España has commissioned IDOM for the comprehensive rehabilitation of two buildings in the Tres Cantos Technology Park (Madrid). The action includes a comprehensive adaptation to the new training and technological needs of the company, modernizing the set of buildings through an envelope that enables compliance with energy efficiency requirements.
19 Mar 2020
University of Navarre Clinic
Architects: IDOM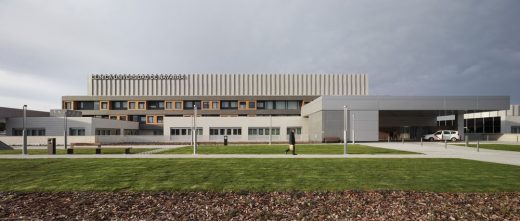 photo : Aitor Ortiz
University of Navarre Clinic
The project for the new University of Navarre Clinic in Madrid follows a high specialization, teaching and research hospital model, in which the patient is at the centre of all care.
29 July 2019
Quironsalud Proton Therapy Centre, Calle Virgilio, Pozuelo de Alarcón, Madrid, Spain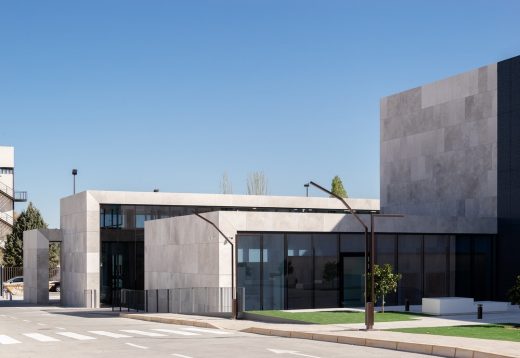 photo : Jorge Allende
Centro de Protonterapia Quironsalud Madrid
Proton Therapy is at present the safest and most advanced radiotherapy technique there is to treat certain types of cancer. It involves generating a beam of protons to radiate the tissue affected by a tumour.
2 Jul 2012
Bilbao Arena, Askatasuna Hiribidea, 13, 48003 Bilbao, Bizkaia, Spain
Design: IDOM



photo : Jorge Allende
Bilbao Arena
This 20,000 seat professional basketball stadium and community sports centre is perched on a grassy outcrop, its veil of green painted steel 'leaves' hanging five metres beyond the world-class basketball arena inside. This creates an exterior service zone (like the branches of a tree) for the building's gloriously accessible array of air-handling equipment.
More architectural projects by IDOM online soon
Location: Madrid, Spain, southwestern Europe
Practice Information
Architects studio based in Madrid, Spain
Spanish Architect – contact details
17 Oct 2012
IDOM Office, north west Madrid, central Spain
Design: ACXT Architects
Idom Office
12 Oct 2012
IDOM Headquarters Bilbao, Basque Country, north east Spain
Design: Javier Pérez Uribarri of ACXT Architects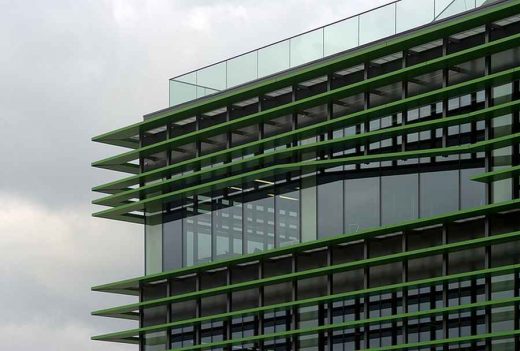 photos : Aitor Ortiz, Jorge Allende
IDOM Headquarters Bilbao
The new IDOM Group offices are located in the old bonded warehouse in the Deusto canal, in Bilbao. It has 14,400m2 destined for offices, research and development areas such as the white-room and the prototypes workshop, and social spaces.
Buildings / photos for the IDOM Architects page welcome