HHF Architects Basel, Swiss design studio, Switzerland architecture office, Building images
HHF Architects : Swiss Architecture Studio
Contemporary Swiss Architectural Practice: Basel Design Office, central Europe
post updated 17 August 2023
HHF Architects News
HHF Architects News
7 December 2021
Weggishof, Weggis, Canton Lucerne, Switzerland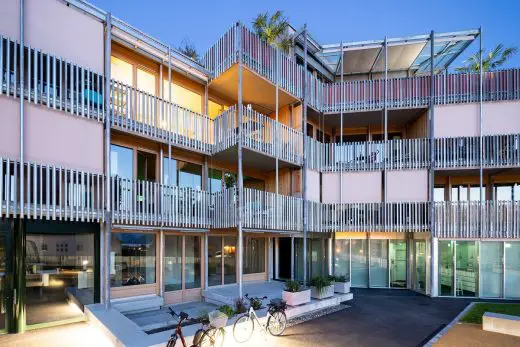 photo : Iwan Baan
Weggishof Lake Lucerne Apartments
The Weggishof, a mixed-use development in Weggis on Lake Lucerne in Switzerland, is a wood hybrid construction and consists of 39 apartments made of prefabricated wooden elements. These are intersected with a bracing concrete fundament, which houses 1'200 m2 of commercial space with public uses.
28 Sep 2021
Aux Entrepôts, Renens, Lausanne, west Switzerland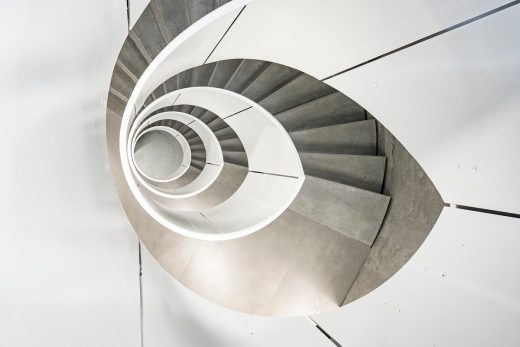 photo : Anders Modig
Aux Entrepôts Lausanne
Angular, shimmering brick facades in green, yellow, aubergine, and red gives a strong identity to HHF Architects' winning entry for part of the new master plan Parc du Simplon in Renens, Lausanne. The ruggedness and simplicity of the bricks are evocative of the site's industrial history, while the glazed surfaces contribute to the lively atmosphere of the area.
26 Jul 2017
Design Concept for the Swiss Pavilion at Expo 2020 in Dubai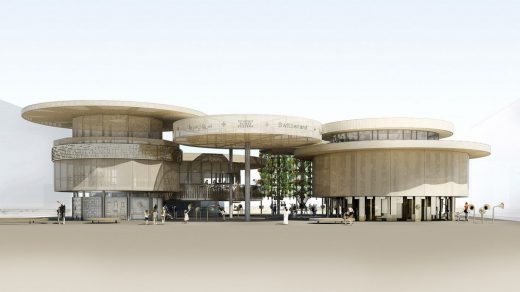 image from architects
Swiss Pavilion at Expo 2020 in Dubai
Under the title Grande Complication, HHF Architects have submitted a design for the competition to construct the national pavilion at the World Expo 2020 in Dubai.
16 Mar 2016
Home of Revolution, Nikšić, Montenegro
Design: SADAR + VUGA and HHF Architekten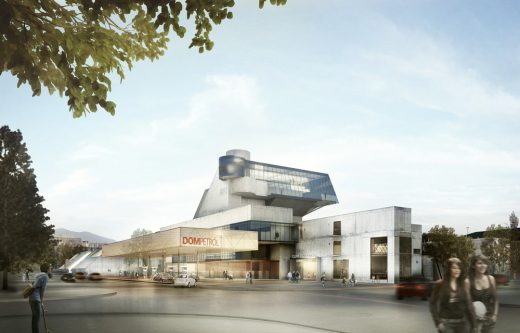 image from architects
Home of Revolution in Nikšić
It was decided that the main intervention should be one that would serve the city and its residents, a social activator that would represent today's changing conditions. Through analysis and local consultation it was determined that trying to complete the existing megastructure would not work as such a project would be suited to a city more than ten times Nikšić's size.
HHF Architecture Exhibition
SHOW AND TELL – ARCHITECTURAL (HI)STORIES FROM THE COLLECTION, 13.3.–15.6.2014
PINAKOTHEK DER MODERNE, ARCHITEKTURMUSEUM DER TU MÜNCHEN
OPENING: 12.03.2014, 7 P.M.
The model of HHF's lookout point on "Espinazo del Diablo" at the Ruta del Peregrino in Mexico, shown at the Venice Biennale 2012, and the publication "Ruta del Peregrino, a photographic essay by Iwan Baan", released for the Venice Biennale 2012, where recently included into the permanent collection of the Museum of Architecture of the TU München situated in the Pinakothek der Moderne. From next Wednesday, they will be shown in the Exhibition "Show And Tell – Architectural (Hi)stories From The Collection".
The Architekturmuseum der TU München is one of the largest collections dedicated to architecture in Europe and contains enough materials in its archives to inspire new research and presentations for a long time to come. Its value for the public is further enhanced by the fact that the history of each object housed at the museum has been recorded and documented.
The exhibition SHOW AND TELL – Architectural (Hi)stories from the Collection illustrates the historical richness of the collection with a selection of outstanding exhibits. Hand-drawn sketches, models, letters, books, invoices, manuscripts and plaster reliefs – every object in the collection refers to a process that is in some way related to architecture, but also has its own story to tell: be it the history of a building and its creation, how it was documented, the physical and cultural context or the biography of its creator, complemented by the voices of the architects themselves, whose theories, approaches, concepts and ideas are revealed in letters, books, audio recordings and videos.
www.architekturmuseum.de
HHF Architecture News – latest additions to this page, arranged chronologically:
HHF WINS TWO INTERNATIONAL AWARDS:
"HÄUSER DES JAHRES 2013" AWARD
– FOR HOUSE D IN NUGLAR, CH
"THE AMERICAN ARCHITECTURE AWARD 2013"
– FOR THE GUESTHOUSE IN ANCRAM, NY, USA
HHF were honoured in Frankfurt at "DAM Deutsches Architekturmuseum" with the eligible "Haus des Jahres 2013" Award for House D in Nuglar, Switzerland. Link: http://haeuser-des-jahres.com/ausschreibung-2013/
In addition the Chicago Athenaeum: Museum of Architecture and Design, together with The European Center for Architecture Art Design and Urban Studies and Metropolitan Arts Press, honoured HHF's + Ai Weiwei's Guesthouse in Ancram with The American Architecture Award 2013. Link: http://www.chi-athenaeum.org/archawards/
11 Sep 2013
Guesthouse Ancram New York, USA
Design: HHF Architects and Ai Weiwei



photo : Iwan Baan
Three years after completion of the main house, the owners of the Tsai Residence approached the HHF team and Ai Weiwei to commission a guesthouse. The guesthouse brief posited three main elements: a bedroom, a workroom and a gallery for the two collectors' art. One simple and highly effective gesture – a Y-shaped ground plan – served to link these elements at isolated points and to define the overall appearance of the guesthouse.
11 Sep 2013
House in Nuglar, Solothurn, Switzerland
Design: HHF


photo : Tom Bisig
House D is oriented parallel to the landscape, thereby making the view a matter of prime importance. Across more than 180 degrees, you gaze over unbuilt, verdant land with mature fruit trees. HHF radically exploits this situation, thematizes it, and accentuates it even more with a few simple moves: The main level is an open space – with the kitchen as well as dining and living areas – and alongside a concrete core, the stair to the upper and lower floors. The space is entirely glazed and blends seamlessly with the space outdoors. The outdoor space itself is an oversized terrace. No more but also no less.
HHF Architects – Recent Designs
21 Dec 2012
Ozeanium, Zoo Basel, Switzerland
Design: HHF architects & BURCKHARDT+PARTNER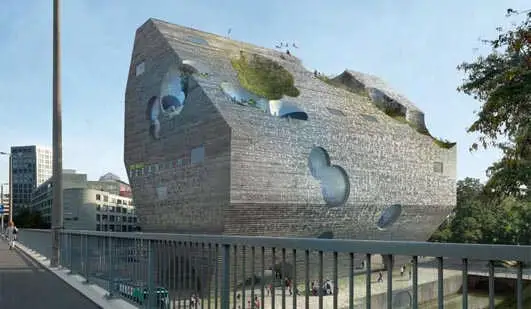 image © HHF Architekten & Burckhardt+Partner AG
Basel Aquarium
Zoo Basel is embedded in the city and used as a park by residents and visitors. The redesigning of the green area Nachtigallenwäldeli and the construction of the new Ozeanium, an ocean aquarium, on the Heuwaage are bringing the zoo and the park area even closer to the city center, to form an attractive living environment and recreational area.
25 Oct 2012
EPFL Pavilions, Lausanne, west Switzerland
Design: HHF-AWP



image : SBDA
EPFL Pavilions
The first stage of the EPFL campus was organized by a potentially infinite spacial and functional grid. But what was meant to be a highly flexible and open scheme turned out to be highly problematic, resulting in mainly backside situations. Most of the later extensions of the EPFL sought to change this urbanistic typology by formulating an end to the endless grid.
12 Sep 2011
Follies Poissy, France
AWP + HHF



image © AWP – HHF, Sbda
Follies Poissy
The series of a pavilions with different public functions and programs are part of a future 113 hectare large public green space along the Seine river, in Carrière-Sous-Poissy, at the end station of the RER line A and close the renown Villa Savoye from Le Corbusier. The Park designed by the Paris based landscape architects Agence TER will be a public park and ecological showcase for local residents and a leisure destination for people living in and around Paris.
2 Nov 2010
Fashioncenter Labels 2, Osthafen, Berlin, Germany



photo © Iwan Baan
Fashioncenter Labels 2
HHF Architects – Key Projects
Key Buildings by HHF, alphabetical:
ARTFARM, Salt Point, New York, USA
2008
HHF architects + Ai Weiwei



photo : Iwan Baan
Artfarm
The Artfarm is located near Salt Point in upstate New York (1.5h drive from the City), on the site of an existing private residence, built in the 80ies.
Cafeteria Kirschgarten, Basel, Switzerland
2008



picture : Tom Bisig, Basel
Cafeteria Kirschgarten Basel
The project is an integration of a cafeteria into a existing open lobby of a important school building located in the city center of Basel. Ribbons made of wood are put above the existing floor, wall and ceiling.
Confiserie Bachmann, Basel, Switzerland
2009



photo : Tom Bisig, Basel
Confiserie Bachmann
Renovation of the Confiserie Bachmann flagship coffee house and chocolate shop. Confiserie Bachmann is Basels most traditional and most famous chocolate manufacturer, specializing in high-quality sweets.
Fashioncenter Labels 2, Osthafen, Berlin, Germany
2007-09



image from architect
Fashioncenter Labels 2 – link at top of page
Nussbaum Information & Training Center, Switzerland
2009-



image from HHF architects
Nussbaum Center
Ruta del Peregrino – Lookout Point, State of Jalisco, Mexico
2009



image from architect
Ruta del Peregrino Lookout
Ruta Peregrino is a path that goes from Ameca to Talpa de Allende, in the State of Jalisco near Guadalajara, Mexico. During holy week, about 2 million people walk along this pilgrimage path.
More projects by HHF Architects online soon
Location: Basel, Switzerland, central Europe
Swiss Architecture Practice Information
Architect office based in Switzerland
Swiss Architect Offices – Contact details
HHF architects
HHF architects was founded in 2003 by Tilo Herlach, Simon Hartmann and Simon Frommenwiler. Since then HHF have realized projects in Switzerland, Germany, China, Mexico, France and the USA. The scope of work ranges broadly and includes: large scale construction, e.g., fashion center Labels Berlin 2; interior design, e.g., the Confiserie Bachmann in Basel; master planning, e.g., the public space and mobility strategy for the Praille Acacias Vernets, Geneva; public structures, e.g., Ruta del Peregrino Lookout Point of a pilgrimage route in Mexico; or the Baby Dragon pavilion in the Jinhua Architecture Park, China.
From the beginning HHF has aimed for collaborations with other architects, artists and specialists in order to widen the view on a project and enrich the quality of a specific proposal. In addition to building, teaching is an important activity of the office. Since 2009 Simon Hartmann has been Professor at the HTA in Fribourg, Switzerland. Previously he served as a teaching assistant and head of teaching at the ETH Studio Basel, with Professors Jacques Herzog, Pierre de Meuron, Roger Diener and Marcel Meili. Simon Frommenwiler was a teaching assistant with Professor Harry Gugger at the ETH in Lausanne and a guest professor at the HTA in Fribourg. HHF architects also guest lectured at the UIA in Mexico City, at MIT in Boston and the University of Innsbruck and the firm's architects have participated as jury members at numerous universities.
Website: www.hhf.ch
Swiss Architectural Designs
Cocoon EMEA Engineering Hub
Design: Camenzind Evolution



pictures : Camenzind Evolution, Zurich
Cocoon Offices
Comments / photos for the HHF Architekten page welcome