5 ways on how to make your home look better guide, Property style tips, Online house decor advice
5 Ways On How To Make Your Home Look Better
7 Dec 2021
A home is a place where your heart is. It's the place you feel the safest and warmest at. It is a place of comfort. Home is somewhere you go in order to run away from your daily stresses. It is also a place to celebrate and rejoice. Thus it is only fitting for it to be the best and well-kept thing in your life.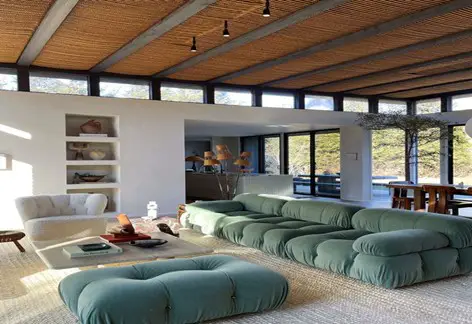 Source: Pinterest
There are a lot of things that go into making someplace your home. Just a plain house is not a home. Home is someplace where you make memories, good and bad. Whether you're having a party or reading a book on your sofa, having a good-looking and feeling home can be the best.
Making It Your Home
The fondest memories in our lives are usually those from our childhood, or later on with other people such as our friends or even kids. A lot of these memories are made at your house. What made your house a home? Was it the people? The environment? The surroundings? The furniture? There are a lot of things that go into making your house into a home. However, what makes you feel at home is different for everyone. In this article, we will be listing some universal tips that can help towards making your home feel and look better.
1: Decorate
Personalizing your house can have a big impact on making your home look better. It can make it feel and look like your own personal space. Decorating a house makes it feel warm and cozy. It removes the feeling of emptiness even if you're living alone.
Studies show that decorating your house can also have a positive mental impact. It can make you feel less stressed and more relaxed. This can be very important on days when you feel low. A personalized space also makes you feel more active and creative. Thus, decorating your home is a good idea since it is likely to make it look better and feel better at the same time.
2: Deep Clean!
Sometimes all your home needs to look better is a good clean-up. It's okay to admit that sometimes we just don't have it in us to clean up. We've all been there. The important thing is to pick yourself back up and get on track.
You do not have to do your entire clean-up in one day. You can plan it out in segments. Don't force yourself to do it all together or you'll just keep slacking off. Getting help from a friend or a family member may not hurt too much as well.
Once you are done cleaning up, you will notice a world of change in your home. A cleaner house just gives a much better vibe and atmosphere. Most importantly, it will make you feel cleaner yourself as well.
3: Go Shopping In Your Home
Most of the time, we have what we need in our homes. We just can't find it. So before you go out shopping and look for items for your home, shop inside. Look around your house for items that could be rearranged or you have lost around time.
This is a very healthy exercise since it saves you a lot of money and helps sort things out too. In fact, you could probably do this while cleaning up.
4: Furniture
What is a car without its seats? Or a school without blackboards? Nothing. If you want to make your house look visibly better, furniture matters. It is one of the first things people notice and it is something that affects you as well. Having nice furniture will make you feel more relaxed when you come crashing down on your couch after a long day.
Today, furniture such as chairs is even made through chair mould. Such chairs can be used as outside furniture if you have a lawn or a balcony too.
5: Re Organize
Reorganizing your house can also make a visible difference. Sometimes you own the right stuff but it's at the wrong spot. We are firm believers in spending the least amount of money possible. Therefore, sometimes you just need to shift the furniture around to give a fresher look to your surroundings.
Reorganizing is also good for your brain. Seeing the same thing every day can be draining and bore you out. Therefore, shuffling things around can have a good mental impact since you will see a newer pattern or outlook.
5 ways on how to make your home look better conclusion
As we said before, home is a place where you feel your best. It does not matter as much if it looks great or not as long as you are happy with it. However, that does not mean that you leave it in utter chaos. Your home should also be a place you can relax. It is a place where you can sit back without worrying about the smell of week-old socks or what that pizza slice is doing on the floor. Just make sure that you regularly follow the tips given above and you will see the difference yourself.
Comments on this 5 ways on how to make your home look better guide article are welcome.
Building Articles
Residential Architecture
4 Marketing Tips to Attract More Customers to Your Store
Best video editing software for home
Comments / photos for the 5 ways on how to make your home look better advice page welcome