Dame Zaha Hadid Architect, London Architectural Studio, Design Practice UK, Office
Dame Zaha Hadid Architecture
ZHA Architecture Studio London: Major Buildings + Projects + Awards
1 Apr 2016
Architecture by Dame Zaha Hadid
Wolf D. Prix remembers Zaha Hadid
1950-2016
Zaha Hadid, architect: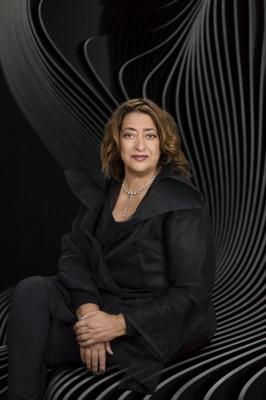 portrait by Mary McCartney
7 + 6 Apr 2016 – Zaha Hadid 1950-2016: Pritzker Prize laureates paid tribute to Zaha Hadid at a private dinner before this year's Pritzker ceremony in honour of Chilean architect Alejandro Aravena, which took place in New York on Monday, reports Dezeen.
Hadid, who died suddenly on Thursday at the age of 65, was remembered during this year's ceremony at the United Nations Headquarters in speeches given by both Aravena and Peter Palumbo, chair of the Pritzker jury.
Palumbo said that a private dinner held for former Pritzker laureates the night before the ceremony had included a one-minute silence in honour of the Iraqi-born architect, who was the 2004 Pritzker Prize winner.
Past Pritzker winners who had flown in for the event included Thom Mayne,Richard Meier, Glenn Murcutt, Jean Nouvel, Christian de Portzamparc,Renzo Piano, Richard Rogers and Wang Shu.
"At a dinner last night given by Cindy Pritzker for past laureates, together with the members of the jury and their wives, we stood for a minute's silence as a tribute to Zaha Hadid, the 2004 Pritzker Prize laureate and therefore by definition a member of the extended Pritzker family," said Palumbo.
2 Apr 2016
Say himmelblau.
Zaha is the diamond of architecture. Radically bright and flowing at the same time, her architecture is a glimpse into an optimistic future. With her calligraphic designs and buildings, Zaha broke the boundaries of architecture and opened up new terrain. Form and program, content and shape were, are, and will remain her legacy. Thank you, Zaha, you were a generous friend.
Wolf D. Prix, architect
COOP HIMMELB(L)AU Wolf D. Prix & Partner ZT GmbH, Vienna, Austria
Guangzhou Opera House: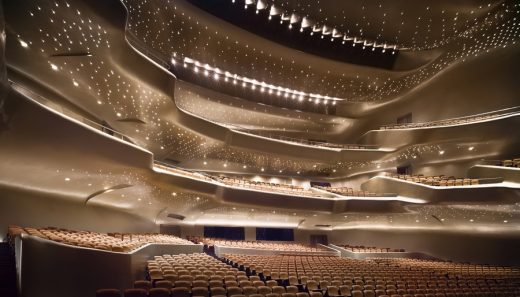 photo : Virgile Simon Bertrand
Dame Zaha Hadid Architecture
World-renowned architect Dame Zaha Hadid has died aged 65.
The London-based architecture practice – Zaha Hadid Architects – was established in 1979.
The designer died suddenly in the early hours of of Thursday morning while in hospital in Miami.
She had contracted bronchitis earlier this week and suffered a sudden heart attack while being treated in hospital.
Phaeno Science Centre Germany: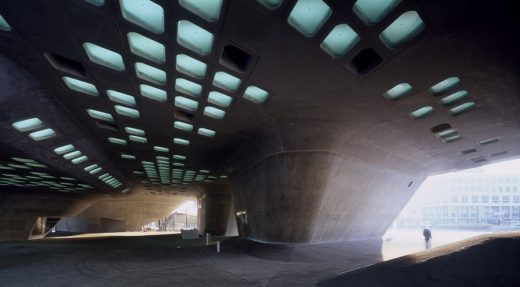 photo : Werner Huthmacher
Zaha was recently awarded the RIBA's 2016 Royal Gold Medal, the first woman to be awarded the prestigious honour in her own right.
She also won the Stirling Prize twice, for the MAXXI Museum in Rome in 2010, and for Brixton's Evelyn Grace Academy in 2011. In 2012, she was made a Dame Commander of the Order of the British Empire.
MAXXI Museum of XXI Century Art, Rome: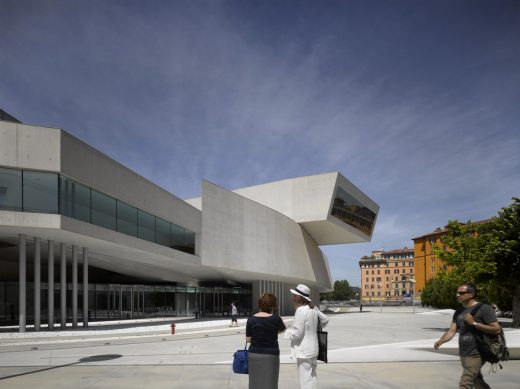 photo : Richard Bryant
RIBA President Jane Duncan said: "This is absolutely terrible news. Dame Zaha Hadid was an inspirational woman, and the kind of architect one can only dream of being. Visionary and highly experimental, her legacy despite her young age, is formidable. She leaves behind a body of work from buildings to furniture, footwear and cars, that delight and astound people all around the world. It was only last month that I had the enviable task of awarding Zaha the 2016 Royal Gold Medal for architecture – she was delighted to receive the recognition and adds the medal to an amazing collection of awards, not least winning the RIBA Stirling Prize years running. The world of architecture has lost a star today."
London Aquatics Centre interior: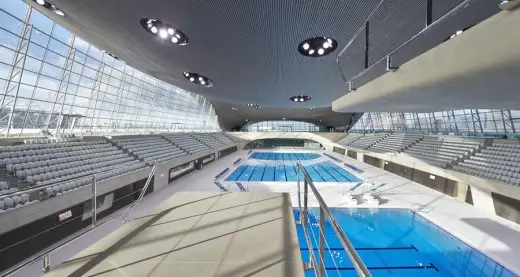 photo : Hufton + Crow
Tony Chapman, RIBA Honorary Fellow and past Head of Awards, added: "Many of us will feel personally diminished by Zaha's death. Her imagination and her determination – qualities she had in equal measure – made her unique in architecture.And in recent years technology has caught up with that incredible imagination, meaning the world was able to share in the joy of her work, a privilege previously only shared by the cognoscenti. I have had the pleasure to visit a large number of her buildings over the past two decades and they are always far more persuasive and delightful in reality than on the screen or the page. She made beguiling places in a way few others could: witness the dynamism of her elevations in Montpelier, the way the routes in MAXXI and the Vienna University Library inveigle the visitor, or the overhead tracks of BMWs in Leipzig amaze with the strength of a single idea.
Contemporary Arts Center, Cincinnati: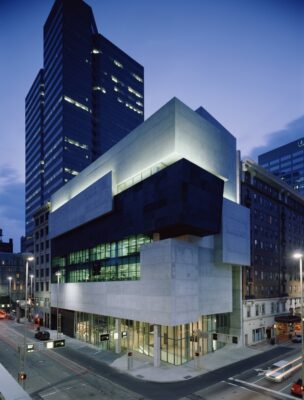 photo : Roland Halbe
"The discrepancy between the expectation and the actuality were perhaps even more marked in the person: many went to meet her in trepidation of her reputation, yet within minutes were won over by her wit and charm. At the time the RIBA finally recognised her unique talent with the Royal Gold Medal, I interviewed her at length for an as yet uncompleted film. Within minutes both our guards were down and we were simply enjoying ourselves, talking of achievements and of what might have been. For a considerable number of her projects never came to fruition and I wonder how many more – for all the brilliance of the team she leaves behind – the world will never now see."
Oxford University Middle East Centre at St Antony's College: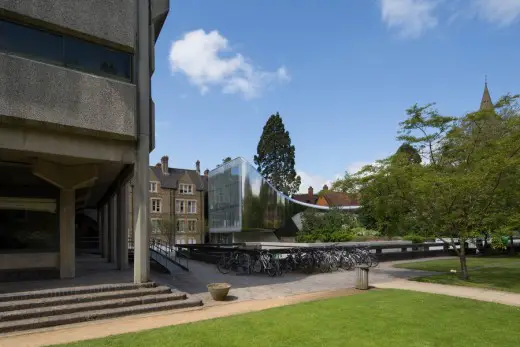 photo : Luke Hayes
Born in Baghdad in 1950, Zaha Hadid started her architectural journey in 1972 studying at the progressive Architectural Association in London. She joined her former professors, Rem Koolhaas and Elia Zenghelis, at the Office for Metropolitan Architecture in Rotterdam, where she became a partner in 1977. By 1979 she had established her own practice in London – Zaha Hadid Architects – garnering a reputation across the world for her trail-blazing theoretical works including The Peak in Hong Kong (1983), the Kurfürstendamm in Berlin (1986) and the Cardiff Bay Opera House in Wales (1994).
Galaxy Soho, Beijing: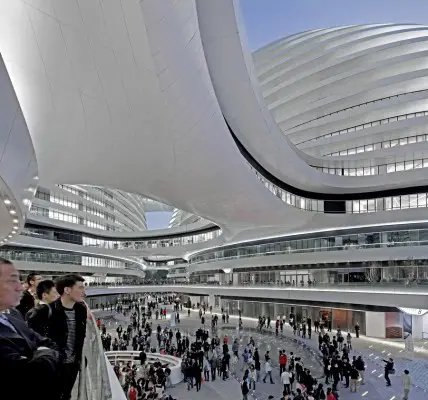 photo : Hufton + Crow
Working with office partner Patrik Schumacher, Hadid's interest is in the interface between architecture, landscape, and geology; which her practice integrates with the use of cutting-edge technologies – the result is often unexpected and dynamic architectural forms.
Zaha Hadid's first major built commission, one that catapulted her rise, was the Vitra Fire Station in Weil Am Rhein, Germany (1993); subsequent notable projects including the MAXXI: Italian National Museum of 21st Century Arts in Rome (2009), the London Aquatics Centre for the 2012 Olympic Games (2011) and the Heydar Aliyev Centre in Baku (2013) illustrate her quest for complex, fluid space. Buildings such as the Rosenthal Center for Contemporary Art in Cincinnati (2003) and the Guangzhou Opera House in China (2010) have also been hailed as architecture that transforms our ideas of the future with new spatial concepts and dynamic, visionary forms.
Phaeno Science Centre: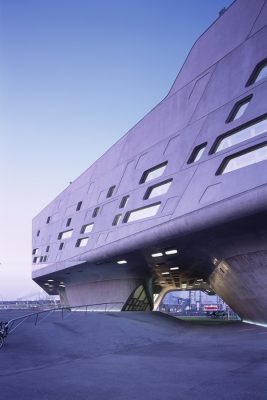 photo : Werner Huthmacher
In 2004 Zaha Hadid became the first woman to be awarded the Pritzker Architecture Prize. She has twice won the UK's most prestigious architecture award, the RIBA Stirling Prize: in 2010 for the MAXXI Museum in Rome, a building for the staging of 21st Century art, the distillation of years of experimentation, a mature piece of architecture conveying a calmness that belies the complexities of its form and organisation; and the Evelyn Grace Academy, a unique design, expertly inserted into an extremely tight site, that shows the students, staff and local residents they are valued and celebrates the school's specialism throughout its fabric, with views of student participation at every turn.
MAXXI Museum of XXI Century Art, Rome, in the city from above: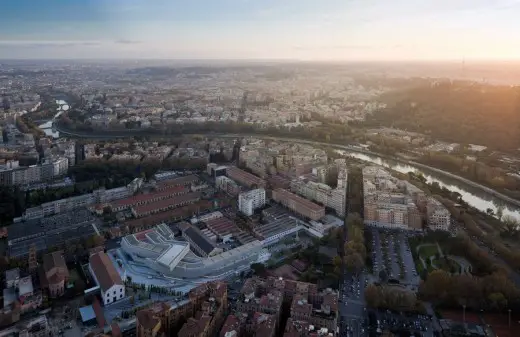 photo : Iwan Baan
Zaha Hadid's other awards include the Republic of France's Commandeur de l'Ordre des Arts et des Lettres, Japan's Praemium Imperiale and in 2012, Zaha Hadid was made a Dame Commander of the Order of the British Empire. She was made Honorary Member of the American Academy of Arts and Letters and Fellow of the American Institute of Architecture.
London Aquatics Centre Building: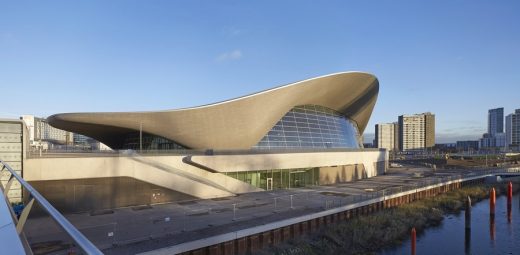 photo : Hufton + Crow
Zaha held various academic roles including the Kenzo Tange Chair at the Graduate School of Design, Harvard University; the Sullivan Chair at the University of Illinois, School of Architecture; guest professorships at the Hochschule für Bildende Künste in Hamburg; the Knolton School of Architecture, Ohio and the Masters Studio at Columbia University, New York; the Eero Saarinen Visiting Professor of Architectural Design at Yale University, New Haven, Connecticut and the University of Applied Arts in Vienna.
Dame Zaha Hadid architect was widely regarded to be the greatest female architect in the world today. Born in Baghdad in 1950, she studied mathematics at the American University of Beirut before starting her architectural journey in 1972 at the Architectural Association in London.
Dame Zaha Hadid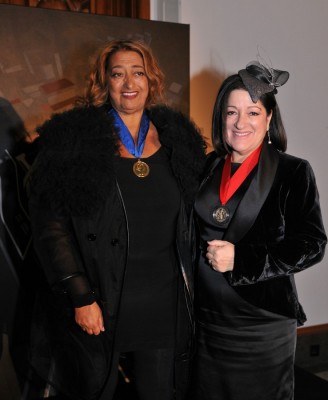 photograph © Philip Vile
Zaha Hadid – main page on this architect



photo : Giovanna Silva
Dame Zaha Hadid Architect Designs
Most Recent Building design by Zaha Hadid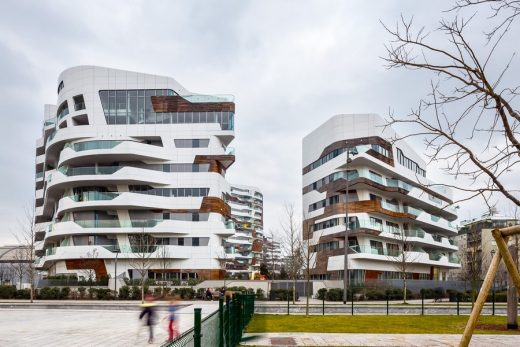 photograph : Simon Garcia | arqfoto.com
CityLife Milano Residential Complex – added 3 Apr 2016
Heydar Aliyev Centre Baku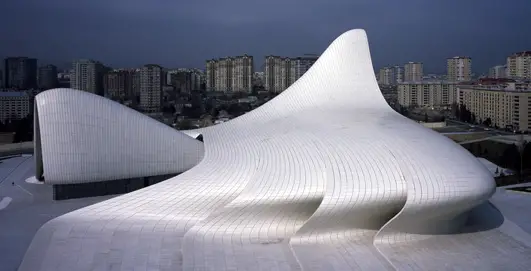 photo : Hélène Binet
Pierrevives Montpellier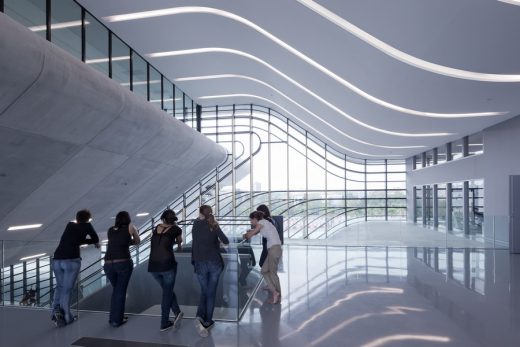 photo from architects
London Aquatics Centre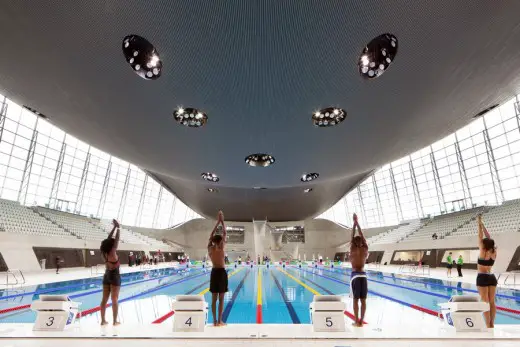 photo : Luke Hayes
Beko Masterplan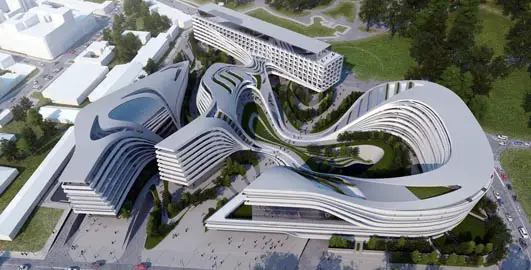 image : ZHA
Serpentine Sackler Gallery Building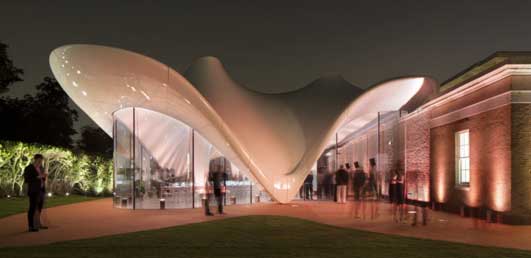 photograph courtesy of Luke Hayes
National Stadium Tokyo Building Design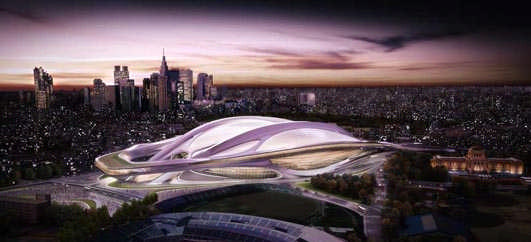 image © Courtesy of ZHA
Galaxy Soho Building in Beijing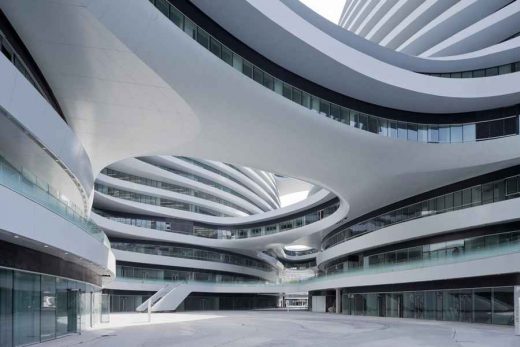 image : Iwan Baan
520 West 28th Street New York City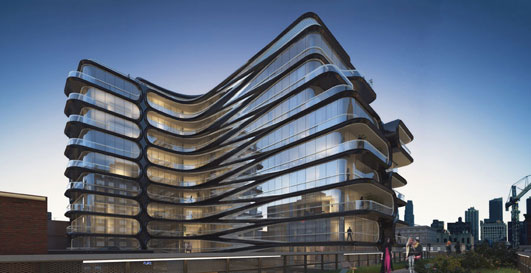 image from architects
Changsha Mexihu International Cultural & Art Centre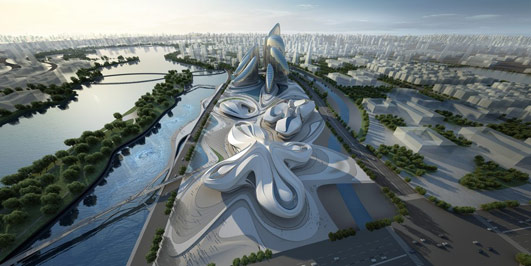 image courtesy Zaha Hadid Architects
Saint Antony's College Oxford


image from architect
Zaha Hadid Architecture
We have various pages online about architect Zaha Hadid:
Zaha Hadid : main page – news + current work
Zaha Hadid Architects – All Projects + Practice Information
Zaha Hadid Architecture Designs – Work from 2011
Zaha Hadid Architecture – Work from 2008-10
Zaha Hadid Buildings – Work up to 2007
Location: 10 Bowling Green Lane, London, EC1R 0BQ, UK
Past Architecture Designs by Zaha Hadid Architects
Guangzhou Opera House



photo : Virgile Simon Bertrand
House for Naomi Campbell, Moscow, Russia



picture from architects
House for Naomi Campbell
Jockey Club Innovation Tower, Hong Kong, China



picture from architects
Hong Kong PolyU Innovation Tower
Roca London Gallery, England



image from architects
Roca London
Riverside Museum, Glasgow, Scotland



photograph : Hufton + Crow
Riverside Museum Glasgow
MAXXI Rome



photo : Roland Halbe
Zaha Hadid's Death
Zaha Hadid's Death – BBC report
Zaha Hadid, Groundbreaking Architect, Dies at 65 – New York Times report
Zaha Hadid dies – The Guardian report
Key Awards
Pritzker Prize Architecture Award : Winner 2004
Stirling Prize Winner
Zaha Hadid Architects win Stirling Prize for Evelyn Grace Academy building, London



picture : Luke Hayes
Stirling Prize
Praemium Imperiale Architecture Laureate



image courtesy ZHA
Architect Zaha Hadid awarded Praemium Imperiale Architecture Laureate
Jane Drew Prize



photo : Steve Double, Jun 2007
Zaha Hadid architect awarded the Jane Drew Prize for her outstanding contribution to the status of women in architecture.
Zaha Hadid Super Yacht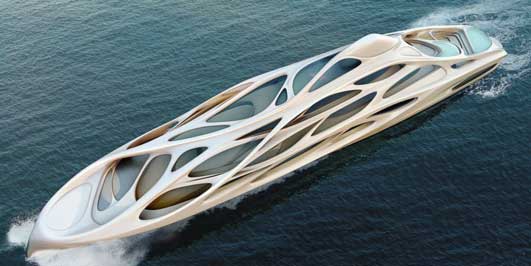 render © Zaha Hadid Architects
Prototype Liquid Glacial Table



photo : Jacopo Spilimbergo
Z-Boat



image courtesy of ZHA
Zaha Hadid Book by Philip Jodidio>



photograph : TASCHEN
Buildings / photos for the Dame Zaha Hadid Architecture page welcome
Website: www.zaha-hadid.com