BVN Donovan Hill Australia, Architects Office, Building Project Images, NSW Design Studio
BVN Donovan Hill : Australian Architects
Contemporary Australian Architectural Practice – Key Buildings + Studio News
post updated 25 February 2023
BVN Donovan Hill Architects Office: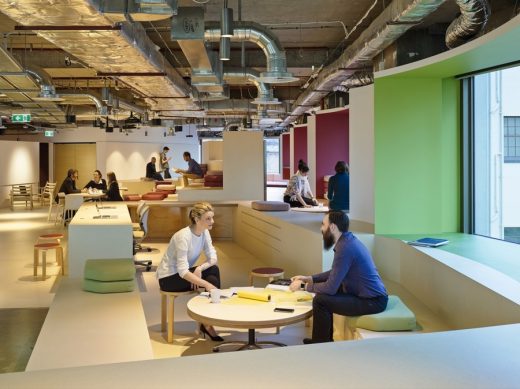 27 Jun 2014
Triple Win for BVN Donovan Hill
Three awards were given to two projects designed by BVN Donovan Hill in the 2014 NSW Architecture Awards conducted by the Australian Institute of Architects NSW Chapter.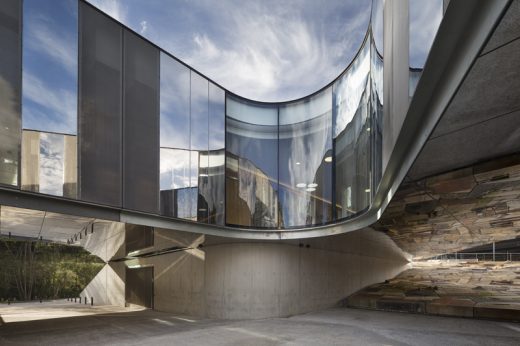 The Australian PlantBank at Mt Annan Botanic Gardens received a Public Architecture Award and a Sustainable Architecture Award.
According to the jury, PlantBank is "a carefully composed and sensitively detailed building," that brings together its research and public education uses in a "well crafted whole".
As well as being a global centre for plant research and learning PlantBank is home to the largest seed bank in the Asia Pacific Region.
The design of Herbert Smith Freehills (HSF) continues the changes being made to the traditional legal workplace. Integral to the design is a central stair that sinuously connects all thirteen floors occupied by HSF.
The jury gave it an Interior Architecture Award and referred to the close working relationship BVN Donovan Hill had with the partners of HSF and noted how this collaboration resulted in the creation of "a memorable workplace which breaks old patterns and set new levels of excellence."
According to Mr James Grose, Principal, BVN Donovan Hill "receiving the affirmation of peers in the architecture awards process instils a level of confidence in the profession, the public and importantly all levels of government."
30 Apr 2014
BVN Donovan Hill Workplace Design
Legal Workplace Design by BVN Donovan Hill
30 Apr 2014 – Lawyers embrace clients in their new homes
Welcoming clients deep into a legal office would have been unheard of just a few years ago, that type of thinking has completely disappeared in the latest legal workplaces.
Partners from two leading legal firms talk about the need to give their clients access right into the middle of their workplace in the latest BVN TRANSFORMATIVE that is focussed on the legal workplace.
To avoid being seen "as aloof" Peter Dunne, Partner, Herbert Smith Freehills wanted client's to see the building as a working space and to "embed the client experience in the middle of the tenancy", and he maintains the result is "an incredible selling point for clients to come in and just see the activity."
BVN Donovan Hill Principals Ninotschka Titchkosky and Bill Dowzer talk about the recent history of the legal workplace and how it is being transformed from masses of closed offices and corridors to more open spaces, sharing, often spectacular, views through using flexible building components to enclose spaces.
Ninotschka Titchkosky explains how "the traditional office was replaced by a demountable frame and wall system" as a way of moving from closed offices without going into an entirely open plan."
She noted that "having a demountable system really works as changes occur in the legal workflow, you can take it down and you can move it, it can evolve without having to rebuild."
Follow this link to watch the interviews and read the stories http://bit.ly/176WgSl ENDS
16 Apr 2014
BVN Donovan Hill Exhibition
Exhibition in BVN Donovan Hill Studio
The Power of Three
Location: Alfred St, Fortitude Valley, Brisbane, QLD 4006, Australia
16 Apr 2014 8:54 AM AEST – Challenging concepts of dimensionality, three artists are staging an exhibition titled "The Power of Three" in the PARC Pavilion, in BVN Donovan Hill's Studio at 109 Alfred Street, Fortitude Valley from 5-16 May.
Open from 10am to 4pm Monday to Friday, the works in the exhibition are all for sale and there will be an opening by Nicholas Malouf on Wednesday 7 May.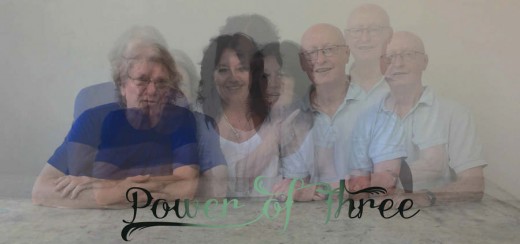 The artists, Wim de Vos, Adele Outteridge and Graham Bligh have collaborated in the development of this exhibition. Their mixed media artworks explore dimensionality, Graham Bligh refers to his discovery of bricolage as he explored printmaking and found "that everywhere around me are vignettes of shape, colour, texture, space and movement."
Wim de Vos started out drawing and now works with a range of media both opaque and translucent and notes how this allows him "to use light and shadows, creating three dimensional paintings and drawings with light."
Whereas Adele Outteridge has been making books since 1989 from "carefully bound journals … to 'feral' ones using materials such as teabags, old envelopes and junk mail" and she says "My current sculptures have taken the structure of the book beyond what most people would call a book".
The exhibits are set to become talking points in themselves as they explore dimensions and concepts that should stir the most tired imaginations.
Graham Bligh is a retired director of the architecture practice BVN Donovan Hill, Adele Outteridge started life as an Experimental Scientist, but since studying graphics in the 80s has become well known in the bookmaking world, and Wim de Vos migrated to Australia from the Netherlands at the end of the 50s, and has undertaken courses both here and in the Netherlands in printmaking, etching and lithography, and his work that includes printmaking, painting and sculpture is held in private and public collections in the USA, UK, Netherlands and Australia. Adele and Wim together run the Studio West End www.studiowestend.com.
8 Apr 2014
BVN Donovan Hill News
BVN Donovan Hill Architecture – latest additions, chronological:
Australian workplace thinking goes global
08 Apr 2014 9:02 AM AEST – When Bill Dowzer speaks at the Legal Work Symposium in London on 29 April he will be showing how design ideas are taking shape in legal workplaces in Australia.
Clearly Australia is seen to be at the leading edge of workplace design to warrant an invitation to address an audience of professionals in one of the world's most prestigious legal work centres.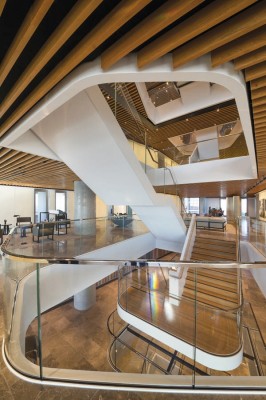 Bill Dowzer will be co-presenting with London based Mark Rigotti, CEO-elect of Herbert Smith Freehills whose Sydney workplace was designed by BVN Donovan Hill. It has already attracted the attention of the NSW Architecture Awards jury who have shortlisted it for a visit in the 2014 Architecture Awards programme.
The topics being addressed in the symposium include: rethinking the future of the legal profession, the future of the desk and creating a client centric workspace.
Bill Dowzer noted that the client was at the centre of the design for the Sydney workplace, "we embedded the client floors into the centre of the Herbert Smith Freehills workspace".
The WorkTech Legal events are a forum for workplace professionals involved in the future of work and the workplace for the legal industry. Their purpose is to allow participants to learn and share best practice on tropics from utilising space and implementing the right technologies, to facilitating a more flexible and cost effective way of working.
Participants will include senior professionals from real estate, facilities, technology and executive management from the UK's top legal firms.
More information on the Legal Work Symposium 2014 London is online at: http://bit.ly/1k0o4iU
Christchurch Airport Regional Terminal, New Zealand
Design: BVN Donovan Hill with Jasmax



pictures from architects
Christchurch Airport Regional Lounge – 24 Oct 2013
This building has won two awards at the 2013 Canterbury Architecture Awards.
ASB North Wharf, Auckland, New Zealand
Design: BVN Donovan Hill in association with Jasmax



picture from architects
ASB North Wharf Auckland – 24 Oct 2013
According to the awards jury with its "bold response to a sustainable imperative, the building proudly declares its passive technology", which includes a giant funnel that draws natural air through the workplace. The jury noted how "vertical activity integration and social spaces combine with innovative solar daylight harvesting technology and sunscreens to help energise a substantial and mobile working community."
Port Macquarie's New University Campus
27 Aug 2013 – The new CSU Port Macquarie campus is being designed with people in mind. Dr. Muyesser Durur, Director of Campus, today announced the appointment of BVN Donovan Hill as master planners and principal design consultants for the campus. BVN Donovan Hill has a track record of exceptional master-planning going back to the Sydney Olympics, and received both state and national urban design awards in the Australian Institute of Architects 2012 Architecture Awards for the Taronga Park Zoo Upper Entrance Precinct.
According to Abbie Galvin, Principal, BVN Donovan Hill, "We recognise that this is a critical project for CSU and we are delighted at the prospect of involvement with this exciting project and the opportunity to develop an outcome that creates an activated campus that contributes to the local community." CSU's vision is for the "Port Macquarie campus to draw on the strengths of the region and its people to create a sustainable learning community dedicated to the growth and prosperity of the region and its people." She noted that the aim of this early work is to deliver a framework for future development on the campus through developing CSU's visions and aspirations for the campus, a framework that will allow CSU to evolve and thrive in the future.
"We will hold consultations and workshop ideas with the people who will use and benefit from this new campus – a campus that will bring not only economic but cultural benefits to the wider Port Macquarie community," said Ms Galvin. BVN Donovan Hill's most recent University project, the National Life Sciences Hub at Wagga Wagga received the prestigious Blacket Prize in the 2013 Australian Institute of Architects Awards. The jury paid tribute to the client and project team "for exceeding the brief to create a high quality educational establishment that satisfied the aspirations of the individual school and the wider university. It is a model in planning, design and environmental performance for rural Australian campuses." It is anticipated the campus will be ready for occupation in late 2015.
Sydney wins Three International Awards
12 Aug 2013 – A research centre, a school and a church in Sydney have been selected by a distinguished group of American architects and educators in the International Architecture Awards 2013 that honour new and cutting-edge design.
BVN Donovan Hill won two of the awards for The Kinghorn Cancer Centre in Darlinghurst, and for the Library and Resource Centre at Ravenswood School for Girls on Sydney's north shore.
Library and Resource Centre at Ravenswood School for Girls: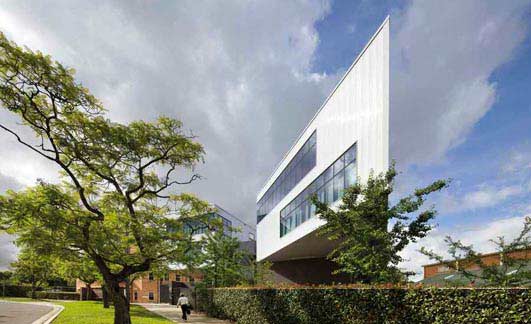 photo : John Gollings
Ravenswood School for Girls
The third award was given to FJMT for St Barnabas, Broadway that was rebuilt following a fire that devastated the original church.
Both The Kinghorn Cancer Centre and the Ravenswood Library have previously been recognised with major architecture awards in Australia for their outstanding design.
In September 2013, The Chicago Athenaeum, together with The European Centre for Architecture Art Design and Urban Studies will present a special exhibition of all awarded buildings at their annual symposium, "The City and the World" during the 14th International Biennial of Architecture Buenos Aires. After Buenos Aires, the exhibition will then travel inside Europe.
The International Architectural Awards are the highest and most prestigious distinguished building awards program that honor new and cutting-edge design. This annual program, organized by both institutions, also promotes international architecture and design to a global public audience.
The program has become the most significant and most comprehensive distinguished international awards program in the world. This year, the Museum received a record number of projects for new buildings, landscape architecture, and urban planning from the most important firms practicing globally and winners were selected from 16 countries.
Mr James Grose, BVN National Director, noted 'It is a tremendous confidence booster for Australian architects, to have Australian designs being recognised at the highest levels internationally'.
55 Elizabeth Street Building, Brisbane, Queensland, Australia
Design: BVN Architecture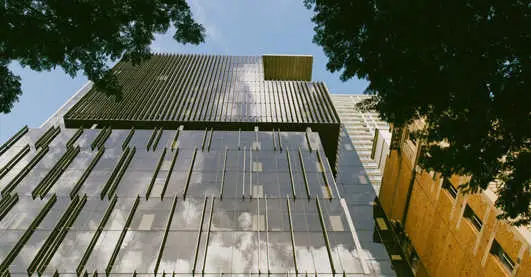 photo : Willis Lim
55 Elizabeth Street Brisbane – 7 Jun 2013
The building is relatively modest in scale, with a tripartite arrangement which reflects historic CBD development heights, stepping both in plan and section in response to important street views to neighbouring heritage buildings. Each datum of the building reflects the changing contextual qualities and eras at each level – ranging from monumental sandstone planes at entry level to minimalist anodized sunshades to the upper western façade.
BVN Architecture



photo : Christopher Frederick Jones
More BVN Donovan Hill Architecture projects online soon
Location: 11/255 Pitt Street, Sydney NSW 2000, Australia
BVN Donovan Hill Architecture Practice Information
BVN Donovan Hill – Contemporary architects office with studios in Brisbane, Canberra, Melbourne & Sydney
Key Buildings by BVN Donovan Hill
Sydney Overseas Passenger Terminal, NSW, Australia:



photo from BVN Architecture
Sydney Olympic Park, NSW, Australia:



photo from BVN Architecture
Sydney International Tennis Centre, NSW, Australia:



photo from BVN Architecture
Sunshine Coast University Library, Australia:



photo : John Gollings
UNSW L5 Building, NSW, Australia:



photo from BVN Architecture
Beijing Olympic Green Tennis Centre, China:



photo : John Gollings
Cook & Phillip Park, Sydney, NSW, Australia:



photo : Anthony Browell
Mt Druitt Hospital, Mount Druitt, Sydney, New South Wales, Australia:


photo : Max Dupain
Comments / photos for the BVN Donovan Hill – Australian Architects page welcome
Website: www.bvn.com.au