Basil Spence Architect Scotland, Photos, Designs, Architecture, Furniture, Car, Images
Basil Spence Architect
20th Century Buildings – Scottish Architecture Practice: Lancia Flavia + Furniture News
4 June 2021
Sir Basil Spence Housing in Edinburgh
Conservation and energy efficiency work on the Canongate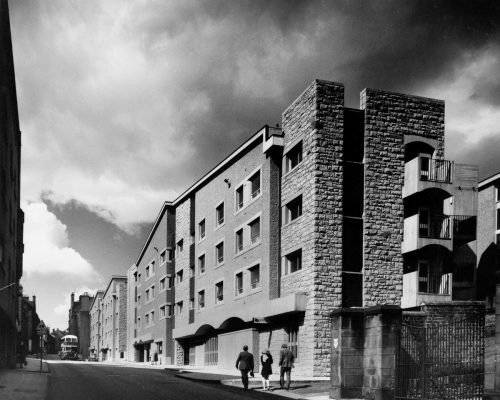 photo © Historic Environment Scotland (Sir Basil Spence archive)
Local Edinburgh residents living in the Canongate area of the Old Town will benefit from a range of conservation and energy efficiency improvements that are on track to reduce energy consumption and carbon emissions by over 50%. Led by Edinburgh World Heritage, in partnership with the City of Edinburgh Council, the recently finished work to a block of post-war tenements was funded by the SP Energy Networks' Green Economy Fund and the Scottish Government's Energy Efficient Scotland programme.
Whilst supporting Edinburgh's goal to become a net zero emissions city by 2030, and contributing to the Scottish Government's ambitious plans to meet climate change targets by 2045, this project will also improve living conditions within the 12 flats and 2 commercial units.
21 August 2017
Sir Basil Spence Car
Sir Basil Spence's 1963 Lancia Flavia for auction at Salon Privé
• Celebrated architect Sir Basil Spence's 1963 Lancia Flavia Vignale Convertible for auction.
• One of just 40 right-hand drive, UK examples made and recently restored to its original appearance.
• To be offered at auction at Salon Privé at Blenheim Palace on 2nd September 2017 with an estimate of £35,000 – £45,000.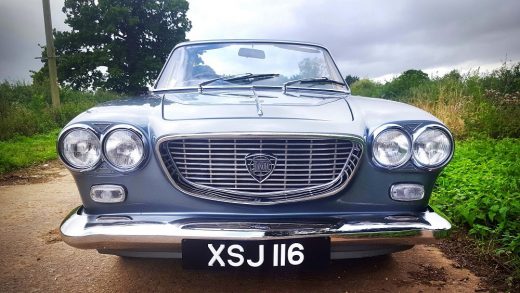 photos courtesy of auctioneers
21st August 2017 – A 1963 Lancia Flavia Vignale Convertible first owned by celebrated architect Sir Basil Spence will be offered for sale by Silverstone Auctions at the prestigious Salon Privé Sale at Blenheim Palace on 2nd September.
One of Britain's most distinguished modern architects of the post war era, and most notably associated with Coventry cathedral, Sir Basil Spence is also known to have been a car enthusiast and purchased the Lancia Flavia Vignale in April 1963.
As one of approximately 40 right-hand drive, UK examples, the car was priced at £2,350, which was a considerable sum at the time. It is believed he bought the car as an appropriate gesture whilst he was working on his design for the British Embassy in Rome.
Finished in Newmarket Grey, at the time the car wore Spence's private number plate, BS 1066 (sadly not included in the sale), which was apparently the architect's typically patriotic response to General De Gaulle's block on allowing Britain into the EEC.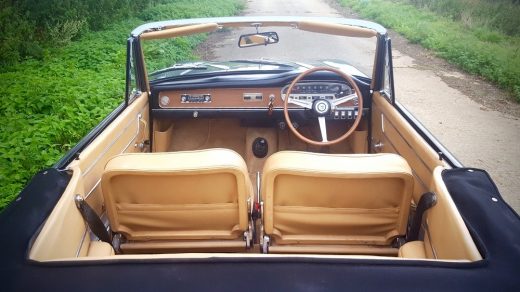 However, it is believed that difficulties with the Italian planning authorities caused Sir Basil to dispose of the Lancia 'in protest' and replace it with a Jaguar, although exactly when is not clear.
Now for sale with Warwickshire-based specialist auction house, Silverstone Auctions, the car has recently benefited from a full bare-metal respray carried out by Custom Motor Bodies of Birmingham, and returned its original hue of Newmarket Grey. It is expected to sell for £35,000 to £45,000 when it goes to auction in September.
"This little Flavia presents beautifully and must be one of the finest examples of these underrated sixties Lancias currently available," explains Will Smith, sales manager, Silverstone Auctions. "Sir Basil Spence's ownership adds to the car's unique past and will appeal to admirers of his work as an extremely successful and world-recognised architect."
British Embassy in Rome by Basil Spence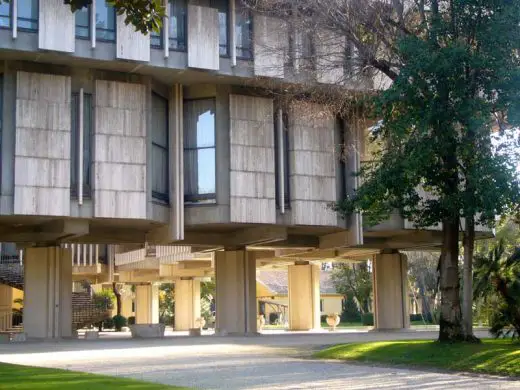 photo © Adrian Welch
The Flavia comes with a restored and repainted factory hardtop, Biscuit leather interior with matching Wilton carpets, handsome wood rimmed steering wheel and original Motorola push button radio.
"It's a refined and practical four seater with a large boot, thoroughbred road manners, traditional Lancia quality and an exotic presence which is normally associated with much more highly strung and expensive Italian sports cars. With prices of Aurelia and Flaminia models now so strong, it's hard to see why the Flavia Convertible won't be heading the same way in the near future," concludes Will.
The car is accompanied by an extensive history file including the original Lancia Guarantee in Spence's name (with his Canonbury Place, London N1 address) as well as more recent correspondence with the current Spence family. Also in the history file are a number of older MoT Certificates going back to the late seventies, which appear to support the recorded mileage of 51,604 miles.
To find out more about the 1963 Lancia Flavia Vignale Convertible and Silverstone Auctions' Salon Privé Sale, please visit https://www.silverstoneauctions.com/1963-lancia-flavia-vignale-convertible.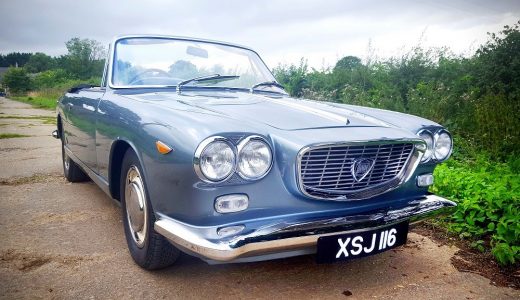 Silverstone Auctions – www.silverstoneauctions.com ; Online Bidder Registration (Proxibid) – www.proxibid.com
31 Jul 2017
Coventry Cathedral Building One of Twelve Recipients of Getty Foundation's Keeping It Modern Grants
Coventry Cathedral, England, UK
1951-62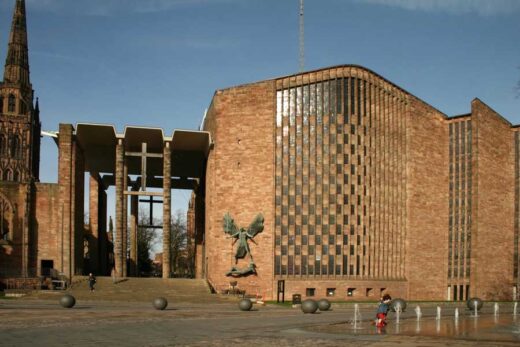 photo © David Jamieson
Coventry Cathedral Building
The Getty Foundation announced $1.66 million in architectural conservation grants dedicated to twelve significant 20th century buildings as part of its Keeping It Modern initiative.
22 + 21 April 2017
Sir Basil Spence Furniture News
National Museums Scotland Acquires Rare Example of Sir Basil Spence Furniture
National Museums Scotland has acquired a rare example of furniture designed by Sir Basil Spence – one of the leading British architects of the 20th century – and manufactured by Glasgow firm H. Morris and Company around 1949.
Senior Curator Stephen Jackson with the Allegro sideboard: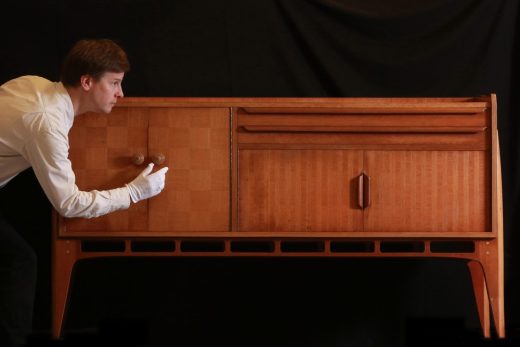 photo © Stewart Attwood
The modernist Allegro dining suite comprises a table, sideboard and six chairs, and will go on display from today in the Design for Living gallery at the National Museum of Scotland in Edinburgh.
The acquisition has been made possible by generous funding from Art Fund. A landmark in post-war British furniture design, fewer than ten of the suites were made due to the substantial cost of the manufacturing process.
In 1949, the Allegro dining suite was exhibited at Glasgow Today and Tomorrow at Glasgow's Kelvin Hall and was awarded a diploma by the Council of Industrial Design. An example of the armchair was commissioned by the Museum of Modern Art, New York for their collection.
The manufacture of the Allegro suite took inspiration from wartime innovation, specifically techniques of laminating and shaping wood to make strong and light helicopter blades. These blades were supplied by Morris of Glasgow which applied the same technology to furniture after the war. More than 100 layers of wood were bonded together before being shaped and carved.
Chair from an Allegro dining suite, designed by Basil Spence for H. Morris & Co, Glasgow, 1949: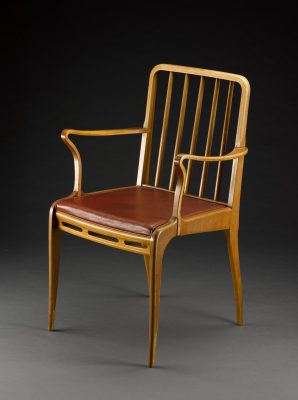 photo © National Museums Scotland
Stephen Jackson, Senior Curator, European Decorative Arts at National Museums Scotland said:
"The Allegro dining suite is an exceptionally rare and iconic set of furniture. Its significance lies in Spence's wonderfully well-conceived design, which is something of a poem to plywood, striving to expose and express the material at every opportunity. The techniques used to manufacture it were ground-breaking at the time. I am delighted that we have been given the opportunity to add it to our nationally significant furniture collection thanks to the generous support of Art Fund."
Sir Basil Spence was one of Scotland's most recognised architects, responsible for the rebuilding of Coventry Cathedral, Hyde Park Cavalry Barracks, Glasgow Airport and the British Embassy in Rome. Spence co-ordinated several exhibitions including Enterprise Scotland at the then Royal Museum in Edinburgh in 1947 and made a major contribution to the Festival of Britain in 1951.
H. Morris and Company was established in 1914 and specialised in fitting out hotels, cinemas and Clyde-built ships. During the 1930s they became innovators in timber lamination technology and design.
National Museums Scotland acquires rare example of Sir Basil Spence furniture information received from NMS 20 April 2017
Basil Spence – Key Projects
Sir Basil (Urwin) Spence
born 13.08.07 in Bombay, India; died 19.11.76 in Stowmarket, England
British Embassy Rome, Italy: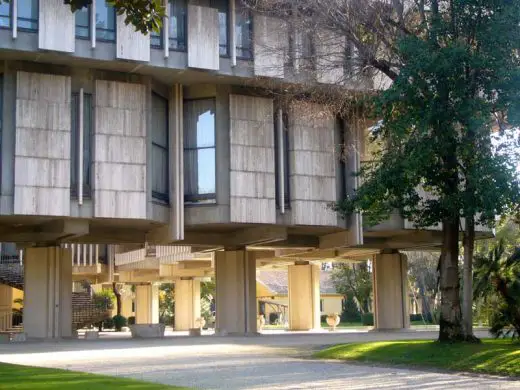 photo © Adrian Welch
Touring Exhibition – Back to the Future
22 Feb – 8 Apr 2008
RIBA London
Basil Spence – Major Buildings
British Embassy, Rome, Italy 1971
Beehive, Wellington, New Zealand 1970-80
Queen Elizabeth Square Housing, Glasgow, Scotland 1960-65
University of Sussex, Student Accommodation, Brighton, England 1960
Coventry Cathedral, Coventry, England 1951-62
Ministry of Justice, Kuwait City, Kuwait, 1984 for Ministry of Public Works – as Sir Basil Spence Partnership
Erasmus Building, Queens College, University of Cambridge, Cambridge 1959-60
Home Office, St James Park, London, 1976
Beehive building, Wellington, New Zealand
Key Scottish building by Basil Spence : Queen Elizabeth Square Glasgow
Although born in India, Basil Spence was educated and spent much of his working life in Edinburgh (his father was Scottish).
Before sttting up his own practice Basil Spence worked for Sir William Kininmonth (1904-88) at the practice of Rowand Anderson & Paul.
Coventry Cathedral, England, is generally regarded as being Basil Spence's most famous work.
EDINBURGH
79-121 Canongate
1966-68
Sir Basil Spence, Glover & Ferguson


photo © Adrian Welch
Basil Spence housing : Canongate Flats
Edinburgh University Library, University campus – George Square
1965-67
Sir Basil Spence + Glover & Ferguson



photo © Adrian Welch
Basil Spence library
Lismhor, No. 11 Easter Belmont Rd
1933/35
Kininmonth & Spence


photo © Adrian Welch
In a series of 1930's modern houses on this private road
Basil Spence house : Lismhor House
Scottish Widows Building, St Andrew Square



photo © AW
St Andrew Square building
St Andrew's Church, Clermiston View
1959
(Sir) Basil Spence & Partners



photo © AJW
Landmark campanile adrift in suburbia.
Mortonhall Crematorium, Howdenhall Road
1967
Sir Basil Spence, Glover & Ferguson
Assortment of white Corbusian buildings in rolling parkland setting: the crystalline chapel's interior feels Scandinavian.
Basil Spence : Mortonhall Crematorium
Southside Garage
3,000 sqft apartment conversion from the 'B' Listed Basil Spence building
refurbished by Duffy & Batt 2002-03.
Basil Spence : Southside Garage
Kings' Buildings – Animal Breeding Research Headquarters:
Kings Buildings
Basil Spence House, Cramond
This 1950s Edinburgh house designed by Basil Spence was demolished in Aug 2004 just days before a Historic Scotland inspector was due to visit with a view to awarding listed building status.
Conservationists were keen to see the two-storey house protected because it was designed by celebrated Edinburgh-based architect Sir Basil Spence. The City of Edinburgh Council gave permission for demolition of the modern house – deeming it a minor neo-vernacular work of Spence with major alterations – to make way for two new homes, with a planning application already submitted. The inspector from Historic Scotland reportedly only discovered the house in Whitehouse Road, Cramond, had been bulldozed less than an hour before his visit.
City of Edinburgh Council chose not to impose a building preservation notice on the Cramond house, which would have given Historic Scotland six months to decide whether to list it. City of Edinburgh Council head of planning is set to meet Historic Scotland to discuss the case and the "under-listing" of modern buildings in Edinburgh.
Housing, Broughton Place
–
Great Michael Rise, Newhaven
1959
Basil Spence housing
EAST LOTHIAN
Fisherman's Housing, Dunbar
1950-51
GLASGOW
Queen Elizabeth Square : Housing – C Flats, Hutchesontown, Gorbals
Basil Spence with Robert Matthew
1960 – 1965/66, demolished 1993
Including the Queen Elizabeth Square Shopping Centre.
Queen Elizabeth Square Glasgow – now being redeveloped as Crown Street housing project
The Department of Natural Philosophy Extension
Faculty of Arts, University of Glasgow
Department of Natural Philosophy Glasgow
STIRLING
Gribloch, Kippen, Stirling
1938-39
Modern Basil Spence house in Scottish countryside
COVENTRY
Coventry Cathedral, Coventry, England
1951-62
LONDON
Knightsbridge Barracks, London
1970
CAMBRIDGE
Erasmus Building, Friars Court, Queens College, University of Cambridge, Cambridge 1959-60
Initial designs in 1958 were for a five-storey building. The Erasmus Building became three-storey but remains controversial to this day as Cambridge's 'Backs' – verdant green spaces along both sides of the River Cam – are not only picturesque but integral to most images of Cambridge, such as Kings College Chapel.
It was the first Modernist building on the Backs. After Le Corbusier the Erasmus Building sits on stilts and includes a pergola on the roof, and includes the slit windows so popular in the 1960's.
Basil Spence, Architect
Basil Spence was born in Bombay but was sent back to Scotland to study. He attended George Watson's College in Edinburgh, then the architecture school at Heriot-Watt University, before completing his architectural studies at the Bartlett School of Architecture in London.
Basil Spence's started his career as an architecture assistant in the London office of Sir Edwin Lutyens. Basil Spence worked on designs for the Viceroy's House in New Delhi, India and was heavily influenced by Lutyens. Spence then joined the London office of Rowand Anderson & Paul, where he worked with Sir William Kininmonth; Basil returned to Edinburgh in 1930. Spence served in the British Army from 1939-1945, reaching the rank of major.
During the war, Coventry's Anglican Cathedral had been almost completely destroyed during German bombing. In 1944, Sir Giles Gilbert Scott submitted a design proposal to rebuild the cathedral but this was rejected by the Royal Fine Arts Commission. In 1950, a competition was launched to find the most suitable design for the Coventry Cathedral rebuilding from a British Commonwealth architect. Basil Spence's radical design was selected from over 200 entries.
Work began on Coventry Cathedral in 1956 and the structure was completed in 1962. Spence was knighted in 1960 for his work at Coventry. Basil Spence served as Royal Institute of British Architects President 1958-1960.
From 1961 to 1968, Basil Spence was Professor of Architecture at the Royal Academy, London. Sometimes compared with Robert Adam for his attention to detail, particularly in incorporating bespoke furniture and other elements into interior spaces, Spence died in 1976 in Eye, Suffolk and was buried at Thornham Parva, Suffolk.
Other Basil Spence Buildings
Sea and Ships Pavilions for Festival of Britain, 1951
Swiss Cottage Leisure Centre originally 'Swiss Cottage Swimming Baths',
London, 1960
Spence House, near Beaulieu, Hampshire, designed 1961, for Spence's own use and listed Grade II
Sussex University: Various buildings in the 1960s including Falmer
House, 1962, now a Grade I listed building
Nuffield Theatre, Highfield Campus, University of Southampton, Hampshire 1964
Durham University buildings
Glasgow Airport, 1966
Glasgow Infirmary – Sir Basil Spence, Glover & Ferguson 1981
Another Modern Architect based in the UK with buildings in Scotland is Peter Womersley
Basil Spence – Workshop
2-4 Nov 2005: encouraging people of all ages to learn more about the life and work of Sir Basil Spence:
Workshops Plan To Build On Architect's Legacy
Sir Basil Spence's archive to become available to the public for the first time
Public workshops encouraging people of all ages to learn more about the life and work of Sir Basil Spence, one of Scotland's most celebrated architects.
The first community workshop will take place at the Spence-designed Scottish Widows HQ in Edinburgh. This and the programme of workshops are designed not only to educate primary and secondary schoolchildren and community groups about Sir Basil Spence's significant contribution to the profession, but also to address wider contemporary architectural challenges.
The workshops form part of the Sir Basil Spence Archive Project, organised by The Royal Commission on the Ancient and Historical Monuments of Scotland (RCAHMS) and its partners The National Galleries of Scotland and The Lighthouse. The archive, held by RCAHMS, features almost 38,000 drawings, photographs and other documents detailing Spence's long and distinguished career. The events will take place throughout the UK at a variety of sites designed by Spence, centred on venue-specific themes such as Travel, Worship and Education.
Basil Spence is most famously associated with his radical designs for the rebuilding of Coventry Cathedral following its destruction by bombing during World War II, a project for which he received a knighthood in 1960. Renowned for his attention to detail, Spence was involved in a varied range of high-profile architectural projects, from Glasgow Airport, through Knightsbridge Barracks and the extension of the New Zealand Parliament buildings, to controversial designs for high-rise flats in the Gorbals area of Glasgow.
The project has attracted over £1m in funding – £975k from the Heritage Lottery Fund, and £200k from the Scottish Executive. Over the next three years, RCAHMS will make an illustrated catalogue available through its online database and website. In addition, a major exhibition of the archive at the Dean Gallery and travelling showcase that will visit seven locations throughout the UK are planned, to coincide with Spence's centenary in 2007.
Rebecca Bailey, Head of Education and Outreach at RCAHMS said: "The workshops present a great opportunity to focus people's attention on the buildings they inhabit and to encourage them to unleash their creativity with the help of professional designers and film-makers. We look forward to the creation of architectural models of office buildings, documentary films on housing, and innovative artworks, all inspired by the legacy of Sir Basil Spence.
The workshops and their themes are:
2-4 Nov – Office Life, Scottish Widows HQ, Edinburgh
Feb 2006 – Travel, Glasgow Airport
Apr 2006 – New Design In Historic Places, Canongate Housing, Edinburgh
Jun 2006 – Urban Regeneration, Gorbals Tower Block, Glasgow
Jul 2006 – Housing, Knightsbridge Barracks, London
Sep 2006 – Worship, Coventry Cathedral
Oct 2006 – Education, Duncanrig High School, East Kilbride; Thurso Academy, Caithness; Kilsyth Academy, North Lanarkshire
Location: Edinburgh, Scotland
Further Information
Basil Spence, Architect: 1907-76
Sir Basil Spence retired in Malta and constructed a house in the Modernist style.
Scottish Architects Practices : famous Architects from Scotland through the ages
Scottish Tour : best scottish buildings of the last three decades
20th century British Architects – Selection
Ahrends Burton Koralek
Buildings / photos for the Basil Spence Architect page welcome