Favelous pop-up restaurant, Mediamatic Fabrique Amsterdam, Dutch Interior Design, Netherlands
Favelous 963 : Pop-up Restaurant in Amsterdam
Mediamatic Fabrique Interior in Holland design by Favelous
28 Jun 2013
Pop up restaurant Favelous 963
Design: Favelous, Architects
Location: Mediamatic Fabriek, VOC–kade 10, 1018 LG, Amsterdam, The Netherlands
Mediamatic Fabriek is a gallery, project space, aquaponics farm and cafeteria in the Van Gendthallen.
Pop up restaurant Favelous 963
What can you make out of 900 meters of split bamboo, 600 meters of black rope and 300 meters of damaged bicycle tires collected from the local stores? The Favelous team made a pop-up restaurant at Mediamatic Fabrique in Amsterdam.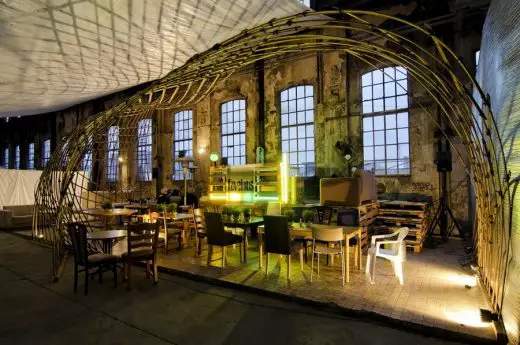 photo : Arne Kuilman
Favelous 963 is a pop-up restaurant located at Mediamatic Fabrique in Amsterdam. It is part of the Freezing Favela project – a temporary 'city' open to a variety of projects with a DIY attitude. A vacant building, formerly being used for the production of train wagons, has been activated by designers, artists, cooks and other makers who organize workshops and other social events for the local community.



photos of construction process
Favelous 963 is an initiative by an interdisciplinary and multinational group of people with the aim to create a platform for the food related events of the Freezing Favela. Focus was given to the creation of a flexible space which takes advantage of what is already there and stimulate connections to the adjacent projects and the exterior space. Another design objective was to build a lightweight structure out of natural and second-hand materials which can be easily assembled.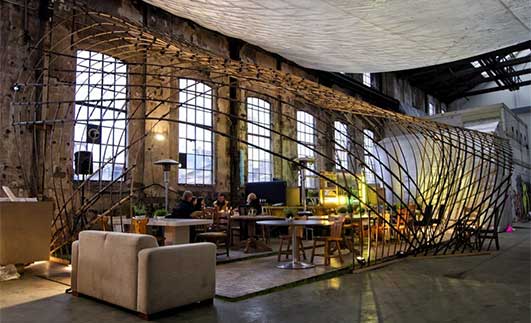 photo : Arne Kuilman
The group came up with the idea of making an organic structure which creates a feeling of enclosure while enabling the view and the access to the surrounding area. In the search of renewable materials, bamboo was chosen for its comparable strength and flexibility.
Space continuity, view variation, exposure and enclosure are the main architectural aspects being investigated during the design process, by architect Ifigeneia Dilaveraki. Bamboo elements interlace in different directions and densities in order to address those aspects and correspond to structural and daylight requirements. The design was finalized in collaboration with interior architect Elena Goray and architect Christoph Tönges (CONBAM) who guided the construction process.


photo : Arne Kuilman
During the day, the structure is not really distinguishable, but once the evening comes, the installation is illuminated and its presence becomes stronger. The space becomes cosy and private.
In the interior space, an elevated wheel platform was extended by using wood pallets, collected from the local Food bank and a demolished barn, in order to create a sitting area with a view to the canal. Second-hand furniture was used for the dining space.
Chefs Andrea Sossi and Robert Bochove run the restaurant by serving affordable, healthy and seasonable food.
Pop-up Restaurant in Amsterdam – Building Information
Project architects: Ifigeneia Dilaveraki, Christoph Tönges
Design team: Ifigeneia Dilaveraki, in collaboration with Christoph Tönges and Elena Goray
Structural engineer: Christoph Tönges (CONBAM)
Collaborators: Andrea Sossi, Robert Bochove, Christel van Calsteren, Barak Oserovitz, Peter Cornelis and Jessica Camphens
Net floor surface: 72 sqm
End construction: 17 Mar 2013
Sponsoring: CONBAM Advanced Bamboo Applications
Photos: Thomas Huisman, Arne Kuilman
Favelous 963 Pop-up Restaurant in Amsterdam images / information from Favelous
Location: VOC–kade 10, 1018 LG, Amsterdam, The Netherlands, western Europe
Amsterdam Buildings
Major New Dutch Buildings
Amsterdam Architecture – contemporary building information
Amsterdam Buildings – historic building information
Karavaan, Kwakersplein, Amsterdam West
Design: Studio Modijefsky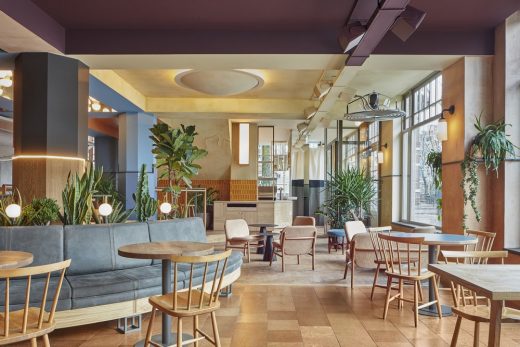 photograph : Maarten Willemstein
Karavaan Restaurant in Kwakersplein
Stedelijk Museum Facade – The Bathtub
Design: BenthemCrouwel Architects
Amsterdam museum building
Amsterdam Architecture Center : Arcam
René van Zuuk Architekten
Amsterdam Architecture Center
Comments / photos for the Pop up restaurant Favelous 963 – Amsterdam Interior Architecture page welcome
Website: http://www.mediamatic.net/243574/en/mediamatic-fabriek