Architect of Massachusetts casino pleads not guilty, MA Architecture, American Gambling Resorts
Architect of Massachusetts Casino Pleads Not Guilty to Bribery Charges
Mar 19, 2021
Dirty business dealings are nothing new, especially when it comes to the storied history of American casinos. Giving or taking bribes, however, is a big no-no and getting caught doing so can land perpetrators in a world of trouble.
And that's exactly what happened in November 2020, when US Federal prosecutors announced that the chairman of a Massachusetts tribe and an architecture firm owner were accused of involvement in a bribery scheme concerning the tribe's plans to build a resort and casino.
The scheme
Cedric Cromwell, longtime chairman of the Mashpee Wampanoag tribe is accused of leveraging his position to extort bribes from a casino architect, David DeQuattro of Rhode Island.
Between 2014 and 2017, prosecutors said DeQuattro rendered Cromwell with payments and other benefits valued at nearly $60,000, including a home gym and deluxe hotel accommodations, in exchange for nearly $5 million in construction contracts with the tribe.
According to prosecutors, Cromwell spent all of the money on personal expenses, including instalments to his mistress. DeQuattro also gave Cromwell a home gym and additionally paid for a weekend stay at a Boston hotel for Cromwell's birthday.
Removed from his chairmanship
The tribe's council voted unanimously to remove Cromwell as chair during an emergency meeting soon after the charges were announced.
"We take the charges brought against Cedric Cromwell very seriously," Jessie Baird, the council's vice chair, said in a statement. "The Tribe's focus remains on ensuring that our land remains in trust and supporting our tribal sovereignty."
Not guilty?
Federal authorities arrested tribe Chairman Cedric Cromwell of Attleboro, and David DeQuattro, of Warwick, Rhode Island, a managing principal of casino project manager Robinson Green Beretta Corp.
The indictments included two counts for each defendant of paying or accepting bribes and/or as an agent of an Indian tribal government and one of conspiracy. Cromwell also faced four counts of extortion and a single count of conspiring to commit extortion.
The Providence Journal newspaper reported that David DeQuattro entered the plea of not guilty during his arraignment via videoconference before Boston federal court Magistrate Marianne B. Bowler. Cromwell also pleaded not guilty, appearing in a cellblock, wearing a mask. After the pleas were given, both men were released on a secured bond of $25,000.
A charge of paying a bribe to an agent of a tribal government or of accepting a bribe as an agent carries a sentence of up to 10 years in prison and a $250,000 fine, while charges of extortion under the color of official right and conspiracy therein calls for up to 20 years in prison.
The Taunton Casino plan
Plans for the Taunton casino have been in the works since 2011 when the state of Massachusetts enacted its casino bill, establishing the Massachusetts Gaming Commission (MGC) and authorizing three regional casinos and a slots parlor.
The Mashpee Wampanoag Tribe proposed a four-phase plan to build a $1 billion casino in Taunton about 40 miles south of Boston and 20 miles from Providence, tentatively named First Light Casino.
The plan included a 150,000 sq-ft casino with 3,000 slots, 150 table games and 40 poker tables, two 12-story hotel towers with 300 rooms each, indoor/outdoor water park, a family water park hotel and many restaurants.
In March 2020, however, the federal government stopped the casino project. The US Department of the Interior removed the tribe's reservation status which effectively ended this casino project. The casino plan continues to face many hardships and roadblocks along the way. The tribe has petitioned Congress to help get the project back on track.
Casinos and scandals
Scandals are nothing new when it comes to casinos. They have a storied history and are always associated with criminality in one form or another. AustralianCasinoClub, which is a purveyor of honest online casinos, mentions often how hard it is to protect the iGaming industry's reputation due to the types of operators and people it sometimes attracts.
The last major scandal of this nature involving tribal casino criminality was in 2015 when the former Executive Director of the Choctaw Nation in Oklahoma pled guilty to charges of theft, money laundering, and tax fraud in collusion with Flintco, LLC, a construction company. He was sentenced to a total of 144 months in the Federal Bureau of Prisons (BOP) and $577,000 in restitution.
It will be interesting to see the outcome of the Mashpee Wampanoag case, considering both defendants plead 'not guilty' to the charges.
The standing of the tribe's land as a federally-recognized reservation has gone back and forth in and out of trust status throughout the Obama and Trump presidencies. The status of the First Light Casino project for Taunton, Massachusetts is currently on hold, pending the U.S. Department of Interior's appeal in U.S. district court of the June 2020 ruling.
Location: Massachusetts, USA
Massachusetts Buildings
Massachusetts Architecture
Franklin County Justice Center, Greenfield, MA
Design: Leers Weinzapfel Associates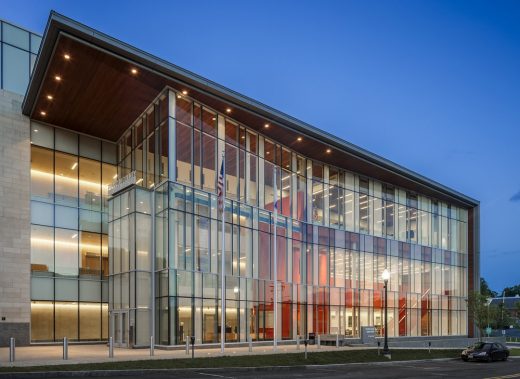 photograph © Brad Feinknopf
Franklin County Justice Center Building in Massachusetts
Perles Family Studio, Jacob's Pillow Dance, Becket
Design: David Croteau of Flansburgh Architects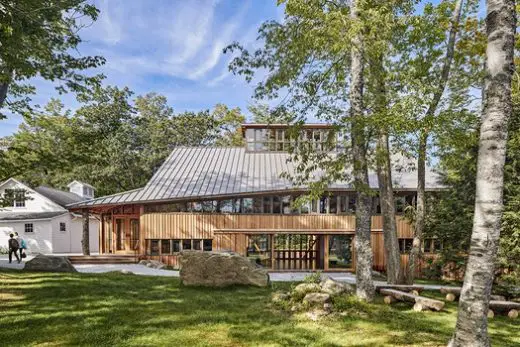 photo : Robert Benson Photography
Jacob's Pillow Dance Building in Becket
Massachusetts College of Art and Design – Design and Media Center
Design: Ennead Architects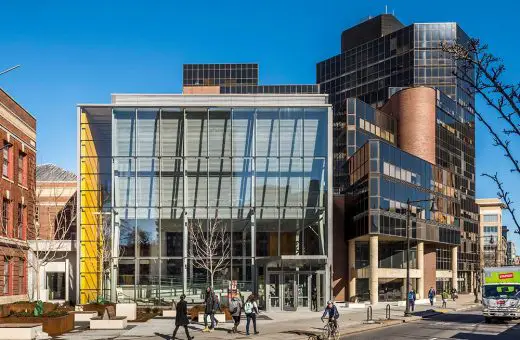 photograph © Peter Vanderwarker
Massachusetts College of Art and Design Building
New York State Buildings
New York State Architecture Designs – NY State
Olnick Spanu House, Garrison
Design: Alberto Campo Baeza
Contemporary New York House
HSU House, Ithaca
Design:EPIPHYTE Lab, Architects
Holley House, Garrison
Design:hanrahanMeyers architects
Comments / photos for the Architect of Massachusetts casino pleads not guilty page welcome