Venice Architecture Biennale Australian Pavilion 2014, Exhibit, Images, Design, Curator
Venice Biennale Australian Pavilion Architecture
2014 Architectural Show in Italy curated by felix._Giles_Anderson+Goad
8 May 2014
Venice Biennale Australian Pavilion 2014
La Biennale di Venezia – Australian Pavilion
Pavilion of Australia at the 14th International Architecture Exhibition – la Biennale di Venezia
Australia is set to break new ground at the 14th International Architecture Exhibition – la Biennale di Venezia, with innovative technology allowing architecture to be experienced in ways never before seen at the exhibition. Augmented Australia 1914-2014, curated by felix._Giles_Anderson+Goad, will push the boundaries of architecture and technology, taking visitors on a virtual journey through a selection of Australia's most intriguing unrealised projects.
Augmented Australia – Caught Unawares: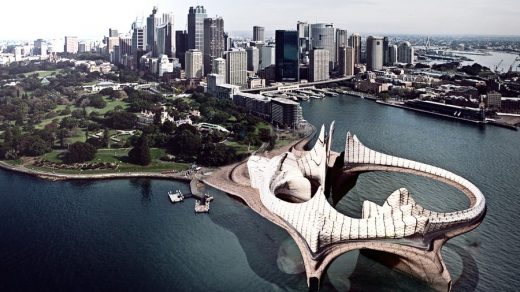 image : Harry Seidler, Olympic Stadium, Princes Park, Melbourne, Victoria, Australia. Competition Entry 1952. Digital Reconstruction by Daniel Giuffre and Paul Sawyer. Courtesy: felix.
The projects will be brought to life via three-dimensional (3D) augmented models, images, voiceovers and animations, activated by a specially designed Augmented Australia app that is free to download on common handheld devices. Australia's temporary pavilion for the exhibition, known as the Cloud Space, will house trigger images of each project and form a physical portal to Augmented Australia, while real-world scale 3D models will be geographically positioned around Venice. 'This groundbreaking technology has allowed the 2014 Australian exhibition to extend beyond the Giardini and use the entire island city of Venice as our exhibition space.
For example, visitors with the Augmented Australia app will be able to experience the spectacular 60 metre high ceilings and stained glass windows of Nervi's unbuilt Australian cathedral while standing in Piazza San Marco,' said Professor Rene Van Meeuwen, Director of felix. 'We've done this so that visitors can admire the true scale and greatness of each project. Some are so big that we couldn't even fit them on land! Harry Seidler's 1952 design of the Melbourne Olympic Stadium has had to be positioned over water, which will only be accessible by boat.'
Keeping in line with Rem Koolhaas's focus on historical importance and national identity, Augmented Australia will showcase 11 historical and 11 contemporary Australian projects from the past one hundred years, which for various reasons, were never built. It will also bring to life the new Australian Pavilion by Denton Corker Marshall, while it is still under construction in Venice.
Augmented Australia – Melbourne Olympic Stadium:


image : Minifie van Schaik, Caught Unawares, 2013, Sydney, New South Wales, Australia. Digital reconstruction by Ben Juckes. Courtesy: felix.
'The stories of the buildings do not conclusively agree or disagree with Koolhaas's thoughts on the globalisation of style. What they do say is that Australian architects of today are interested in the notion that architecture is about ideas as opposed to identity or style,' commented Professor Van Meeuwen.
The projects vary in scale and typology; from a Roman Catholic pilgrimage site in Western Australia, to a climate modifying glass house for Australia's Prime Minister in Canberra. Australian Pavilion Commissioner, Janet Holmes à Court, AC, says the exhibition provides an opportunity to construct a bridge between architecture and the public by demonstrating the process, time and alternatives behind significant public works, and a chance to give archived material new life.
'This is a groundbreaking exhibition that tells the story of Australia's architectural heritage as never before through reimagining and hi-tech innovation,' she said.
The Augmented Australia exhibition will be presented for press previews during the Vernissage on 5-6 June and will be open to the public throughout the 14th International Architecture Exhibition from 7 June to 23 November, 2014.
Augmented Australia – Nervi Cathedral: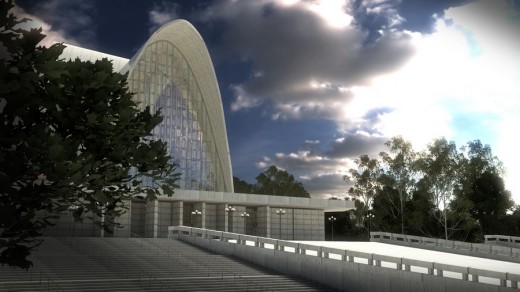 image : Pier Luigi Nervi, Antonio Nervi, Carlo Vannoni and Francesco Vacchini, Cathedral, Abbey and Benedictine Monastery, 1958, New Norcia, Western Australia
Venice Biennale 2014 Australian Pavilion Background
Australia's attendance at the 14th International Architecture Exhibition – la Biennale di Venezia is an initiative of the Australian Institute of Architects. The Institute has coordinated Australia's presence at the Biennale Architettura since 2006 and is committed to supporting the event until at least 2016. Australia's previous exhibitions have attracted large audiences during the Biennale and then gone on to tour globally.
The exhibition is supported by the Australian Government, City of Perth, City of Sydney, Office of Architecture + Design South Australia, Northern Territory Government, Austral Bricks, Smeg, Zip Industries, Planned Cover, New South Wales Architects Registration Board, University of Western Australia, Committee for Perth, KPC Construction, Innova, Metaio, Feast Watson, Café di Stasio and Architecture Media. In addition, the Institute gratefully acknowledges the support given by the Australia Council for the Arts.
We also thank the architecture community through Network Venice practices and significant donors for the generous financial support they have contributed.
The Australian Institute of Architects is the peak body for the architectural profession, representing more than 11,000 members across Australia and overseas. The Institute actively works to improve the quality of our built environment by promoting quality, responsible and sustainable design. To learn more about the Institute, visit: www.architecture.com.au
Augmented Australia Preview App Instructions:
1. Download the FREE 'Augmented Australia' app from the App Store (for iOS) or Google Play (for android) and open on your handheld smart device.
2. To preview the '1:1 GPS Models' function prior to June 2014, you will need to be situated in a central location of one of the following Australian cities: Brisbane, Sydney, Canberra, Melbourne or Perth. The device will ask to detect your location. Select yes. A 'radar' icon at the top left hand side of the screen will show the direction of the model by a yellow dot. By moving towards the dot, you can preview a full-scale cathedral and "walk through" the building, viewing it from the outside and inside.
3. To preview the 'Animation and Scale Models' function, simply point your phone at one of the three preview trigger images below (either on your computer screen or in print). A suite of virtual material will automatically appear. Ensure your device has the sound switched on to listen to the voiceovers. The below trigger images can be published in both print and online media, allowing readers that have download the app to experience the virtual content, from anywhere in the world.
Venice Biennale Australian Pavilion Building
La Biennale di Venezia – Australian Pavilion
The Australia Council for the Arts today announced that one of Australia's most highly regarded architectural practices, Denton Corker Marshall, will design the new Australian pavilion for the Venice Biennale, planned for completion in 2015.




pictures : Denton Corker Marshall
Venice Biennale Australian Pavilion
Denton Corker Marshall, whose credits include such landmark buildings as the Melbourne Museum, Museum of Sydney, Australian Embassies in Tokyo and Beijing, and the Stonehenge Visitor Centre in the UK, was unanimously selected from a shortlist of six Australian firms.
The Venice Biennale is the world's oldest and most prestigious event on the international contemporary arts calendar. Australia has been consistently represented at the event for more than three decades. It regularly attracts a quarter of a million visitors over its five months and last year over 192,000 attended the Australian pavilion's exhibition.
Venice Biennale Australian Pavilion images / information from The Australia Council for the Arts
2 Sep 2010
Venice Biennale Australian Pavilion
A new perspective on cities
Australian Pavilion showcases 'NOW and WHEN' at the 12th International Architecture Exhibition
La Biennale di Venezia
At the 12th International Architecture Exhibition in Venice, Australia is showcased a collection of dramatic urban visions using ground-breaking 3D stereoscopic technology, allowing visitors to move around a range of existing and hypothetical urban environments.
Ivan Rijavec (left) and John Gollings (right):



photograph : Daniel Flood
Location: Venice Biennale, Italy
Venice Architecture
Venice Architecture Designs – chronological list
Venice Architecture Walking Tours
Venice Biennale – Exhibitions, Designs, Images
Australian Buildings – by city
Comments / photos for the Venice Biennale Australian Pavilion 2014 page welcome
Website: Visit Venice