Sarah Mag Toumi Cultural and Educational Center, El Hencha Architecture Development, Tunisia Building
Sarah Mag Toumi Cultural and Educational Center in El Hencha
Sustainable Commercial and Industrial Development, Tunisia design by Philippe Barriere Collective
11 Mar 2018
Sarah Mag Toumi Cultural and Educational Center
Architects: Philippe Barriere Collective (PB+Co)
Location: El Hencha, Tunisia, North Africa
Sarah Mag Toumi Cultural and Educational Center


photograph © Yosri Boukadida
This Cultural and Educational Communal Center is based on social, agricultural, artisanal, and technological innovation. It is managed on social entrepreneurship principles to better answer the needs of women left out of the work force in rural communities.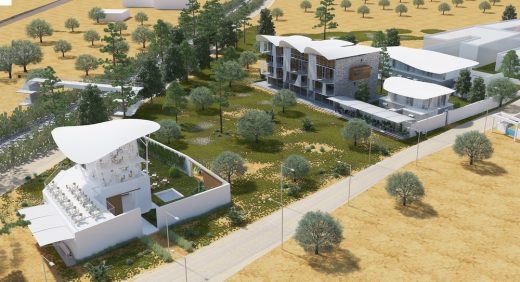 photo © Yosri Boukadida
Designed to meet the needs of a rural environment, the mission of the center is to become a place of exchange where innovation and tradition and where social, economic, cultural and environmental coalesce to work together towards revitalization, diversification and empowerment of the regions and fight against desertification.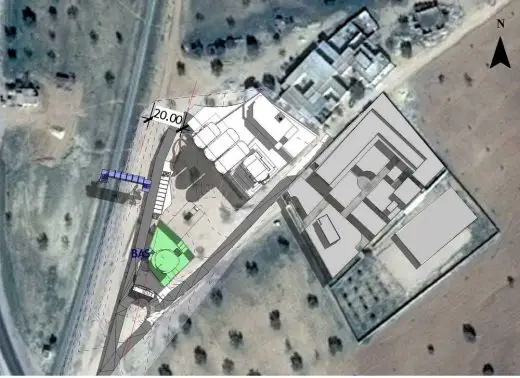 photo © Google map – Philippe Barriere Collective (PB+co)
Based on the principle of Hybrid Architecture developed in a previous research by the collective, the design combines traditional models of construction, local crafts and materials with parametric design and digital manufacturing. The goal is to promote innovation in the regions.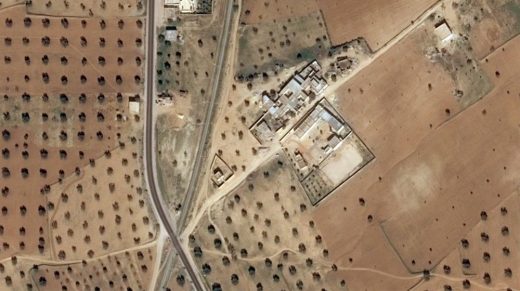 photo © Google map
The project includes a multiple functional eco-town housing with ground-floor shops and services (R+3), coffee shop restaurant, traditional crafts skills workshop guild house (rooftop multipurpose space addition), eco-home (rooftop addition) and a public park with outdoor exhibitions including earth and land art exhibitions.
This Hybrid Architecture brings technical innovation which includes:
1 — Bio climatic principles have determined the design with shaded verandas, cross ventilation, high ceilings, multiple sun protection systems (cantilevered canopy) and with passive solar energy (local stone walls thermal mass). Outside insulated thermal curtains on both façades to protect from the heat.
2 — Low cost construction and materials
3 — Parametric design roof to maximum sun protection.
Services are directly built on the top existing buildings. This High Tech additions are light weight textile tensile materials (PTFE).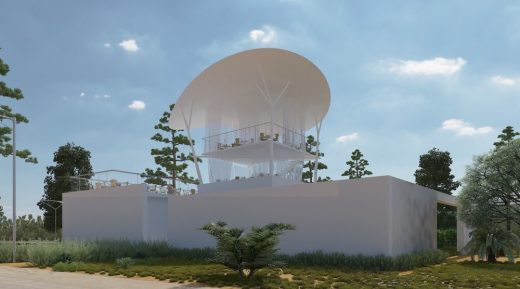 photo © Yosri Boukadida
Sarah Mag Toumi Cultural and Educational Center – Building Information
Location: Bir Sallah, El Hencha [Sfax], route GP1 km 214. Tunise.
Clients: Sarah Toumi, Association AJMI TOUMI — ACACIA for All — (Founder); Asma Mansour: Tunisian Center for Social Entrepreneurship (Founder)
Phase 2 (2017–2018): see project shown
Design team: Philippe Barriere Collective (PB+Co) Yosri Boukadida, Wael Ben Mansour et (Asma Haddouk, Ibrahim Abbassi, Phase 1)
Engineer: Hatem Jamoussi: Optima Ingénierie
Roof: Taiyokogyo Co LTD
Digital Artist: Yosri Boukadida
Phase 1 (2014–2015): Research on Hybrid Habitat was initiated in 2014 and directed by Philippe Barrière, PhD, from 2014 up to the present.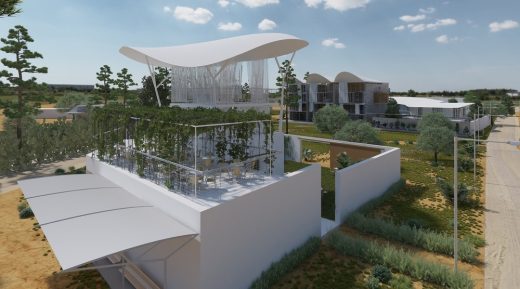 photo © Yosri Boukadida
Summer 2015 the École d'Architecture à l'Université Ibn Khaldoun (UIK) and the lÉcole Nationale des Ingénieurs de Tunis ENIT [Tunis School of Engineers] with Professor Oualid Limam PhD, (Director LGC at L'ENIT) join this research for 2 months with:
—Engineer: Hatem Jamoussi: Optima Ingénierie (PDG).
– Engineer: Abid Med Nabil Ingénieur: Jeune Chambre International, (JCIT) – Président JCI Innovation). Jeune chambre Internationale de Tunis [JCIT].
— Engineer Oualid Limam PhD, (Director LGC at ENIT)
– Philippe Barriere Collective (Adnen Ben Tanfous, Asma Haddouk, Ibrahim Abbassi, Sami Isaad)
– Construction: Fethi Harbaoui (Entreprise Harboui – Construction en pierre)
Interns ENIT: Hamza Louhichi, Abderrahmen Snegria, Snen Syrine
Interns UIK: Dorrine Nasri (Artisanat Tunisien)
Interns ENAU: Kaouther Moussa, Khaoula Bahroun
Digital Artist: Abderrahmen Ezzine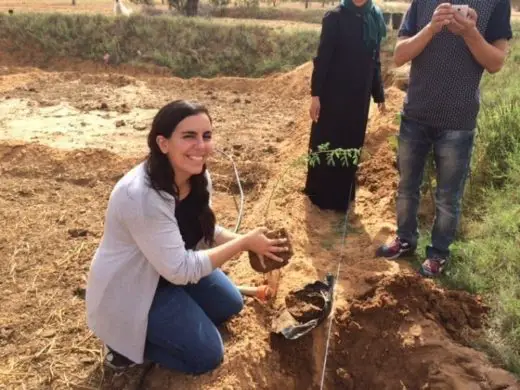 photo © Highlights
About Sarah Majida Toumi
Sarah Toumi is changing the agricultural sector in the Arab Maghreb subregion by introducing a new holistic farming approach to fight desertification. Her approach shifts the focus of the sector towards alternative, natural, plant-based irrigation complemented by crops that fit the local context; in addition, she creates a change movement through which farmers adopt new and sustainable farming techniques and organize themselves into cooperatives, in order to manage the entire new farming cycle.
In 2012 Toumi founded the project "Acacias for All" to fight the ongoing desertification in the country. In Bir Salah, where her grandfather lived and where she realized the impact on a long time that desertification and lack of water had on the surrounding lands. She also found the effect this has on local women, who are led to take up low-paying jobs in the cities.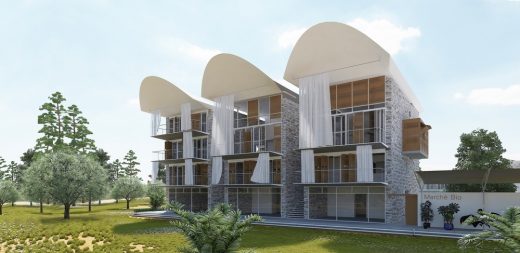 photo © Yosri Boukadida
Toumi is adapting its project to allow local farmers to use acacias to generate income through the sale of gum and oil extracted from drought-resistant acacia and moringa. Even though she made sure that the first farmers were all women, she realizes that she wants to see gender equality and includes male farmers. For her work on this project,
She is the only Arab or African woman on the 2016 list of 30 under 30 social entrepreneurs published by Forbes magazine. The project is subsequently called 1milliontre4Tunisia, while Toumi becomes one of thirty winners of the Rolex Awards for Enterprise 2016 and the first representative of his country to win. It considers that the use of trees to combat desertification is applicable on a global scale.


photo © Yosri Boukadida
On August 29, 2017, she was appointed to the Presidential Council for Africa by French President Emmanuel Macron. On November 25, she received the Takreem Prize for Environmental Development and Sustainability in Amman.
Sarah Toumi's adventure in social entrepreneurship started very early. Sarah has been in the community sector since the age of 11. She worked in Tunisia with her father in the association ACPE, then for the international organization Taking IT Global, before creating the association Dream Of Tunisia which she will be president from 2008 to 2012.
Sarah Toumi's goal is to transform her father's village, Bir Salah, into a sustainable village where every child, every woman, finds a space to flourish culturally socially, economically. She is one of those people who has the vision and leadership to change the world, and the world recognizes her for her commitment to the social and solidarity economy.
The Agora is part of this vision.
About Philippe Barrière Collective (PB+Co)
In the light of environmental crisis and globalization architecture is becoming indispensable as an instrument to reconcile man with his (cultural, social and environmental) milieu, by either reinvesting in this milieu to mitigate the structural deficiencies and/or by fostering its recovery.
Taking this view, architecture is an ongoing experiment that constantly adjusts to contextual needs, implementing the new strategic and innovative interventions necessary to improve on man's milieu; a process that redefines architecture.
This approach provokes architecture to become a threshold over which or, a "channel" through which to renegotiate the relation between man and nature and a "focal point" for reducing the imbalance between extremes (social and environmental). Architecture becomes second nature, man's link between human nature, environment and society guaranteeing equilibrium and integrity even in the midst of the crises that transformed them.
Therefore what drives our specific approach to designing projects are some of the unanswered questions being posed in their environment. These questions force us to better understand our hopes and the need for change, both which must guarantee progress and emancipation. Each project aims to contribute to defining this hope and to avoiding potential constraints by answering them.
The process creates architecture which is built on concepts that are based on the beneficial effects they will have on the direct environment. Instead of being part of a problem it represents a part of a solution.
For the critic Joan Ockman the Collective work "takes on the contradictions of today without being so naïve as to try to surmount them, and without being so cynical as to merely parody them. The work acknowledges that we are what we consume, and it takes responsibility for this. … The name for such an approach to architecture is radical realism. Philippe Barrière is its magician and surgeon."— Repositioning and the Relation Between Man and Nature.
Challenging both theory and practice, the Philippe Barrière Collective (PB+CO) has developed a forward-thinking expertise addressing suburbanization (i.e. ParkUrbia), the Interstate Highway System (i.e. Infrastructure Architecture), social and humanitarian issues such as homelessness, refugee camps and health crises. More recently it has developed the concept of Hybrid Architecture (i.e. High-Low Tech) in the Maghreb.
The Collective integrates highly competent specialists and manufacturers early in the design process to develop simple, efficient, practical and highly sophisticated cutting edge solutions. It has developed a long time working relation with the renown engineering and fabrication company like A. Zahner Co. and called out aerospace technology manufacture specialists (Beechcraft, Cessna, Boeing) for innovative technical solutions, as well as the one for local artisan specialist in brick vaults or stone walls.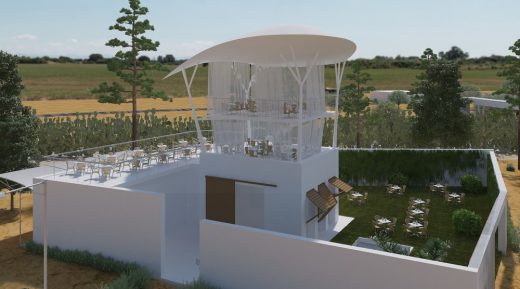 photo © Yosri Boukadida
Photography: Yosri Boukadida
Sarah Mag Toumi Cultural and Educational Center in El Hencha images / information received 110318
Tunisian building by Philippe Barriere Collective on e-architect
Location: El Hencha, Tunisia, North Africa
New Tunisia Architecture
Contemporary Tunisian Architectural Projects
Tunisia Architecture Design – chronological list
Tunisia Architectural Projects, chronological:
Dar Hi, Naftah
Architects: Matali Crasset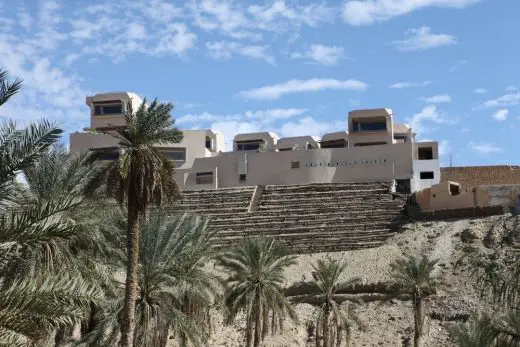 photograph : Jérôme Spriet
Dar Hi in Naftah, Tunisia Health and Wellness Hotel
Colline aux Oliviers, Tunis
Architects: Philippe Barriere Collective (PB+Co)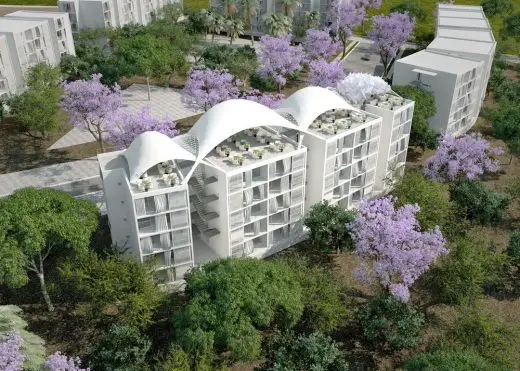 photograph : Abderrahmen Ezzine
Colline aux Oliviers in Tunis
Mahmud Qabadu Mosque, Djedeida
Architects: Philippe Barriere Collective (PB+Co)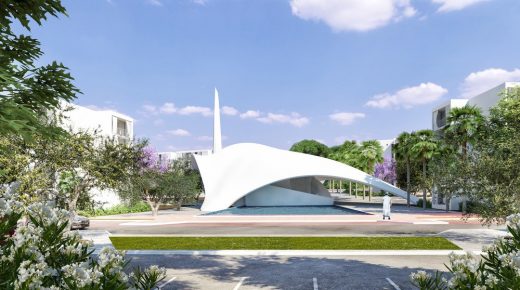 photograph : Abderrahmen Ezzine
Mahmud Qabadu Mosque in Djedeida
Architecture in Africa
Residence Atelier Foundation in Marrakesh
Northwest African Buildings e-architect:
Dakar Sow House, Senegal, western Africa
Dakar Sow House
University of The Gambia – New Campus
University of The Gambia Buildings
Comments / photos for the Sarah Mag Toumi Cultural and Educational Center – Tunisian Architecture page welcome
Website: Philippe Barriere Collective