Goldring Centre for High Performance Sport and University of Toronto Student Commons Building
Goldring Centre, University of Toronto Building
Goldring Centre for High Performance Sport design by Patkau Architects, Canada
9 Aug 2010
Category: Future Projects – Education
Location: Toronto, Canada
Architects: Patkau Architects Inc., Vancouver, Canada ; MacLennan Jaunkalns Miller Architects, Canada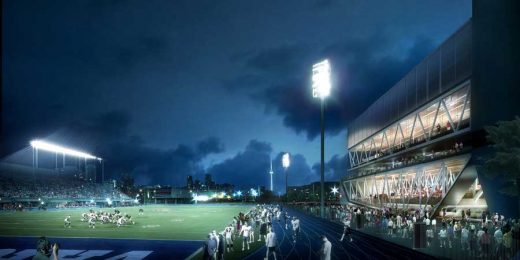 picture : Patkau Architects
Goldring Centre for High Performance Sport and University of Toronto Student Commons
WAF Entry: 2010
Award: World Architecture Festival 2010 – Shortlisted
Goldring Centre for High Performance Sport and University of Toronto Student Commons
The larger challenge of this project is not only to construct a great High Performance Sport Centre and a vibrant Student Commons but also to contribute to the coherent development of the campus as a whole. The new building needs to foster a rich set of relationships with its context, acting as a kind of glue than binds program to site.
Varsity Stadium is a unique space in the fabric of the city and the U of T campus that pulses periodically with crowds and activities. While it is often dense with people on the ground plane, above it opens a huge space, park-like in its expansiveness.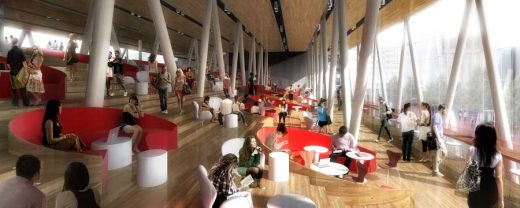 picture : Patkau Architects
Events Street
The location of Devonshire Place within the larger street grid of the campus suggests that it can be closed to vehicular traffic during major athletic and student events. Significant spaces within the Goldring Centre & U of T Student Commons overlook both Varsity Stadium and events along Devonshire Place, constructing synergies between stadium/street/building.
Dense Stacking
The Goldring Sports Centre & U of T Student Commons are spatially and functionally complex: a dense series of L and XL spaces that need to be stacked due to the relatively small size of the site.
There are four major stacked spaces in the project: the Sports Bowl, the Student Commons, the Strength and Conditioning Terrace and the Sky Court. The Sports Bowl is dug into the earth surfacing only at grade where it provides overlook for passersby. The Student Commons and the Strength and Conditioning Terrace are "half spaces" that complete themselves in campus and city views. The Sky Court completes itself above, projecting light and air into a field of small-scaled workspaces.
The dense stack of L and XL spaces characterizes the project – each is legible as a powerful interior space, registering identity at the scale of the city.
Sports Bowl
The entrance to Goldring Centre is located at the south end of the site, accessible from both street and the lane. The Sports Bowl is dug into the earth, approached from the lobby above and surrounded by venue seating. During daily use, the courts are overlooked from above. During televised major events, motorized blackout blinds block daylight and overview.
An unconventional alternate for the sports court was developed to address a diversity of competition and practice scenarios for basketball and volleyball. Competition and practice courts are overlaid to minimize floor area and consequent construction cost. The resultant court is a full 360-degree surround seating arrangement, which maximizes spectator engagement during competition events. To avoid conflict between competition and practice game lines, practice lines are described by LED lighting strips under the hardwood floor These strips can be turned on and off, becoming invisible when off. 'Switch Floor' was prototyped in our office and developed in conjunction with LED Linear in Germany. It has been submitted for approval as a Level 1, FIBA regulated basketball surface.
Student Commons
The Students Commons is a terraced, wooden hill. The hill serves as an XL hangout space for students to see and be seen; it serves as events space, casual theatre, music and film venue, dining and relaxation space. It connects the food court with the largest rooms – the multi-purpose and rehearsal spaces. All of these spaces act together to provide the largest flexible indoor student venue on the U of T campus.
The Commons Hill provides a strong new student identity on campus.
Strength and Conditioning Terrace
The Strength and Conditioning Terrace and the Exercise Studio establish a flat platform for exercise and conditioning programs before stepping down a series of terraces towards Varsity Stadium. Platform and terraces project visually over Varsity Field – a mesmerizing view. The diagonal of the terraces produces a kind of stadium seating overlooking the field below. Earphones attached to exercise stations allow for participation in games while working out.
This space produces a distinctive sports identity fixing the precinct of Varsity Stadium and the Goldring Centre in the public imagination day and night.
Sky Court
The Sky Court opens up deep floors of offices and labs to light and air. The staff lounge/VIP media room edges the Sky Court. The small lounge terrace leads to a roof garden.
Environment
1. Green roof minimizes heat island effect and storm water run off.
2. Skylights and terraces admit diffuse daylight into core of building.
3. PVs generate electricity.
4. Solar thermal panels provide hot water needs.
5. High performance building envelope.
6. Vegetated aluminum grille shades in summer; thermal gains maximized in winter.
7. Harvested rainwater for irrigation and flushing toilets/urinals.
8. Dual flush toilets, pint flush urinals, ultra low flow faucets/showers.
9. Natural ventilation shaft, mechanical assist.
10. Demand control ventilation with CO2 sensors for low occupancy rooms.
11. Occupancy / daylight sensors; energy efficient lamps/ ballasts.
12. Heat recovery system for exhaust air and showers.
13. Waterside and airside free cooling in HVAC systems.
14. Variable flow pumping systems with variable frequency drives.
Goldring Centre for High Performance Sport and University of Toronto Student Commons images / information from FD
Location: Goldring Centre, Toronto, Ontario, Canada
Toronto Architecture
Toronto Architecture Designs – chronological list
Toronto Architecture Walking Tours
Daniels Building, University of Toronto DFALD, 1 Spadina Crescent
Design: NADAAA, with Adamson Associates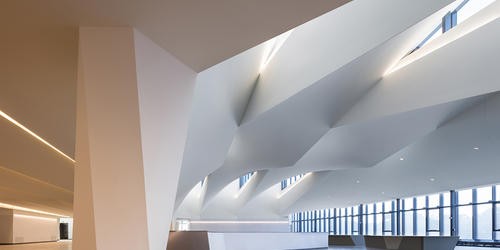 image courtesy of architects
Daniels Building, University of Toronto DFALD
New Student Residence at University of Toronto St. George Campus, corner of Spadina & Sussex Avenues
Design: Diamond Schmitt Architects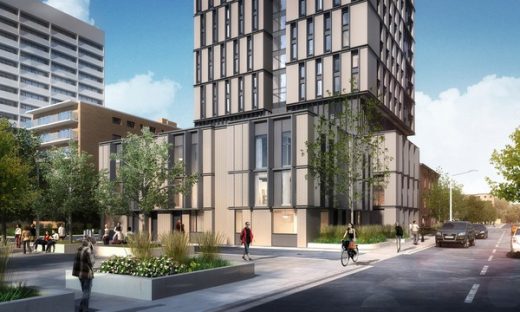 picture courtesy of architects office
University of Toronto St. George Campus Student Residence
Ryerson Student Learning Centre Building
Snøhetta / Zeidler Partnership Architects
Ryerson Student Learning Centre
Comments / photos for the Goldring Centre for High Performance Sport and University of Toronto Student Commons Architecture page welcome