2020 Scottish Design Awards Winners, Scotland Buildings, Architects, Results
Scottish Design Awards 2020 News
11 Sep 2020
Scottish Design Awards 2020 Winners News
All-digital Scottish Design Awards Mark A Night To Remember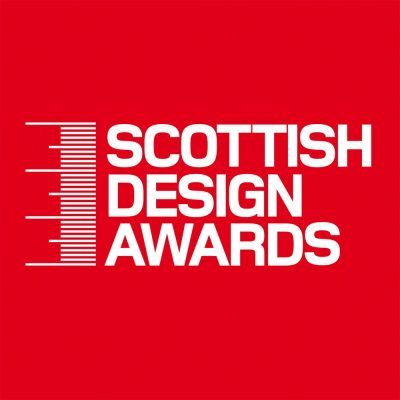 A difficult year has been lent some perspective by the 2020 Scottish Design Awards which highlighted the creative beacons which have done most to light our way out of the dark days of lockdown.
The only awards programme to combine the architecture and design spheres the event is sponsored by Urban Realm and The Drum magazines as a mechanism to showcase the full scope of the creative sector and the value it can add in terms of enhancing all our lives.
Leeds Playhouse Building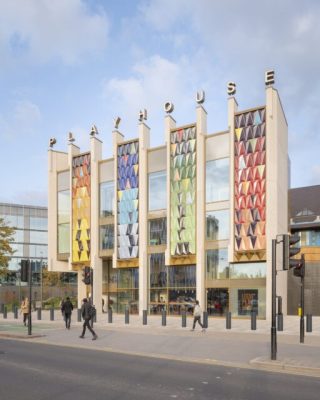 photo : Jim Stephenson
Not to be outdone the architecture component of the evening continues to build presence thanks to the efforts of Page \ Park who secured a Grand Prix courtesy of their achievement at Leeds Playhouse.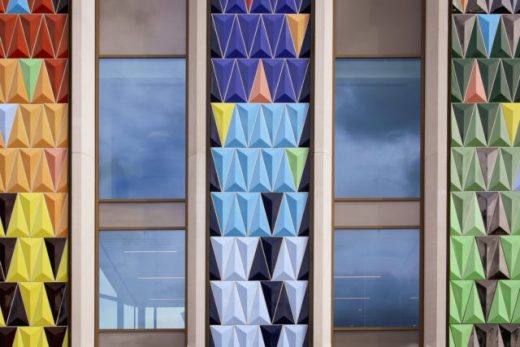 photo : Page \ Park
While much of the leisure economy remains stuck in the doldrums, Page/Park bring some much-needed joy to a struggling sector with a colourful approach.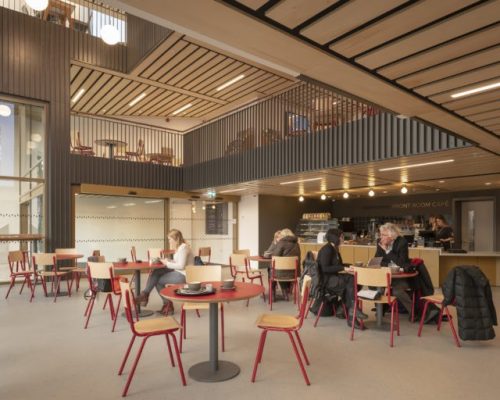 photo : Jim Stephenson
Explaining their decision, the architecture panel, chaired by Marina Strotz, president of Birmingham Architectural Association, explained: "There's a willful and charming use of colour which a lot of architects shy away from. It's welcoming and not too stuffy and will encourage diverse audiences. There's a big wow about it and it's socially important.
"The ceramic patterning brings something creative and innovative back to the street. It's a happy, joyous building. The most striking piece of design."
Kyle House, Tongue, Sutherland – exterior: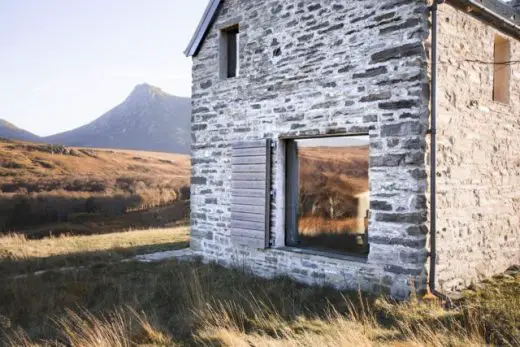 photo : Alexander Baxter
The chairman's award meanwhile was received by GRAS Architects for their work at Kyle House, singled out for its 'timeless richness and charm'.
Kyle House in Sutherland – Sitting Room fire: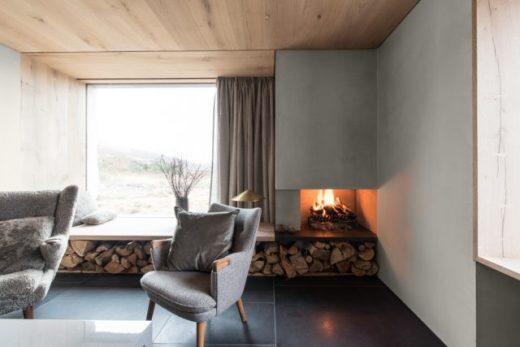 photo : Martin Kaufman
Oliver Chapman Architects walked away with the practice of the year award having contributed two of the finest projects in this year's programme; The Egg Shed in Ardrishaig and the Flitch House, Edinburgh.
The Egg Shed in Ardrishaig: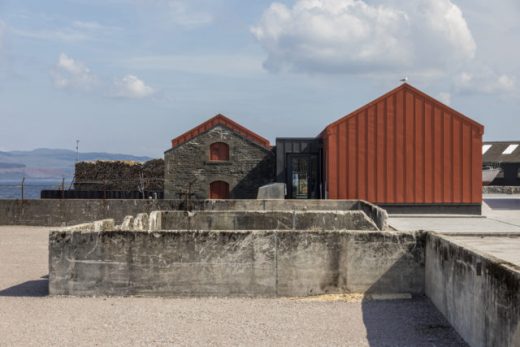 photo © Angus Bremner
Flitch House, Edinburgh: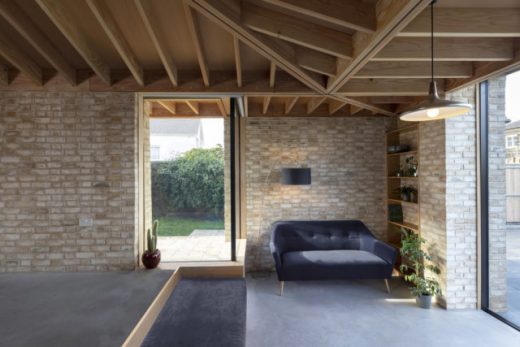 photo © Angus Bremner
This year the design field was dominated by Playdead who rocketed past the competition to earn a Grand Prix for their work on Basecamp Moon, a bespoke film commissioned by the Luxembourg Space Agency to inspire future exploration.
The design panel, chaired by Helen Fothergill, head of collections at Aberdeen City Council Art Gallery and Museums, had this to say: "It's beautifully filmed and hangs together really well. It's got everything. There is so much rich design on so many different levels. They do well to bring something fresh and excel on all fronts. How they mixed film and animation seemed correct for the processes they were trying to explain."
Other big winners on the night included Freytag Anderson who walked away not only with the Design Agency of the Year accolade but also the chairman's award for Rapscallion Soda, which is transforming perceptions of the soft drink sector through punchy packaging.
John Glenday, editor of media partner Urban Realm, said: "The Scottish Design Awards have capped a remarkable night to remember with a cavalcade of awards, commendations and presentations that kept conversation flowing – even if the only wine flowing was our own.
"As the first all-digital presentation in the history of the award's, this year's event saw us conquer a new domain and in the process communicate outstanding design to all corners of the country. Truly this has been our most democratic award yet."
A full list of award winners is attached and available to view now at https://2020.scottishdesignawards.com/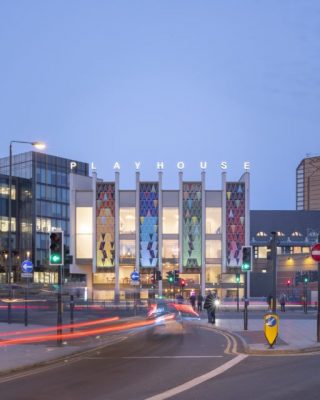 photo : Jim Stephenson
Page\Park: Leeds Playhouse from Stephenson / Bishop on Vimeo.
2020 Scottish Design Awards Winners in Full
Architecture Grand Prix
"A lot to recommend. A well put together, accomplished and well-thought-through extension."
AWARD: Page/Park for Leeds Playhouse
Architecture Chair Award
"During the judging process, this project was noted as stand-out project by all of the judges.
The architects approached the project and brief with great sensitivity to its context, utilising simple exterior interventions to restore and enhance an existing stone building. The interiors benefit from an intricately detailed natural palette of materials, whilst carefully placed glazing creates beautifully lit internal spaces and frames views to a dramatic landscape.
This project is a perfect example of how well-crafted contemporary architecture adds to the conservation and enhancement of an existing building. The refined building has a timeless richness and charm" Marina Strotz, President Of Birmingham Architectural Association.
AWARD: Gras for Kyle House
Practice of the Year Award
"This practice really stood out with two of the nicest pieces of work. The best I've seen"
AWARD: Oliver Chapman Architects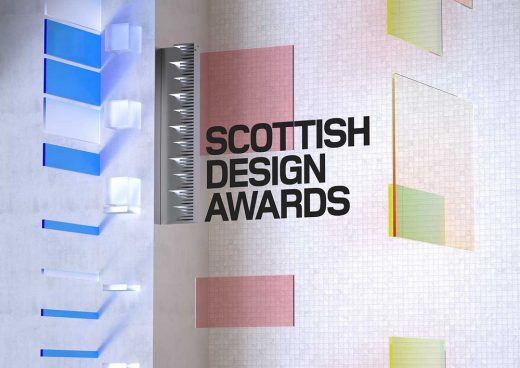 Lighting
AWARD: Nich Smith Lighting Design and LightMedium for Al Salam Palace Museum – Kuwait
Interior Design
COMMENDATION: SPLINTR for The Portobello Bookshop
AWARD: SPLINTR for CombiniCo Cafe
Regeneration
AWARD: Fraser Livingstone Architects For Bridgend Community Farmhouse
AWARD: Oliver Chapman Architects For Ardrishaig Harbour Regeneration
Residential
COMMENDATION: marchitects for Maryhill Locks
AWARD: Sonia Browse Architects LLP For Havenfield Mews
Affordable Housing
COMMENDATION: Anderson Bell Christie For Greendykes Phase G
AWARD: Collective Architecture For Bell Street Stables
Health Building or Project
AWARD:Page\Park Architects For Woodside Health Centre
Education Building or Project
COMMENDATION: BDP For Maidenhill Primary School and Nursery
COMMENDATION: Sheppard Robson For Global Research Innovation and Discovery (GRID), Heriot-Watt University
AWARD: Reiach and Hall Architects in partnership with Simpson Haugh and partners For University Of Central Lancashire – Engineering Innovation Centre
Commercial/Office/Hotel Building or Project
COMMENDATION: Page\Park Architects For NGHA Headquarters
AWARD: jmarchitects For Market Street Hotel
Public Building
COMMENDATION: Hoskins Architects for Aberdeen Art Gallery
AWARD: Simpson & Brown For St Albans Learning & Welcome Centre
AWARD: Page\Park Architects For Leeds Playhouse
Future Building or Project
COMMENDATION: LBA for Orwell Farm
AWARD: 3DReid For Canongate
Building Re-use
COMMENDATION: Collective Architecture for Bell Street Stables
AWARD: Moxon for Faithlie Centre
AWARD: Page\Park Architects For Edinburgh Printmakers
Low Cost Project Schemes Under 200k
COMMENDATION: McGinlay Bell For Graham House
COMMENDATION: stuart davidson architecture for 3 Scotts Place
AWARD: Oliver Chapman Architects For Flitch House
Public Realm/Landscaping
AWARD: rankinfraser landscape architecture, Blyth and Blyth Engineers and
Foto-Ma Lighting Designers For DundasHill Landscape and Public Realm Framework.
Master Planning
AWARD: Austin-Smith:Lord Ltd and MVRDV For (Y)our St Enoch, (Y)our Central and (Y)our Blythswood DRFs – District Regeneration Frameworks, Glasgow City Centre
Young Architect of the Year
"Shows communication between contractor and client.
An architect has to lead the builder. It's a good message to have an architect that works with other disciplines.
Makes her project manager shows real trust.
Having the conviction to follow her thoughts on community development is an achievement.
Manages the process of realising her architectural designs at St Albans is a real achievement"
AWARD: Catriona O'Neill
Background
Architecture magazine Urban Realm bought the rights to the Scottish Design Awards from B2B marketing publication The Drum in March 2018 for a five-figure sum.
The architecture judging panel was chaired by Marina Strotz, President Birmingham Architectural Association; together with Brenda Jones, member of the Scotland board and national advisory board of the Association of Women In Property; Patrick Macklin, head of the Interior Design Department, the Glasgow School of Art, Dr Penny Lewis, architecture programme leader, University of Dundee and University of Wuhan; Riccardo Andrea Marini, founder of MARINI – URBANISMO and Robert Townshend, principal of Townshend Landscape Architects.
The design judging panel was chaired by Helen Fothergill, head of collections at Aberdeen City Council: Art Gallery and Museums, together with MT Rainey OBE, director at Charlotte St Partners, HAYS and Clearchannel, Rory Campbell, design director at Analogfolk, Neil Cooper, chief design officer at Brilliant Basics and Chloé Templeman, creative director
at Design Bridge.
Previously on e-architect:
Scottish Design Awards 2020 Judges
Judges line up for 2020 Scottish Design Awards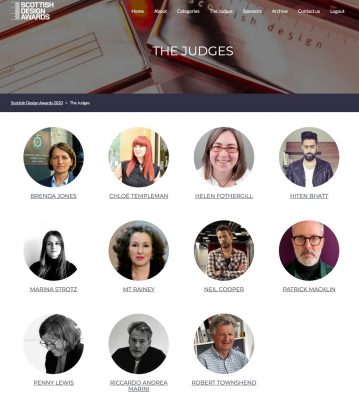 photo courtesy of SDA 2020
Scottish Design Awards Shortlist 2014
Location: Scotland
Architecture in Scotland
Contemporary Scottish Architecture
Scottish Architecture Designs – chronological list
Comments / photos for the Scottish Design Awards page welcome