Scottish Design Awards 2021 Programme, Scotland Buildings, Architects Event, Contest
Scottish Design Awards 2021 News
Scottish Design Award winners unlock success following a night of celebration
18 July 2021
Scottish Design Awards 2021 Winners News
Scottish Design Awards 2021 Winners
Updated 1 Jun + 2 Mar 2021
Finalists of the Scottish Design Awards 2021
Finalists now announced: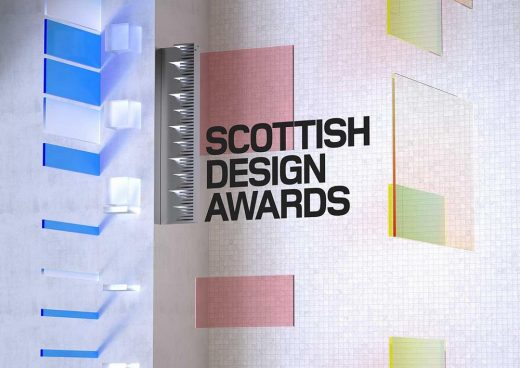 The Scottish Design Awards are pleased to announce a bumper number of finalists for 2021, reflective of a robust design community thriving in difficult circumstances.
Scotland's architecture and design communities have risen to the challenge of another year of profound change with aplomb, demonstrating quantity and quality across the board.
With hundreds of entries to choose from, our twin judging panels faced the unenviable task of whittling down a year's worth of competition to a chosen few during two intensive remote judging sessions. Emerging from this process with a generous clutch of awards our ten judges praised the high calibre of presented work.
Recalling a notably collegiate decision making process, design panel chair Hiten Bhatt, head of design at RAPP, said: "What I loved most was walking away with a new respect for the design industry in Scotland. As a judge, we can sometimes have a very London-centric view of creative work. And that needs to change. So it was brilliant to see equally impactful and outstanding work coming from our neighbours in Scotland. I've always been blown away by the level of craft – packaging in particular. This year, it was the turn of the motion and experiential entries. Not only were they beautifully put together, but there was a clear and striking concept at the heart of the work."
Bhatt's architecture panel counterpart Prof Alan Dunlop was similarly effusive following an immersive conversation demarking the boundaries between strong and outstanding bodies of work. "A very pleasant day spent chairing the Scottish Design Awards (SDA) with informed, insightful colleagues. We reviewed a number of extraordinary projects, reaffirming that the standard of architecture and design across all project types by Scottish architects is very high indeed and in a few cases exceptional."
The Scottish Design Awards 2021 results will be brought to you via a free broadcast event on 15 July. We hope you are as excited as we are so tune in with your friends, peers and clients for a night of celebration, reflection and positivity.
2021 Scottish Design Awards Panel
Say hello to the 2021 panel
Social distancing may remain the order of the day but amidst the lockdown, the SDA have assembled a ten-strong panel of judges to lead us into a post-crisis future.
Whatever the world throws at us great design remains as the hallmark of any great practice, agency or business and our judges are itching to see how you've set new standards while working from home.
On the design-side, we welcome HemingwayDesign co-founder Wayne Hemingway together with Vicky Miller, director of marketing and digital at VisitScotland and Sue Dawn, executive creative director at Interbrand.
They are joined by Steve Conchie, creative director at Brandon Consultant and Hiten Bhatt, head of design at Rapp.
Let us also introduce you to our architecture panel which includes Susan Stephen, consultant director at Stephen+Boyle and Susan Stephen Architects; Stephen Lewis, managing director at HFD Property Group and Natasha Houchin, associate at LMA Architects and director of the Scottish Ecological Design Association.
Last but not least we have Annie Hampson, former chief planning officer at the City of London Corporation and Alan Dunlop, founder Alan Dunlop Architect.
An early-bird entry deadline expires on 10 March so there no reason not to claim the recognition you deserve.
To view the panel in full go to: https://2021.scottishdesignawards.com/the-judges/
5 Feb 2021
Scottish Design Awards 2021
2021 Programme Feeds Creativity

The SDA are back with a new programme and panel to beat the lockdown and bring together the nation's finest creative minds to celebrate the very best architecture and design.
Managed by Urban Realm, in partnership with The Drum, the awards showcase boundary shaping work to an audience of design professionals, rewarding those who've smashed expectations, innovated in their delivery and engaged new audiences.
Urban Realm editor John Glenday said: "If recent events have taught us anything it is that the future is always a lot closer than we think, from digital services to home offices the way we live and work is transforming before our eyes.
"It is in that context that the 24th SDA will unlock the true creative potential of the country by condensing a year's worth of work into one showcase night of revelry, regeneration and reveals."
From architects to graphic designers, engineers and illustrators, all are welcome at what promises to be another landmark show at which everyone can unite in pursuit of fresh ideas, new contacts and more sustainable approaches.
All entries must be received no later than 9 April via https://2021.scottishdesignawards.com
SDA 2021 Programme image / information received 050221
Judges News
Judges line up for 2020 Scottish Design Awards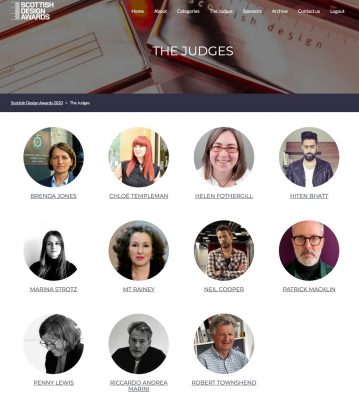 photo courtesy of SDA 2020
Scottish Design Awards Shortlist 2014
Location: Scotland
Architecture in Scotland
Contemporary Scottish Architecture
Scottish Architecture Designs – chronological list
Comments / photos for the Scottish Design Awards 2021 Programme page welcome