Scottish Building News 2018, Architecture Photos, Property Scotland, Images, Architects, Design Links
Scottish Building News 2018
New Architectural Developments + Buildings in Scotland – Built Environment + Architects Updates
Scottish Building News in 2018
Scottish Architecture Designs – chronological list
New Macallan Distillery Building – June to December
Scottish Architectural News 2018 Part 1 – January to May
25 May 2018
New Macallan Distillery, Easter Elchies estate, Speyside, Northeast Scotland
Design: Rogers Stirk Harbour + Partners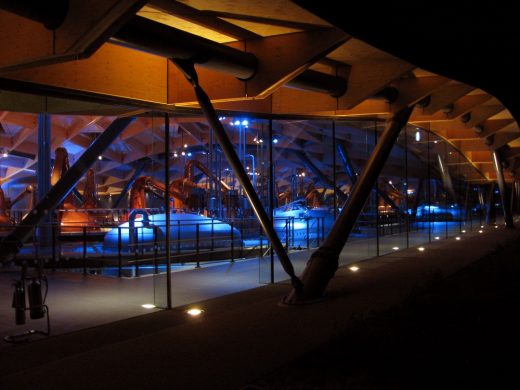 photo © Speirs + Major
New Macallan Distillery Building
Speirs + Major have unveiled their lighting design for The Macallan new distillery and visitor experience on the Easter Elchies estate, Speyside, Northeast Scotland.
22 May 2018
Macallan Distillery in Speyside, Speyside, Highlands – Northern Scotland
Design: Rogers Stirk Harbour + Partners (RSHP)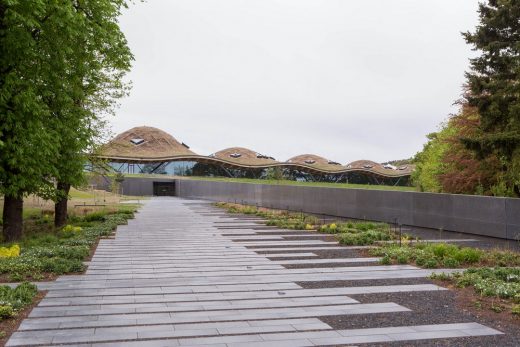 photo © Simon PricePA Wire
New Macallan Distillery in Speyside, Scotland
The striking piece of contemporary architecture is cut into the slope of the land, taking its cues from ancient Scottish hills and maximising the aesthetic beauty of the building whilst minimising the visual impact on the Speyside landscape.
BETA Housing Scotland
Event at Radisson Blu Glasgow – 13th November 2018
BETA Housing Scotland will bring together key figures from Scotland's Housing sector to discuss hot topics and key projects from the region. The event will provide a unique opportunity to hear exemplary case studies and technical presentations showcasing innovation in housing, from planning stages through to delivery on site.
17 May 2018
Independent Review of Building Regulations and Fire Safety
Local Government Minister responds to the Independent Review of Building Regulations and Fire Safety
Responding to the Independent Review of Building Regulations and Fire Safety report published today, Minister for Local Government Kevin Stewart said:
"We welcome the engagement we have had with Dame Judith Hackitt and, while her report looks specifically at the system in England and Wales, we will look closely at the findings to ensure that any lessons or actions that may be needed are swiftly considered in Scotland.
"We are particularly pleased the report recognises the benefit of the pre-emptive system in Scotland and has recommended a similar system of 'gateway points' to be passed before construction can begin, along with how we engage with tenants.
"Two current reviews of the building standards system are considering changes may be required and are due to report to Ministers shortly. The recommendations from these reviews will ensure that Scotland's system remains robust, clear and that the systemic failures that contributed to the terrible Grenfell fire can never happen here in Scotland.
"The recommendations regarding building industry products and the system of accreditation which is shared across the UK are also welcome and we will actively engage with the UK and other devolved administrations on this issue."
Background
Professor John Cole is chair of the review of enforcement and compliance and Dr Paul Stollard is chairing the review of fire safety in building standards. The next meeting of the Ministerial Working Group on Building and Fire Safety will be in June.
17 May 2018
Dalbeattie Learning Campus Building
The Dalbeattie Learning Campus, an 'all through' campus comprising nursery, primary, and secondary education set in an innovative, landscaped setting, has been named Best Social Infrastructure project at the prestigious international Partnership Awards at the Hilton Park Lane Hotel, London.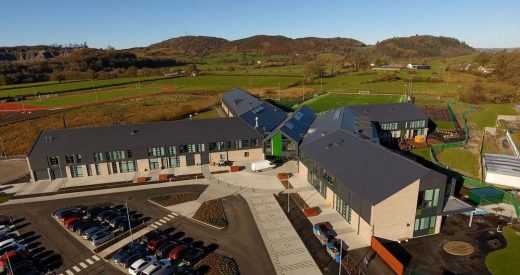 image courtesy of architects
The learning campus was delivered for Dumfries and Galloway Council in a collaborative partnership approach with hub Southwest, the construction and infrastructure-focused partnership working with local authorities and national contractor, GRAHAM.
Dalbeattie Learning Campus, which was handed over in February to Dumfries and Galloway Council, is a major new community building within the town of Dumfries. It features multiple 'learning bases' which provide flexible and functional spaces aimed at a focus on lifelong learning and vocational qualifications as well as traditional school subjects.
The dinner, which took place on Thursday May 10, was attended by over 700 people to celebrate the best in Public/Private Partnership (PPP) projects. The Partnership Awards, now in its 20th year, is the largest event in the industry and covers projects across Europe, Africa and the Middle East.
Michael McBrearty, Chief Executive of hub Southwest, said: "This has been a fantastic evening, and a just recognition of the work hub Southwest, GRAHAM and Dumfries and Galloway Council have put into the Dalbeattie Campus, as well as a clear indicator of what can be achieved in partnership."
The project, valued at £24m, saw 58% of all sub-contracting work packages going to local businesses as part of hub Southwest's commitment to ensuring that local construction projects support businesses and employees within local communities.
Councillor Jeff Leaver, chair of Dumfries and Galloway Council's Children, Young People and Lifelong Learning [CYPLL] committee, said: Providing the best start in life for all our children is a priority for our Council. So, I'm delighted that our Council is being recognised for the excellence of the first of our new learning campuses. Dalbeattie Learning Campus is a first class facility that is appropriate for the 21st century and transforming education in Dalbeattie.
Councillor Ros Surtees, vice chair, said: "The campus is fabulous, it's bright and welcoming to learners. It looks like a fabulous place to be at school and I'm sure that the pupils are enjoying it. I'm delighted that it is being recognised nationwide and has won this award."
11 May 2018
Kilmartin Museum Building
Kilmartin Museum has received a confirmed grant of £3.2 million from the Heritage Lottery Fund (HLF) for their Redevelopment Project.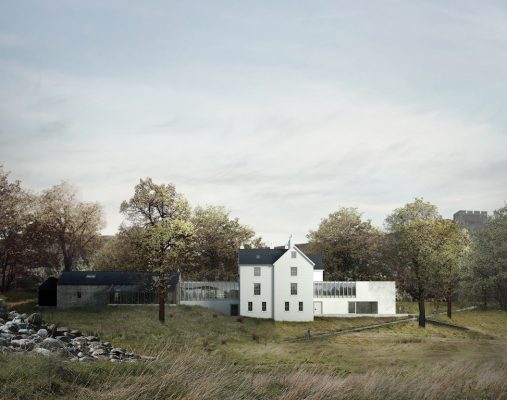 image courtesy of HLF
The project aims to transform Kilmartin Museum into a landmark venue that interprets and celebrates the global significance of Kilmartin Glen, one of the most significant archaeological landscapes in Britain.
10 May 2018
Urban Union Housing in Scotland
An award-winning regeneration company is gearing up for an ambitious year with plans to build more than 250 homes across Scotland.
One of the homes built at Pennywell Living in Edinburgh: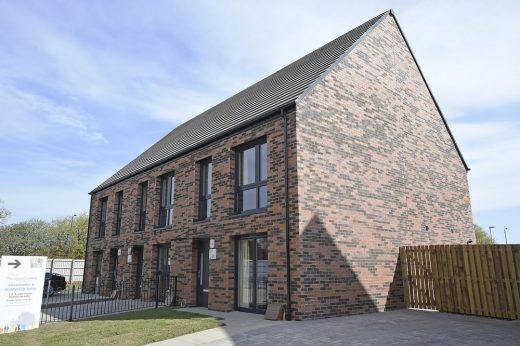 image courtesy of Urban Union
Urban Union – which has sites in Glasgow, Edinburgh and Perth – is committed to creating high quality accommodation, with a significant number of its stock being affordable housing.
The organisation intends to build 251 new homes across four developments, an increase of 32 per cent on the 190 it built in the 2017/18 financial year.
It follows on from a series of land acquisitions, including plans to create a brand new development in the Pollokshaws area of Glasgow. Pollokshaws Living will see the creation of 137 residential properties and will provide the area with much needed sustainable family homes.
Neil McKay, managing director, Urban Union, said: "Urban Union has an ambitious strategy to build high quality and affordable homes in some of Scotland's most challenging areas. We are proud to contribute to the regeneration of these communities and there is a clear appetite from local people for homes of this standard.
Urban Union submitted plans for Bedford Street in Laurieston: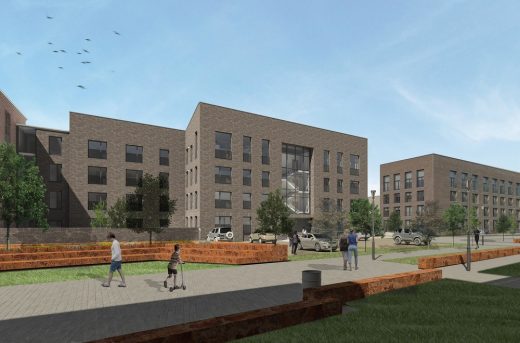 image courtesy of Urban Union
"Across the past 12 months we have brought in nine additional staff members and we are confident we can deliver on the plans we have for our developments in Scotland's urban areas."
Earlier this year, Urban Union submitted a planning application to Glasgow City Council which outlined plans for 28 new units at Laurieston Living. That will form part of the second phase of the development, which has already proved hugely popular with buyers – a total of 32 homes have been sold since January.
In Edinburgh, Urban Union has received planning permission for the next phase of regeneration at the award-winning Pennywell Living development. The plans will see 315 new homes created, complementing the 193 homes already delivered by Urban Union. A further 177 homes are currently under construction in partnership with City of Edinburgh Council's 21st Century Homes and due for completion shortly.
At Muirton Living in Perth, Urban Union is building 203 new houses with Caledonia Housing Association and Fairfield Housing Co-operative.
Urban Union – a partnership between Robertson Group and McTaggart Construction – is focused on delivering for the local community and has established a benefits programme in addition to an award-winning arts and living strategy.
New Channel 4 Regional HQ Building for Scotland?
8 May – Research by leading UK planning and design consultancy Barton Willmore has revealed the city of Glasgow to be a frontrunner in the race to become the new regional home for Channel 4.
Barton Willmore Architects News
2 May 2018
Charnock Bradley Building, Easter Bush, Midlothian, south east Scotland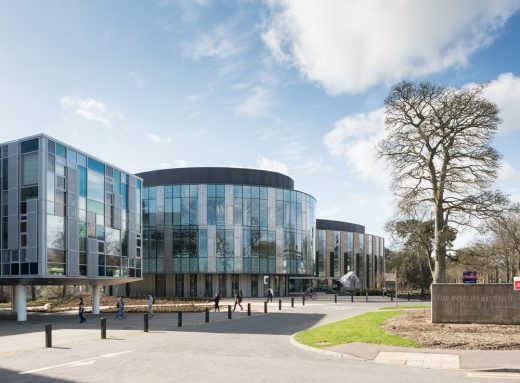 image Courtesy architecture office
Charnock Bradley Building Roslin
The £23 m Charnock Bradley Building at the university's Royal (Dick) School of Veterinary Studies provides a place at the heart of the university campus for staff, students, and businesses to share ideas, innovations and research.
2 May 2018
Threesixty Architecture at The Garment Factory
Scottish architects practice Threesixty Architecture has taken occupation of its new studio in The Garment Factory, a unique and contemporary office development in Glasgow's city centre:
Threesixty Architecture at The Garment Factory
25 Apr 2018
Wavegarden Scotland Planning Approval News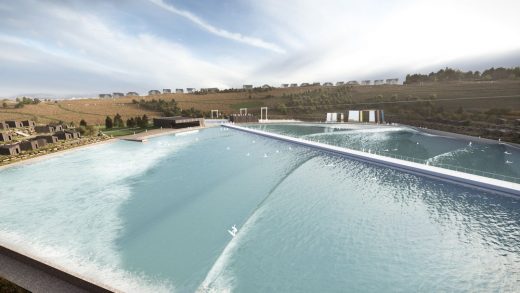 image : HarrisonStevens
Wavegarden Scotland approved to develop Scotland's first artificial surf park ad leisure complex, within a 23 hectare country park at Craigpark Quarry near Ratho, Edinburgh.
25 Apr 2018
SPF report highlights Build-to-Rent gap between Scotland and UK Regions
New data highlights the significant gap between the number of purpose-built rental properties in Scotland and those being constructed in different English regions.
According to the Scottish Property Federation (SPF), figures at the end of Q1 2018 show that for every build-to-rent (BTR) home in Scotland, Northwest England has nearly 10.
The research, compiled by Savills on behalf of the British Property Federation, calculated that Scotland currently has 3,365 BTR homes complete, under construction or in planning. In comparison, the Northwest has 29,600, the Southeast (excluding London) 7,101, the West Midlands 6,378 and Yorkshire and The Humber 5,131.
Across all areas of the UK including Scotland, the data shows that this sector of the housing market has grown by 30 per cent in the past year.
In the UK there are now 117,893 BTR homes – new, high-quality and professionally-managed homes built for renters – across all stages of the development lifecycle, compared to the total of 90,761 homes at the end of Q1 2017.
As the BTR sector continues to grow, it has also been able to diversify its offer – with 17 per cent of schemes in the pipeline including houses, rather than just typical high-rise apartments.
While Scotland currently accounts for just under 3 per cent of the total pipeline, there are signs that this is set to increase significantly – particularly in Glasgow.
SPF director, David Melhuish, says that while the figures are a stark reminder of how far Scotland lags behind the rest of the UK for new BTR properties, they also show a shift in gear for BTR in Scotland and indicate how attitudes to renting are changing.
He said:
"Build-to-rent has historically been characterised as simply a step up from student accommodation for millennials, but this is now changing. The sector's growth means it can cater for a wider range of people, including families. These purpose-built rental properties are high-quality, often with linked amenities, sustainably constructed and well-managed intergenerational homes.
"As a result, there is now a significant shift in perception and we are beginning to see changes here in Scotland, which will help boost further BTR development.
"Investors want assets which are going to provide returns over the long-term, which drive up quality; architects and planners have the opportunity to create a built environment for communities; and local authorities are beginning to understand how BTR could tackle brown field sites, support new infrastructure development and be a catalyst for further development."
He continues:
"In Scotland, there has been a promising boost in the number of BTR homes, with 3,365 homes now at varying stages of the development process. The numbers are still not high in comparison to the rest of the UK, but there are now multiple sites in Glasgow which should act as a spur to other BTR projects across the country.
"BTR is an opportunity and Scotland has some important advantages for attracting the investment necessary – the Rental Income Guarantee Scheme being one and an exemption from the 3 per cent second homes tax for large-scale PRS investments is another. With planning policy guidance now amended to support BTR developments, particularly around the treatment of development viability, there is no reason why we cannot see the BTR sector provide a new catalyst of economic growth in our cities."
The data was collated by Savills on behalf of the British Property Federation, of which SPF is a part. An interactive map showing development sites can be viewed at: https://www.bpf.org.uk/what-we-do/bpf-build-rent-map-uk
20 Apr 2018
Spyon Cop, Cairngorms National Park, Northeast Scotland
Architects: Brown + Brown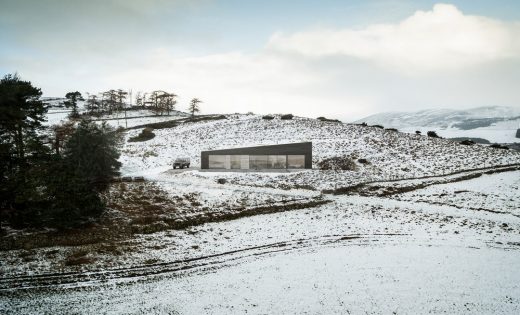 image : Touch 3D
Contemporary Property in Cairngorms National Park
Spyon Cop sits high above the River Don overlooking the ruins of Glenbuchat Castle, on the Eastern edge of the Cairngorms National Park.
6 April 2018
Help to Buy scheme set to benefit even more Scots
News of the Scottish Government's decision to extend funding of its hugely successful Help to Buy shared equity scheme for two more years has been applauded by home builders who described it as good news for buyers and Scotland as a whole.
Over twelve thousand households have already used the scheme to purchase qualifying new build homes with only a five per cent deposit since Help to Buy was first introduced in Scotland in 2013. This, in turn, has supported an estimated nine thousand jobs and contributed over half a billion pounds in Gross Value Added to the economy.
Nicola Barclay, Chief Executive of Homes for Scotland which represents those organisations building the majority of the country's homes, said:
"This is great news on a number of different fronts as the Scottish Government clearly recognises the value and wide-ranging benefits that its Help to Buy initiative provides.
"By allocating further targeted funding until 2021, it is not only extending the opportunity of home ownership to more Scots who are currently saving to buy their own home but will also provide the much-needed confidence and certainty that housebuilding companies need to continue to invest and grow their businesses in Scotland. This positive message is fundamental to helping us work together to increase the supply of new housing.
"It is essential to remember that, as well as being directly responsible for additional new homes being built, Help to Buy is also relieving pressure on the public sector with earlier figures showing that around five per cent of purchasers have moved from social rented housing and a further five per cent were on a social housing waiting list.
"With Help to Buy providing an equity stake that is repayable to the Scottish Government, and with receipts received to date higher than projected, the scheme is already demonstrating its value as an effective housing policy driver for the delivery of new homes, enabling Scots to purchase a new-build home without the need for a large deposit, and with very little impact on the public purse."
A New Chapter Statement on RIAS Reform
28 Mar 2018 – aNC is greatly encouraged by recent moves within the RIAS to implement significant reform measures. These are in line with the changes aNC has been pressing for. We are supportive of the changes proposed and agreed at this week's Council meeting and welcome the Institution's willingness to engage and work together for the benefit of the wider membership.
Shortlist for Homes for Scotland Awards 2018
26 Mar 2018 – The shortlist for Scotland's premier home building industry awards has been announced as Homes for Scotland prepares to celebrate the sector's successes at the largest annual gathering of its kind.
Homes for Scotland Awards shortlist
26 Mar 2018
Scottish Support for self and custom build housing
Local projects to benefit from national fund.
Local projects will share £160,000 to take forward self and custom build housing initiatives.
The Self and Custom Build Challenge Fund will support seven pilot projects in Argyll and Bute, Perth and Kinross, Highland, Glasgow and Edinburgh that will look into the feasibility of creating more self or custom built homes.
The projects will consider how the delivery of homes through custom building projects can be expanded; the provision of information and support to those leading their own build, and also explore how more plots can be made available.
Housing Minister Kevin Stewart said:
"Self and custom build properties are an innovative alternative in housing and I am delighted we have been able to fund these projects, going above and beyond our original aims.
"As the successful projects show, self and custom builds can provide new ways to deliver affordable housing, ensure homes are tailored to individual needs, and regenerate previously disused sites to breathe new life into communities – particularly in remote and rural areas.
"Support for self and custom builds is just one step we are taking to boost the availability of housing, and ensuring that it meets the needs of people and communities across Scotland."
Background
Applications to the fund opened in December 2017. Originally set at £90,000, a further £70,000 has been made available as a result of the number and strength of applications.
More information on the self and custom build challenge fund is available online.
The successful projects include:
Project Organisation Funding
– Former Primary School site, Lochgilphead
Creation of a brochure of house types that would comply with the simplified planning zone (SPZ) scheme and promotional marketing campaign involving a video and community engagement.
Argyll & Bute Council
£16,225
– Perth West
Produce a development strategy to look at the feasibility and funding options to offer affordable self/ custom build home plots.
Fergus Purdie Architects, with Perth & Kinross Council
£12,750
– Scotland-wide
Planning and delivery of sites and a marketing strategy to support self and custom built homes. Highland Small Communities Housing Trust
£30,000
– Scotland-wide
Guidance on self and custom build planning and delivery.
Assemble Collective Self Build CIC
£14,800
– Dundashill, Glasgow
Creation of marketing strategy for custom build development and engagement with off-site manufacturing sector to consider opportunities for on-site custom build.
Scottish Canals and Igloo Regeneration
£24,845
– Perth West housing allocation
Research to explore how custom build can be improved for wider use.
Ristol Consulting
£22,000
– Edinburgh/Midlothian
Establish a delivery model to facilitate custom build at scale, with emphasis on low carbon homes. University of Edinburgh and Boydell Architecture
£26,080
23 Mar 2018
Scottish Borders Building News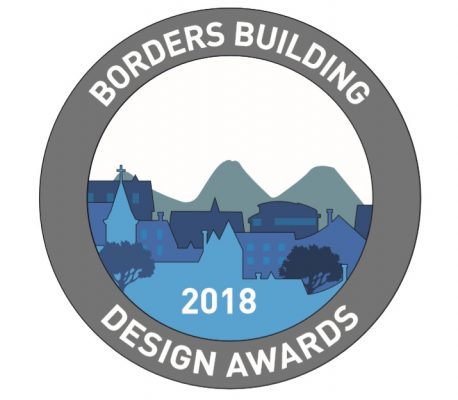 Scottish Borders Building Design Awards 2018
The search is on again for the best designed new buildings in the Borders, with the launch of the Borders Building Design Awards 2018.
The awards intend to promote good building design in the Borders and to strengthen links between builders, architects, Council plannes and other professionals in the industry.
20 Mar 2018
Pennywell All Care Centre, Edinburgh
Design: HolmesMiller, Architects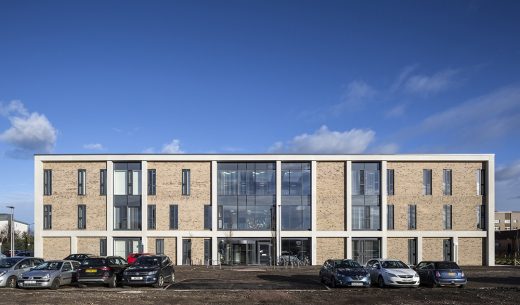 photo : Keith Hunter
Pennywell All Care Centre Building
This new building enables NHS Lothian and The City of Edinburgh Council to develop an integrated and efficient model of service delivery as part of the wider Pennywell and Muirhouse Regeneration project.
19 Mar 2018
Hawkhead Centre, Paisley, Southwest Scotland
Design: Page \ Park Architects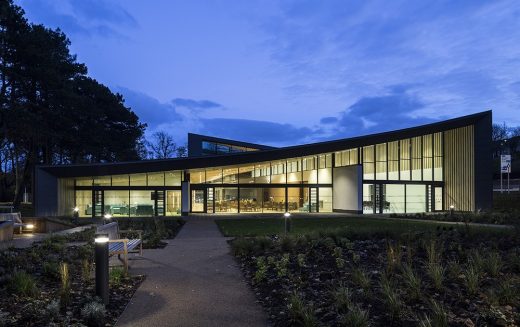 photo : Keith Hunter
Hawkhead Centre in Paisley
This new activity and support centre is for the charity Scottish War Blinded, who provide free support to ex-service men and women who have lost their sight during or after military service. Scottish War Blinded is a sister charity to Royal Blind, Scotland's largest visual impairment organisation. It has been delivered in tandem with a new Royal Blind 54-room care home on the same site, and is Scottish War Blinded's flagship facility on the west side of Scotland, building upon the success of their existing facility, the Linburn Centre, in the east.
9 Mar 2018
Inverness Justice Centre Construction News
Design: Reiach and Hall, Architects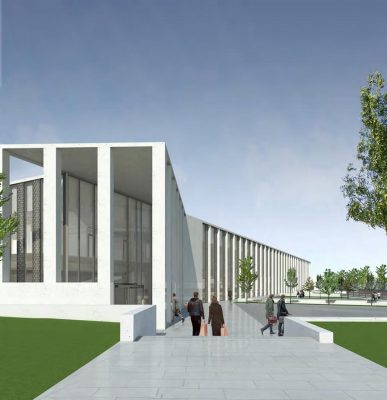 image courtesy of architects
Scotland's first purpose-built Justice Centre
Construction has begun on Scotland's first purpose-built Justice Centre. The new building is due to be completed late 2019. Specialist facilities for children and young people will be incorporated within the design.
1 Mar 2018
Muirton Living Development in Perth
Urban Union is launching a new showhome at its Muirton Living development in Perth.
The new showhome is a Coburn-style property, named after St Johnstone legend Willie Coburn, which is a two-storey, three bedroom villa. The show home reflects the high quality of homes available at the development and prices for this property type currently start from £182,000.
Muirton Living is being delivered in partnership with Caledonia Housing Association and Fairfield Housing Co-operative.
The development offers a selection of one to four-bedroom homes.
Prices currently start from £105,000 for a one-bedroom apartment and the sales office is open 7 days a week from 10am – 4pm. For more information visit www.urbanunionltd.co.uk or call 0131 343 3391.
21 Feb 2018
Stirling Purpose Built Student Accommodation
Maven & IP Investment Management build Stirling's first purpose built student accommodation
£18.2m new build development will bring 207 new beds to Stirling's underserved and over-stretched student accommodation market.
21 Feb 2018
Scottish Property Federation 2018 Annual Conference
Industry leaders, policy makers and academics make up the list of speakers at the 2018 annual Scottish Property Federation (SPF) conference, which looks specifically at the value of place-making, the people-centric approach to planning and design of public spaces, and how it is funded.
More info at Edinburgh Architecture News
Help to Buy could further boost First Time Buyer levels
21 Feb – Responding to latest UK Finance data showing first-time buyer levels at their highest for a decade, Karen Campbell, Director of Policy at Homes for Scotland, which represents organisations delivering the majority of the country's homes, said:
"First Time Buyers are the lifeblood of the housing market, triggering as they do a number of other transactions further up the property ladder so it is encouraging to see their numbers increasing. However, they still face a huge challenge in terms of the size of deposit they have to find. And this is where the new build sector can provide vital help since those eligible for the Scottish Government's hugely successful Help to Buy scheme could purchase a new home up to £200,000 with just a five per cent deposit.
"With the majority of Scots aspiring to own their own home and increasing housing supply the single most effective way to address affordability concerns, we hope the Scottish Government will listen to our call to extend the Help to Buy Scheme beyond 2018/19. Not only will this allow more people to benefit from this support, relieving pressure on other sectors, it will provide builders with the confidence and certainty they need to invest in delivering more of the homes our country needs."
20 Feb 2018
Barton Willmore appointed to support major harbour regeneration projects in Stornoway
Planning and design consultancy Barton Willmore has been appointed to support the development of two new harbour facilities in Stornoway, which will bring major economic benefits to the Isle of Lewis.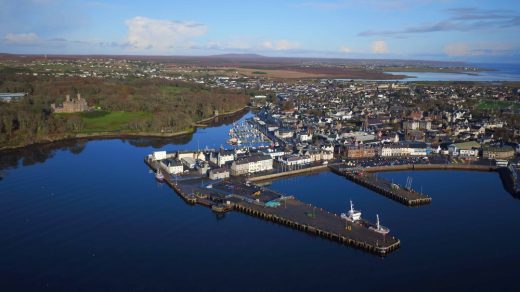 image courtesy of architects
Planning Director for Barton Willmore in Scotland, Colin Lavety, said: "We are thrilled to be playing a key role in regeneration projects of this scale, which are vital to growing Stornoway's economy and will have a significant positive impact on the Hebrides.
"We have extensive ports and harbour experience, including securing the necessary planning consent for the new Aberdeen Harbour Expansion at Bay of Nigg.
"Our appointment to work for Stornoway Port Authority is a natural progression from this work and demonstrates the diversity of our service offer."
Stornoway Port Authority chief executive, Alex MacLeod, said: "The appointment of Barton Willmore will help to realise these bold and ambitious developments. We're extremely excited to work alongside their expert team who can help us plan these projects further, and manage a thorough engagement programme with the local community who will ultimately benefit from the projects for decades to come."
Springfield Properties Interim Results
20 Feb 2018
Financial Highlights
H1 2017/18
£m H1 2016/17
£m Change
Revenue 54.8 49.6 +10.5%
Gross profit margin 15.4% 14.5% +90bps
Operating profit 3.6 3.1 +16.9%
Adjusted profit before tax* 3.1 2.6 +19.6%
Net debt 13.7 31.1 -55.9%
* Profit before tax adjusted for IPO-related costs of £0.3m
The Directors of Springfield have decided to declare an interim dividend of 1p per share.
Operational Highlights
• Sales grew across both Private Housing and Affordable divisions in H1 2017/18
• Completions increased by 6% to 280 new homes (H1 2016/17: 264 completions)
• Expanded 17+ year land bank: 10,605 plots (31 May 2017: 9,195), 41.6% with planning
• GDV of land bank: £1.8bn (31 May 2017: £1.6bn)
Private Housing
• Sales increased by 6% to £43.0m (H1 2016/17: £40.7m)
• Completions: 184 homes (H1 2016/17: 196)
• Average selling price: £234k (H1 2016/17: £208k)
• Planning consent secured during the period for 816 private plots
• Land bank: 6,895 plots (31 May 2017: 6,372)
• Significant progress on Village sites during the period with:
o strong sales at Dykes of Gray, Dundee, with sales of £17.2m to date;
o construction commencing at Bertha Park Perth and first phase of houses being released for sale; and
o planning approval received (subject to Section 75 agreement) for 870 homes to be built at Elgin South, Elgin.
• Expanded geographically for private homes with completion, post period end, of land swap with Persimmon of 62 plots in Dykes of Gray for land in Kinross with a GDV of £14m
• Post period end, submitted planning application for 3,000-home site at Durieshill, Stirling
Affordable
• Sales increased by 40% to £11.7m (H1 2016/17: £8.4m)
• Completions: 96 homes (H1 2016/17: 68)
• Average selling price: £122k (H1 2016/17: £123k)
• Planning consent secured during the period for 518 affordable plots
• Land bank: 3,710 plots (31 May 2017: 2,823)
• Receiving increasing demand from potential development partners, including local authorities and housing associations for provision of affordable housing to meet Scottish government targets of building 50,000 affordable homes by 2021
• Springfield is currently working on affordable housing proposals worth a total of £70m-£80m for delivery over the next 1-3 years
Sandy Adam, Executive Chairman of Springfield Properties, said: "I am delighted to be announcing our first set of interim results as a quoted company and reporting another period of strong growth for Springfield. We have increased our revenue from existing sites in both our Private Housing and Affordable divisions while progressing the development of our pipeline of projects. In particular, we have invested in the development of our new Villages that will accelerate our building of new homes, private and affordable, in new communities across Scotland. We now employ over 500 people and I would like to thank them for their continued support and hard work during this period where we have transitioned to becoming a public company and are about to deliver our 5,000th home since we started the Company.
"Looking ahead, we have entered the second half of our financial year with a strong order book of contracted revenues and, together with sustained market drivers including a supportive Scottish Government policy, Springfield is poised to play a significant part in the delivery of the many new private and affordable homes needed across Scotland. As a result, the Company anticipates revenue and profit for full year 2017/18 to be 5-10% ahead of market expectations."
9 Feb 2018
HALO Masterplan in Kilmarnock, Kilmarnock, East Ayrshire, Southwest Scotland
Architects: Keppie Design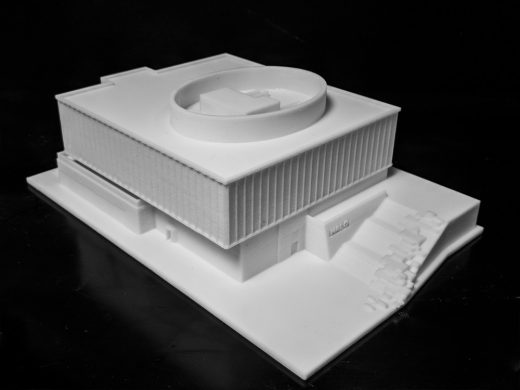 image courtesy of architects
HALO Masterplan Kilmarnock
Following the recent approval of Planning Permission in Principle for the HALO masterplan in Kilmarnock, the first phase of this ground-breaking development has now been submitted to East Ayrshire Council for detailed planning permission.
6 Feb 2018
Anderson High School, Shetland Building
St Andrews Housing
2 Feb 2018 – Eight new build apartments are proposed by Muir Walker and Pride Architects for the St Andrews conservation area. A 1960s home at 22 Lade Braes is to be demolished and replaced with properties clad in Ashlar sandstone with areas of zinc and render more contextual with adjacent ashlar stone Victorian properties.
Oriam Sports Performance Centre Building
5 Feb 2018 – Award-winning Oriam has been shortlisted for Project of the Year at the CIBSE 2018 Building Performance Awards. It is home to the governing bodies of Scottish football and rugby union, as well as a host of other sports including volleyball, squash and basketball:
Oriam Sports Performance Centre
News from Max Fordham
Mackintosh Building Immersive Exhibit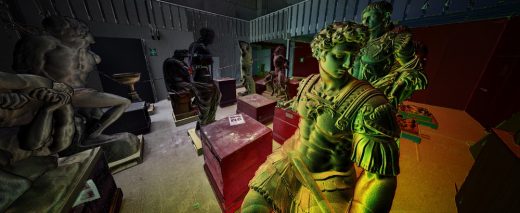 picture : 3D pointcloud image from GSA
30 Jan – The GSA has been awarded major grant by AHRC to develop Mackintosh Building immersive exhibit.
The project is one of a number of initiatives funded by the AHRC to demonstrate how collaboration between researchers and businesses can help the Creative Economy get maximum benefit from new Virtual Reality (VR)/Augmented Reality (AR) technologies:
Mackintosh Building Immersive Exhibit
Paton's Mill Site in Johnstone
30 Jan – The owners of the former Paton's Mill site in Johnstone, Renfrewshire have today announced the appointment of Bell Building Projects Limited as the main contractor to develop Paton's Mill Retail Park.
Announcing the appointment of the contractor, Claire Donaldson of 4th Consulting, Project and Asset Managers for the development said:
"The redevelopment of the Paton's Mill site offers an exciting new gateway for Johnstone's high street. As such it will offer a prime location for shoppers and we are delighted with the progress we are making to transform this site into a thriving destination.
"We're pleased to announce Bell Building Projects Limited as the main contractors. As a local, experienced team, they offer an extremely high quality of service and a strong track record in retail park construction.
"The contractor has been on site since mid-December and is working towards completion of Phase 1 of the development masterplan in Summer 2018."
Background:
4th Developments
4th Developments is a private asset, project management and development company. The company specialises in improving asset performance, transforming tired buildings and sites into destination retail and leisure, managed office and workspace for existing clients and within their portfolio.
The company has a young and dynamic team with over 40 years' combined experience and is focused on achieving high quality, creation and delivery of value and managed solutions within its managed and directly owned portfolio. The company's strong performance is achieved through close, efficient team working to the highest standards with all project partners.
Bell Building Projects Limited
Bell Building Projects was established in 1982 and has grown to become a UK market leader in project delivery within this sector, delivering high quality industrial and commercial building projects. The company undertakes new build, extension and refurbishment projects in key market sectors and deliver them through a wide range of procurement routes from traditional to turnkey design and build.
Bell Building Projects retain an internal workforce for all key aspects of the buildings constructed including steel fabrication at the workshop in Glasgow. All of the key components of steelwork, cladding and civils can be undertaken by BBP to ensure closer control on quality and time with reduced base line costs. These benefits are transferrable to our clients. The company also retains an in-house design capability to lead (where applicable) or supplement an existing design team. This has added benefit in value engineering cost pressurised projects and ensures best value is provided at all times.
More info at Glasgow Architecture News
26 Jan 2018
A New Chapter Position Statement – RIAS
23 Jan 2018
£2.4m National Lottery funding for Scottish Great Places
Nine special places in Scotland are celebrating an injection of £2.4million to help shape their future development. They are the first awards to be made in Scotland through The National Lottery's groundbreaking Great Place scheme.
Carloway Broch on the Isle of Lewis: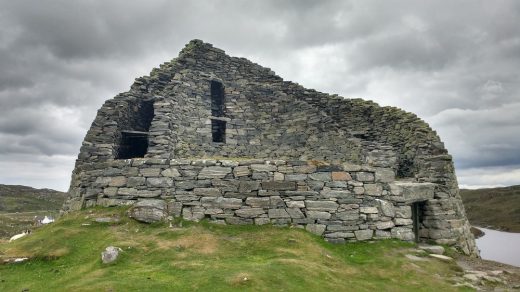 photo courtesy of Heritage Lottery Fund in Scotland (HLF)
Scottish Great Places Funding News
19 Jan 2018
Greenock's Custom House News
Riverside Inverclyde (ri), the organisation charged with delivering the economic redevelopment of Inverclyde in the west of Scotland, has concluded an agreement with international fashion and lifestyle brand, Joules on a three year lease at Greenock's recently refurbished Custom House building:
Custom House Greenock Building
8 Jan 2018
Pioneering FitHomes in The Highlands
£3m funding has been agreed for a ground breaking Highland project that could transform the lives of people with complex health needs as part of the Inverness and Highland City-Region Deal.
"The £135 million invested by the Scottish Government as part of the £315 million City Deal for the Inverness and Highland region, will continue to deliver significant long-term benefits for the city, region and Scotland as a whole.
"The Scottish Government recognises the value of this type of partnership which is why we have doubled our overall investment in city region deals in our draft budget for 2018-19."
The £315m Deal Document sets out the projects and programmes where the Scottish and UK Governments will commit investment of up to £188m, together with £127m of further investment by the Council, Highlands and Islands Enterprise and the University of the Highlands and Islands.
Led by The Highland Council, the Inverness and Highland city-region deal is a joint initiative supported by up to £315M investment, aimed at stimulating sustainable regional economic growth.
As part of the agreed programme governance, the Council is the accountable body for the majority of the City Region Deal projects. This means the Council distributes funding and monitors progress for council led projects and partner projects.
Royal Incorporation of Architects in Scotland Update
16 Dec 2017 – At their meeting last week, RIAS Council discussed the findings of the review of the RIAS governance, the vacancy resulting from the Secretary and Treasurer's departure last month, the election of the President and the next steps toward establishing a new RIAS Strategy (2018-23).
As a matter of priority for the Incorporation, RIAS Council has agreed to advertise for a new Chief Executive and has appointed Karen Stevenson, current Director of Policy and Development, in an acting role. Neil Baxter is working his notice period and has agreed the terms of his departure at the end of January. He no longer has any involvement in the day to day running of the Incorporation.
Scottish Architecture News – current page
Scottish Architecture News 2017
Location: Scotland
Scottish Buildings
Best Building in Scotland Award
Buildings / photos for the Scottish Building News 2018 page welcome