Scottish Great Places News, Fund, Awards, Scheme, Architects, Grant, Projects
Scottish Great Places Funding
Grants for Special Places in Scotland from The National Lottery: Project Awards
23 Jan 2018
Scottish Great Places Funding News
Scottish Great Places
£2.4m National Lottery funding for Scottish Great Places
NEW SCHEME PUTS HERITAGE AT THE CENTRE OF PLACE-BASED REGENERATION
Today nine special places in Scotland are celebrating an injection of £2.4million to help shape their future development. They are the first awards to be made in Scotland through The National Lottery's groundbreaking Great Place scheme.
Carloway Broch on the Isle of Lewis – A well preserved Iron Age building popular with tourists. The Heritage for People project will support tourism development through heritage across the Outer Hebrides: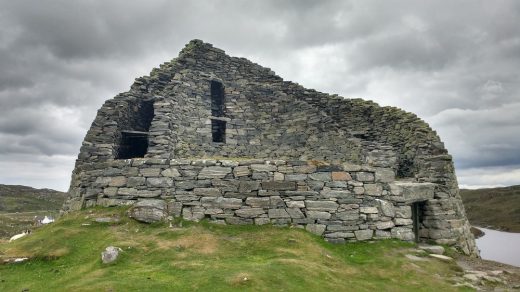 photo courtesy of Heritage Lottery Fund in Scotland (HLF)
The funding will allow the successful communities to shape projects and collaborations which explore how their unique heritage can help shape the successful future of those places and contribute to tackling wider issues such as poverty, employment, health and education.
The Great Place scheme – that the Heritage Lottery Fund has helped design, fund and implement across the UK – responds to the specific needs of Scottish places, from city and island-wide initiatives to  schemes in rural areas The funding places heritage at the heart of joined-up thinking to create better places for people to live and visit. The innovative programme will help:
Create new dynamic networks and partnerships to maximise community benefit
Devise new ways to include both the built and natural heritage in the provision of local education and health services
Address inequality, involving young people and providing opportunities for training
Research the contribution made by heritage to the local economy
Explore and pilot new ways to finance heritage organisations
Build on initiatives and partnerships already in place
Matt Hancock, UK Government Secretary of State for Digital, Culture, Media and Sport said:
"Heritage is what makes our towns and cities unique. It attracts tourists and visitors and inspires local residents and businesses. This £2.4 million investment in Scotland, funded by National Lottery players from across the UK, is harnessing that power to bring communities together, strengthening local economies, and making a real difference to people's lives across the country."
Culture Secretary Fiona Hyslop said:
"In Scotland's towns and rural areas, there are numerous buildings and places of cultural significance.  I commend the Great Place Scheme and welcome this investment from the Heritage Lottery Fund in supporting communities in the development and promotion of their local cultural assets."
Commenting on the announcement, Lucy Casot, Head of the Heritage Lottery Fund in Scotland, said:
"You can't imagine Paisley without it's pattern or Dunfermline without it's abbey. Heritage and culture gives a place a unique identity and makes it special for the people that live there. It's the roots if you like. This scheme will show how building on those roots can have a hugely positive impact on local economies in terms of health, employment and education, as well as well as instilling community cohesion and pride.
"Thanks to players of the National Lottery, we are enabling a step-change in thinking, encouraging local leaders to come together and recognise that heritage is a driving force for change."
Paisley celebrates its heritage with a parade at the Sma' Shot Day festival this summer: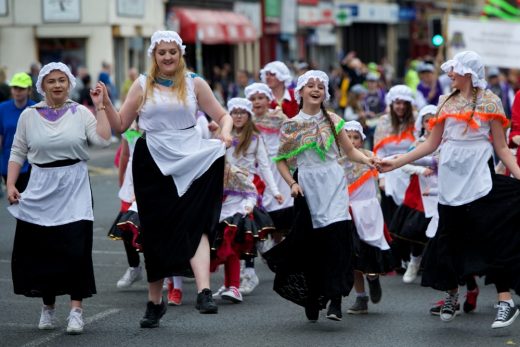 photo courtesy of Heritage Lottery Fund in Scotland (HLF)
Scottish Great Places Awards
Scottish Great Places Grants
Awards were made to:
Outer Hebrides: Heritage for People – £156,000
Stretching over 120miles, the Outer Hebrides, or Western Isles, are steeped in history and culture ranging back thousands of years. The Great Place Scheme recognises this heritage as the 'social glue' of the community and intends to use it to develop sustainable tourism and regeneration plans.
Paisley and Renfrewshire: Developing a Cultural Destination – £250,000
Building on the momentum generated by Paisley's bid to be the City of Culture 2021, the scheme will enable the new collaboration of organisations from different sectors to work together to use the area's unique culture and heritage to transform its future.
Galloway and Southern Ayrshire Biosphere: PLACE (People, Land, Art, Culture, Environment) – £150,000
Scotland's first UNESCO Biosphere is the focus of a Great Place Scheme. By raising awareness of the economic, social and ecosystem value of the natural landscape, community groups will be better equipped to make strategic decisions and realise economic development opportunities.
Glasgow: Reawakening Glasgow's Canal – £340,100
New life will be breathed into the Glasgow Canal. Synonymous with the city's industrial past, the canal is home to grass-roots and national cultural organisations, cutting-edge sporting activities and Scotland's first urban nature reserve. Following years of decline, local organisations and residents will work together to unlock the potential of the canal and create a vibrant place to live, work and visit.
Dunfermline: Lighting up the Auld Grey Toun – £288,000
Once the ancient capital of Scotland and burial place of Scotland's kings and queens, the Great Place scheme will raise the profile of the city's rich heritage amongst its residents. A renewed interest, better understanding and new resources to build capacity will imbed heritage into the future development of the city.
Badenoch Heritage: Bringing the Past to the 21st Century – £352,000
The rich heritage of the Badenoch area, once the centre of Gaelic culture in the Cairngorms, will be turned into an economic opportunity as a visitor destination within the Cairngorms National Park. More people will be involved in caring for and presenting the heritage, working creatively together to achieve a sustainable future.
Greenock: Stories from the Street – £200,000
People's relationships with Greenock's more recent past will be explored to create art installations, exhibitions and events. The project will also encourage the whole community of Inverclyde to engage with Greenock's town centre's archives, libraries and museum.
Falkirk: Landscape, industry and work – £462,300
The rich and varied heritage of Falkirk will be celebrated through investment in physical, social and digital networks while raising awareness of career opportunities in modern industry. Links with community and heritage organisations will be strengthened and art and cultural events will encourage local people to explore heritage and attract visitors.
Preston, Seton, Gosford: Heritage Connections – £249,000
With Prestonpans at its centre, the area is home to some of Scotland's earliest industrial heritage sites, vibrant local festivals, and nationally important habitats. The Great Place Scheme will allow the Local Area Partnership to explore how the area's wealth of physical, cultural, and natural heritage can help them address inequalities in and between their communities.
www.hlf.org.uk.  Follow on Twitter, Facebook and Instagram and use #HLFsupported
Scottish Great Places Funding News images / information received 230118
Location: Scotland
Scottish Architecture Designs – chronological list
A New Chapter – Scottish Architects
RIAS Awards Winners in 2017
• City of Glasgow College by Reiach and Hall Architects and Michael Laird Architects – Cathedral Street, Glasgow, Scotland – Further education college
City of Glasgow College Building + City of Glasgow College – City Campus
Dunfermline Carnegie Library & Galleries, Dunfermline (contract value: £9.1m)
Richard Murphy Architects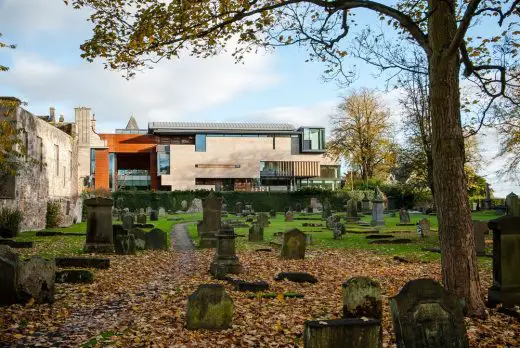 image courtesy of architects
Dunfermline Carnegie Library & Galleries Building
RIAS Awards 2016 Winners
RIAS Special Category Awards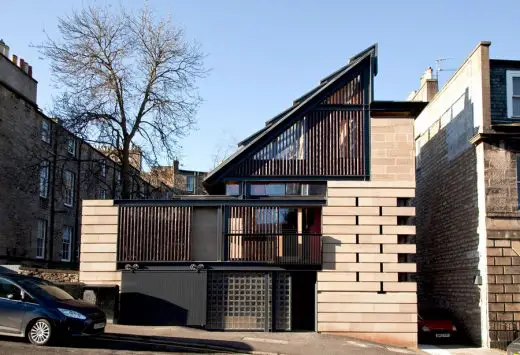 photograph from architect
Murphy House, Hart Street
RIAS Scottish Shortlist for RIAS/RIBA Awards 2016
The Pyramid Viewpoint, Dunbartonshire
BTE Architecture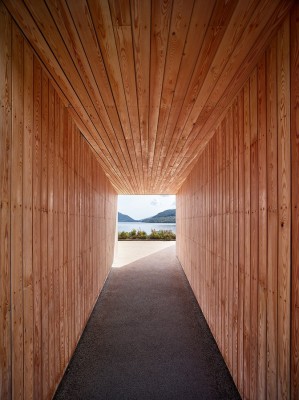 photo @ Andrew Lee
The Pyramid Viewpoint on Loch Lomond
The British Golf Museum and Café, St Andrews
Richard Murphy Architects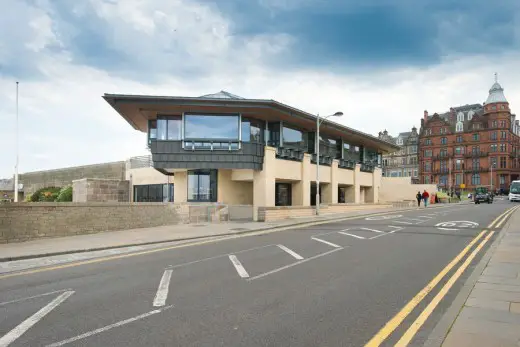 image from architect
British Golf Museum and Café
City of Glasgow College, Riverside Campus, Glasgow
Michael Laird Architects / Reiach and Hall Architects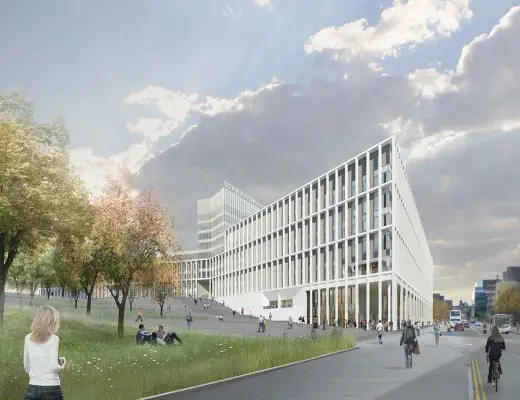 image from architect
New Glasgow City College
RIAS Andrew Doolan Best Building in Scotland Award Winner
West Burn Lane, St Andrews
Design: Sutherland Hussey Harris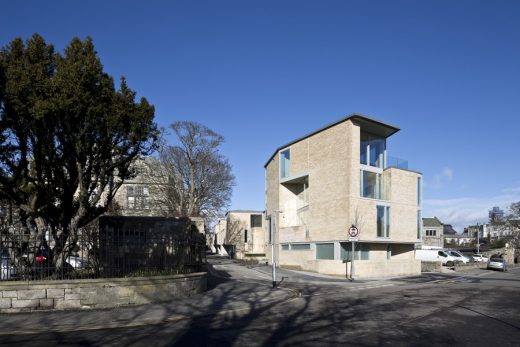 photo © Keith Hunter
West Burn Lane
Scottish Architecture – Selection
Tigh-Na-Cladach (House by the Shore), Innellan, Dunoon
Gokay Deveci, Chartered Architect
Tigh-Na-Cladach
White House, Griffipol, Isle of Coll
W T Architecture
Coll house
Comments / photos for the Scottish Great Places Funding News page welcome