Scottish Cancer Care Centre, Scottish Highlands Healthcare, Photos, Design, Building Pictures
Maggies Highlands : Cancer Care Centre Inverness
Maggies Inverness Building design by Page & Park Architects, Scotland
3 Feb 2007
Maggies Inverness
Maggie's Highlands, Inverness : Scottish Design Awards 2007 – Structural Design Shortlist: SKM Anthony Hunts
Maggie's Highlands Cancer Caring Centre – Awards:
RIAS Andrew Doolan Award for Architecture 2006: Winner
RIBA Awards 2006: Winner
Wood Awards 2005: Commercial & Public Access – Highly commended
Images from Sep 2005 © Keith Hunter: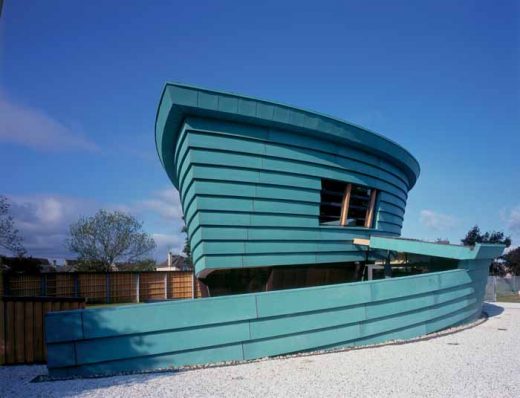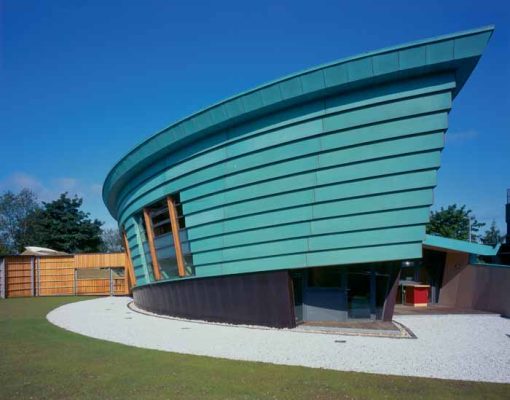 Images from late Feb 2005 incl. the Charles Jencks / Maggie Keswick-Jones trademark garden – larger images added late 03.03.05:

uncaptioned images all from Cowco
Maggies Inverness : RIAS Andrew Doolan Award for Architecture 2006 shortlist
Structural Timber by Carpenter Oak & Woodland Co. Ltd: 01575 560295
Images from Feb 2007 © Adrian Welch:
Page & Park Architects – 2004 Building information
The design for the Maggie's Centre at Inverness has been developed between Page and Park Architects and Charles Jencks as a harmonious and interconnected meeting of landscape and built form – seeking to blur the perceived boundaries between internal and external spaces, enclosure and openness.





images all from Maggies Centre 2005
In the struggle with cancer, people are forced to confront a hugely varied range of emotions, and these emotions change through time, as does the physical personal response to such emotions. Sometimes you need spaces that enclose, protect and 'hide' you from the world, whilst other times you need spaces that allow you to escape and 'take stock'. Spaces can also encourage you to go out and face the world in a positive way with a renewed 'will to live'.
The environment sculpted at Inverness between the fusion of built form and landscape seeks to provide a rich variety of interconnected secluded and open spaces. These are both internal and external, with varying degrees of enclosure and exposure to and with the surrounding 'public' spaces, thus responding to the emotional variances of people associated with cancer.
The building form and 'language' directly responds to the two vesica shaped spiral mounds, combining to create a trilogy of interconnected forms, metaphorically representing dividing living cells. The building form is conceived as in inversion of one of the mounds, with walls angling out rather than in, clad in green copper bands spiralling up and around the building, echoing the spiralling paths on each mound.
Two overlapping vesica shapes are apparent in the building composition – one creating the building enclosure, the other forming an enclosing fence to a garden space adjacent the building. This overlapping of two vesica shapes is metaphorically representative of the metaphase of cell subdivision, where two cells emerge from one. The second vesica shape begins within the heart of the building enclosure, and emerges to create an enclosing wall to the first of the surrounding 'garden' spaces.


Maggies Inverness photo from Cowco
This space with its complete enclosing wall provides opportunity for people to step outside in the context and safety of the Centre within a controlled and private environment – important 'breathing' space away from the activity of the internal spaces and rooms. This 'intimate garden' spatially sweeps around and into the heart of the Centre, but does not stop there. The space flows through the building and out into the landscaping, through the mound forms and beyond.
Andrew Bateman, Page & Park Architects, 2004



Maggies Inverness images from Page & Park Architects
Maggies Cancer Care Centres
Half of the visitors simply drop by for conversation and information. Its success is such that an ambitious building programme is currently under way, with various big-name architects designing ten centres around the country – Frank Gehry in Dundee, Daniel Libeskind in Cambridge, Page and Park Architects in Glasgow and Inverness, Zaha Hadid in Kirkcaldy.
Maggies Inverness images / information from Page & Park Architects
Maggies Inverness design : Page Park Architects
Maggie's Cancer Care Centre Buildings
Location: Inverness, Scotland
Maggies Centres
Built:
Richard Murphy, Phase I, Western General Hospital, Edinburgh, 1994
Richard Murphy, Phase II, Western General Hospital, Edinburgh, 1997-2001
Maggies Glasgow, Western Infirmary
Maggies Dundee, Ninewells Hospital
Page & Park Architects, Inverness: on site Aug 2003
Maggies Inverness Award : Scottish Design Awards 2006 – Northern Exposure
Maggies Inverness – RIBA Awards 2006
Page & Park are Glasgow Architects
Architecture in Scotland
Scottish Architecture Designs – chronological list
The Lighthouse, Glasgow
Design: Page & Park Architects
The Lighthouse
Comments / photos for the Maggies Inverness page welcome
Website: Maggie's Centres