Charles Jencks Architecture Critic, Scottish Landscape, Book, Death, Images, Design
Charles Jencks Architecture Critic
UK Architecture Critic Dies: Architectural Theory – Iconic Buildings, Maggie's Centres
14 Oct 2019
Charles Jencks Dies
Maggie's mourns loss of co-founder
14th October 2019 – Maggie's, the charity which provides free practical and emotional support for people living with cancer, is mourning the loss of its co-founder and Director Charles Jencks.
The architectural historian died last night, 13 October 2019, at his home in London. He was 80.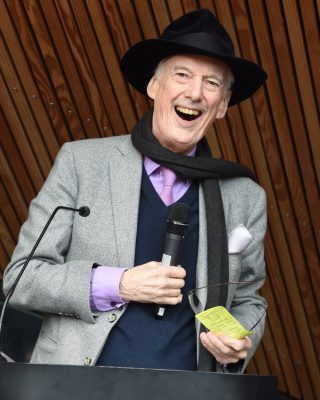 photo : Bill Fleming
Charles was a renowned cultural theorist, landscape designer, architectural historian and co-founder, alongside his late wife Maggie Keswick, of Maggie's. His best-selling books include The Language of Post-Modern Architecture, The Universe in the Landscape and The Architecture of Hope. He lectured at over forty universities around the world.
Charles' London home in Holland Park was Grade I Listed by Historic England in 2018 and plans are underway to convert it to a house archive museum called "The Cosmic House" which will be open to the public by appointment.
Landform, Edinburgh – eartworks at SNGMA, Scotland, by Charles Jencks: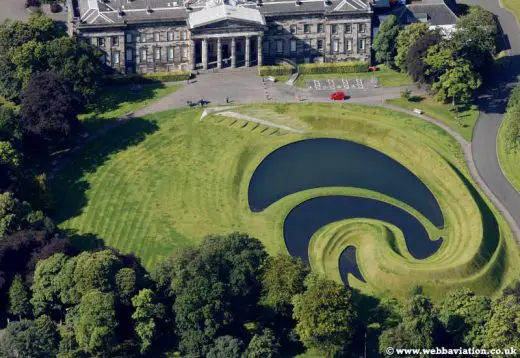 aerial photo © webbaviation
Maggie's Chief Executive Dame Laura Lee said: "It's very hard to come to terms with Charles not being here as he has been such a pivotal part in developing Maggie's vision for a different type of cancer care and turning that vision into a reality.
"Over the last 23 years his passion, drive and imagination meant that leading architects from across the world came to build these extraordinary centres; places which have benefitted thousands of people with cancer both in the UK and abroad.
"I know Charles will be remembered for his many talents, but for me personally his legacy lies in the contribution he has made to ensuring people living with cancer, and those close to them, have the best possible support.
"Maggie's would not be the organisation it is today without his tenacity, dedication and charisma.  He will be sorely missed. Our thoughts are with his family."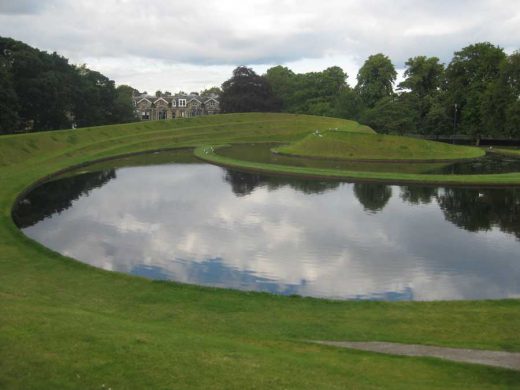 photograph © Adrian Welch
About Maggie's
Maggie's offers free practical and emotional support for all people living with cancer, and their family and friends. Built in the grounds of specialist NHS cancer hospitals, Maggie's Centres are warm and welcoming places, with qualified professionals on hand to offer a programme of support that has been shown to improve physical and emotional wellbeing.
Inspirational architecture is vital to the care Maggie's offers; and to achieve that Maggie's works with great architects like Richard Rogers, Norman Foster and the late Zaha Hadid, whose expertise and experience deliver the calm, uplifting environments that are so important to the people who visit and work in the Centres.
The first Maggie's Centre opened in Edinburgh in 1996. There are now 24 Centres across the UK and abroad, with more planned for the future. Maggie's also has an Online Centre.
Maggie's relies on voluntary donations to support and grow its network of Centres and to develop its unique, high quality programme of support. The charity's aim is to make the biggest difference possible to people living with cancer and their family and friends.
Maggie's President is HRH The Duchess of Cornwall.
For further information about Maggie's please go to www.maggiescentres.org
About The Cosmic House
Permission for change of use was granted by the Royal Borough of Kensington and Chelsea in December 2017
Building works are underway to create a new public entrance
Bookings will open in December 2020
For further information please check www.thecosmichouse.co.uk nearer this date
Charles Jencks Landscape in Edinburgh – Landform Ueda at SNGMA, Scotland
21 Oct 2013
Charles Jencks London Lecture
Talk at the Architectural Association
Garden of Cosmic Speculation at Portrack House, Scotland: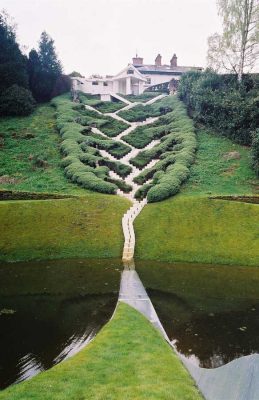 Charles Jencks Garden, Dumfriesshire, Scotland – photo from The Architectural Association School of Architecture
AA School Event
'Adhocism: The Case for Improvisation'
Thursday 24 Oct 2013 – Evening Lecture at the Architectural Association
2 Oct 2013
Charles Jencks Lecture
Pluralism the key to architects delivering the "good life" in a hectic world, says Jencks
Pluralism is one of the "deep values" of the human condition and it is the job of the architect to design for differing views, Dr Charles Jencks says in a lecture to be delivered at the Royal Institute of British Architects on Thursday, 31st October 2013.
"Happily architects are often trained to accommodate complexity and contradiction in architecture, and make a conjunctive amalgam of values. Occasionally they can find harmonies that reconcile opposites. Sometimes even, they can create positive-sum synergies which no-one imagined possible.
"But the social result of value-pluralism is to divide and segment the architectural profession into various identifiable groups, and styles, advocates and approaches," he says.
The Guest Lecture, entitled 'Irreducible Global Pluralism – Architectural Values in Conflict, Harmony and Synergy,' is to mark the publication of EAA Emre Arolat Architects: Context and Plurality, edited by Philip Jodidio and Suha Ozkan, by Rizzoli.
Emre Arolat Architects is Turkey's leading architectural practice with a distinguished track record of designing various building types, combining both Modernism's honesty of structure, expression and materials with a local Regionalism informed by context, climate and culture.
Citing various sources, from Oscar Wilde to Isaiah Berlin, Jencks argues that both architecture and cities must respond to the "stressed situation" of a 24-hour trading culture, "new only in its scale, speed and confrontations".
"Some global trade and contact have gone on for 20,000 years but never at this intensity," says the critic, in what he describes as "another gentle polemic".
What philosopher's call "incommensurable value-pluralism" provides a key to the good life.
"The good life is proven to be good not by scientists and accountants, not by trade-offs and lawyers, not by the majority or war – but by being lived, every day, in acts of commitment and inattentiveness.
"Differing views of the good life, those of the 200-plus nation-states, 5,000-plus unrepresented nations, and minorities everywhere, should be respected, but often are not," he concludes.
Dr Charles Jencks is an architectural theorist and critic, landscape architect and sculptor. Educated at Harvard and London universities, he defined Late, New and Post-Modern architecture in a series of books and lectures around the world. He also writes on 'cosmogenic' art and is the co-founder of Maggie Cancer Caring Centres.
Emre Arolat Architects
EAA Emre Arolat Architects: Context and Plurality, Edited by Philip Jodidio and Suha Ozkan, is published by Rizzoli (New York, London, Paris, Milan), October 2013. ISBN 978-0-8478-4085-4. Price £55.
2 Oct 2013
Charles Jencks at WAF 2013
Speakers, incl. Charles Jencks:







photos from Frazer Hay
World Architecture Festival Awards, Singapore
Charles Jencks Architecture
ueda – eskers on the lawn
Charles Jencks Landscape – Landform Scotland
Information from Terry Farrell & Partners, Edinburgh
New photos added 7 Aug 2010
No larger image here, click on the link below for larger photos



photo © Adrian Welch
Charles Jencks Landform, Scotland : photos
No larger image



photo © Adrian Welch
Landform – or Earthworks, or Ueda – won the Gulbenkian Prize in May 2004
This Edinburgh project by world-renowned Architecture critic and theoretician, Charles Jencks, (who lives in the Scottish Borders & London) and Terry Farrell & Partners has been followed on the site at the Scottish National Gallery of Modern Art from initial images by coevolution to site shots and announcement of grand opening: now the grass is maturing I've taken some photographs in sharp sunlight – the full-sized images are as shot, no added contrast:-
No larger images





photographs © Adrian Welch
the formal context to the grand classical building is eroded, lost…fractalised


image © Adrian Welch
the starting point, the fractal whirl – here made of pebbles
Landform is apparently influenced by Seurat's famous La Grande Jatte painting from Paris showing families relaxing amidst greenery and water in the heart of the city. Landform by Charles Jencks has proved to be very popular with many, especially children. However, Landform is occasionally closed due to the grass surface which takes some wear and tear, esp. in Winter.
Prior to Charles Jencks' Landform the SNGMA was fronted by a rather staid plane of grass which only really sparkled in Summer when housing a marquee. Jenck's interest in fractal patterns within landscape was probably developed at Maggie Keswick-Jencks' (his wife) Borders home.
Gulbenkian Foundation 'Museum of the Year' Prize: Winner – Charles Jencks: Landform, May 2004
Landform Ueda Images by Adrian Welch as above are available for a fee: three images appeared in the German manufacturer Stihl's Annual Report 2004
News excerpts re Charles Jencks' Landform:
Earthworks Complete
SNGMA lawn, Belford Rd





Ueda: images by Adrian Welch from April 2002
Charles Jencks re Ueda
The Landform Ueda earth sculpture was intended by architecture critic Charles Jencks for picnics and to display other sculpture.
06.08.02
Charles Jencks – Presentation, Edinburgh
Honorary Doctorate by Edinburgh University
To coincide with the publication in May of the new Charles Jencks book, The Iconic Building – incl. commentary on the Scottish Parliament.
Maggies Centres, UK
Charles Jencks sits on the selection committee with Maggies Centres founder Laura Lee: a key architect selected by Charles Jencks was a friend of the late Maggie Keswick-Jencks, Frank Gehry.
Charles Jencks was born in 1939 and although American has a house in London and Dumfriesshire, Scotland; the latter was the home of his wife, the late Maggie Keswick-Jencks, who sadly died of cancer. Maggie came from a notable Scottish family with links to the founding of Hong Kong.
Charles became famous for his bubble diagram of architecture and for his explanation of what Postmodernism really means within the field of architecture. He took 'Postmodern' from literarture into architecture. Later in his career he became well known for helping lead the Maggies Centres procurement and for his innovative garden design, especially his use of grassy spiral mounds. Jencks studied English Literature at Harvard and Architectural History in London
Charles Jencks – Books
The Language of Post-Modern Architecture
Towards a Symbolic Architecture
The Architecture of a Jumping Universe
Prospect Debate on Iconic Architecture
21.04.05
Charles Jencks was a speaker in Glasgow, Scotland, alongside Miles Glendinning and Austin Williams
Architecture Design
Architectural Critics
Grassy spiral mounds are to be found at the Scottish home of critic Charles Jencks near Dumfries (private), in Edinburgh and in Inverness at the Maggies Centre.
Comments / photos for the Charles Jencks page welcome