Maggie's Centres Buildings, Healthcare Architecture, Architect, Image, England, Cancer Caring Centre
Maggie's Cancer Caring Centres : New Buildings
Health Architecture UK – Architects, Designs, Locations, Links + Photos
7 Nov 2016
Maggie's Centres Architecture
Maggie's Centres Buildings News
BBC Two's Building Hope: The Maggie's Centres TV programme last night featured all Maggie's Centres.
There were some tantalising glimpses of the new one emerging at the Forth Valley designed by Garbers & James, a London-based architectural practice who realised the design of Maggie's Swansea by architect Kisho Kurokawa in 2011.
A recent building:
Maggie's Cancer Centre in Manchester, The Christie Hospital, Manchester, England – 27 Apr 2016
Design: Foster + Partners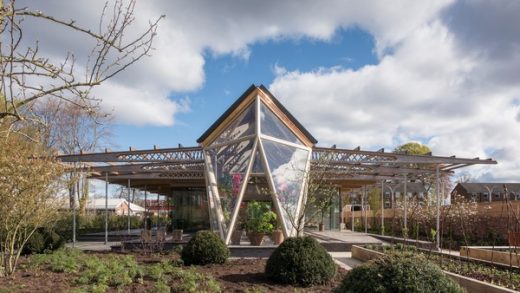 photo © Nigel Young / Foster + Partners
A new building design:
Maggies Centre in Oldham, North Manchester, England – 27 + 26 Sep 2016:
Design: dRMM architects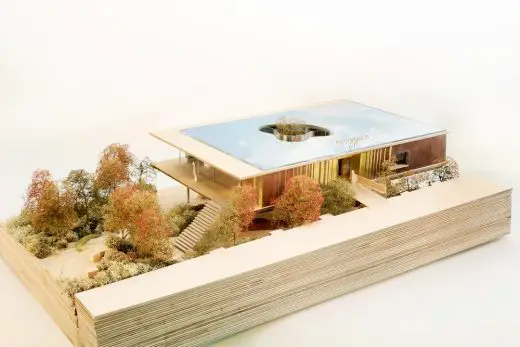 photo from architects
Construction starts on the world's first permanent building created using hardwood cross-laminated timber (CLT).
Maggie's Centres
Maggie's Centre Buildings + Designs with Architects, alphabetical:
Maggie's Aberdeen, Scotland
Design: Snøhetta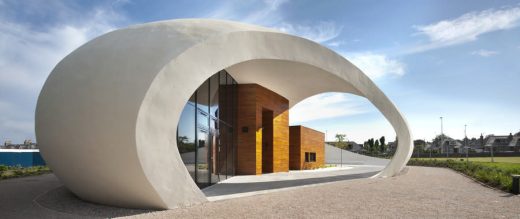 photo : Philip Vile
Maggie's Cardiff, Velindre Cancer Centre in Cardiff, Wales
Design: Dow Jones Architects
Maggies Cotswolds, Cheltenham, England
Design: MJP Architects – MacCormac Jamieson Prichard



photo © Peter Durant
Maggies Dundee, Ninewells Hospital, Dundee, Scotland
Design: Frank Gehry
Maggies Edinburgh, Western General Hospital, Edinburgh, Scotland
Design: Richard Murphy Architects
Maggies Fife, Fife, Scotland
Design: Zaha Hadid Architects
Maggie's Gartnavel, Glasgow, Scotland
Design: Rem Koolhaas, OMA / OMA
Maggies Glasgow, Western Infirmary, Glasgow, Scotland
Design: Page\Park Architects
Maggies Highlands, Inverness, Scotland
Design: Page\Park Architects



photo © Keith Hunter
Maggies Lanarkshire, The Elizabeth Montgomerie Building, Monklands Hospital, Airdrie, Scotland
Design: Reiach and Hall Architects
Maggies London, London, England – Stirling Prize winner 2009
Design: Rogers Stirk Harbour + Partners



photo : Speirs and Major Associates / James Newton
Maggie's Manchester, The Christie Hospital, Manchester, England
Design: Foster + Partners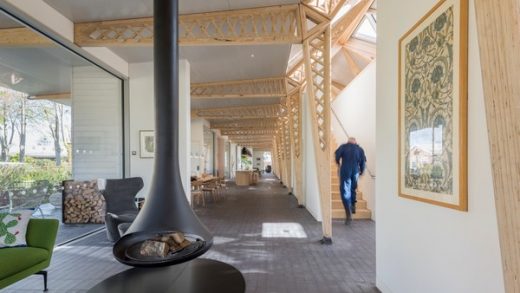 photo © Nigel Young / Foster + Partners
Maggie's Nottingham, Nottingham, England
Design: CZWG Architects



image © Maggie's Centres
Maggie's Northeast, Newcastle, England
Design: Edward Cullinan Architects ; previously by Foreign Office Architecture



photograph : James Newton
Maggies Centre in Oldham, England
Design: dRMM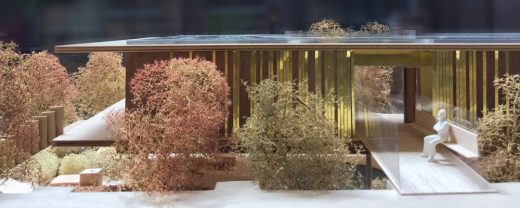 image from architect
Maggies Oxford, England
Design: Wilkinson Eyre Architects



image © Maggie's Centres
Maggie's Southampton, England
Design: AL_A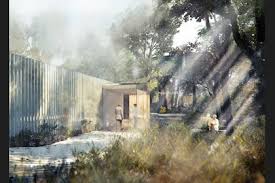 image courtesy of AL_A, architects
Maggie's Wales, Swansea, Wales
Design: Kisho Kurokawa Architect & Associates with Garber & James



photograph : Thore Garbers
Maggie's Centres Architecture Archive
Maggie's Cancer Caring Centre expands and announces plans for next seven Centres
11 May 2010
Following a remarkable fundraising campaign, Maggie's Cancer Caring Centres – the UK leader in the field of psychosocial support for people with cancer – is delighted to unveil plans for the next seven centres, all due for completion within the next two years.
Maggie's Southwest Wales design by late Dr Kisho Kurokawa, ArBITAT architects



image © Maggie's Centres
Each available to an average population of 2 million people these future centres, which will include projects by Pritzker Prize winning architect Rem Koolhaas of OMA, and other notable architects such as Sir Richard MacCormac and Chris Wilkinson of Wilkinson Eyre, mark the crucial next stage of a network of centres throughout the UK and showcase the unique and ongoing collaboration between Maggie's and some of the world's leading architects.
Maggies Gartnavel design by Rem Koolhaas / OMA:



image © Maggie's Centres
Maggie's Gartnavel, Glasgow by OMA
Maggie's Gartnavel, Glasgow – OMA – Summer 2011
Landscape designs by Lilly Jencks
Rem Koolhaas of OMA, architects of the Glasgow Centre said, "We accepted the commission with eagerness. I don't think it should be a building that challenges people to live better; rather it should have a direct effect on the people who use it. The space we have is great because it is linked to the existing hospital, but far enough away from it for us to create another world. It has both privacy and a central position; both sheltered and slightly exposed. The Centre will have a holistic feel and hopefully will provide respite and comfort for people."
An estimated 1 in 3 people will develop cancer in their lifetime and medical advances mean that more people are living longer with a cancer diagnosis. There is increasing recognition of the benefits achieved through the integration of emotional and psychological support, and information provision, with the clinical and palliative care given to cancer patients. Maggie's Cancer Caring Centres aim to equip people with the tools to build a life beyond cancer through access to this information and support.
In 2009 Maggie's opened their doors to over 79,000 people, 67% of whom were cancer sufferers and 33% family and friends of someone with cancer. By 2015 Maggie's aim to be based on almost half of Britain's NHS cancer centre sites with twenty-three centres open or in development across the UK, and each endeavouring to reach on average 40% of the local cancer population.
By expanding its network of centres Maggie's will ensure that wherever people are diagnosed with cancer they are able to access the support needed to help them cope with the emotional and psychological consequences of the disease.
The vision of Maggie's Centres and all past and future centres will be celebrated in The Architecture of Hope, a new book by Charles Jencks and Edwin Heathcote published by Frances Lincoln.
Maggies Nottingham design by CZWG:



image © Maggie's Centres
Maggies Centre : Buildings Information incl images
Maggie's Cancer Caring Centres
Founded in 1996 Maggie's has been pioneering a new concept of cancer support in the UK providing help, information and guidance to all people personally affected by cancer, as well as friends and family, all free of charge. To date seven Centres have been designed by leading architects including Richard Murphy, Page and Park, Frank Gehry, Zaha Hadid and most recently Richard Rogers, who's London Centre received the RIBA Stirling Prize in 2009.
Built in the grounds of NHS hospitals in Edinburgh, Glasgow, Dundee, the Highlands and London the projects are based on the vision of the late Maggie Keswick-Jencks who, whilst being treated for cancer at the hospital, identified the need for cancer patients to access emotional and psychological support.
Maggie's Centres work closely with the oncology units at the NHS hospitals where they have centres to ensure that the information and support it provides complements the treatment given in the hospital. Indeed, Maggie's has developed its network of Centres throughout the UK upon the request of NHS Trusts and Health Boards.
On average, each centre costs £1million to build and a further £350,000 a year in running costs. Maggie's relies completely on voluntary donations and the future seven centres have been supported by individuals, community groups, trusts, and statutory and corporate donations. Maggie's would like to thank everyone who has supported this impressive fundraising campaign.
Maggie's Centres: www.maggiescentres.org.uk
Location: UK
Healthcare Buildings
Maggie's Cancer Caring Center Building in Aberdeen – background information
Maggies Centre Building London – further information
Maggie's Gartnavel Building – background information
Teenage Cancer Trust Unit, Cardiff
ORMS Architects



image from architect
Teenage Cancer Unit Cardiff
Comments / photos for the Maggies Centre Buildings page welcome