Best Building in Scotland Awards Shortlist, Doolan Prize Winner 2011, Photos, Scottish Architects
RIAS Best Building in Scotland Award – Architecture
Andrew Doolan Prize, Scotland, UK – Shortlist News
18 Nov 2011
The National Museum of Scotland in Edinburgh
Scoops UK's Richest Architecture Prize
RIAS Andrew Doolan Award for Architecture
At a ceremony in the Scottish Parliament last night, The National Museum of Scotland in Edinburgh by Gareth Hoskins Architects Ltd has been awarded the RIAS Andrew Doolan Best Building in Scotland Award 2011. From a shortlist of 13 projects the judges selected The National Museum of Scotland as a clear winner. The award was presented by the Cabinet Secretary for Culture and External Affairs, Ms Fiona Hyslop MSP with Mrs Margaret Doolan Hon FRIAS (the late Andrew Doolan's mother).
RIAS Andrew Doolan Award Winners: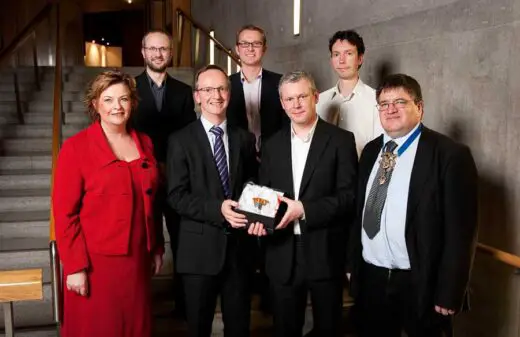 photo © Malcolm Cochrane
Ms Hyslop, commented;
"Scotland has an international reputation for creativity and innovation, enhanced by the outstanding quality of Scottish architecture. This excellence is demonstrated by the record number of schemes shortlisted for this year's RIAS Doolan Award, which inspires ever-higher standards of design by celebrating and recognising the very best of architecture in Scotland. The transformation of the National Museum of Scotland is truly breathtaking, making this project a worthy winner of the Award."
National Museum of Scotland



photo © Adrian Welch
The judges citation for the winning building highlights the 'big moves' of opening up new street level entrances, excavating the previous basement store as new gallery spaces and the ingenuity of the building's new circulation which draws visitors up and through its superbly restored spaces.
The winner of this year's RIAS Andrew Doolan Best Building in Scotland Award receives a specially commissioned gold lined silver tumbler by internationally renowned Scottish Jeweller, James Brent Ward and a cheque for £25,000. This makes it the richest architectural prize in the UK and one of the most significant awards in Europe. The award is generously supported by the late Andrew Doolan's family and by the Scottish Government.
The full judges citation for the winning project reads:
"Prior to its refurbishment the Museum, opened in 1866, had been adapted and extended through the decades. Accretions, partitions and obstructions compromised the building and the enjoyment of its nationally important collections. The completion of the second phase of the masterplan has expanded the gallery spaces, restored much of the original architect's intent and significantly improved access and visitor facilities.
The big moves are the opening up of the façade to create new accessible street level entrances, the excavation of the existing basement stores area to form a new entrance hall with shop and café and new staircases and lifts to the refurbished "grand gallery".
Further opening up of previously partitioned-off routes, new escalators and the reclamation of long vistas draws visitors up and around the dramatic upper galleries. The original spatial quality of the building has been brilliantly recovered with a skilful play of light and movement through its spaces. All this is achieved with such subtlety that even some expert critics have failed to fully comprehend the care which has gone into its execution. This transformed museum now fully merits its national epithet. This sensitive and intelligent adaptation enhances both the building and the objects displayed within it."
The building was selected from a strong shortlist which represented a comprehensive range of building types. The judges felt that seven projects merit a Special Mention. These are:
10 Pearce Street, Govan, Glasgow
Austin-Smith:Lord LLP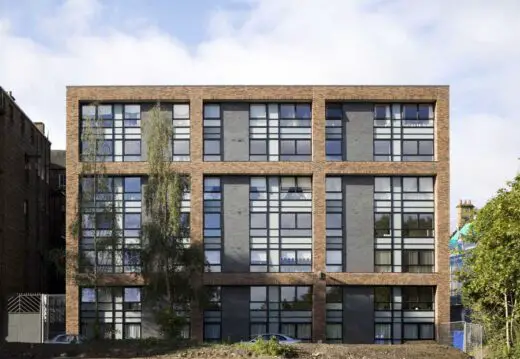 photo © Keith Hunter
Grödians, Shetland Isles
Richard Gibson Architects
Hillcrest Housing Association HQ
Nicoll Russell Studios
Hillhead Primary School, Glasgow
jmarchitects Ltd


photo from architects
The Houl, south west Scotland
Simon Winstanley Architects



photo © Andrew Lee
Linlithgow Burgh Halls, West Lothian
Malcolm Fraser Architects
Phoenix Flowers, Glasgow
7N Architects and RankinFraser Landscape Architecture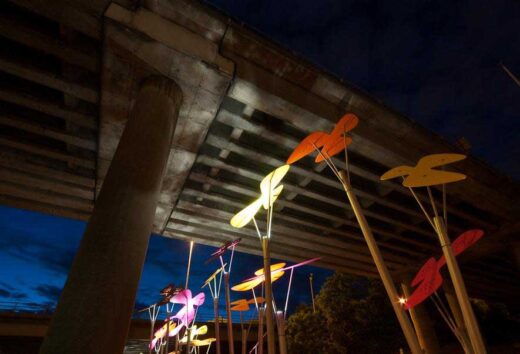 photo © Tom Manley
21 Oct 2011
Andrew Doolan Prize – Best Building in Scotland 2011
Andrew Doolan Prize Shortlist
10 Pearce Street, Govan, Glasgow
Austin-Smith: Lord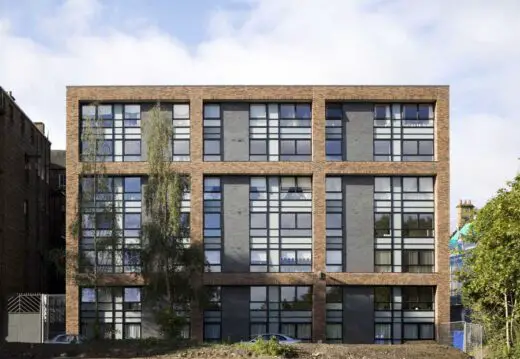 photo © Keith Hunter
Pearce Street Govan
'This project breaks the mould for housing association developments. Part of the regeneration of central Govan, it sets a new standard.'
The Brochs of Coigach, north west Scotland
SBA Architects
'In significant contrast to the trend for kit housing, these homes blend into their setting, built into the landscape with great care.'
Centre for the Scottish War Blinded, Kirknewton, central Scotland
PagePark Architects



picture from architect
Centre for the Scottish War Blinded
'The legible plan is crucially important to the building's users but the spaces within are far removed from the institutional norm.'
Dundee House
Reiach and Hall Architects
'The adaptation of this large existing building is imaginative and engaging, giving the Council a very friendly public face.'
Glentress Peel Visitor Centre, southern Scotland
Gaia Architects



photo : Michael Wolchover
'The three buildings on this site create new public, staff, research and educational facilities which are wholly appropriate to their special rural setting.'
Grödians, Shetland Isles
Richard Gibson Architects
'A careful yet engaging new addition to the Lerwick landscape, understated in form but highly appealing – these new homes brighten the landscape.'
Hillcrest Housing Association HQ
Nicoll Russell Studios
'An impressive achievement for the budget, this new building is human in scale and an inspiring workplace.'
Hillhead Primary School, Glasgow
JM Architects


photo from architects
Hillhead School
'Combining a school with publicly accessible facilities, this building is very contemporary and very welcoming.'
The Houl, south west Scotland
Simon Winstanley Architects



photo © Andrew Lee
The Houl
'Demanding some of Scotland's finest views, this unique sustainable home utilises traditional materials with great dexterity.'
Linlithgow Burgh Halls, West Lothian
Malcolm Fraser Architects
'Crucially important to the town, this re-use of a key historic building brings new life and vitality – an inspiring dialogue with the building's history.'
National Museum of Scotland, Edinburgh
Gareth Hoskins Architects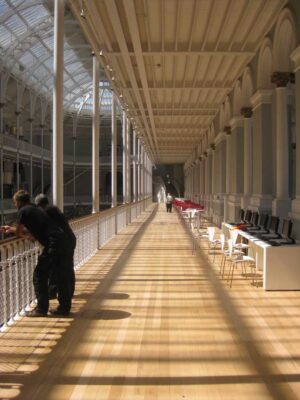 photo © Adrian Welch
National Museum of Scotland
'The "big moves" here are deftly delivered. This adaptation is sensitive and intelligent, enhancing both the building and the objects displayed within it.'
Phoenix Flowers, Glasgow
7N Architects and RankinFraser Landscape Architecture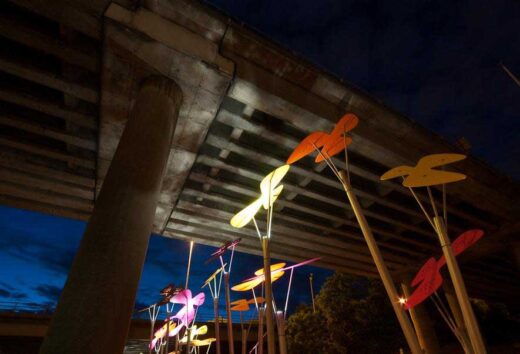 photo © Tom Manley
Phoenix Flowers
'This highly unusual work of architecture enlivens a previously unpleasant public space and infuses it with joy.'
University of Edinburgh Business School, Edinburgh
LDN Architects


image : Paul Zanre
Edinburgh University Business School
'The adaptation and extension of this important existing building is delivered with great care. However the interventions have their own distinct personality.'
Andrew Doolan Best Building in Scotland Award : current page
Not shortlisted for the 2011 Andrew Doolan Award:
Coll House



photo : Ross Evans
Coll Property, Isle of Coll, west Scotland : wt architecture
Riverside Museum Glasgow



photograph : Hufton + Crow
Riverside Museum Glasgow : Zaha Hadid Architects' major building in Scotland
McManus Galleries, Dundee
Page Park Architects



photo © Andrew Lee
Raasay Community Hall, Isle of Raasay
Dualchas Building Design



photo © Andrew Lee
Andrew Doolan Best Building in Scotland Past Winners
Best Building in Scotland Award 2009
Small Animal Hospital Glasgow : winner



photo © Andrew Lee
RIAS Andrew Doolan Best Building in Scotland Award 2008 Full Information
Andrew Doolan Best Building in Scotland Award 2008
Andrew Doolan Doolan Best Building in Scotland Award 2007
Location: Edinburgh, Scotland, UK
Architecture Awards
Contemporary Scottish Architectural Designs
Saltire Awards News
Saltire Awards : shortlist
Scottish Design Awards
Scottish Design Awards winners
Comments / photos for the Best Building in Scotland Awards page welcome