Constantines Arch Rome, Photos, Historic Roman Gateway Building, Italy, Location, Picture
Constantines Arch, Rome
Roman building photographs, Italy, Europe: Historic Italian Architecture
Arco di Constantino, Roma
Constantine's Arch
–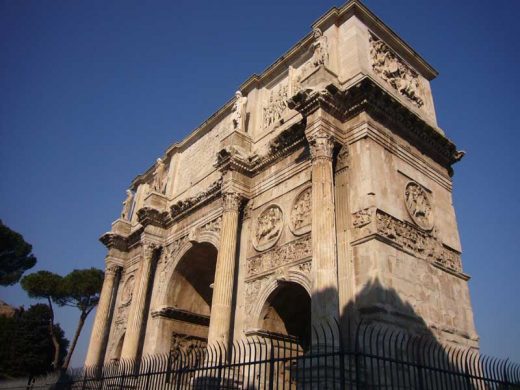 Triumphal arch locted between the Colosseum and the Palatine Hill. The ancient structure was erected by the Roman Senate to commemorate Constantine I's victory over Maxentius at the Battle of Milvian Bridge in 312.
Arco di Constantino architettura:
Dedicated in 315, it is the largest Roman triumphal arch. The three bay design with detached columns was first used for the Arch of Septimius Severus in the Roman Forum (which stands at the end of the triumph route) and repeated in several other arches now lost.
Location: centre of the city, just south of the Colosseum
Though dedicated to Constantine, much of the sculptural decoration consists of reliefs and statues removed from earlier triumphal monuments dedicated to Trajan (98–117), Hadrian (117–138) and Marcus Aurelius (161–180). The location, between the Palatine Hill and the Caelian Hill, spanned the ancient route of Roman triumphs (Via triumphalis) at its origin, where it diverged from the Via sacra.
More architecture details for this important Roman structure are very welcome please.
Arch nearby, south towards Circus Maximus:



Location: Arco di Constantino, Rome, Italy, southern Europe
Architecture in Rome
Rome Architecture Designs – chronological list
Rome Architecture Walking Tours
Roman Buildings : Traditional architecture
Palazzo Venezia
Palazzo Venezia, Piazza Venezia
The Palazzo Venezia, formerly Palace of St. Mark, is a palazzo (palace) in central Rome, Italy, just north of the Capitoline Hill. The original structure of this great architectural complex consisted of a modest medieval house intended as the residence of the cardinals appointed to the church of San Marco.
Colosseum
Colosseum
The Colosseum, is an oval amphitheatre in the centre of the city of Rome, Italy, just east of the Roman Forum. It is the largest ancient amphitheatre ever built, and is still the largest standing amphitheater in the world today, despite its age.
Construction began under the emperor Vespasian (r. 69–79 AD) in 72 and was completed in AD 80 under his successor and heir, Titus (r. 79–81). The Colosseum is built of travertine limestone, tuff (volcanic rock), and brick-faced concrete.
City of Sun, near Via della Lega Lombarda & Tiburtina Station, East Rome
Architects: Labics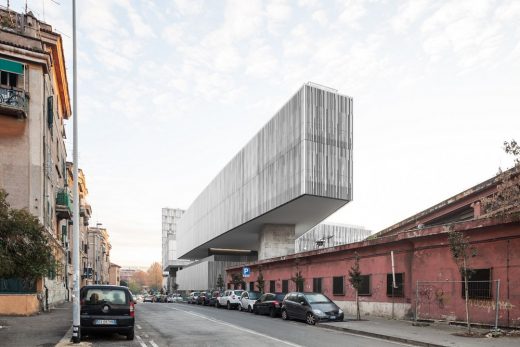 photograph : Marco Cappelletti
City of Sun in Rome
This project is part of the Municipality of Rome's initiative to redevelop a number of transport depots within the city in conjunction with local public transport authority ATAC. It involves the regeneration of a neighborhood with a weak identity but with good growth potential due to its location at the edge of the city centre.
Aura Valle Aurelia Shopping Centre
Architects: Design International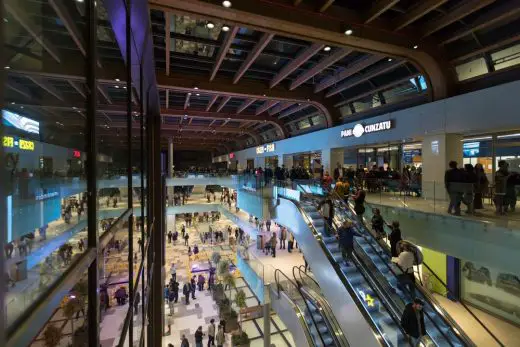 image courtesy of architecture office
Aura Valle Aurelia
Hawkers Rome Store, near Plaza de España
Architects: CuldeSac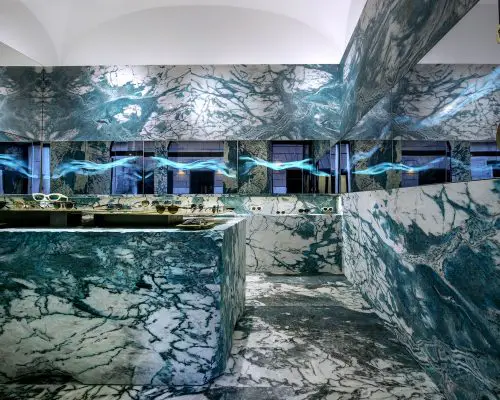 photograph : Luigi Filetici
Hawkers Rome Store
Constantines Arch Rome images © Adrian Welch : available upon request: photos 2816×2112 pixels
Comments / photos for the Constantine's Arch Roman building page welcome
Website: Visit Rome