Rome Walking Tours, Italian Building Guides, Architectural Walks Italy, Architects Travel
Rome Architecture Tours : Guides
Architecture Guides Italy – Exclusive Italian Building Walks tailor made for Groups
post updated 2 Dec 2021
Rome Walking Tours
Contact us for your walking guide in Italy on isabelle(at)e-architect.com
Rome Architecture Tour: Exclusive Guided Walks
Our Rome guided tours are all tailored to suit each booking. e-architect don't allow individuals to join established bookings. Our guided tours in the capital of Italy are all exclusive to each client.
The Jubilee Church building design by Richard Meier & Partners Architects (USA):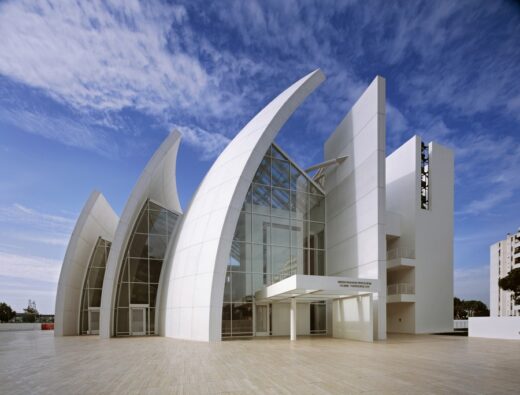 photo : Scott Frances-ESTO
If you are planning an architectural trip in Italy please contact Isabelle at e-architect.
Visits could be combined with Florence, or further afield with Venice and Milan – we have architectural guides in all three cities.
The New Rome / EUR convention Hall and Hotel 'the Cloud' by Italian architects Studio Fuksas: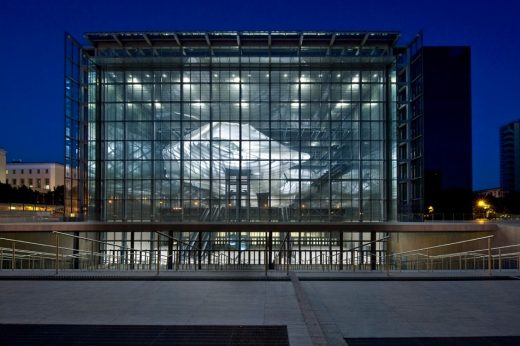 photograph © Moreno Maggi
Rome Architecture Introduction
Rome is the capital city of Italy and is located roughly in the middle of the country, on the west coast.
The Pantheon dome: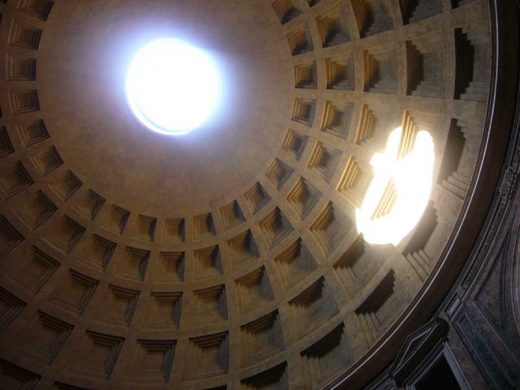 photo © Adrian Welch
Famous Roman buildings include The Pantheon, St Peter's Basilica + St Peter's Square + Sistine Chapel, The Colosseum Building, St John Lateran – Santa Giovanni in Laterano, Santa Maria Maggiore, the Gesù church, Hadrian's Mausoleum and the stunning San Carlo alle Quattro Fontane. These Roman buildings can all be visited on our Rome Architecture Tours.
New BNL-BNP Paribas Real Estate Group headquarter, Rome by 5+1AA Alfonso Femia Gianluca Peluffo srl: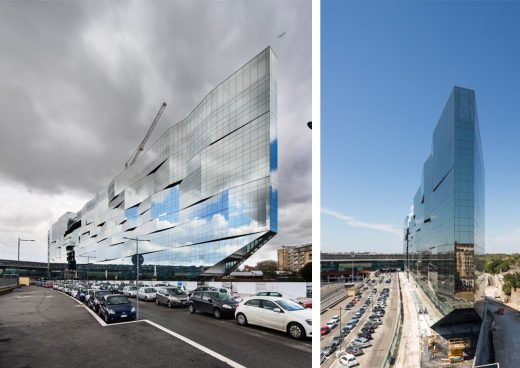 photo © Luc Boegly
Key contemporary Roman buildings include MAXXI : National Centre of Contemporary Arts Rome, Palazzetto dello Sport, Ara Pacis Museum, Music Complex Rome, University of Rome – Senate Building, Piazza Augusteo, Jubilee Church and the Music Auditoria.
Famous architects with buildings in the Italian capital city include Zaha Hadid Architects, Richard Meier Architects, Renzo Piano Building Workshop, Massimiliano Fuksas Architects, Basil Spence, ODBC and Luigi Moretti.
Celebrated Roman architects from the past include Bernini, Michelangelo, Borromini and Carlo Maderno.
MAXXI building by the late architect Zaha Hadid: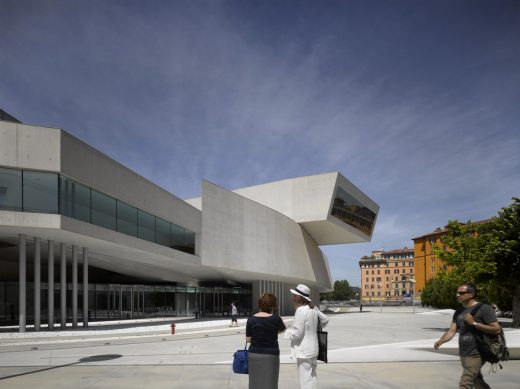 photo : Richard Bryant
Rome Architecture Walking Tours
Rome Architectural Tours can focus on traditional buildings, contemporary buildings or both. The Rome Architecture Tour can be an introduction to the city's main buildings or matched up with your group's interests.
We are more than happy to accommodate your interests on our Rome Architecture Tours. e-architect can advise on geographical areas and building types ahead of your tour. For example a group interested in contemporary Rome office buildings, or historical Roman houses, could be provided with information allowing a tour itinerary to be agreed before their visit to Italy.
Visitors are typically met at the starting point of their architectural walking tour.
Rome Architecture : contemporary buildings to visit in the city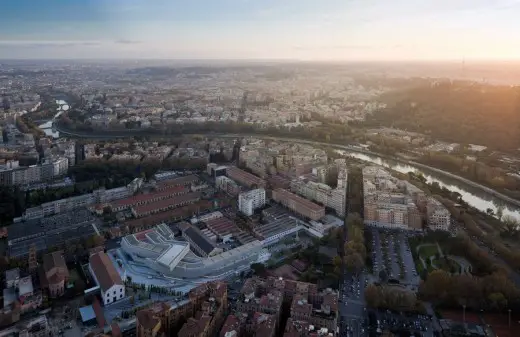 photo : Iwan Baan
Rome Walking Tours
Contact Isabelle Lomholt to arrange your Roman architectural tour on isabelle(at)e-architect.com / mob. +44 (0)7952 149814
Rome Buildings : Traditional architecture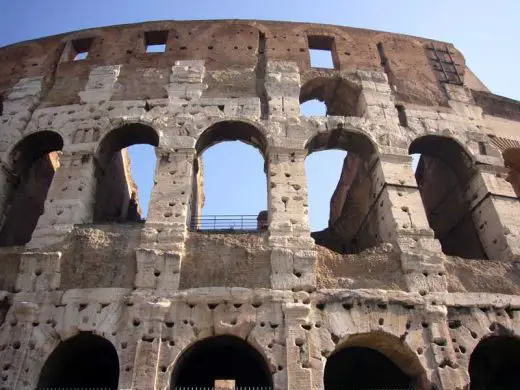 photograph © Adrian Welch
Recommendation, 21 Jan 2014:
Sent: 20 January 2014 23:46
Dear Isabelle
You do seem to have the knack in employing charming, knowledgeable and talented people to represent you in these tours.
The guide, like the one you provided in Barcelona, was a resounding success from the initial preparation to our meeting and tour. Paolo helped us select our hotel location, plan our "free time" and gave us so much information beforehand based on Laura's preferences of looking at past present and future. He also helped us find the best choices for eating and drinking in the evening.
His knowledge of not just the architecture but also the history and layout of Rome helped us to understand much more than if we had simply visited as tourists. He put a great deal of effort into the planning of our walks and we gained a great deal of insight as a result.
Bottom line is that we wholeheartedly recommend Paolo as a representative of e-architect.
regards,
Chris
Architecture Tours
e-architect also organise architecture walking tours in other Italian cities such as Florence, Milan, Venice and Palermo. We also cover other European capitals such as Berlin, Copenhagen, London and Paris.
Location: Rome, Italy, southern Europe
European Building Tours – Selection
Barcelona Architecture Walking Tours
Recent Rome Buildings
An interesting new development in the suburbs:
City of Sun, near Via della Lega Lombarda & Tiburtina Station, East Rome building design by architects Labics – built in 2018: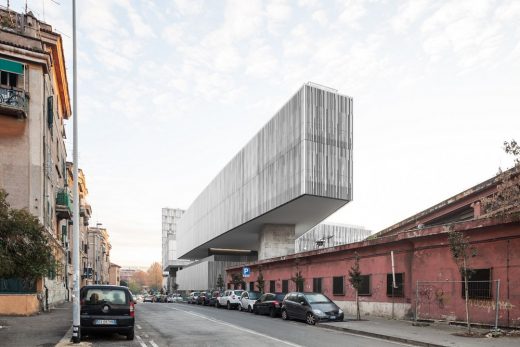 photograph : Marco Cappelletti
City of Sun in Rome – a winning architectural competition entry for the redevelopment of an urban area
An Italian classic:
Stadio Flaminio building design by Italian architect / engineer Pier Luigi Nervi – built in 1960: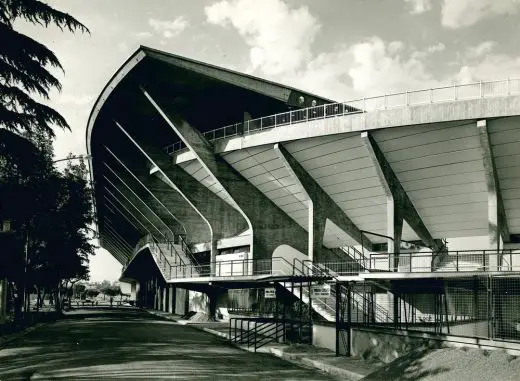 photo © Oscar Savio. Courtesy Pier Luigi Nervi Project Association, Brussels
Stadio Flaminio Rome Building
Museum of Contemporary Art Rome building designed by ODBC, Paris:
Museum of Contemporary Art Rome
Rome Architecture Guide : photos of major Roman buildings
British Embassy building designed by Scottish architect Basil Spence:
British Embassy Building
Italian Architecture
Comments / photos for the Rome Building Tours page welcome