Lissett Homes The Warren, Abersoch Holiday Lodges, Welsh Seaside Houses, Gwynedd vacation
Holiday lodges at The Warren in Abersoch
Llanengan Holiday Lets by Lissett Homes, Wales: Welsh Coast Houses
24 May 2011
Weathering the coast: Advanced membranes from DuPont offer a holistic solution to air-tightness and moisture control for new holiday homes from Haulfryn
Location: Abersoch, Llanengan, Gwynedd, north west Wales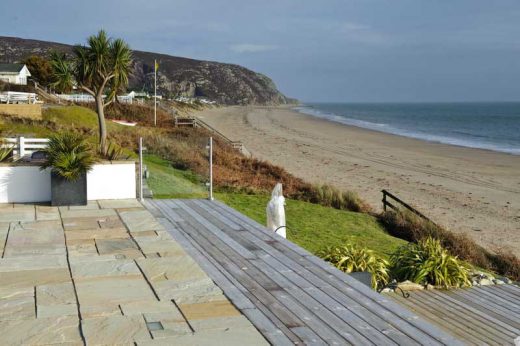 photographs courtesy of Lissett Homes. All rights reserved
Holiday lodges newly built by Lissett Homes at The Warren in Abersoch
May 2011 – The romance of the beach house is undeniable, but even the most beautifully constructed designs, such as those by Lissett Homes for a seaside leisure park operated by The Haulfryn Group, must withstand the harsh realities of a coastal climate. Furthermore in today's cultural climate of sustainability, quality construction must also aim for both optimal energy-efficiency and indoor comfort.
So the newest holiday homes at The Warren in Abersoch benefit from an air-tight, thermally efficient, weather-proof envelope courtesy of advanced membranes from DuPont Building Innovations. In fact, the superior specifications for these ultra-desirable chalets exceed the regulations for holiday home construction, aiming for the highest standards of sustainability, reliability and comfort.


photographs courtesy of Lissett Homes. All rights reserved
The 'holistic' overview was for the building envelope to work in harmony with features such as a heat recovery system and this involved the optimising combination of DuPont™ Tyvek® breather membranes (in two different types) and DuPont™ AirGuard® air and vapour control layer to create a durable barrier against wind, water and interstitial condensation. The lightweight timber frame structures were assembled and sealed off site and delivered to Haulfryn ready for smart interior finishing and external landscaping.
DuPont™ AirGuard® Reflective AVCL fitted off-site by Lissett Homes:



photographs courtesy of Lissett Homes. All rights reserved
DuPont™ Tyvek® Enercor Roof and DuPont™ Reflex Wall (both metallised for high reflectivity and very low emissivity) offer excellent protection against radiant heat loss in winter and excessive gains in summer, and are reliably water-tight while allowing any trapped interstitial vapour to diffuse through the unique membrane structure. In partnership with DuPont™ AirGuard®, a metallised layer with even lower emissivity which prevents air and vapour leakage from the interior into the structure, these products significantly enhance the integrity and thermal performance of a building.
Andy Prescott, Head of Operations at Lissett Homes, comments, "Using this advanced combination of membranes within the construction for this type of build is a first and will create a lodge that outperforms most new build houses, while creating a stylish, efficient, low-carbon building with all the luxuries one would expect at such a prestigious site as The Warren."
While most of this technology will be out of sight for relaxing holiday-makers, their benefits, not just in terms of greater enjoyment of the property, but also for long-term economy and sustainability, will play a significant contribution to this coastal leisure park development.
DuPont™ AirGuard® Reflective AVCL fitted off-site by Lissett Homes:


photographs courtesy of Lissett Homes. All rights reserved
For commercial information about DuPont™ Tyvek® please visit www.tyvek.co.uk or call 01275 337 660 in the UK and 087 922 2740 in Eire. An introduction to the overall DuPont offer for architecture, interior design, building and construction markets is available at www.buildingonscience.dupont.com.
About Lissett Homes
Lissett Homes is a leading manufacturer of Park Homes and Leisure Homes. For thirty years they have been developing quality custom built leisure accommodation in an extensive range of styles, which demonstrate quality, comfort and elegance. Lissett Homes are used as park homes, holiday homes, second homes and house boats, for use as a summer cottage, for a winter break or just a weekend escape. Lisset Homes also has an extensive modular build knowledge which means that they can produce specialist buildings such as single and multi-storey luxurious office accommodation, re-locatable homes and bespoke properties.
About The Haulfryn Group
A family-run business with a 75 year history, the Haulfryn Group offers an exclusive range of innovative, environmentally-friendly and unique holiday homes for sale in some of the most stunning locations and at the most affordable prices. The Haulfryn Group have developed 15 superb new residential parks across the UK in some of the most sought after holiday locations, offering genuine quality combined with superb on-site facilities. www.haulfryn.co.uk
About DuPont™ Tyvek®
DuPont™ Tyvek® underlays offer proven long-term durability and resistance (as demonstrated by recent test results) and are distinctive in several key ways that make them ideal for today's construction projects, whether new build or to preserve the treasures of the past. Unique because of the high-quality single layer construction, DuPont™ Tyvek® is naturally vapour open but also water-tight. This is due to its composition of millions of micro fibres that are bonded together to make a "maze" that's impermeable to moisture and yet allows water vapour to pass through the natural pores in its structure.
DuPont™ AirGuard® is a metallised vapour control layer which is 100% airtight and protects against moisture penetration from the interior into the building envelope. With high reflectivity and very low emissivity DuPont™ AirGuard® also helps to prevent radiant heat loss. DuPont™ AirGuard® works together with other membranes such as DuPont™ Tyvek® and special tapes and sealants to create an air-tight building envelope, minimising internal thermal losses and helping to create a more comfortable interior environment, while offering energy savings of up to 15% . Although sophisticated in terms of technology, both DuPont™ Tyvek® and DuPont™ AirGuard® are lightweight and simple to install and come with the technical support and backing of a globally renowned and trusted manufacturer.
About DuPont Building Innovations
DuPont™ Tyvek® and DuPont™ AirGuard® are products of DuPont Building Innovations. From innovative energy-saving systems to beautiful and long-lasting surfacing solutions, the extensive offering of DuPont Building Innovations delivers safety, durability, beauty and energy efficiency, providing a major contribution to the modern built environment – across the spectrum of building and architecture, roads, bridges and other infrastructure and also to landscaping and gardens, as well as to the preservation or the renovation of contemporary and historical constructions.
The main products and brands managed by DuPont Building Innovations are DuPont™ Corian® (www.corian.co.uk), DuPont™ Zodiaq® (www.zodiaq.co.uk), DuPont™ Tyvek® (www.tyvek.co.uk), DuPont™ Energain® (www.energain.co.uk), DuPont™ Typar® (www.typargeo.com), DuPont™ Plantex® (www.plantexpro.dupont.com) and a new range of highly efficient building integrated photovoltaic modules (www.gevity.dupont.com).
The DuPont oval logo, DuPont™, Corian®, Enercor®, Energain®, Plantex®, Typar®, Tyvek® AirGuard® and Zodiaq® are registered trademarks or trademarks of E.I. du Pont de Nemours and Company or its affiliates.
Holiday lodges by Lissett Homes at The Warren in Abersoch images / information received 240511
Location: Abersoch, Wales, UK
Corian Products
DuPont Corian Examples
Corian Sphere, England
Brørup Sparekasse, Denmark
The Cineroleum, London
Website: Abersoch Wales
Selection of Architectural Products featured on e-architect
Libeskind House : Daniel Libeskind
Artemide lamp – Genesy
Zaha Hadid Jewellery – Celeste Necklace
Comments / photos for the Abersoch Holiday Homes page welcome