Oxford Science & Enterprise Centre Building, Foster + Partners Design Project, Architect
Oxford Science & Enterprise Centre
English cultural centre for science and enterprise Building design by Foster + Partners, UK
17 Nov 2010
Oxford Science & Enterprise Centre Building
Science Oxford announces Foster + Partners as architects for new multi-million pound cultural centre for science and enterprise in Oxford
Science Oxford has announced exciting plans this week to create an innovative new cultural centre for science and enterprise within the heart of Oxford. The new centre, which it is estimated will cost £30 million, will take shape over the next five years.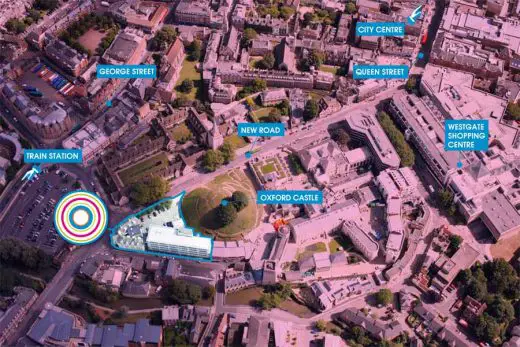 image from Firebird
Foster + Partners, London-based architects responsible for the Great Court at the British Museum and 30 St Mary Axe, also known as 'the Gherkin', have been appointed architects for the project. They will be bringing their expertise to create a signature destination, to establish a creative dialogue between the old adjacent Castle Mound and the new state-of-the-art facility for science engagement and to generate a sustainable building.
Envisaged as a unique world class facility inspired by and showcasing cutting edge science and technology, the centre will house a suite of inspiring interactive galleries whose content will excite and enthuse visitors of all ages. The new centre will include a state-of-the-art digital planetarium together with a public plaza, café and shop.  When open, the complex is likely also to include an enterprise and innovation centre offering rentable office space to businesses, as well as high-tech conference and corporate events facilities.
Chris Connell of Foster + Partners commented: "We are delighted to be working with Science Oxford to develop this exciting project. The designs are at a preliminary stage, but our intention is to create a striking contemporary addition to the city's rich architectural heritage, a landmark building that symbolises and embodies the possibilities of science and the future of technology."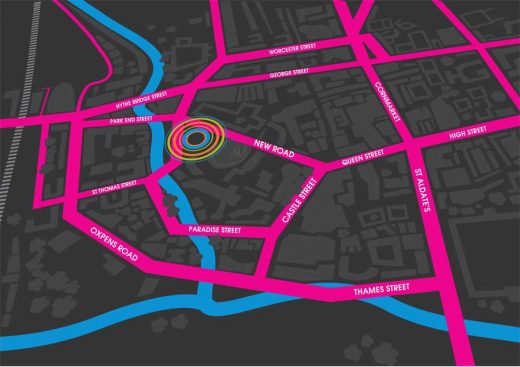 image from Firebird
Today we are also announcing the purchase of a superb site for the new centre. Following months of negotiations with Oxfordshire County Council, Science Oxford which is a registered charity, has completed the purchase of Macclesfield House in New Road, on an 0.47 acre site adjacent to the historic Castle Mound.
Ian Griffin, Chief Executive at Science Oxford says: "In creating a new public centre for science and innovation here in Oxford, our vision is to bring the excitement of science and the joy of discovery right to the heart of our city.
Our region has an array of world class science facilities and our economy is powered by science based companies, many of which have spun off from our world leading universities. Yet to date, there hasn't been a place where local people and visitors to Oxford can learn about the amazing things that are being discovered and created locally.
This project will create a fantastic new centre which we hope will become an inspiring new addition to Oxford's cultural scene. We feel very strongly that science is a key part of our culture, and by describing this project as a cultural centre for science we are saying, from day one, that we want to challenge present ideas about what is seen as culture.
We want to use what we have learned running our existing centre, Science Oxford Live, in St Clements and combine this expertise with Fosters' renowned creativity to produce a unique and exciting science based visitor attraction which will be appealing to local residents, bring new visitors to Oxford and inspire the next generation of scientists, engineers and entrepreneurs."
This major initiative will give Oxford a public face for science and enterprise and will become a major tourist destination attracting 100,000 visitors a year. The centre will showcase the inspiring discoveries and inventions local universities, research institutions and companies that drive Oxford's economy, explaining to young and old alike how science and technology underpin our lives and culture, and will enable children to experience the excitement of science in and out of school.
For Oxfordshire County Council establishing science as part of the cultural landscape of the city has always been a key feature of the rejuvenation plan for the west end of the city. Speaking at the public launch, the Leader of Oxfordshire County Council Councillor Keith Mitchell, said: "This promises to be an exciting new facility in the West End of Oxford. The county council is delighted that Science Oxford has such fantastic plans for the site of Macclesfield House and we wish them the very best in coming months and years as they develop the site and then operate from it."
Science Oxford, a charitable organisation promoting the pursuit of science and enterprise, currently operates Science Oxford Live, a cultural centre for science in St Clements and has 25 years experience connecting businesses, schools and the public.
The total cost of the cost of building is estimated to be £30 million, of which £10 million has already been secured. The remaining £20 million will be raised from private individuals, trusts and foundations over the next two years.
Science Oxford will be carrying out a series of stakeholder and public consultations over the next few months, which will help inform both the design and the content of the building. For up to date developments about the project, or to participate in the consultation, visit www.scienceoxford.com.
Anyone wanting to listen to the announcements and presentations taking place at Wednesday's launch can do so through a live-streaming web-cast: http://www.scienceoxfordlive.com/watch-us/live, which will also be available to download from the Science Oxford website.
Oxford Science & Enterprise Centre images / information received 161110
Location: Oxford, England, UK
Oxford Architectural Designs
Oxfordshire Architecture Designs – architectural selection below:
Oxford Architecture Designs – chronological list
Oxford Architecture – Selection
Middle East Centre, St. Antony's College
Zaha Hadid Architects
University of Oxford Building
Bonn Square
Graeme Massie Architects
Bonn Square Oxford
Oxford Cancer Centre
Steffian Bradley Architects
Oxford Cancer Centre
Oxford College Building : Corpus Christi
Science Oxford is the public face of The Oxford Trust, a charitable organisation encouraging the study, application and communication of science, technology and engineering. Science Oxford has a family of brands:
Science Oxford Live – engaging the general public with the wonders of science
Science Oxford Next – inspiring the next generation of scientists and engineers
Science Oxford Networks – helping businesses to connect with the wider community
Science Oxford Online – showcasing interesting science news, experiments, activities and videos
Oxfordshire County Council provides around 80 per cent of local government services in Oxfordshire including highways and transport, schools and education, social care, libraries, the Fire and Rescue Service, trading standards and the Registration Service. The council was the previous owner of Macclesfield House which was constructed in 1969. The corner building, now used by the Registry Office, was constructed between 1911 and 1914. Previous uses on the site included a militia drill hall and armoury, drill ground, police headquarters and school.
Comments / photos for the Oxford Science & Enterprise Centre page welcome